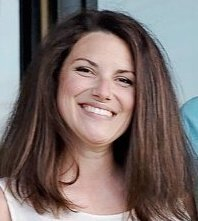 Latest posts by Sarah Caldwell
(see all)
Steamer trunks are awesome vintage finds that can be used for all sorts of things today, from seating to storage. Many collectors love these types of vintage trunks, even if they're not in pristine condition, because they have a certain character that's both rich and elegant.
They're often family heirlooms, but you can find them at garage sales, flea markets, and antique stores fairly often. They offer multi dimensional interest to a room and they're just plain fun to have around.
What is a Steamer Trunk?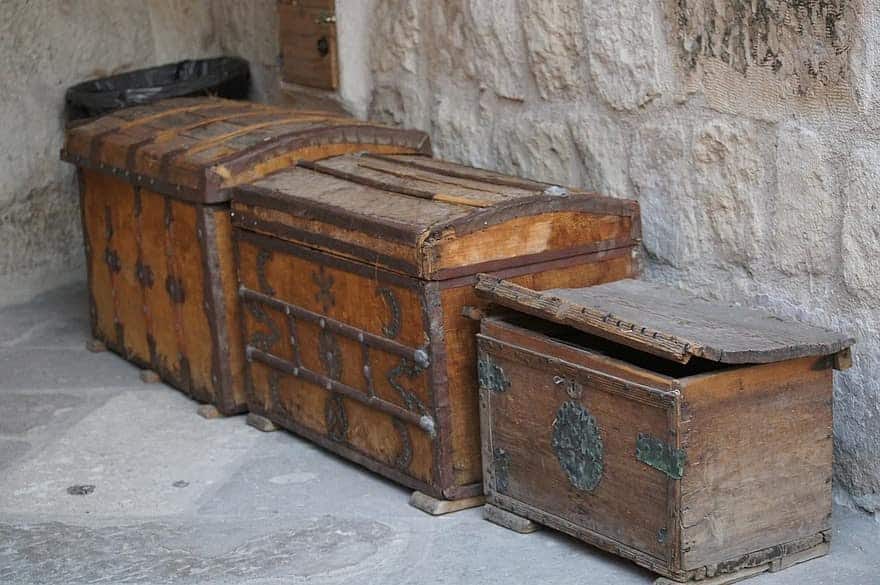 These days, we use the word steamer trunk in reference to a wide variety of antique trunks. However, the term comes from the days when people would carry these types of trunks on steam ship voyages across the ocean.
A true steamer chest was only about 14 inches tall, because steam ships had carry on size regulations just like airplanes do today. When travel was much slower, people didn't do it much.
If you were taking a trip on a steam ship, you were likely going somewhere for a long time, and you may have had a lot of luggage.
Wealthy people could afford large trunk models that could accommodate more storage with furniture, personal belongings on the ship, and it was more likely that they could bring as much luggage as they wanted, but in order to accommodate everyone else's luggage, the ship had to put a size limit on the trunks people could bring to save on cargo space.
Most vintage steamer trunks were made with wood slats, canvas or duck cloth, waterproof paper, and sometimes animal hide. They were decorated with tin, either flat or embossed.
High-end steamer trunks were covered in leather and typically had a unique metal design embossed into the material.
Many higher end trunks also had internal tray compartments or trays that made them more effective for storing smaller personal items like jewelry or parasols.
They were much more expensive than an empty antique trunk, required more craftsmanship, and were only used by the very wealthy who had these types of personal effects to store.
History of the Steamer Trunk
Steamer trunks were only popular for a short time, from about 1870 to 1925. Travel trunks of all types rose in popularity in the 1870s because of the railroad's expansion in the United States. People began traveling much farther and faster than they ever had in the past.
There were thousands of vintage trunk makers in the United States alone during this time.
By the late 1920s, steamer trunks had started to go out of fashion. They were replaced with larger trunk models that would act as a wardrobe and more modern luggage choices.
Steamer Truck Manufacturers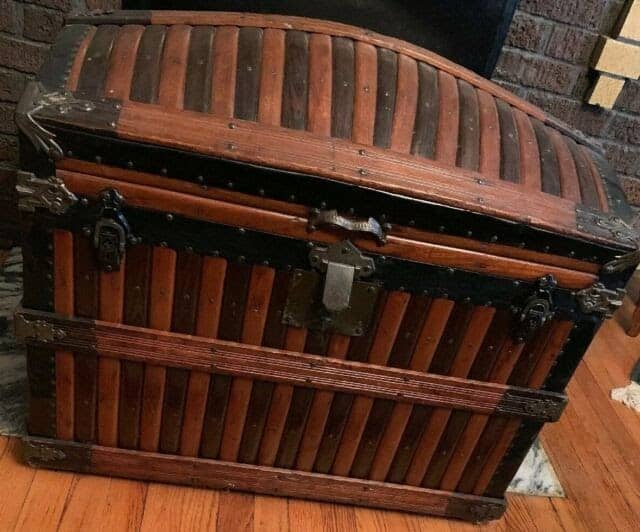 Collectors have had a rather difficult time identifying old steamer trunk manufacturers because many manufacturers either didn't mark their trunks at all, or they marked them with a very simple paper label that didn't last.
Some of the more notable manufacturers of higher quality trunks made and installed proprietary hardware. One such trunk maker manufacturer was Martin Maier. He ran a trunk business in Detroit, and his hardware was very identifiable.
He used cast iron hardware and hinges and very ornate tin corner pieces. He also embellished each antique trunk with ornate tin pieces across the top and sides. Each piece is marked with either an M or a double M to signify its trunk maker manufacturer.
His trunks are also largely identifiable by their rounded oak slats, each hand turned and specifically fitted for that space. These are highly collectible items on today's market, more so than any other vintage steamer trunk manufacturer of the day.
There were also very high end manufacturers that would compete with Goyard and Louis Vuitton trunk models who made steamer trunks during this time, but they were used by only the very wealthy, while lower and middle class travelers used more affordable trunks.
Related Resources
Popular Styles
There were several popular styles of steamer trunks. Some of these vintage trunks were more functional for traveling while others were meant to be beautiful and decorative. They featured a variety of different designs, materials, and shapes.
Flat top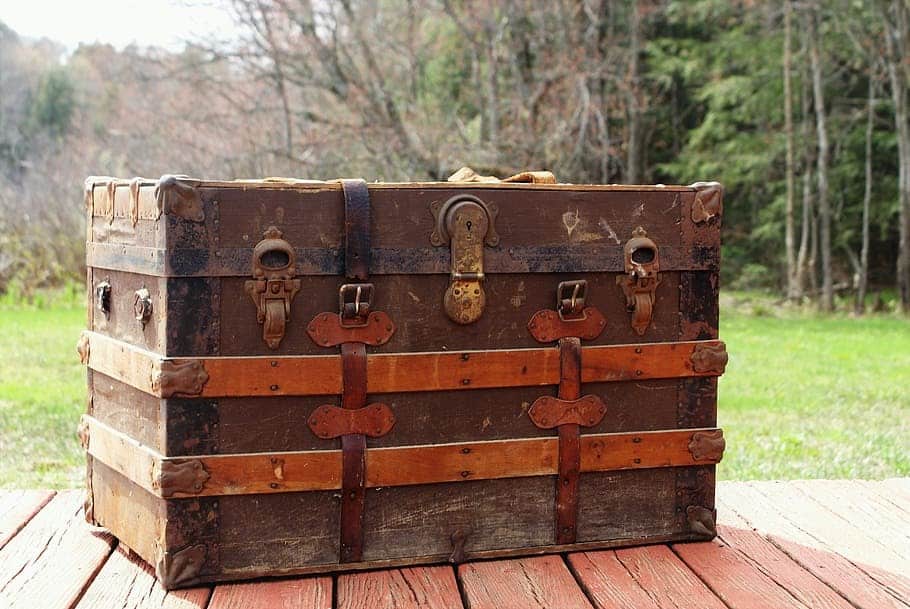 The flat top steamer trunk was much more practical than other designs because they could be stacked. These types of steamer trunks would have been much more popular for lower or middle class travelers. They didn't have much flair, but they were very functional with their leather handles and metal lock.
Bevel top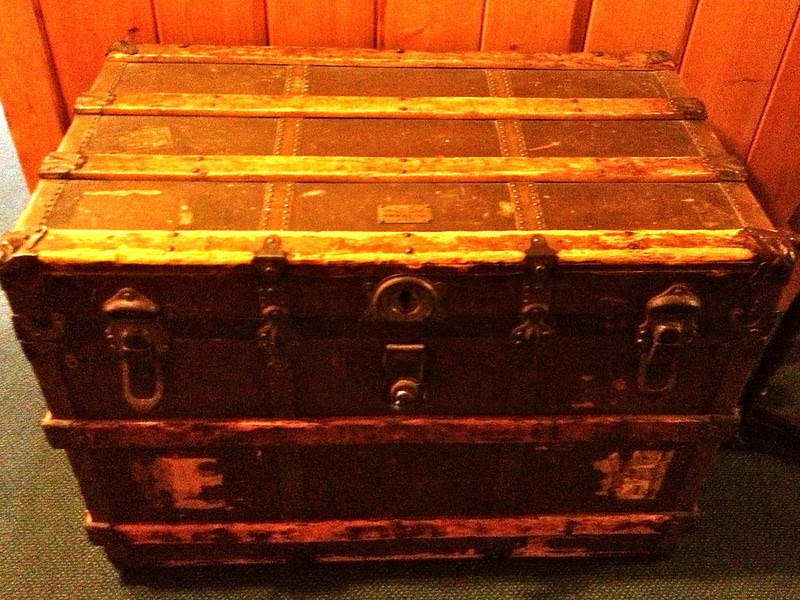 The bevel top steamer trunk could have been either flat or domed, but it had more ornate beveling on the top. They would have been practical for traveling, because you could still stack them if they were flat, but they were likely a bit more expensive.
It's possible they were used by more middle class travelers who could afford a little bit extra.
Monitor top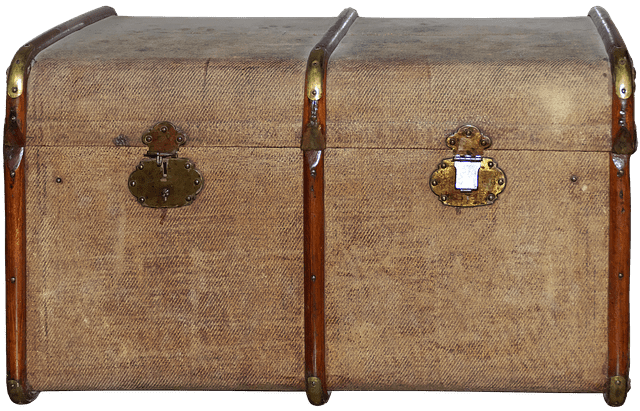 A monitor top steamer chest is flat with rounded edges. Some were plain and others were very ornate. They varied in hardware from basic to decorative, and likely varied in price. They offered a more exciting box shape than the flat top vintage trunk, but would have still been practical.
Dome top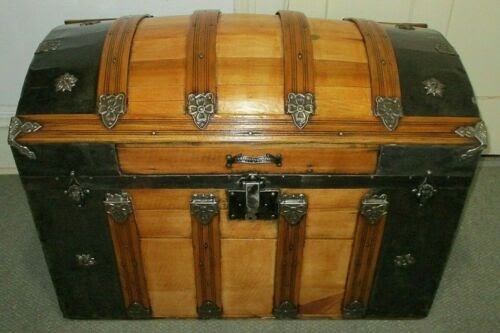 The steamer trunk with the most flair of them all would have been the dome top steamer trunk. They have a dramatic domed lid and were likely used more for decoration around the home than for traveling.
They were used by only the very wealthy, they were very ornate, and they were very expensive. They would have been purchased as a gift for a bride on her wedding day or used in the home to store valuable items.
These were much more likely to have smaller compartments or trays inside, and some were even outfitted with wheels.
Restoration and Use
Many people choose to have their antique steamer trunks restored or refinished. There are many professionals who are experts on steamer trunks, or you could learn how to do it yourself.
Other people would rather keep their steamer trunk the way it is and prefer the simple, rustic look. If you'd rather go this route, it's important to get it cleaned up first and remove any odors you find inside.
Most steamer trunks are very beautiful, so it's important to show them off, but they should be used with care. If you choose to use your flat top steamer trunk for a coffee table, you can have a piece of glass cut to fit the top. This will protect it from damage and still allow you to enjoy its beauty.
Dome top steamer trunks are great accent pieces for any living room or bedroom to store extra blankets, sheets, or pillows. You can even use it as a wardrobe!
Buying an Antique Steamer Trunk
There are a lot of places you can buy antique steamer trunks, and many of them are relatively affordable. You don't have to spend a fortune to acquire a beautiful antique steamer trunk, unless you want one of the more reputable manufacturers.
Craigslist
Believe it or not, one of the best places to look for antique steamer trunks is Craigslist. The benefit to Craigslist is that these sellers are local. Shipping on something as heavy as an old steamer trunk will likely inflate the price quite a bit, so it's always best to start local.
Many people overestimate the value of their steamer trunks, and it may be because it's a family heirloom. The value they ascribe to it won't mean anything to you, but you may have to negotiate more or wait them out until they drop the price.
eBay
eBay is also a great place to look for collectibles like these, but you'll pay a lot more for shipping. However, you're more likely to find a bigger variety, and you may even find one that's already been restored. For some, that makes it worth the cost.
Antique malls
Antique malls or flea markets often have steamer trunks, too. A flea market is more likely to have one that hasn't been restored yet or doesn't cost quite as much. Antique malls, especially those who have vendors working on consignment, will create stories to try to sell items.
The items may be overpriced, and unless they can provide documentation that the steamer trunk was owned by a historical figure or a well-known family, it's likely just a story to make a sale.
Antique Steamer Trunk Value
You will likely be able to find a steamer trunk at any of these outlets for less than $100. However, their true value depends a lot on condition, style, size, and rarity. You'll run into a wide range of asking prices in your search. It all comes down to what you are willing to pay, no matter how valuable it actually is.
Smaller trunks less than 30 inches tend to sell easier, simply because many people don't have room for a large trunk. There are a lot of these in circulation, which drives the price down. If you have room for a large trunk, or you simply like them better, you'll pay a bit more.
Rarity and style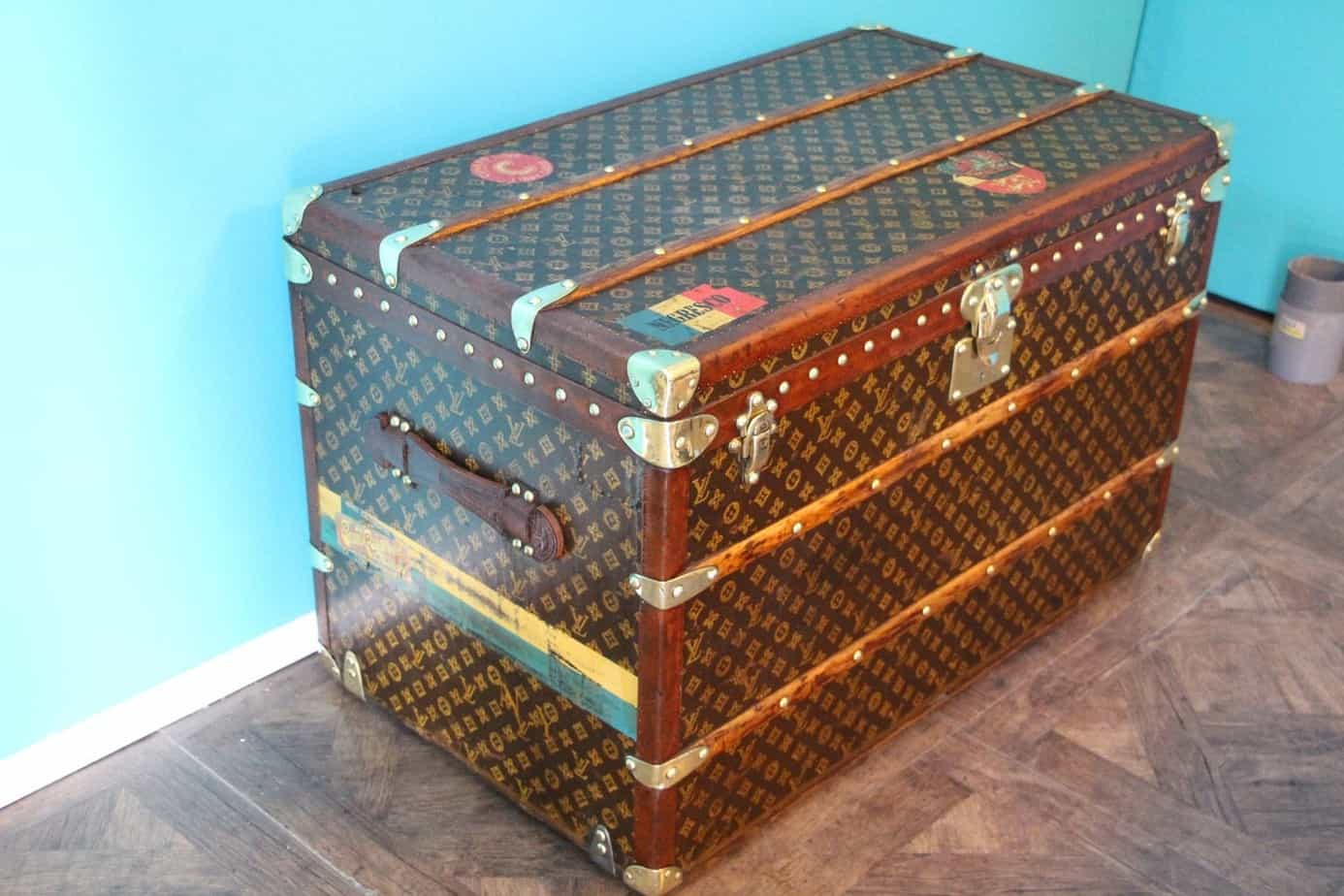 These are the two most important factors in determining the value of your antique steamer trunk. Louis Vuitton trunks will sell for between $3000 and $20,000 while an unmarked steamer trunk will only sell for between $75 and $100.
Martin Maier and Goyard steamer trunks may sell for between $500 and $3000. French-made steamer trunks are worth a lot more than American-made steamer trunks.
Condition
The condition of the vintage trunk also has a lot to do with value. If it has broken slats, missing hardware like a latch, large dents, rust, or other damage, it won't be as attractive as you might like it to be for household use, although it may still be functional.
These broken or missing pieces can be replaced, but they may not match unless you can find the original parts. This inconsistency lowers the value, unless you have it professionally restored.
Interestingly, having the original key increases the value of your trunk by about $30. You can also add value to the trunk by retaining the interior tray compartments and making sure it's in good condition.
Altered steamer trunks
If the trunk has been painted or altered in any way, it's not worth nearly as much as even an unaltered steamer trunk that has some damage. They normally won't go for anymore than $50.
You can have the paint stripped, but it should be done with caution because not only can it damage the wood underneath, but the pain that was used could be toxic. It was common to paint these types of trunks using a lead-based paint, and they still exist.
If the paint is stripped correctly and the trunk is restored, you can increase its value from the original $50 to hundreds.
It's likely that the more elaborately decorated your steamer trunk is, the more it's worth, but this isn't always true. You can increase the value of most antique steamer trunks by restoring them, but you have to use caution. If you have proof that the trunk was used by a historical figure, it's often best to leave it as is.
Final Thoughts
While it might be nice to own an authentic steamer trunk, most collectors just like to enjoy the beauty of these designs, especially if they're still functional. Values range widely from less than $1000 to thousands of dollars.
There are always exceptions, but no matter what you like about these antique steamer trunks, you'll likely find one you can afford and be able to enjoy it for a long time. Who knows? Maybe there is a vintage steamer trunk at one of the antique shops that will make a great addition to your home.