Latest posts by Megan Wray
(see all)
Aged tends to be better when it comes to alcohol but is that true for distilleries as well? In this case, yes — some companies just got it right. Next time you need to restock, keep your eyes peeled for some of the oldest liquor brands you can still find today.
The oldest liquor brands you can still find today include Bushmills, Mount Gay, and Jim Beam — some of which you may already have in your pantry. However, circumstances like Prohibition and natural disasters caused many old distilleries to close early. Luckily, some, like Kilbeggan, survived.
All of these liquor brands have fascinating stories — a given when they've been around for a couple of hundred years. Some nearly went under, others sneakily managed to stay open during Prohibition, and George Washington even used one recipe! Keep reading to learn more about all of this and then some.

Kilbeggan
The Kilbeggan Distillery may be one of the oldest in the world, but it hasn't been operating for the longest. Still, it's much too historical not to make this list.
Opening its doors in 1757, Matthias McManus established Ireland's first distillery and began working like no tomorrow.
Unfortunately, the company fell on hard times. From fires to food shortages to a sobriety movement, Kilbeggan had nowhere to turn and nearly locked up shop for good. That's when townspeople banded together and began to fundraise to save the distillery.
30 years later, Kilbeggan Distilling Co. was on the up and up, fully reopening as recently as 2007.
When the distillery almost went under, it was the community that pulled it from the ashes. If that isn't what drinking is about, then what is?
Old doesn't always mean better, but in this case, it does.
Bushmills is the oldest licensed whiskey distillery in the world. Dating back to 1608, this brand has stood the test of time — and not much has changed since the beginning. When it's good, it's good.
Nestled in Northern Ireland, the distillery stands on its original grounds and continues extracting water from the River Bush that flows alongside.
Back in the mid-1800s, the Crown began taxing barley — a strategic way to indirectly tax the single-malt whiskey (whiskey that exclusively uses malt barley in the distillation process) distilleries.
When so many other companies were swapping out barley for alternative grains, Bushmills was one of few distilleries to stick their true single-malt origins. And it's been that way ever since.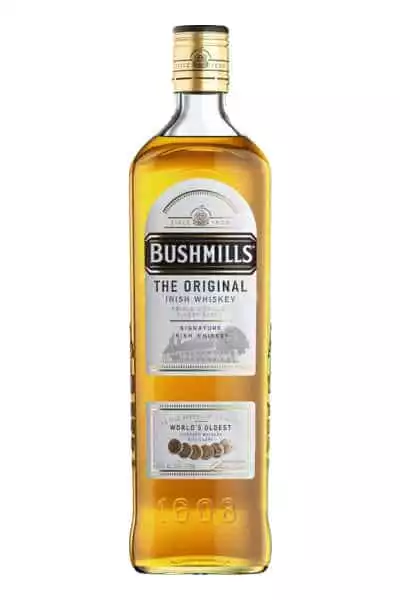 Bushmills Irish Whiskey | Drizly
With a 400-year history of making whiskey with this water, not only is Bushmills the oldest licensed distillery in Ireland, but also the longest.
Check Price
We earn a commission if you make a purchase, at no additional cost to you.
Mount Gay
Mount Gay — a Barbados rum company, founded in 1703 — isn't just any old brand. Well, it is old — the oldest rum company in the world, actually — but it's incredibly special. Mount Gay uses natural Bajan ingredients to create its revered and iconic taste. They even ferment their own molasses out of sugar cane!
It's said that stories of early 1700s explorers sailing the Caribbean weren't true unless they came home with bottles of Caribbean rum. In the spirit of tradition, Mount Gay still sponsors countless nautical experiences every year.
George Washington was a proud Mount Gay connoisseur, so who knows how America's history would have turned out if not for this timeless Bajan distillery.
Looking for the most esteemed distillery in the world? Buffalo Trace is your destination — and it's the oldest continuously operating one in America. In fact, it was founded before its home-state, Kentucky, was established and before America was even a country!
Established over 200 years ago at the buffalo's migrational crossing point of the Kentucky River and holds some significant history.
Many distilleries had to shut their doors during Prohibition a century ago, but Buffalo Trace was not one of them — not even for a second. Why? Their liquor was deemed "medicinal!"
Buffalo Trace has thrived before, during, and after Prohibition. While they initially produced whiskey, they've become renowned for their superior bourbon. In the past ten years, they've set the world record as the most decorated distillery.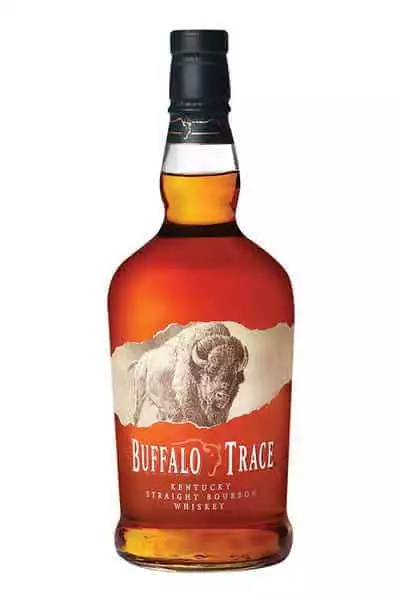 Buffalo Trace Bourbon | Drizly
This deep amber whiskey has a complex aroma of vanilla, mint, and molasses. Pleasantly sweet to the taste with notes of brown sugar and spice that give way to oak, toffee, dark fruit, and anise. This whiskey finishes long and smooth with serious depth.
Check Price
We earn a commission if you make a purchase, at no additional cost to you.
Laird & Company
Laird Applejack is as American as apple pie — but you may not be as familiar with the spirit as you are with the sweet treat.
The Laird family invented applejack over 200 years ago, and it became a beloved beverage by early settlers. The all-American drink is a smooth, light spirit that embodies the fresh apples from which it's made (in part with other grain liquors) that could be classified as apple whiskey.
This beverage was such a hit at its peak that it even had George Washington borrowing Robert Laird's original recipe to brew some for himself after they in the war together.
Though applejack isn't as popular as it once was, the spirit is making a comeback. After all, that is why it stood the test of time — and gained presidential approval — after all these years.
Bols
No compilation of the oldest liquor brands still around should exclude Bols — an Amsterdam distillery continually operating since 1575! Bols is widely recognized as the oldest active distillery in the entire world. That's not a small feat.
The facility opened as a small-batch family-owned company and soon soared thanks to Lucas Bols's famous genever. This liquor is thought to be the "grandfather of gin."
Thanks to his family's connection to the Dutch East India Company, Lucas Bols had access to limitless herbs and spices, which he used to create over 300 different liqueurs.
Bols spirits were soon a worldwide sensation — and were even used to create the world's first cocktails. We'll drink to that — and to Lucas Bols!
El Dorado
Rum and sugar go hand in hand — and the sugar in Guyana is unique thanks to the advantageous Deneraran climate, but it hasn't always been easily accessible. When sugar became highly taxed, Guyana's distilleries dropped from 300 to nine before they all merged into one. Preserving that nearly lost culture with the collapse of these plants is what El Dorado rum is all about.
They've been producing spirits for over 300 years. Age may just be a number, but not when it comes to El Dorado rum. Even employees at this company often spend decades working here. The distilling traditions have been passed down from generation to generation — and the end is nowhere in sight.
Back in colonial America's early days, the Beam family dug roots in modern-day Kentucky — the perfect corn-growing location.
When the opportunity presented itself, they jumped at the United States government's incentive to farm crops of their own. Jacob Beam decided to put his corn overstock to work and began using it to distill a new kind of liquor.
Unlike traditional whiskies, Beam's version was sweeter than the rest. This unique spirit would eventually be known as bourbon.
Soon after, he began selling his spirits. In no time, Jacob's bourbon rose to the top, shining out amongst a sea of over 2,000 other local distilleries. But the name Jim Beam didn't come until much later.
The world's first bourbon company was known as Old Tub Bourbon through its early days of production, but once Prohibition hit and Old Tub was put on pause, they decided to rebrand and resume under the name Jim Beam instead.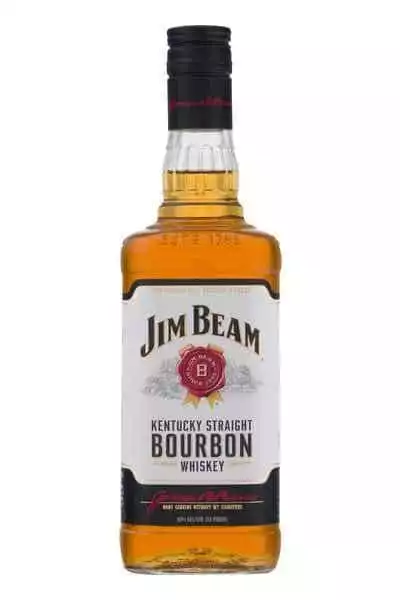 Jim Beam | Drizly
Jim Beam is one of the best-selling brands of bourbon in the world.
Check Price
We earn a commission if you make a purchase, at no additional cost to you.
Further Reading
If we've only whet your appetite with this list of historic liquor companies and you're looking to dive even deeper, check out these boozy blogs:
Final Thoughts
You may already have some of the oldest liquor brands around kickin' behind your bar. From Mount Gay Rum to Bushmills Whiskey and everything in between, your spirits may have more stories than you realize.
No matter what you're drinking or how old it is, you can bet there's liveliness and vivacity in each bottle. Cheers!