Latest posts by Will Ames
(see all)
While they may have once been confined solely to the kitchen, the best retro fridges of today combine a stunning vintage style with a modern-day practicality that makes them just as ideal for games rooms, a dorm room, and even the office.
Whether you're turning back the clock with the 50s, 60s, or 70s theme for a room in your home, or simply looking to add a nostalgic design to your modern kitchen, these are the five mini and full-size retro fridges that are perfect for the job.
Quick Summary: Best Retro Fridges in 2022
Before we get into the details, here's an overview of the products we'll cover in this guide:
1. Smeg Fab32ULRD Retro 50's-Style Refridgerator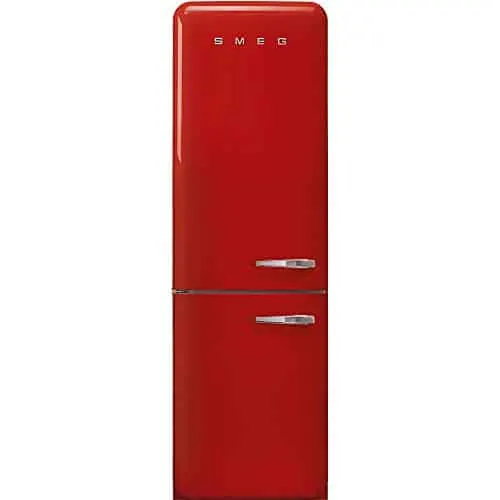 Founded in Italy back at the tail-end of the 1940s, Smeg have been building world-class kitchen products for the past seven decades, so it's no wonder their range of FAB 50's-style retro fridges are among the very best on the market.
Taking an authentic 50's aesthetic and adding just a touch of undeniable Italian charm, this 24″, freestanding fridge/freezer is guaranteed to become a focal point in any kitchen, even one that already boasts a throwback theme.
Still, let's be honest, the Fab32 isn't the only attractive model on our list, so why exactly does it deserve to take the coveted number one spot?
Simply put, it's because it combines this undeniable old-school cool with a level of practicality that is perfectly suited to the modern family.
Within its 8.2 cubic feet of refrigerator space, you'll find three adjustable glass shelves, a covered storage box, and fruit and vegetable container, as well as a handy bottle rack that's perfect for wine aficionados.
At 3.43 cubic feet, the bottom freezer may be much smaller, but it does come with three decently-sized freezing drawers, a second bottle rack, and an ice cube tray.
Elsewhere, you'll find two adjustable thermostat, a choice of seven different colors, and the kind of unbeatable manufacturing quality upon which Smeg have built their enviable industry-leading reputation.
Smeg Fab32 ULRD 50's Style Retro Refridgerator Key Details:
Dimensions (HxWxD): 75 13/16″ x 23 5/8″ x 26 5/8″
Weight: 241 lbs
Nosie level: 41 dB
Fridge/Freezer ratio: 60/40
2. Galanz GLR10 Retro-Look Refridgerator (10 CU FT)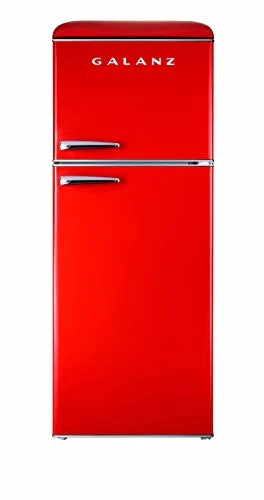 Galanz offer their gorgeous retro-look refrigerator in a variety of sizes, ranging from a small 2.5 cubic foot mini refrigerator all the way up to a large-scale 12 cubic foot option. Personally, we prefer the 10 cubic foot model as it's the perfect size for apartment kitchens, dorm rooms, and man-caves without being so excessively big that it dominates the space.
What's more, at only 125 lbs, it's also one of the lighter full-size retro refrigerators out there, so you can move it around without any of the back-breaking efforts required by larger models.
Of course, as the old saying goes, size isn't everything, and this retro compact fridge has much more going for it than its neat dimensions.
On the outside, the Galanz GLR10 Retro Refrigerators certainly looks the part, taking the curved corners and rounded edges that are the hallmark of retro kitchen design and combining them with long, metallic handles and a choice of three popular colors.
The red option is ideal for recreating the look and feel of a classic American diner, while the baby blue model lends an alluring sense of 70s chic to any space. There's also a black version that does a wonderful job of fusing retro and contemporary styles into one bold, beautiful product.
Speaking of all things contemporary, despite the decidedly vintage refrigerator aesthetic, Galanz retro refrigerator is definitely designed for the modern age, using a low-energy R600 compressor and energy-efficient lighting which, combined, consume no more than 292 Kilowatt Hours per year. All that being said, it's fair to say that this is one of the most eco-friendly old fridge models you're going to find today.
Inside, you'll find adjustable shelves, a fruit and vegetable crisper drawer, and a freezer which, though certainly on the small side, is large enough to fit an ice bucket and a decent amount of groceries.
Galanz Retro-Look Refridgerator (10 CU FT) Key Details:
Dimensions (HxWxD): 74″ x 27.48″ x 61.81″
Weight:7 lbs
Nosie level: 42 dB
Fridge/Freezer ratio: 60/40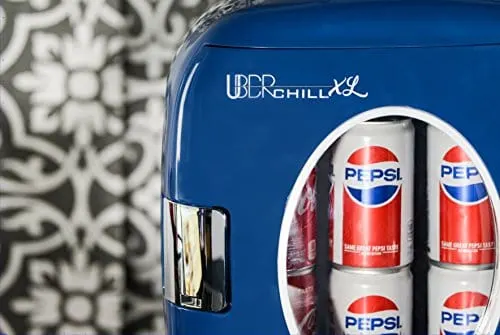 There are countless retro-look mini-fridges out there, and we gave a good number of them a trial run for the sake of this guide, but there's something about the vintage refrigerator charm of this cute, nine-liter (0.31 cu ft) mini fridge that we found too irresistible not to share.
Out of the five available color choices, the glossy red finish with cream interior, slightly tinted glass, and metallic latch handle is the most authentically old-school, though there's also a lot to like about the cool navy blue, white, silver, and black versions too.
At just 8lbs and 16 inches, the Uber Appliance UB-XL1 Mini Fridge is one of the lightest and most mini compact fridge models out there and is designed to store 12 12-ounce soda cans. What's more, it works just as well when plugged into the cigarette lighter in your car as it does in a general AC outlet in your home. Together, all of this makes it our top recommendation if you're looking for a retro mini fridge for your next road trip.
Be careful what you put in it, however. Functioning more like an electric cooler than an actual refrigerator, the UB-XL1 cools to 32°F below ambient temperature. That's great for keeping your drinks cool while on the road or in the office, but perhaps not so great for storing perishable food for any length of time.
On the plus side, you can always flip the temperature around and use it to keep your lunch warm, as this old fridge also heats up to 150°F in the right setting.
The best part is that the electric cooler approach actually works in its favor, requiring zero chemicals or refrigerants to keep your fresh food and drink at the right temperature and thus proving a popular choice for anyone concerned about their carbon footprint.
Uber Appliance UB-XL1-RED Mini Refrigerator Key Details:
Dimensions (HxWxD): 16″ x 16″ x 16″
Weight: 8 lbs
Nosie level: 35 dB
Fridge/Freezer ratio: N/A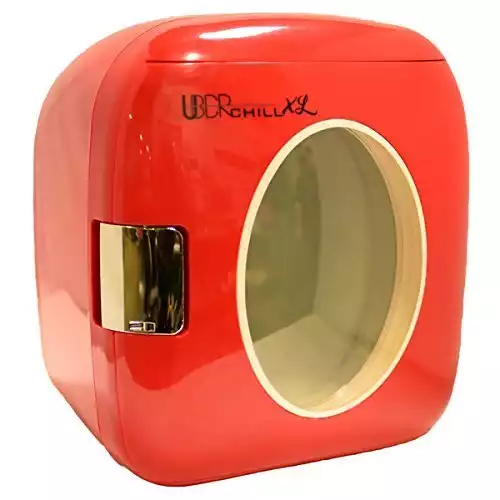 Uber Appliance UB-XL1-RED Mini Fridge | Amazon
The revolutionary Peltier technology enables for cooling or heating to suit all your needs. Cools up 32°F below ambient temperature and heats up to 150°F at standard room temperature (70°F).
Buy at Amazon.com
We earn a commission if you make a purchase, at no additional cost to you.
09/19/2023 10:07 pm GMT
4. Smeg FAB32URPK Retro Style Pink Refrigerator

Another popular pick from Smeg's Fab range of vintage fridges/freezer combos, this 24″, 50's style setup comes in a uber-cute pink, a welcome change from the retro reds and all-black finishes that most products of this type tend to stick with.
Make no mistake about it, that stunning finish, those smooth curves, and the slim-line design all make this an attractive addition to any kitchen area or chill-out space, but -as with all of the products in today's guide- the Smeg FAB32URPK has more going on for it than just aesthetic appeal.
Behind that adorable pink door lies ample room for 8.1 cubic feet of groceries, all of which can be neatly organized using the three adjustable, covered fruit and vegetable refrigerator compartment and in-built wine rack. Meanwhile, the bottom freezer can safely hold 22 lbs/2.65 cubic feet of frozen food with a thaw time of around 18 hours.
A great-looking alternative to our top-ranked FAB32ULRD, this slender yet powerful Smeg fridge once again proves why Smeg remain so popular among fans of any retro kitchen appliance.
Smeg FAB32URPK Retro Style Pink Refrigerator Key Details:
Dimensions (HxWxD): 75 13/16″ x 23 5/8″ x 26 5/8″
Weight: 210 lbs
Nosie level: 41 dB
Fridge/Freezer ratio: 70/30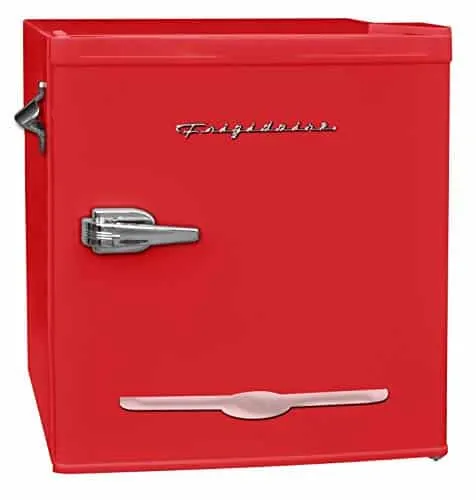 So, you like the idea of a retro-style mini-fridge, but aren't quite as enchanted with our third-place pick, the Uber Appliance UB-XL1, as we are?
No problem. This achingly-cool 1.6 cubic foot mini fridge from Frigidaire is a solid -and we do mean *solid*- alternative.
Built to the brand's usual impeccable high standards, the fridge manages the rare feat of being one of the sturdiest and most durable mini-fridges on the market while still being light and compact enough to move around with ease.
Not that you'd necessarily want to take it on the road with you in the same way that you would with other products of this type, No, you can tell just by looking at it that this smart, handsome vintage fridges were purpose-built to take pride of place in your office, dorm room, or games room, with its box-like design, beguiling lipstick-red finish and chrome latch handle all guaranteed to make it a talking point whenever you have guests over.
Inside, the fridge is nicely compartmentalized, with an in-built shelf attached to the door so that you can store a few beverages while still having space left over to keep your lunch nice and cool. There's also a small freezer compartment just large enough to host an ice tray, though most reviewers claim that this isn't quite as functional as it first appears.
To make up for the disappointing freezer compartment, the Frigidaire retro fridge does come with a handy bottle opener on the side, making it a great addition to a home bar area or simply to keep those beers nice and cool while you're watching the big game.
See Also: Frigidaire makes a retro fridge and freezer combo as well.
Frigidaire Retro Bar Fridge Key Details:
Dimensions (HxWxD): 19″ x 21″ x 21″
Weight:8 lbs
Nosie level: 35 dB
Fridge/Freezer ratio: N/A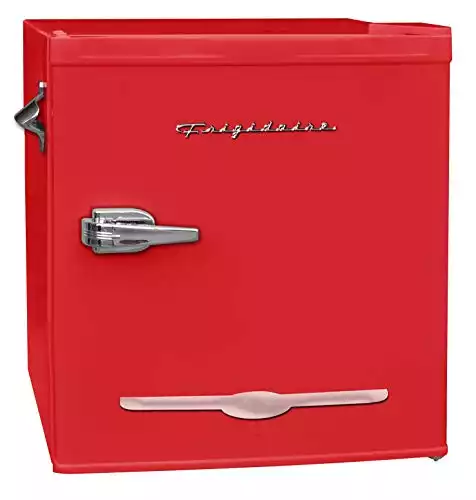 Frigidaire Retro Bar Fridge | Amazon
With the flush back design, adjustable feet, and reversible door, the Retro can go just about anywhere. It comes all ready for your game days with an attached bottle opener, slide out shelves for easy cleaning, an interior freezer with an ice cube tray with an adjustable thermostat so you can keep your two liters of bottle storage at the perfect temperature.
Buy at Amazon.com
We earn a commission if you make a purchase, at no additional cost to you.
09/19/2023 07:56 am GMT
Frequently Asked Questions About Retro Fridges
Are Retro Fridges Environmentally Friendly
For the most part, yes. Although retro refrigerators tend to look as though they came straight out of the fifties, sixties, and seventies, all that vintage design hides a very modern build, with all of the energy-efficient features you'd expect from a contemporary fridge/freezer.
Of course, not all kitchen appliance are created equally. Some are obviously going to be more environmentally friendly than others, so it always pays to do your research before you buy.
How Much Does a Retro Fridge Cost?
We hate to be the ones to say it, but this really is a "how much is a piece of string?" situation. As a general rule, you could spend anywhere from $500 – $1,500 for a really good quality retro refrigerator, while mini-fridges might set you back between $250 – $600.
Of course, there are always exceptions to every rule, and you might find that a budget of $2,000 bags you a really top-end model while even a hundred or so dollars could be enough to buy a decent mini-fridge.
Which is the Best Retro Fridge to Buy?
We've given you our pick of the five very best retro refrigerators with their innovative features around right now, but which one should you actually spend your hard-earned money on?
The honest answer is that it all depends on exactly what you're buying a fridge for. If you're completely revamping your kitchen with a retro feel and need a family-sized appliance that's perfectly in keeping with the theme, then you simply can't beat either of our two recommended Smeg products.
While the Smeg FAB32ULRD earned first-place thanks to its perfect combination of a gorgeously authentic retro design and a modern finish that's well suited to the needs of today's families, the truth is that the slim-line Smeg FAB32URPK does the same job almost as well, and may actually be a better option if you prefer its cute pink finish.
If you're kitting out a games room, man-cave or similar chill-out space, then the Galanz GLR10 Retro-Look Refridgerator is a great pick, offering plenty of big chill space without taking too much room.
Finally, if you're on the hunt for a travel-size mini-fridge with an abundance of old-school cool, look no further than the Uber Appliance UB-XL1-RED Mini Fridge. One of the more unique-looking products we've come across, it's the perfect choice for loading into your Volkswagen camper van and heading off on a long, summer road trip.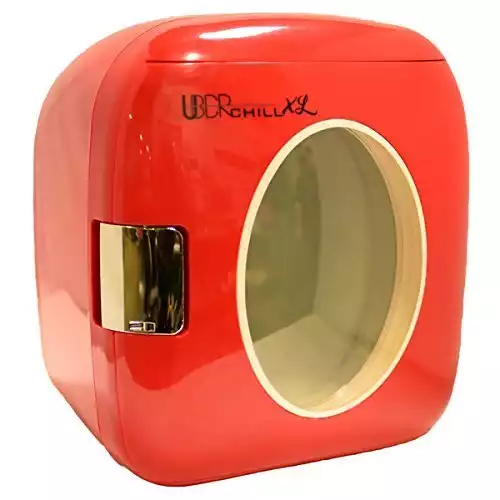 Uber Appliance UB-XL1-RED Mini Fridge | Amazon
The revolutionary Peltier technology enables for cooling or heating to suit all your needs. Cools up 32°F below ambient temperature and heats up to 150°F at standard room temperature (70°F).
Buy at Amazon.com
We earn a commission if you make a purchase, at no additional cost to you.
09/19/2023 10:07 pm GMT
Featured Image Credit: Flickr