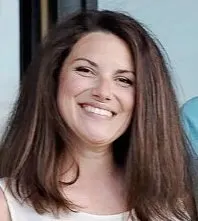 Latest posts by Sarah Caldwell
(see all)
Sure, you could just go to the store and grab a gallon of 'old fashioned' or 'homemade' ice cream. They may even be family owned or use an old homemade recipe. But they still have to use automated machines to achieve mass production.
If you've never tasted true homemade ice cream, you don't know what you're missing.
It's rich in flavor, creamy, and so much better. It tastes real, not artificial, and after trying it once, you'll never want to go back.
Here's our guide to finding and using the best hand crank ice cream maker to make real old-timey ice cream at home.
What is a Hand Crank Ice Cream Maker?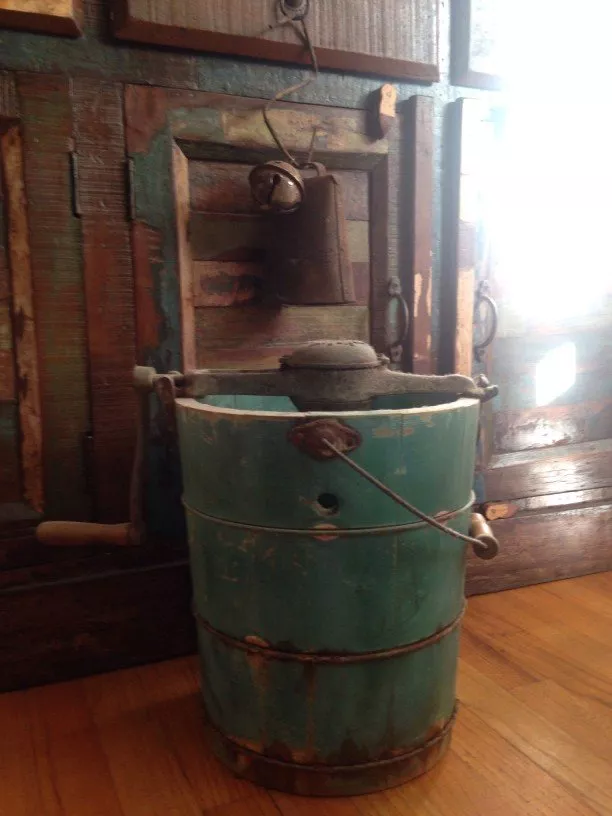 A hand crank ice cream maker is a machine capable of making small quantities of ice cream for individual consumption. They vary in size, but some can make enough for one person and some can make enough for several people.
Hand crank machines are comprised of a bucket and a crank. Some have hollow walls that hold the coolant, but there must be some sort of compartment to hold the ice and salt mixture that helps to slowly freeze the ice cream.
These machines can be laborious, but some are easier to use than others. They can be made of plastic, stainless steel, or wood. The crank may have one gear or more. Complex machines with more than one gear tend to make the cranking easier, but they can be harder to clean and maintain.
How Does it Work?
Every hand crank ice cream maker is different. Aside from the different materials they're made of and the different types of cranks, they are all different sizes, too. You can get small one-quart machines or large six-quart buckets.
The key to making ice cream is aerating the mixture while it freezes, which requires constant churning.
There are two types of machines: those that are pre-cooled and those that employ a freezing method as you crank.
A pre-cooled machine usually has a bowl that's placed in the freezer first to cool.
Once the bowl is frozen, you insert it into the machine, place your ingredients in the freezer bowl, put the lid on it, and crank.
As you crank the mixture, the frozen bowl slowly lowers the temperature of your mixture and freezes it, turning it into ice cream.
Other ice cream makers have a separate compartment that holds your coolant, which is typically ice and salt. Rock salt is prefered.
Mixing ice with salt causes the ice to melt, but it still remains at a temperature below freezing, thanks to the magic of salt. This low temperature works to slowly freeze the mixture into ice cream.
There's a third type of ice cream maker that has hollow walls that hold coolant. This coolant is a store bought mixture that works in the same way as ice and salt. However, it still needs to be frozen for up to 24 hours before making your ice cream.
Mass Produced Ice Cream
When translating this process to a larger scale, not much changed. The process is the same, but the size of the operation increases. Factories that churn out thousands of gallons a day still use the same methods for making their ice cream.
Ingredients, recipes, and brand labels may change, but now you know their secret. There's really no better way to make ice cream than what's been used for centuries.
However, the benefit to making your own is that you know exactly what goes in it and you have complete control over the machine you use. You can adjust your homemade recipe as you see fit, add and take away according to your preferences, and enjoy the perfect blend every time.
Why Use a Hand Crank Ice Cream Maker?
Making your own ice cream affords you the opportunity to use your own recipes, make healthier options, create your own mixtures, and spend time as a family or group of friends.
Using a hand crank ice cream maker may be retro, but it also means you get to add your personal touch to the ice cream you eat. You can adjust your recipes to your preferences, create your own recipes, and use healthier ingredients to make sherbet or sorbet instead.
Schedule a fun family night or a get together with friends. Making and enjoying ice cream together is a fantastic bonding experience. You can even use it as a fun science project for a homeschool lesson.
When it comes to buying ice cream at the store or making it at home, making it at home is just better. But there are a lot of options for ice cream makers you can use at home and they don't all involve a hand crank.
There are electric varieties that allow you to make ice cream at home without the work. And here's what I have to say about that:
There are also other manual ice cream makers that you can use at home that don't involve hand cranks. Ball ice cream makers are fun. Pre-cool the ball, pour in your mixture, seal it up, and play a game of catch.
The friction created from tossing it around aerates the mixture and slowly freezes it. This is pretty hard work, too, and the ball is cold on your hands. It's a fun game for a little while, but it can get tiring tossing a heavy ball around for 30 minutes.
Other machines use paddles to turn the mixture or spoons to help you stir. In any case, those can be even harder work than cranking and often take much longer.
Hand cranking is the way to go if you're looking to make your own homemade ice cream. It's way more fun.
Homemade Ice Cream Recipes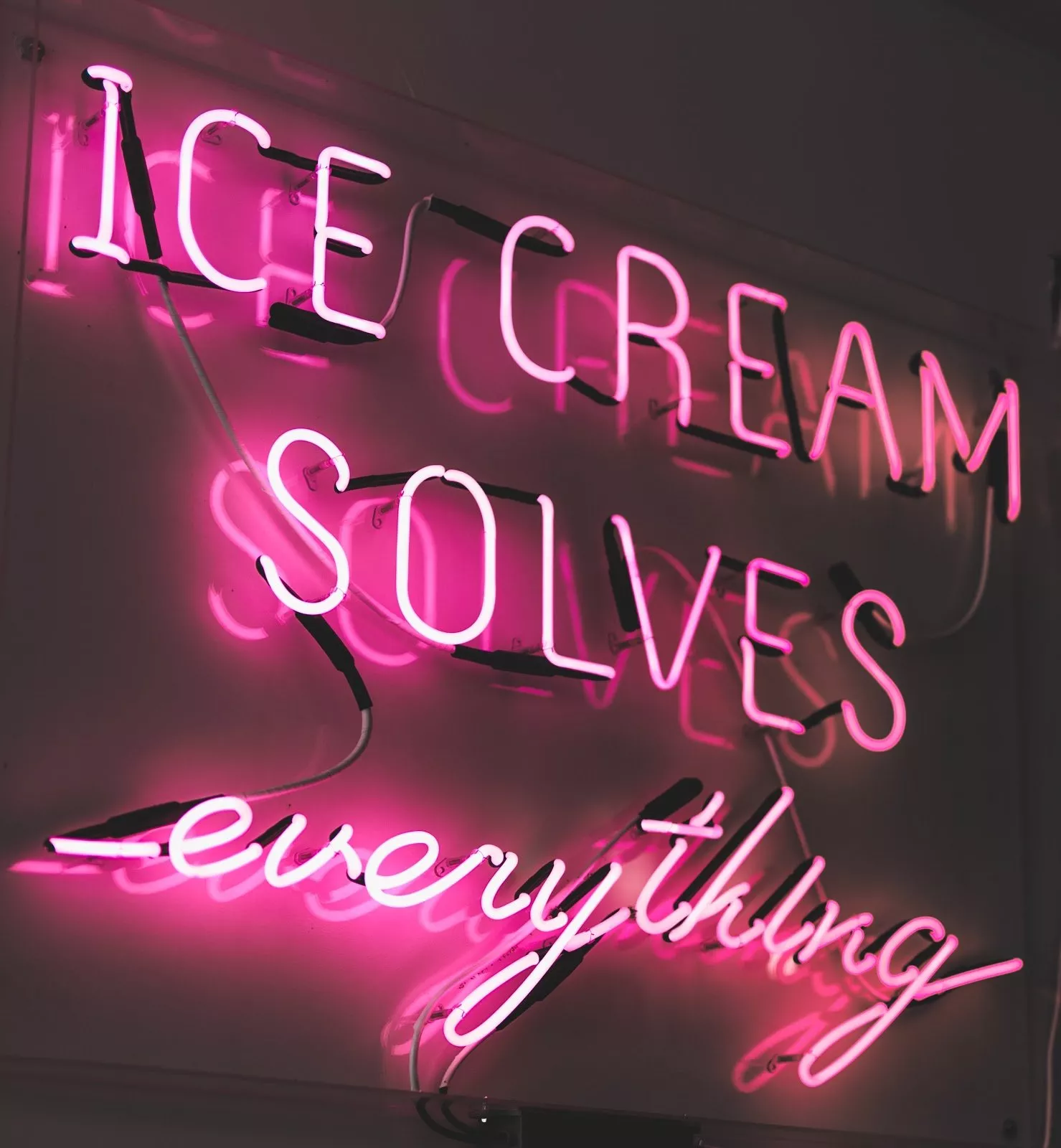 Image by Brendan Church on Unsplash
Homemade ice cream is a special treat. You can use your own recipe or find one online that you like.
There are a lot of recipes out there for many different flavors. You can always tweak them for your taste, but here are a few favorites you can try.
French or American
These two recipes from allrecipes perfectly describe the two different types of ice cream. Everyone has their preference, but try both before you decide. You might be surprised at how well you like one over the other.
This article also does a great job of explaining how you can add your own flavors. If you don't like plain vanilla, this traditional recipe has you covered.
Coffee and Ice Cream
If you love coffee and you love ice cream, put them together with this recipe for coffee ice cream.
You get the best of both worlds and it's the perfect excuse to enjoy your coffee all day long. Come to think of it, it's also the perfect excuse to have ice cream for breakfast. Don't tell anyone I gave you permission to do that.
Dairy-free Ice Cream
If you're lactose intolerant but you hate missing out on all the fun, try a dairy-free alternative. There are plenty of recipes out there that give you the creamy texture and rich flavor you crave without hurting your tummy.
Banana ice cream is also a great, healthy alternative to ice cream. Not only is it dairy-free, but the banana base gives it a wonderful flavor while keeping your calories low. Unfortunately, you can't use your brand new ice cream maker to whip up this easy concoction.
Ice Cream and Alcohol
We're all adults here. Let's not pretend like we don't love to put our favorite alcohol into just about anything. Including ice cream. Alcohol and ice cream were MFEO (made for each other).
Try a red wine float for a dessert worthy ice cream treat and an excuse to get your heart-healthy glass in before bed. You can also make red wine milkshakes for dessert if thick and creamy is more your style.
For cherry lovers everywhere, there's a cherry amaretto chocolate chip ice cream recipe you have to try. And if you're not much of a sweet tooth, it might be time to try a whiskey-spiced walnut ice cream.
The Best Hand Crank Ice Cream Makers Money Can Buy
Have I convinced you yet? Now you just need to find the best hand crank ice cream maker. It's not just about nostalgia anymore. It's about getting your hands on something fun that you can customize for your family.
If you've finally realized you need one, here are some of the best hand crank ice cream makers you can buy.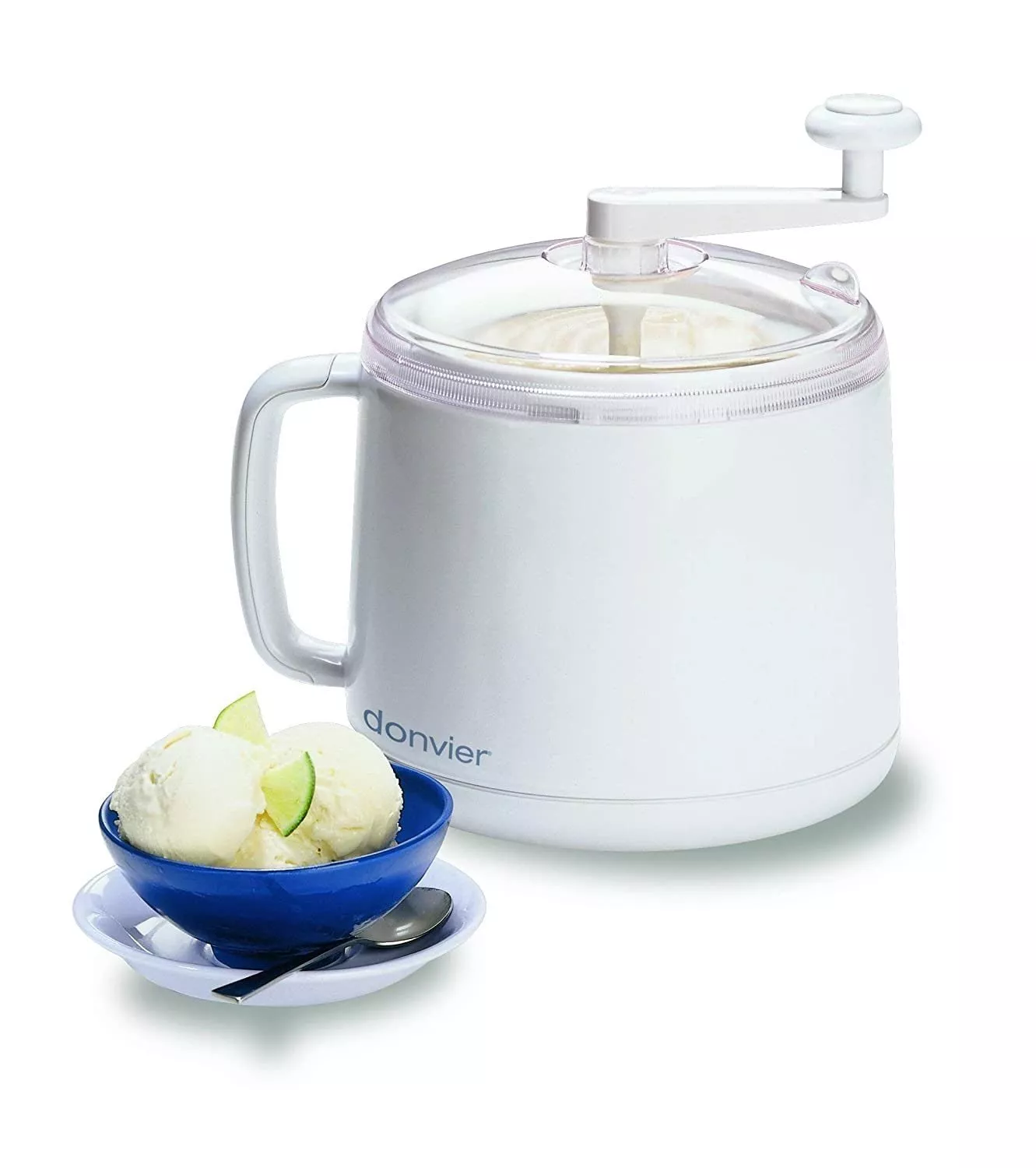 Image via Amazon
This ice cream maker is a great small capacity crank machine for an affordable price. You don't need salt or ice either, thanks to the aluminum freezer bowl. It's easy to clean and it comes highly rated and reviewed.
The recipe booklet may help get you started, and because it only has a 1-quart capacity, it doesn't take very long to make a batch of ice cream for one person.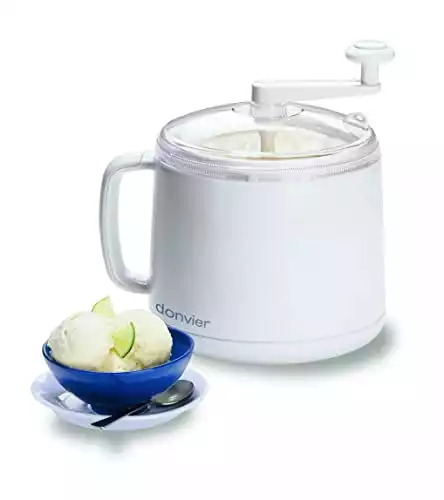 Donvier 837450 Manual Ice Cream Maker | Amazon
No salt or ice is needed to create 1 quart of ice cream, frozen yogurt, sorbet, or frozen drinks at home with this ice-cream maker. Just turning the crank occasionally for 15 or 20 minutes is all it takes.
Buy at Amazon.com
We earn a commission if you make a purchase, at no additional cost to you.
09/17/2023 03:08 am GMT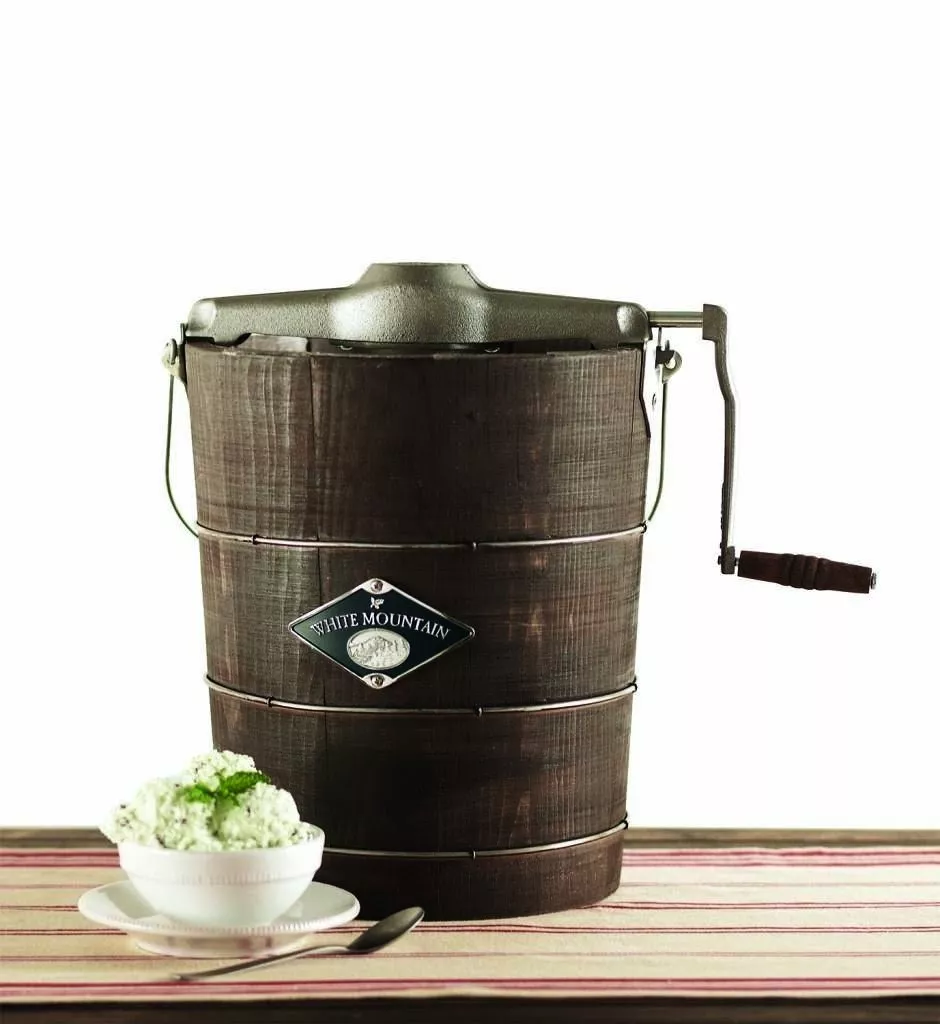 Image via Amazon
Make up to four quarts of ice cream in an attractive ice cream maker that even looks retro. Because it's a larger capacity ice cream maker it takes a bit longer and could wear you out, so this is an activity for multiple people.
The stainless steel canister is durable and the 3-gear drive crank system is a lot easier to churn than cheaper models. It's a long lasting ice cream maker that you'll be able to enjoy for a long time.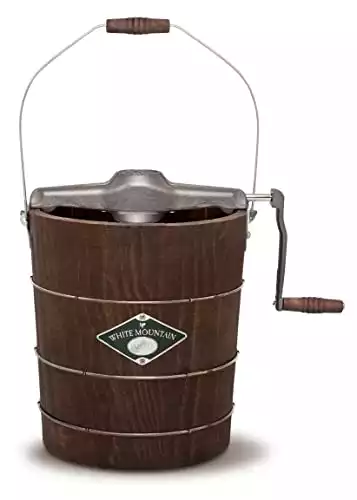 White Mountain Hand Cranked Ice Cream Maker | Amazon
Make homemade ice cream the old-fashioned way with the White Mountain Hand Cranked Ice Cream Maker. This hand-cranked ice cream maker machine uses triple-motion action to continuously fold the ingredient mixture from the outer walls back onto itself, creating smooth, creamy ice cream that tastes just as delicious as you remember.
Buy at Amazon.com
We earn a commission if you make a purchase, at no additional cost to you.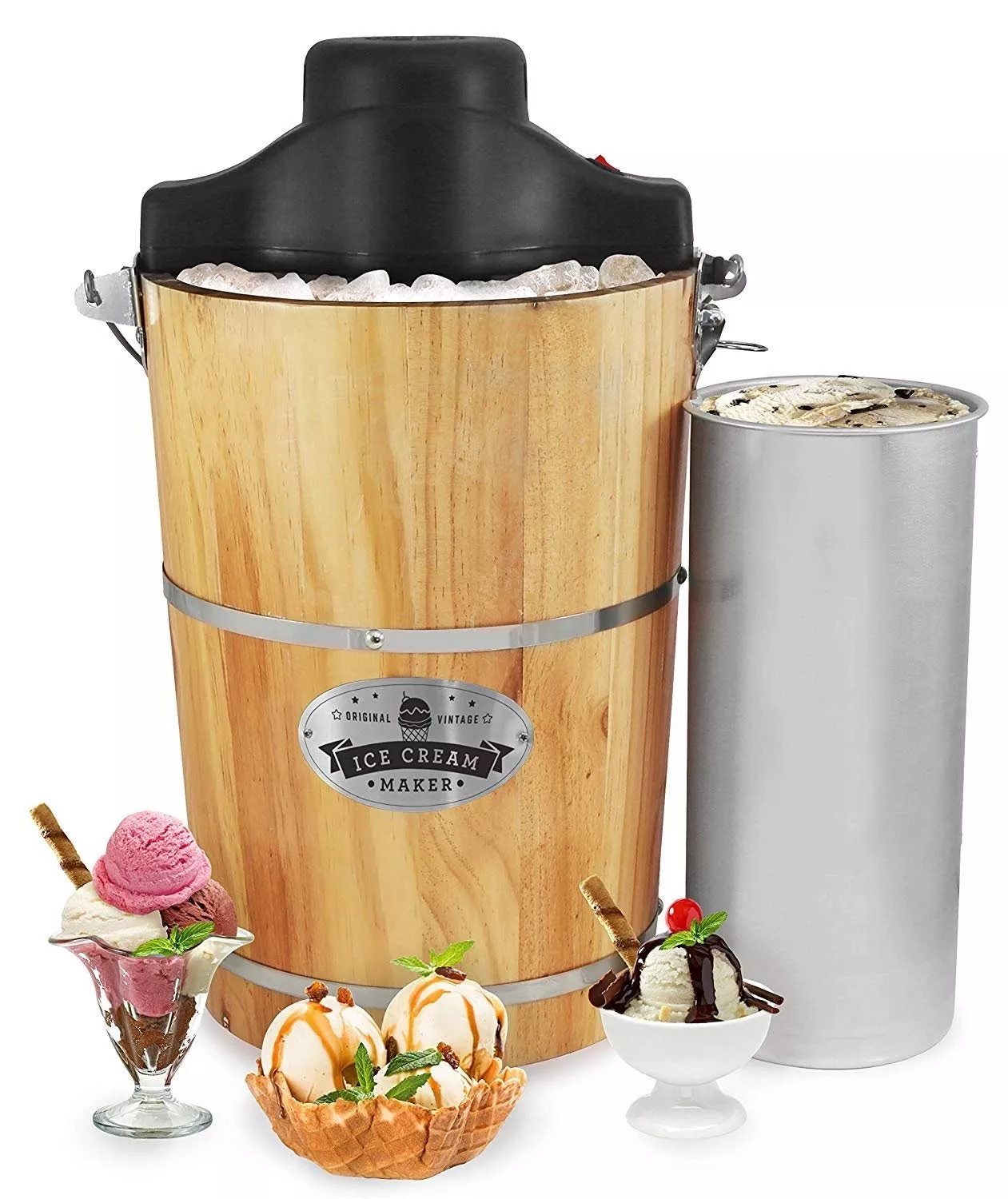 Image via Amazon
If you get tired of cranking, you can use this machine to your advantage. It has an electric component for those of you who don't want to crank yourself or don't want to wait. While it could be considered cheating, at least you have the option when you need it.
It comes with an aluminum freezer canister and a solid wood bucket made of pine that are both easy to clean. It requires salt and ice, but offers the possibility of making soft serve in addition to your traditional recipes.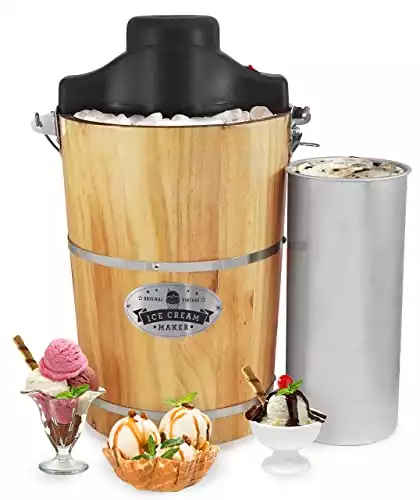 Elite Gourmet EIM-506 6 quart Old-Fashioned Ice Cream Maker | Amazon
Enjoy smooth, creamy ice cream anytime with the Elite Gourmet 6 Qt. Old Fashioned Ice Cream Maker. It's perfect for entertaining at family parties, BBQ's and picnics using all of your favorite ice cream, sorbet, gelato and even frozen yogurt recipes!
Buy at Amazon.com
We earn a commission if you make a purchase, at no additional cost to you.
09/17/2023 04:59 pm GMT
We All Scream For Ice Cream
Using a hand crank ice cream maker is an exciting glimpse into the past, but it's an important part of your future. With so many options to choose from and so many ways to make your own ice cream, there's no reason not to try it!
It's so much more fun to create your own recipes from scratch and enjoy exactly what you like. The fruits of your labor will be rewarded with a delicious bowl of homemade ice cream and quality time with friends and family.