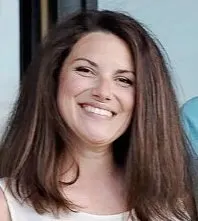 Latest posts by Sarah Caldwell
(see all)
Growing up, I remember an old oak cabinet sitting in my grandma's dining room. She used it to store her China and display her decorative dishes. I never knew there was a name for it, and I always called it a hutch. Maybe sometimes even a sideboard.
Years later, I learned that it was called a Hoosier cabinet, and it was intended to be much more than a storage cabinet. The majority of these cabinets were made in Indiana, which is where the name comes from, and it provided a workspace for nineteenth century homemakers.
What is it?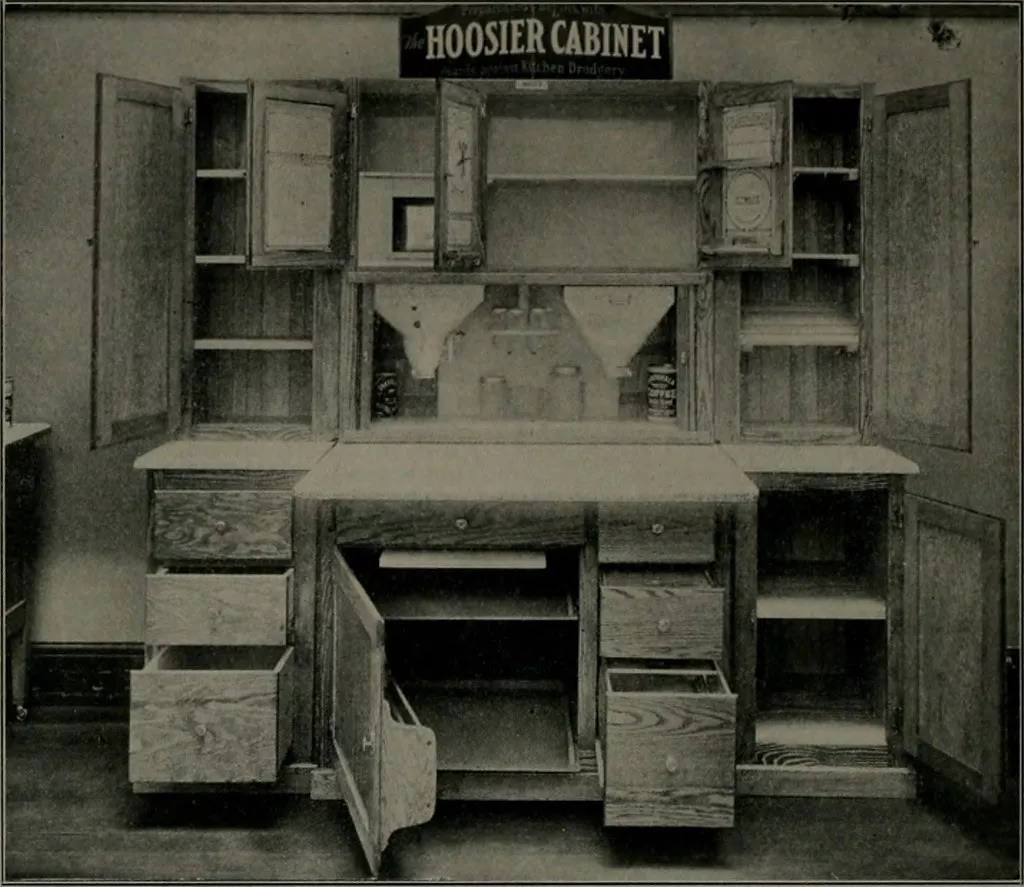 Image by Internet Archive Book Images via Flickr
An antique Hoosier cabinet gets its name because most were manufactured in Indiana. The first vintage Hoosier cabinet models gained popularity in 1898 and they stuck around until the 1940s when their use started dwindling.
They were made by the Sellers furniture company and were intended to hold things you would very frequently use in the kitchen like sugar, spices, and flour. It also had built-in functioning parts like meat grinders, flour sifters, a grocery list wheel, cookbook holders, and spice carousels.
It assisted in the speed of making meals to ensure that everything was in one place and ready when you needed it.
Some modern Hoosier cabinet models have prep sinks with running water and garbage disposals and outlets for small electronic appliances like mixers and blenders. It's intended to offer a separate work space from the rest of the kitchen and is a great solution for allowing multiple chefs to use the same space at the same time.
It's a beautiful, functional piece of furniture for a kitchen and is much larger than a traditional hutch with a lot more versatility.
History of a Hoosier Cabinet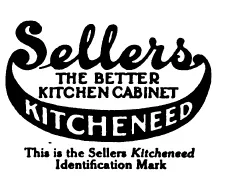 Image via Wikimedia Commons
Until the 1920s, it was rare to see a house with a built-in kitchen cabinet. If you were purchasing a home, it very seldom featured storage space in the kitchen area. Without a kitchen cabinet of some sort, you couldn't store any of your necessities.
These cabinets came about because they were very useful in homes from around 1890 to 1940. Even when homes began featuring cabinets, many people were so accustomed to having Hoosier cabinets in their kitchen that they were still being manufactured through the 1940s.
The largest manufacturers included The Hoosier Manufacturing Company, G.I. Sellers and Sons, McDougall Company, Coppes Brothers and Zook, and Campbell-Smith-Richie.
As Hoosier cabinets evolved, they included additional accessories that made cooking much easier. The peak of their popularity was in the 1920s and began to decline with the production of built-in kitchen cabinets and countertops.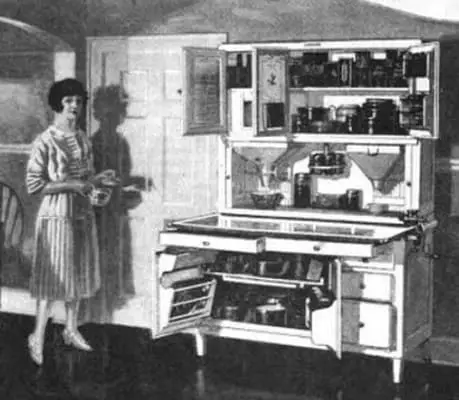 Image via Wikipedia
Near the end of the nineteenth century, furniture manufacturers (The Hoosier Manufacturing Company being the first to hop on board) realized they could very easily sell stand alone storage cabinets with workspaces. They marketed these as equipment and ingredient storage for a cook's kitchen.
As the Hoosier Manufacturing Company grew, it marketed the product heavily, and the term became generic for the Hoosier style of cabinet that many other manufacturers began to produce. In fact, they sold two million cabinets between its inception until 1920.
The U.S. had 20 million households at the time, which means about 10% of homes had one of these cabinets.
Even though Hoosier style cabinet models were still sold, the depression made sales difficult, and when people began to buy modern homes with built-in cabinets, the piece became old fashioned. The two largest manufacturers of vintage Hoosier cabinet models were out of business by 1950.
Unique Features and Design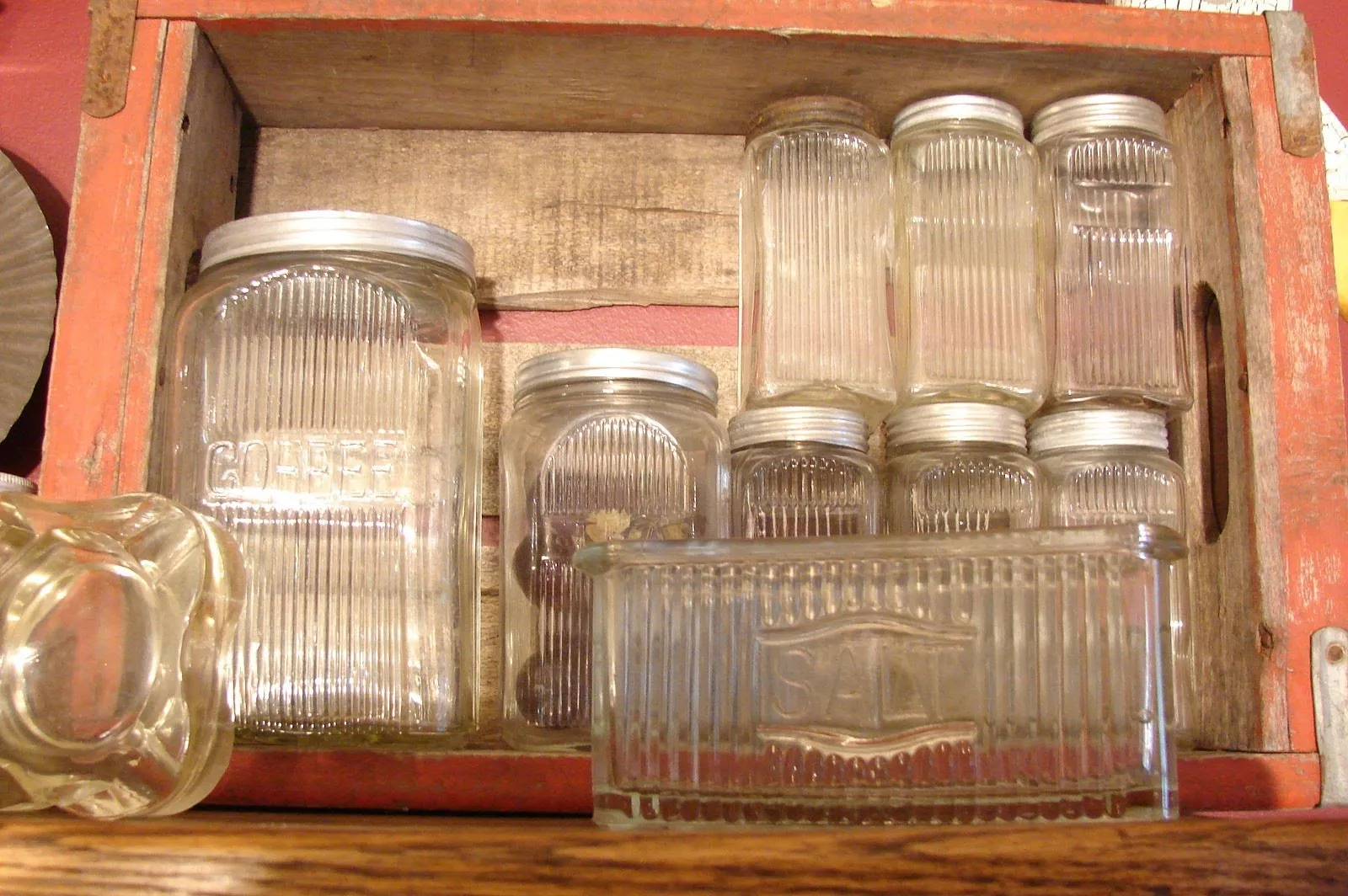 Image via Wikimedia Commons
Hoosier cabinets have several identifying features among which include its style, construction, manufacturer, and art deco components.
They have deep lower cabinets for large pots and pans. The workspace countertop is typically made of porcelain. The upper cabinet is more shallow. It has built-in spice rack, flour bin, sugar bin, flour sifters, meat grinders, and other necessary kitchen appliances.
They are typically made of wood. Those made before 1920 are solid oak, but some are walnut, white maple, or pine.
While the manufacturer that made them popular was the Hoosier Manufacturing Company, there were a few others. A genuine Hoosier kitchen cabinet made by the Hoosier Manufacturing Company had a trademark cabinet doors fasteners marked with an "H."
The Sellers company marked theirs with a metal tag on the front of the cabinets. Others put marks on the bottom or back of the cabinets, and you may even find a stamp with a manufacturing date.
Some manufacturers, like Sellers, tried to add modern finish to their Hoosier style cabinet models with curved lines, a glass door, or contrasting paint colors. Today, there aren't as highly sought after as the more traditional Hoosier kitchen cabinet designs.
How to Identify a Hoosier Cabinet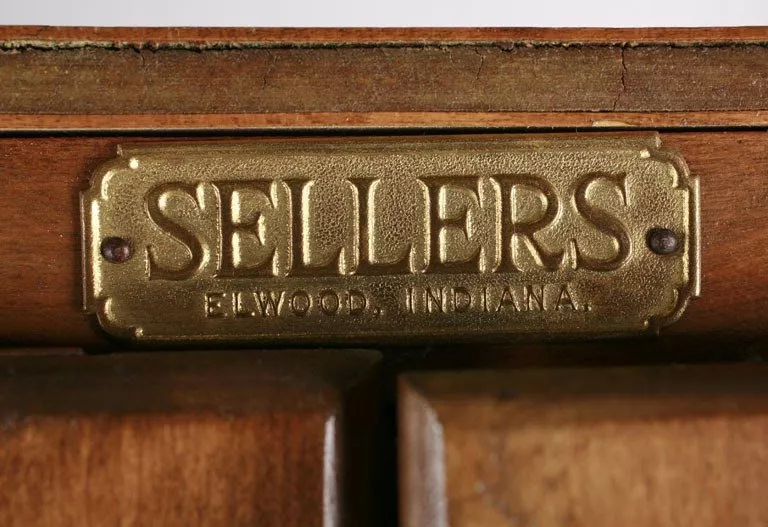 Image via Wikimedia Commons
If you're in the market for a Hoosier cabinet, you're going to want to know how to identify them so that you're sure you're paying for a genuine item. There are a few things to look for when checking it out.
First, it should follow the three-compartment design. Every antique Hoosier cabinet has deep lower cabinets, a porcelain workspace, and shallow upper cabinet. You'll typically find a bin for sugar; glass containers for coffee and tea, spice jars; and a flour sifter at the workspace.
Any drawers you find should be lined with tin. They were meant to keep bread fresh for longer, and there should be at least one drawer somewhere under the workspace that is lined this way.
Finally, look for a manufacturer's stamp. You'll find a date of manufacturing that will tell you whether or not it's genuine. However, you can also look for the trademarks signs like cabinet doors fasteners marked with "H," a metal tag on the front of the cabinets, or a mark on the back side or the bottom of the cabinets.
Manufacturers of genuine Hoosier cabinets include Hoosier, Sellers, Wilson, Boone, Kitchen Maid, McDougall, and Napanee.
Related: Learn about some of the best vintage breadboxes for your kitchen
Hoosier Cabinet Pricing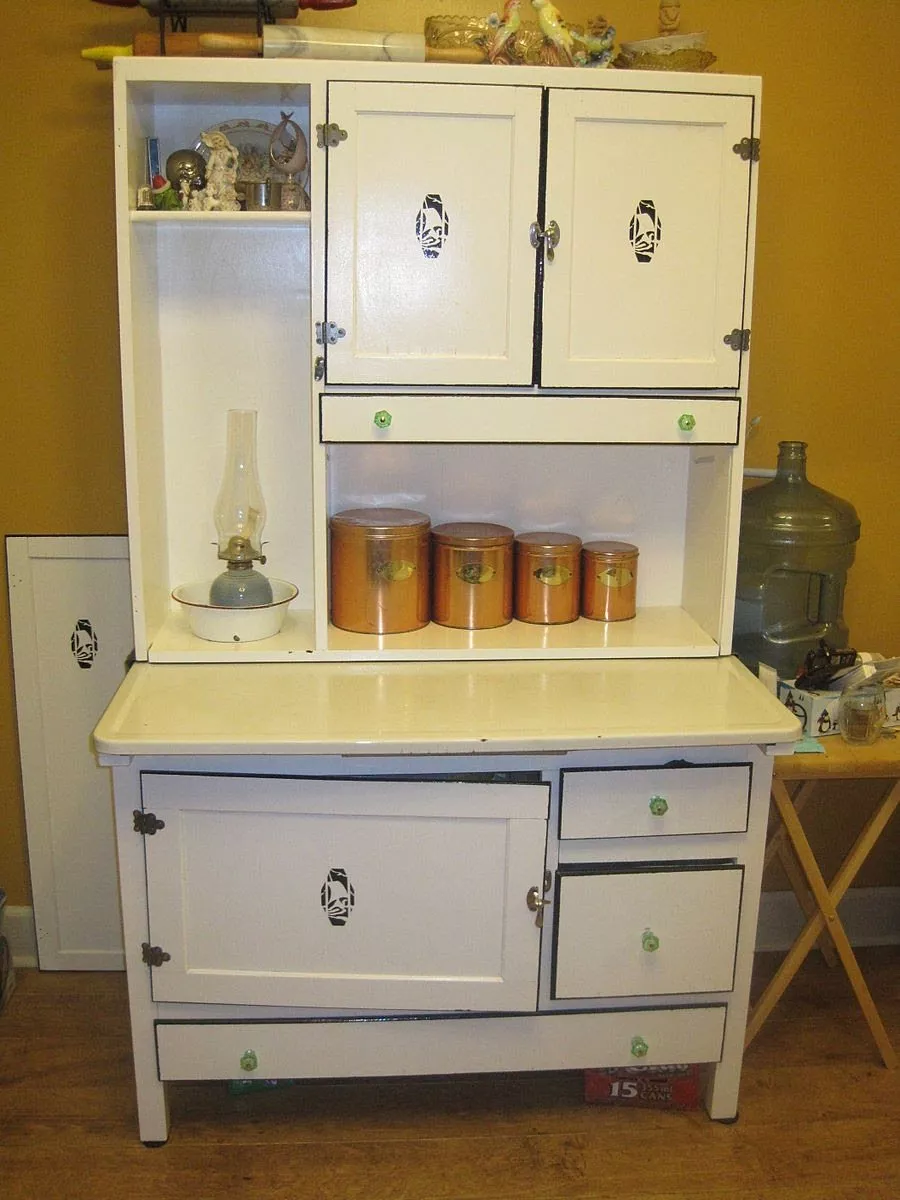 Image via Wikimedia Commons
Don't pay for something if you're not sure it's genuine. If you can verify its authenticity, you can expect to pay between $300 and $2000. Condition has a lot to do with value. Cabinets made of 100% wood in excellent condition will go for around $2000.
That's quite the markup, considering that when they were first produced, they went for about $20.
While these solid wood designs are highly sought after, you may be willing to pay a bit more for something of lesser quality, for example plywood, if you like the look of it better. As they say, beauty is in the eye of the beholder, and you'll find a lot of different designs and colors out there.
Genuine Hoosier cabinets make great additions to your dining room or kitchen. They can be elegant display pieces as well as functional accessories. They're great accent pieces, sparking conversation, and enhancing your farmhouse kitchen design. So if you are looking to get a new cabinet get yourself a Hoosier cupboard, or even a china cabinet for your kitchen and living room. Trust me, you need these antique furniture pieces in your home!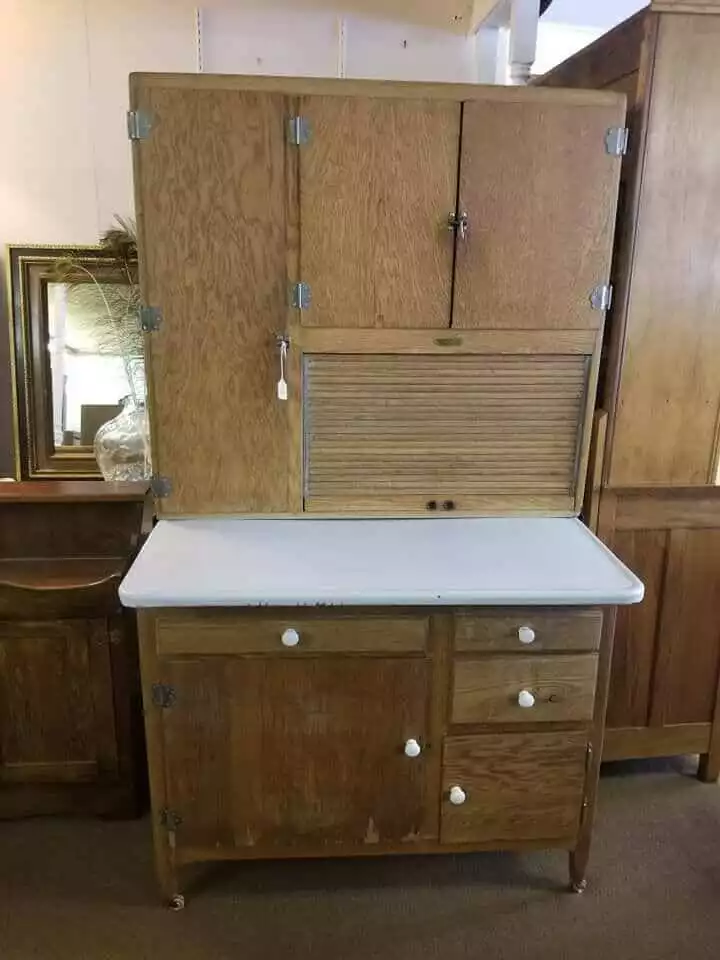 Hoosier Cabinet for sale | eBay
Get the best deal for Antique Cabinets & Cupboards from the largest online selection at eBay.com.
Check Prices
We earn a commission if you make a purchase, at no additional cost to you.