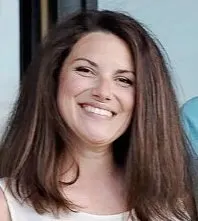 Latest posts by Sarah Caldwell
(see all)
When it comes to luggage brands, Samsonite is generally among the first to come to many people's minds. Having been designing and modernizing luggage since 1910, the company is responsible for many of the styles we see today.
Bottom Line Up Front
Samsonite is a reputable brand of luggage that many people trust. They have a lot of different styles to choose from and they continue to innovate. Their modern designs are just as timeless as their classic suitcases and many people love them.
Samsonite Origins
It all started in Colorado in 1910 when luggage salesman, Jesse Shwayder, designed a specific suitcase for his family's company, the Shwayder Trunk Manufacturing Company. As trends in travel were on the rise, the Shwayder brothers were on a mission to create heavy-duty trunks to withstand the early challenges of travel. Jesse's suitcase was designed with durability in mind and dubbed Samson after the biblical figure known for his strength.
It was in 1941 that the Samsonite name came to life when Jesse designed a new style of luggage made of vulcanized fiber and called it the Samsonite streamlite. The name Samsonite was trademarked that same year as the suitcase line was making strides.
Finally, in the 1960s as flying became more commonplace, millions of people began to travel domestically and internationally for both business and leisure, inspiring the Samsonite Classic Attache case and the Samsonite Saturn suitcase. The latter was a booming success and became one of the most timeless designs in hard suitcases.
As the Samsonite suitcase line flourished in the 1960s, the Shwayders saw the opportunity in capturing it as the company name. In 1965, they officially changed the company name to Samsonite Company as the brand a
Samsonite remained a family-owned company until 1973 when it was bought by Beatrice Food Company. Since then, it has gone through multiple ownerships until filing for bankruptcy in 2009. But, as the Samson name suggests, the Samsonite Company is strong and overcome this setback to relaunch with a new vision and new designs in luggage.
Collectors Items & Vintage Style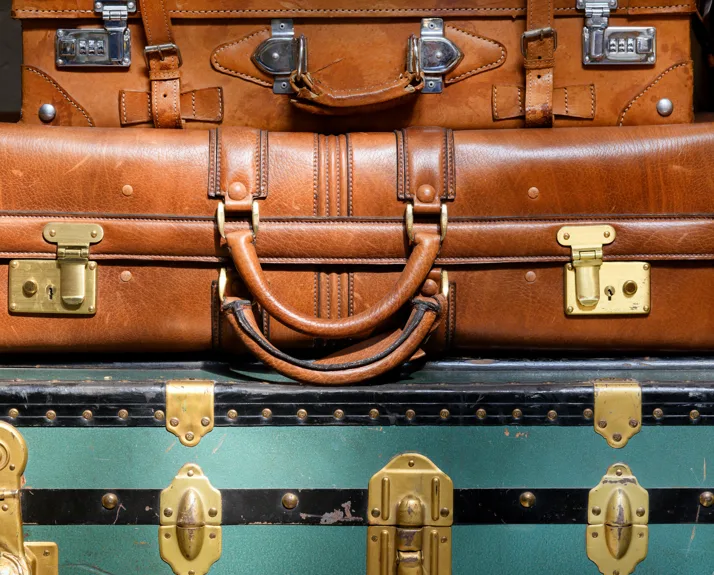 Today, luggage has evolved to include a wide variety of materials, sizes, and designs from backpacks to suitcases with wheels for travel in style and practicality. However, the timeless look of some of the early luggage manufactured, particularly the designs of Samsonite, remains sought out by collectors and vintage lovers alike for use as actual travel suitcases, or for home decor.
Many online sites such as Etsy, Mercari, eBay, and Poshmark have vendors offering a variety of vintage products including Samsonite trunks and suitcases at varying prices and conditions. Prices for trunks and suitcases typically range from $50 to $100 and can get up to $200 or more for sets. For specialty designs such as the Marble Samsonite streamlite, prices can creep even higher if in good condition due to higher quality and rare supply.
Here are some examples of commonly seen styles and prices available today: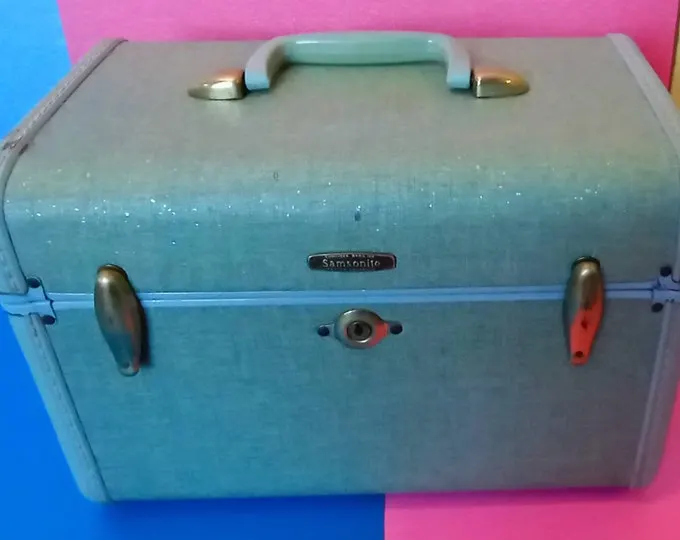 In good condition, this super cute travel case comes in light turquoise and weighs six pounds. The measurements of this Samsonite train case are 13″/32 cm x 7″/17 cm x 9″/21 cm. Perfect for travel, at-home storage, makeup case, and more!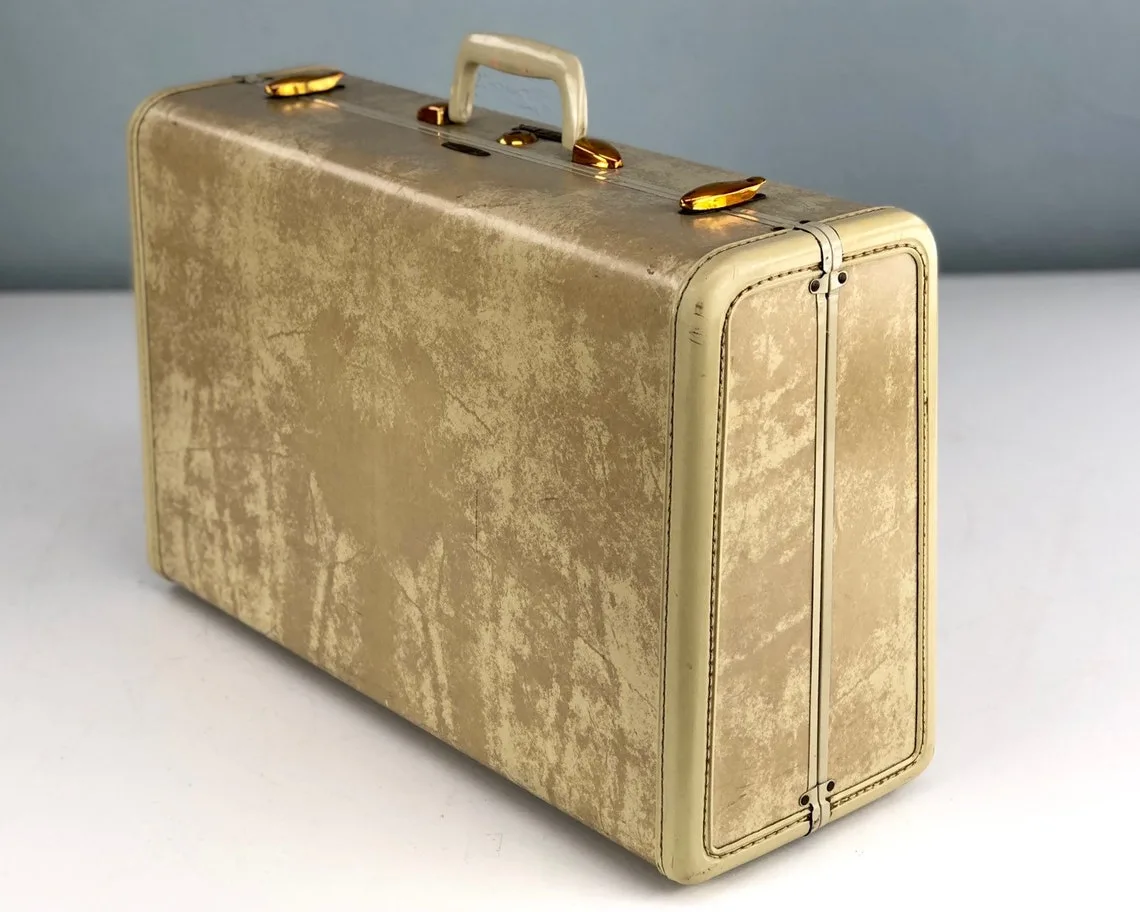 This charming 1950's vintage Samsonite suitcase is perfect for old-timey travel and comes in a marbled cream color referred to as Natural Rawhide by the company. The exterior is listed as being in good condition with some minor scuffs, and scratches. Around the edges is a hard rubber trim with cloth stitching that is also in good shape with some minor wear. The interior is noted to be in very good condition with minor stains and scuffs. It is a medium-size suitcase with the measurements 21″ x 13″ and sides taper from 7 3/4″ to 7″ inches.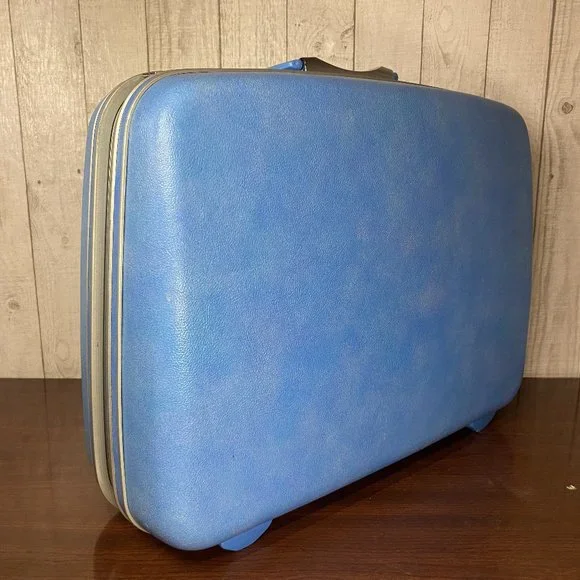 This Vintage Samsonite Silhouette Biscayne blue suitcase from the 1960s appears to be in great condition on the outside with some minor stains and scuffs on the inside. It features two storage sections inside and brass latches to close it tight. It is reminiscent of early plane travel throughout the '60s and would make a great travel piece.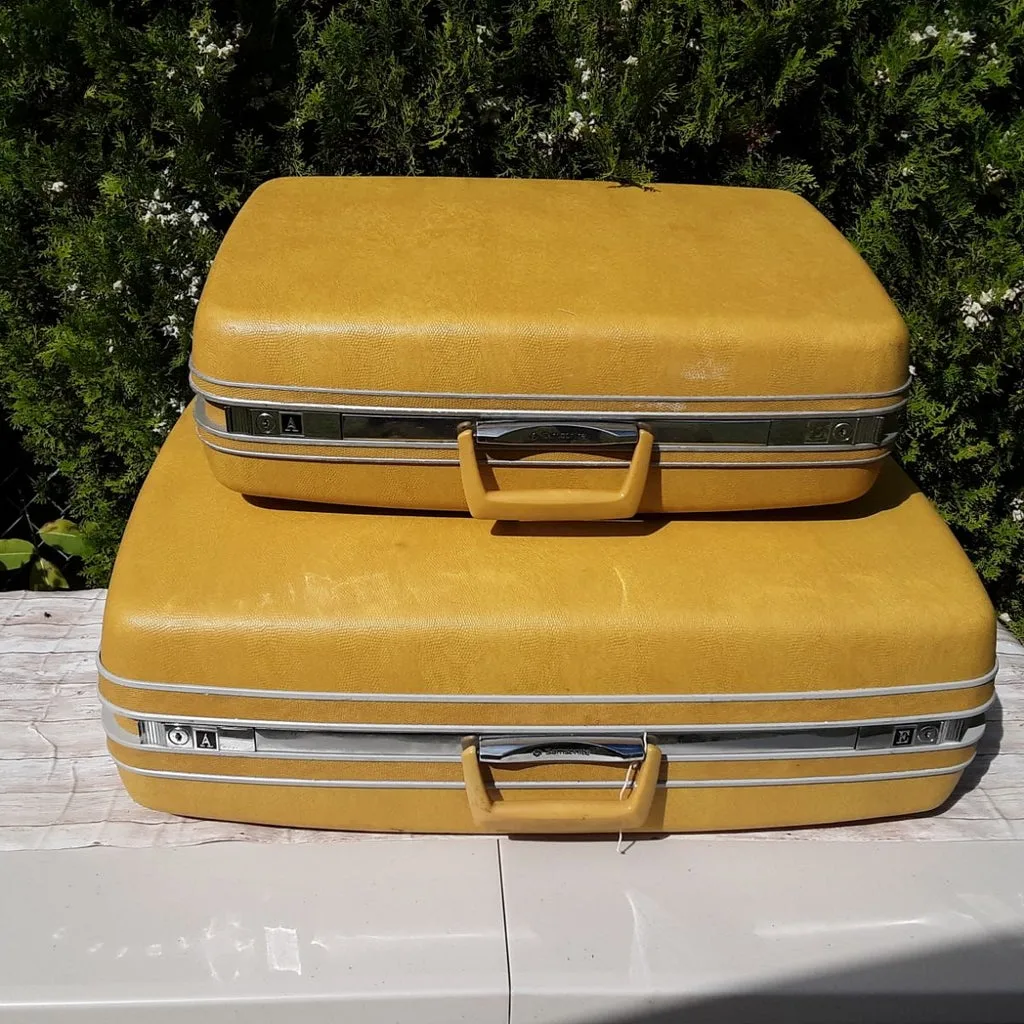 For an attractive luggage set, this mustard yellow 1958 Samsonite Silhouette set is ready for another round of adventures. Both are listed as being in very good condition with minor scratches on the outside, the large one measures 28″L x 11″W x 21″H and the medium measures 21″L x 7″W x 16″H. The interior, a light pale yellow, is also listed as being in good condition. This line was considered one of the first luxury suitcases for the new jet-set era of travel and is still perfect for globe-trotters and adventurists today.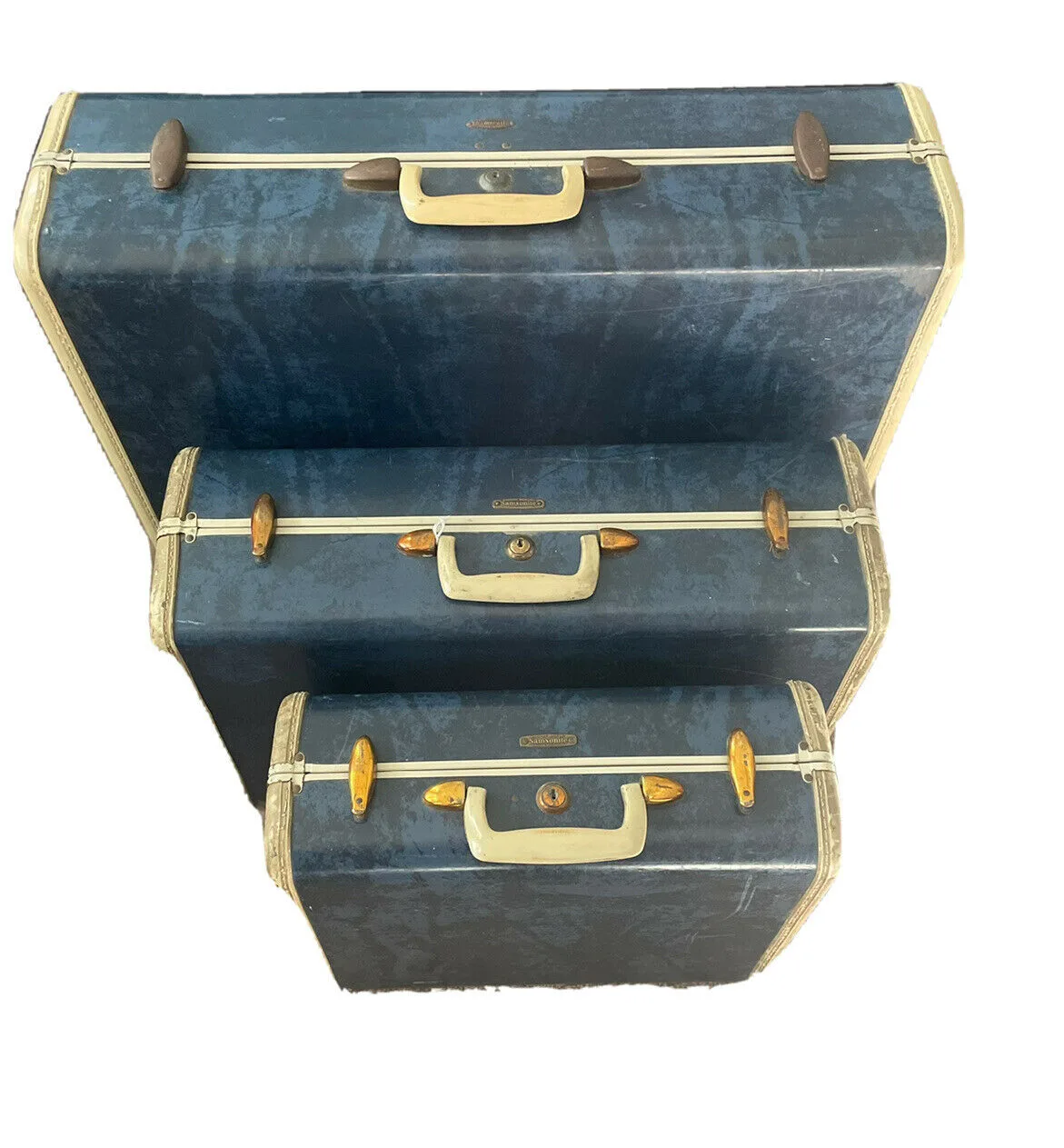 Beautiful dark blue with a marbled effect and bone-colored trim gives this set a charming and timeless look. Hard, shiny exterior in good overall condition with operational latches. The larger suitcase, perfect for garments, is roughly 20" tall with the two smaller suitcases about 13" tall, perfect for smaller items or as a briefcase or makeup case. The interior is a little worn but overall fine for use.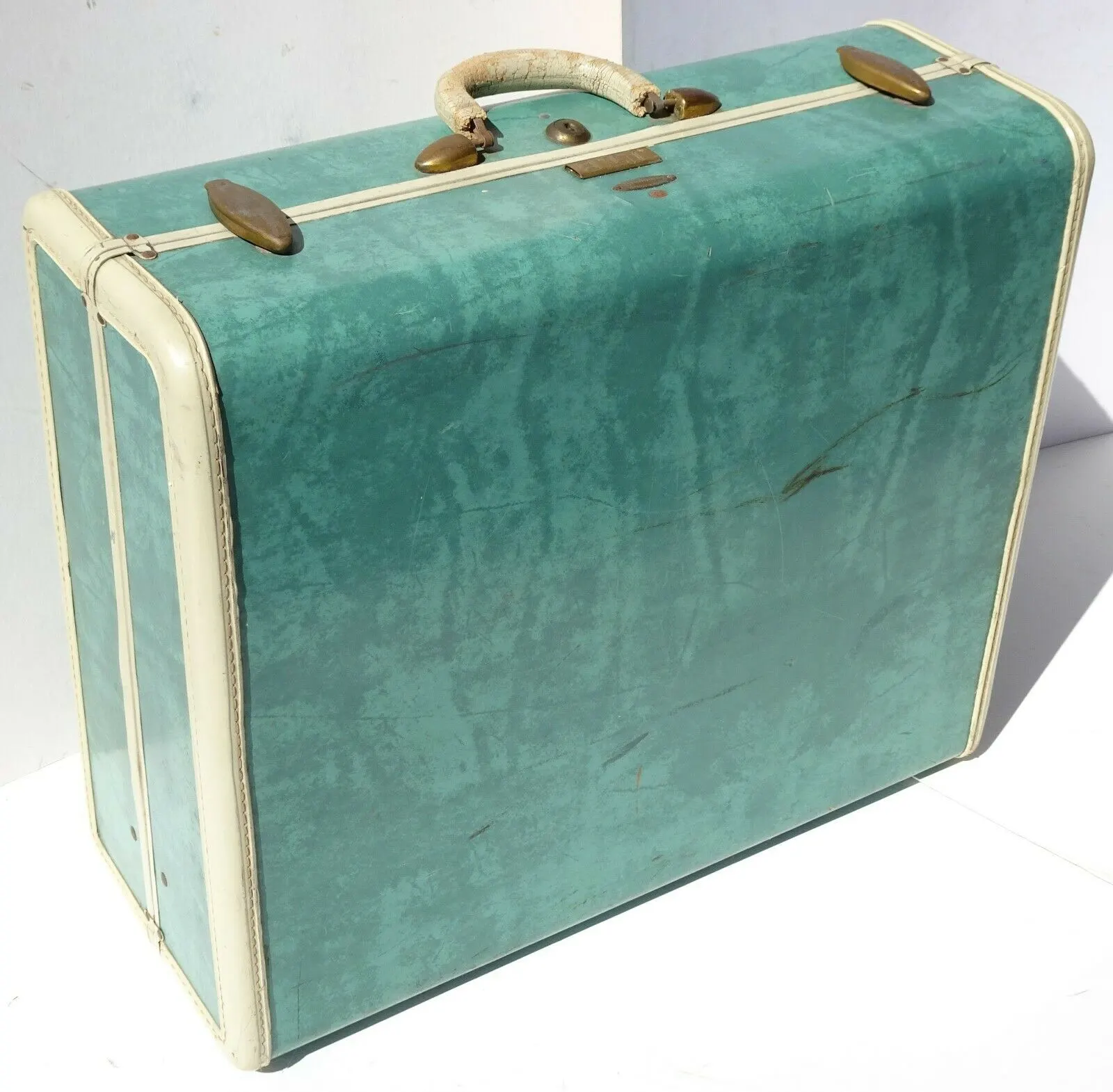 This 1950's Bermuda green marbled suitcase with ivory ribbing is cheery and bright. Nicely sized at 21 1/8″W X 18" H, it's perfect for packing clothes and other travel items. It shows the use but is a solid suitcase with working handle, hinges, and closures. And, where most vintage Samsonite suitcases are missing a key, this one still has it! The slightly stained interior has two full pockets with a top fabric flap to keep clothes wrinkle-free and the elastic is good.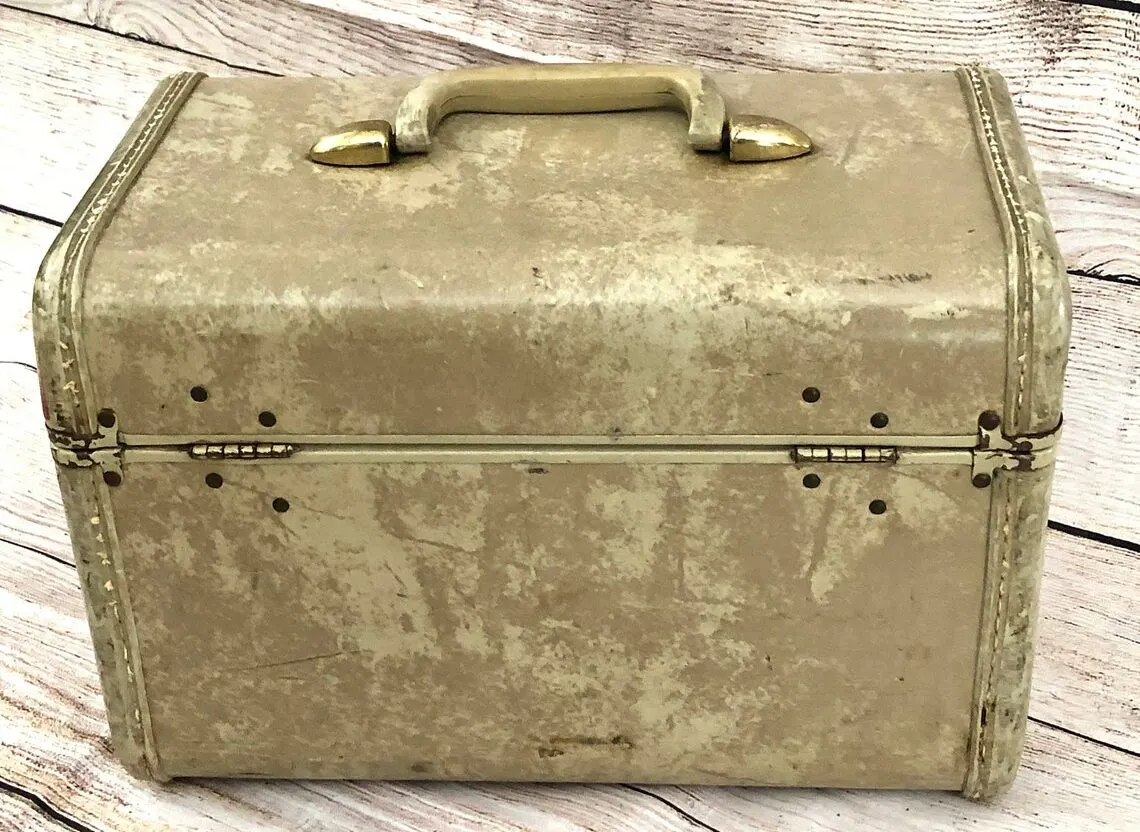 This 1950's Samsonite Streamlite train case is perfect for towing or storing makeup and other small treasures. It is light green and slightly marbled with matching trim and measures 13" Long x 8" Tall x 8" Deep. It has a hard shell in good condition with sturdy metal latches and a plastic interior.
Restoring Vintage Luggage
Once you have or find vintage luggage, it can be nice to spruce up the items to get rid of any old, musty smells on the interior, scuffs, and other markings on the exterior. After all, these pieces will most likely show the wear and tear of use and time. This can be especially necessary if the suitcase or trunk has been sitting in storage for many years as well. Here are a few steps to breathe some life into old luggage:
First, wipe down the outside of the suitcase with a simple mixture of warm water and mild soap such as dish soap. This is just to remove any dust, dirt, or grime. If it's a leather suitcase, a soft washcloth is ideal, and be sure to be gentle as you wipe it down. If it's a hard suitcase scrubbing harder should be fine. Try using a sponge or toothbrush to get into grooves and latches.

Once it's clean and dry, you can address scuff marks. Try using a magic eraser to buff these out, like this one by

Mr. Clean

. It may take a little time and elbow grease, but after some scrubbing, the scuffs should be minimized.

For the inside, start by first vacuuming it out to clean any cobwebs, dust, or other particles.

Once it's been vacuumed, give it a sniff. If it smells mildewy or musty grab some baking soda to freshen the fabric. Simply sprinkle baking soda around all of the insides and let it sit for a few days to a week. Afterward, vacuum up the baking soda and the musty smell should be gone. To maintain a fresh scent, try throwing a dryer sheet inside now and then.
Modern Samsonite
Today, Samsonite is still a leader in the luggage industry and continues to innovate the design and materials of suitcases for travelers the world over. In 2020, the company launched the Proxis hard suitcase line which features a patented luggage material that is super strong and sturdy while still being light and easy to carry. And, as Samsonite is committed to being the most sustainable luggage company in the world, the Proxis suitcase line is recyclable as well.
In recent years, the Samsonite Company, now better known as Samsonite International, has acquired other well-known luggage and bag companies. With joint headquarters in Massachusetts and Luxembourg, the company works closely across the industry to continue the mission of lowering environmental impact while enriching people and communities.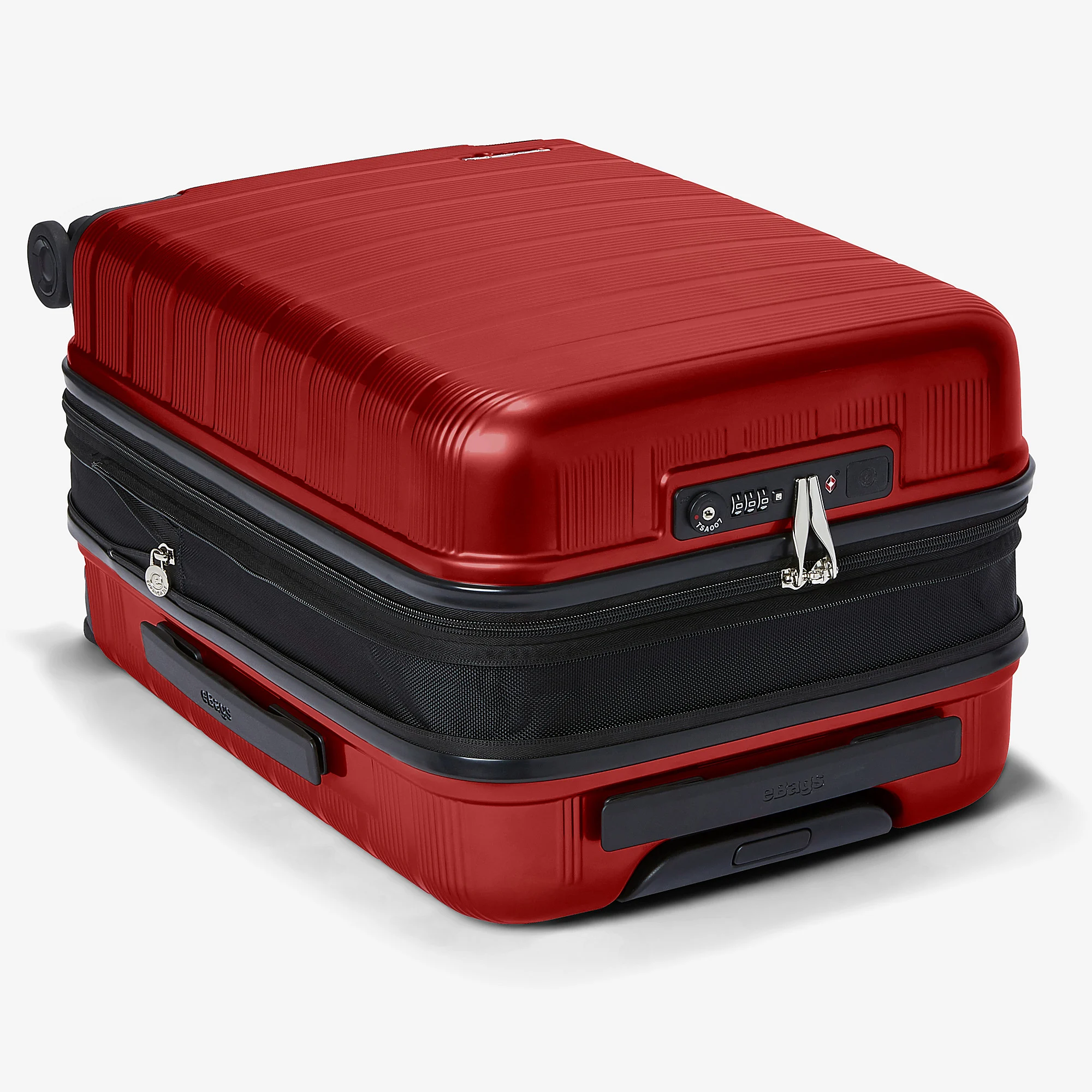 The companies owned by Samsonite International include:
American Tourister

Tumi

Gregory

High Sierra

Kamiliant

Ebags

Lipault

Hartmann

Xtrem
FAQs
Curious to know more about Samsonite? These frequently asked questions should help.
Question: What year was the Samsonite luggage company founded?
Answer: Samsonite was founded in 1910 by luggage-salesman Jesse Shwayder, but was originally the name of a suitcase Jesse designed. The Samsonite suitcase was sold under the family company, Shwayder Trunk Manufacturing Company. Later, in 1941 with the release of the Samsonite Streamlite suitcase line, the family trademarked Samsonite. It wasn't until 1965 that the company name was officially changed to Samsonite Company.
Question: Where was the Samsonite luggage company founded?
Answer: Samsonite Company was founded in Denver, Colorado.
Question: Where are the Samsonite Company luggage products made?
Answer: Originally, Samsonite suitcases were manufactured at its founding headquarters in Denver, Colorado. At its peak in the 1960s and '70s, the Denver factory employed 4,000 people. The factory closed in 2001 and the headquarters moved to Mansfield, Massachusetts. Today, 40 percent of all Samsonite products are made at the company's plant in Nashik, India. Other products are made at two other plants located in Hungary.
Question: What is the most popular vintage Samsonite suitcase line?
Answer: The Streamlite suitcase, launched in 1941, is one of the well-known vintage Samsonite suitcase lines and the first time the name Samsonite appeared on a suitcase. The suitcase was made of a wooden frame wrapped in a vulcanized fiber and was the first of its kind.
Question: How is Samsonite Company ranked in the Better Business Bureau?
Answer: Due to poor customer service scores among customer reviews based on their interactions with the company, the Better Business Bureau has given Samsonite Company a low score of "F" and does not accredit it.
Conclusion
Samsonite luggage has over 110 years in the luxury-luggage industry. With continued innovation, the modern suitcases support environmental sustainability while the company works to positively impact people and communities. But it all started with the classic Samsonite suitcase lines that have stood the test of time in design and durability. The timeless look of vintage Samsonite suitcases is worth tracking down for jet-setters looking to bring agelessness to contemporary travel.