A rucksack is simply a type of backpack. In German, "rücken" means back and "sack" is the word for bag.
But a rucksack is usually considered a more rugged version of the backpack. They are made from strong, durable and weather resistant materials. These packs were used extensively in the military and became the go-to bag for hikers.
These days, rucksacks are also seen as versatile, high-quality and stylish bags for students and professionals.
And they are still well-suited for hiking, fishing or pretty much any outdoor adventure.
In a Hurry? Here are three of our favorite vintage style backpacks:
What's unique about a vintage rucksack?
Rucksacks made their debut back in the 19th century.
Also known as haversacks, they were used by infantrymen in the Civil War and became more tactical over the years with the addition of exterior pockets and support frames.
Today, vintage style rucksacks are made from high-quality durable materials such as waxed cotton and duck canvas.
These bags typically include other materials and reinforcements such as copper or brass, distressed metal components, heavy duty twill, and premium leather for straps and attachments.
Vintage rucksacks are minimalist and rugged. The colors are usually earth tones and neutral.
These bags are either designed with the traditional exterior pockets, in the spirit of the original military and hiking styles, or with subtle pockets and a top flap to reflect simplicity and functionality.
How we selected the best of the bunch.
Vintage rucksacks are back in style, so there are several options available from brands both old and new.
But we looked for bags that meet the essential criteria of a true rucksack, including a focus on high quality materials that will last a very long time, functionality, weather resistance, comfort, and style.
In order to be truly useful, a vintage rucksack should also be designed with the needs of the modern traveler and commuter in mind.
For example, we look for bags with special sleeves to hold laptops or tablets, padded components, plenty of attachment areas, and unique features such as webbing, nice lining materials, and convenient and secure interior pockets.
A note about quality and price.
If you buy a rucksack, you should expect it to last a long time. It will take a beating. But this shouldn't be a problem, as the materials of construction are meant to withstand a lot of wear and tear.
If anything, these bags will weather a bit and look better with age.
We included some budget friendly options in our list, but the best rucksacks come with a slightly higher price tag that reflects a focus on design and materials.
The 10 Best Vintage Style Rucksacks
1. The Filson Ranger
The Filson Ranger is our favorite rucksack on this list. But why?
Mainly because it masterfully combines simplicity with quality and functionality. The bag is deceptively lightweight and minimalist.
And this is the look we want in a vintage rucksack.
But Filson, a company that has making the highest quality bags and apparel out in Seattle since the 1890s, does a great job at incorporating all the bells and whistles of a modern day backpack into their classic design. And this makes it perfect for work, school, hiking or travelling.
First, it's made with Filson's antique tin cloth, a bomb-proof cotton canvas that's coated with their proprietary 10 oz. wax finish. Additional materials include rugged twill, cotton interior lining, and leather and brass buckles for the storm flap.
The Ranger is inspired by forestry. It's made to withstand the elements and has strategically placed exterior and interior pockets, including a wool zipper pouch and stow pocket, to store gear and accessories.
The bag also includes a padded laptop sleeve that can fit screens up to 17" wide.
The shoulder straps are padded and adjustable.
Finally, to keep everything nice and dry, there is a draw-cord top skirt beneath the storm flap. This adds protection and lets you expand the top portion for added room.
What more could you ask for?
Among the high quality vintage styled rucksacks, this one is priced reasonably around $215.
2. Buffalo River Dakota Vintage Commuter Backpack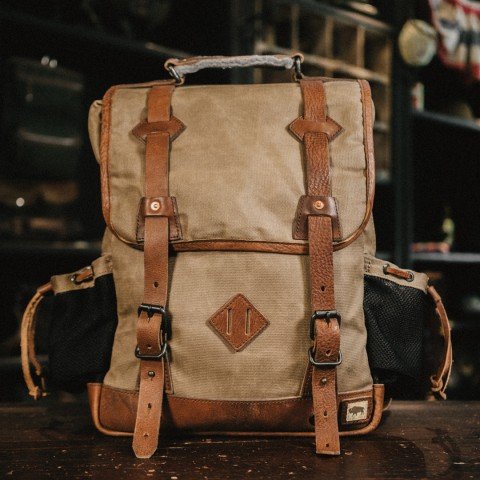 The Dakota Vintage Commuter Backpack is a true vintage inspired rucksack.
It's about the size of a traditional brown paper bag and is constructed from wax coated canvas with nice distressed components, including top grain leather, metal hardware and hammered copper rivets.
This bag comes in three colors: tan, navy, and khaki.
The shoulder straps are padded and adjustable. It also has nice roomy exterior pockets for quick access to your accessories, keys or phone.
The interior includes padded compartments for a laptop or tablet, as well as a hidden zipper pocket for your wallet or other valuable items.
Because of its padded features and multiple compartments, the Dakota Vintage Commuter is versatile enough for hiking, weekend excursions, or commuting to work or school.
Check it out from Buffalo Jackson Trading Co.
3. Fishpond River Bank Backpack
The Fishpond River Bank Backpack is a tall and roomy vintage bag that's perfect for overnight trips or even a few days on the road.
This rucksack features a waxed cotton exterior with nylon lining.
The large main compartment is definitely the focus here, but there are plenty of extra pockets and attachment options to store a variety of items.
Some travelers that purchased the Fishpond River Bank note that the waxed cotton canvas can fade quickly.
It's true, a wax coated canvas requires some upkeep to maintain its appearance and, more importantly, to make sure it continues to provide adequate protection.
A note about wax canvas maintenance.
When the wax starts to fade, it's time to reapply.
Start by cleaning the bag with cold water. Heat up some wax and apply with short circular motions, and after you apply the wax, wipe off any excess and then smooth out the finish with a hairdryer.
After it sits overnight, the bag should look as good as new.
To learn more, here's a great post about how to wax your rucksack or other wax coated fabric item.
Need some wax for your bag? Here are a few of our favorites:
The shoulder strap on the River Bank is padded and adjustable, adding both comfort and functionality for traveling or daily commuting.
Plus, the main compartment includes a padded laptop pocket that can hold laptops up to 15″ wide.
Unlike many of the other vintage rucksacks feature here, this bag is made in China.
However, with a list price of around $150, it is also available at a slightly lower price point than other rucksacks of similar quality.
4. Cliff Jacobson Signature Pack from Frost River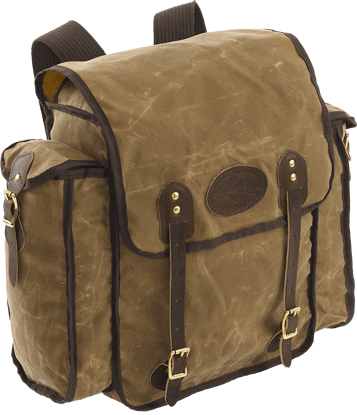 The Cliff Jacobson Signature Pack from Frost River is a box style rucksack that's perfect for outdoor adventure, traveling, fishing and boating.
The waxed canvas material is lightweight and durable.
It's designed with a top flap that offers added rain protection and allows for expansion of the main compartment.
The Cliff Jacobson has a nice selection of extra compartments, including two deep external pockets for your thermos, flask, 35mm camera, or to stow a some extra gear, and an internal hanging zipper pocket for valuables.
A nice bonus feature of this bag are the cotton web shoulder pads with leather attachments.
It's ideal for active use but maintains the classic vintage styling with quality materials, including canvas, leather and brass, and a rugged look.
This bag is priced at $210.00 at Frost River.
5. The Filson Rucksack
Another bag from Filson, this is the classic general purpose rucksack.
Constructed from rugged twill, it's a traditional rucksack with some very nice styling details, a few roomy exterior pockets, reinforced leather seam bindings and outer layers.
For protection from the elements, the Filson Rucksack includes a storm flap for weather protection and expandability, as well as a rust proof zipper.
This bag also features a nice padded laptop pouch that can store laptops or tablets up to 16″ wide.
One issue we have with this rucksack is that it does not have an interior pouch.
Overall this bag is very well constructed and true to the Filson brand for its durability in field use and for daily commuting needs.
6. Fjallraven Rucksack No. 21
The Fjallraven Rucksack No. 21 is a stylish and popular choice for a budget friendly rucksack.
This bag is made from Fjallraven's G-1000 fabric, a densely woven material (65% polyester and 35% cotton of the highest quality) that is treated with their Greenland Wax.
This rucksack has a top flap with stylish metal billets and buckles and natural leather straps.
Beneath the top flap is a draw string skirt that provides extra water protection and expandability for bulkier items.
The Rucksack No. 21 has a large top loaded main compartment and two exterior side pockets for holding a small water bottle or other accessory.
This bag also has an interior padded pocket for a laptop or tablet.
The Fjallraven No. 21 also has some unique modern touches.
The inner pocket is lined with a bright colored material to make it easier to see the contents of the bag. We think this is a great design feature, as large inner pockets can be dark and it's sometime hard to quickly locate a specific item.
Keep in mind that this is a tall and narrow rucksack. If you're trying to pack for a couple days, it might be a little tight.
7. L.L.Bean Waxed-Canvas Continental Rucksack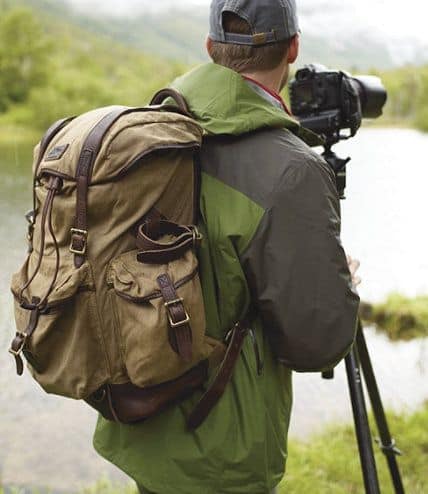 A classically designed and constructed rucksack by one of the pioneers in the industry.
The L.L. Bean Continental has the right mix of materials for a truly vintage, durable and high-quality rucksack: water resistant waxed cotton and canvas, cotton twill lining, heavy duty pebbled leather, and brass buckles.
There are plenty of modern touches as well.
For example, L.L. Bean adds a padded air-mesh back panel to keep you comfortable, cool and dry while out in the field or on longer commutes.
There are three roomy external pockets for extra gear and quick access to accessories. Plus, the shoulder straps are padded and adjustable, and there is a convenient interior zipper pocket for valuables.
The one flaw we see with this bag is the weight. At 3.5 lbs, it is a little heavier than the average rucksack. It may not sound like much, but even just a little added weight can make a big difference on longer journeys.
However, most people who own the Continental rucksack are more than pleased with its quality and durability. The heavy duty waxed canvas will not let you down.
And if you're really concerned about the extra weight, take comfort in the shearling padding underneath the shoulder straps. This should do the trick for most of us.
Check out the Continental Rucksack from L.L. Bean.
8. Billy Kirk No. 483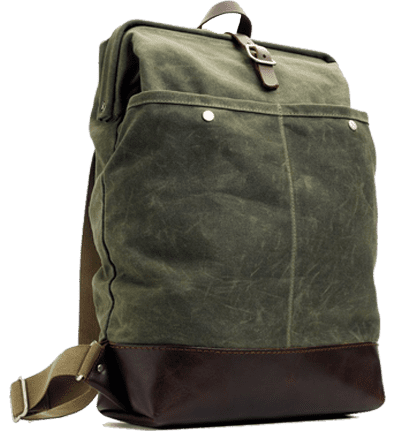 A hip and stylish rucksack made from high-end leather and waxed canvas.
This bag has a very nice streamlined and minimal design.
It's fashionable, but make no mistake: The Billy Kirk No. 483 is made with very durable and rugged 20 oz. duck waxed canvas and a reinforced leather bottom.
This bag has a nice deep main compartment and two external pocket sleeves. An interior pocket will fit a laptop or tablet up to 15".
Otherwise, there are not many bells and whistles here. Which is more than OK if you're primarily concerned with aesthetics.
If you need something that will be comfortable on longer journeys or hiking excursions, the lack of padding on the straps could be a problem.
However, if you need a day-to-day bag for work or school, this one is perfect. You can even convert the straps so it functions as a shoulder bag.
Very stylish indeed.
Check it out at Billy Kirk.
9. Rogue Waxed Canvas Rucksack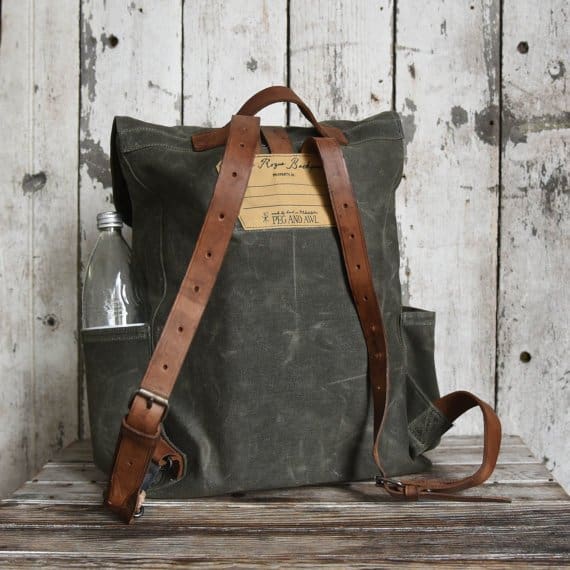 Want a bag with some real vintage character? A bag with leather that's actually salvaged from vintage gunslings? Check out this classic scout rucksack from Rogue.
It's a  beautifully crafted bag made with waxed duck canvas, leather shoulder straps and attachments, and steel buckles and snaps.
The Rogue rucksack also has the key components of a modern and functional backpack for commuting to work or school.
It has side pockets for your water bottle, an external pocket with a vintage zipper and space for a laptop up to 15" wide.
The waxed canvas makes this bag exceptionally durable and weather resistant.
Check it out from Rogue.
Related: Add to your vintage luggage ensemble – Check out our guide to the iconic Steamer Trunk
10. Bushcraft Waxed Canvas Rucksack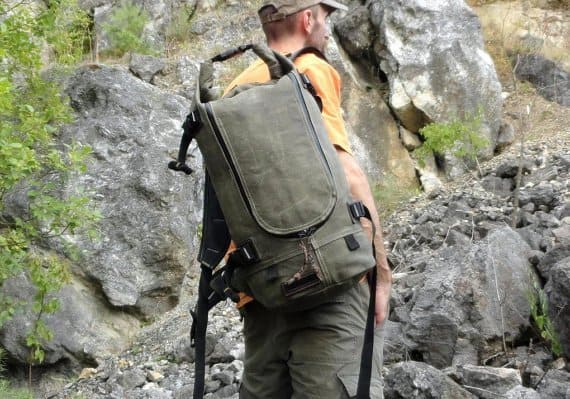 Our final entry among the best vintage style rucksacks is the Bushcraft Waxed Canvas Rucksack from Ground Gear, a small workshop based in Slovakia.
They make simple, stylish, high quality bags and accessories. And this one is no exception.
First, the Bushcraft is handmade. That alone adds some credibility to its vintage look. Plus, the material is very rugged and durable. They use 18 oz. waxed canvas with nylon webbing to make a bag that's perfect for trekking.
The Bushcraft has plenty of room for an overnight trip. But, if you need more space for gear, there are high quality leather attachments to add your sleeping bag, pad or tent. It also features waterproof zippers and an expandable roll top cap.
Check it out here.
——-
We're always on the lookout for traditional rucksacks and vintage designers to add to our Old Timey collection.
If you have a rucksack that you love and want to add to our list, please share it in the comments below!