Latest posts by Will Ames
(see all)
Imagine your perfect kitchen. Black and white tiled floor, your walls a perfect blend of paint and wallpaper, a retro refrigerator, and a modern coffee maker that throws the whole kitchen out of balance.
When it comes to kitchen appliances you want to marry appearance and performance. Having a retro-themed kitchen means having appliances that play the part. And what kitchen is complete without a retro coffee maker?
That's why we looked for the best retro coffee makers and put them all in one place, for you to consider.
These coffee makers won't just fit in your kitchen, they'll do the work that's worth every penny you spend.
Top 6 Best Retro Coffee Makers in 2022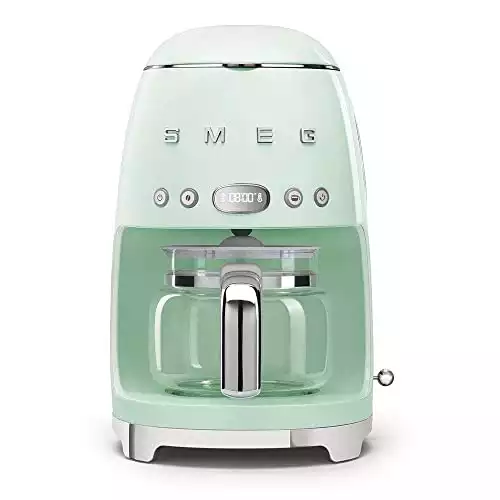 If a coffee maker can be adorable, then we can't deny that this retro-styled coffee machine is the embodiment of adorable. This pastel green beauty sports a 10 cup carafe with a custom-made anti-drip lid to prevent spills.
The machine boasts of an aroma function that allows you to smell your coffee as intensely or lightly as you like. That's something you don't see every day. Keep one of these next to your matching vintage bread boxes to pull your entire kitchen together.
And if you're frugal with your money, this machine is too. Its reusable filter saves you the extra cost of buying paper filters for your coffee. Another nice function is its keep-warm function, which allows your coffee to remain hot an hour after it's done brewing.
However, we should mention that this retro coffee maker may not be the easiest to use.
Also, while most customers love the looks of this one, it's not as prized for its functionality.
The main complaint we see is that the coffee just doesn't stay hot enough and the warming function is too short.
But if retro looks is your main buying criteria, you can't go wrong with the Smeg.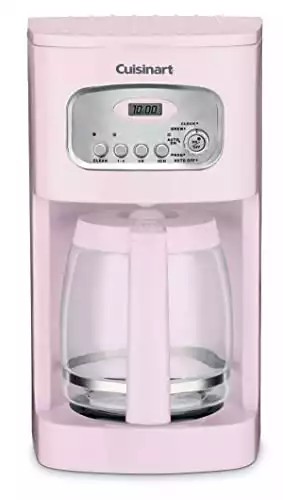 Pastel pink has never looked as good as it does on this classically designed coffee maker. Imagine this beauty popped up on your Hoosier cabinet.
The machine is fully automatic making your morning coffee routine as seamless as possible. Don't be deceived by its size, the machine sports a 12 glass carafe and it allows you the option of brewing as little as 1-4 cups at a time.
One great feature of this machine is that it comes with 2 filters, charcoal water filter, and permanent gold-tone filter. This gives you more control over the taste of your coffee.
A feature that many drip coffee makers are lacking in. And don't worry about forgetting when to clean it, this bad boy tells you when it requires some cleaning.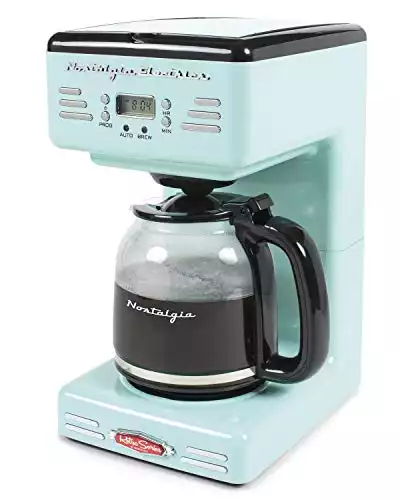 Just like the name states, this programmable machine brings a wave of nostalgia over you when you look at it. This 12 cup carafe is fully programmable, making your dream of waking up to your morning coffee a reality.
Like the Brentwood 4 cup coffee maker, this machine cares about you and your safety. Forgot to turn off your coffee machine? No worries. The boil-dry protection feature automatically puts off the machine after 2 hours in case you forgot to turn it off.
And don't worry about having to deal with too many buttons to enjoy all these features. The easy-to-use machine only has 3: on/off, program, and hour/minute.
Never worry about making a mess when making coffee. The machine's carafe is designed with an anti-drip design to prevent spills when pouring coffee.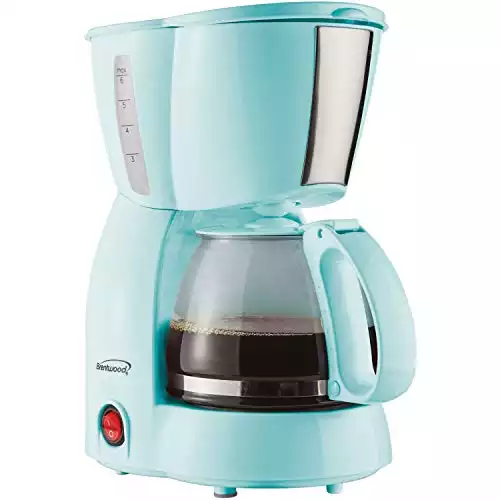 Coming fourth on our list is the Brentwood 4 cup coffee maker. This cute blue thing boasts of being BPA free. A well-known chemical in reusable plastic that causes a lot of health hazards in infants.
Another major plus of the ergonomically designed coffee machine is its quick brew time. You'll never have to worry about your coffee taking too long to get ready.
It also comes with a reusable filter that can be removed to make cleaning easier. As well as a coffee ground scooper to help you measure your coffee.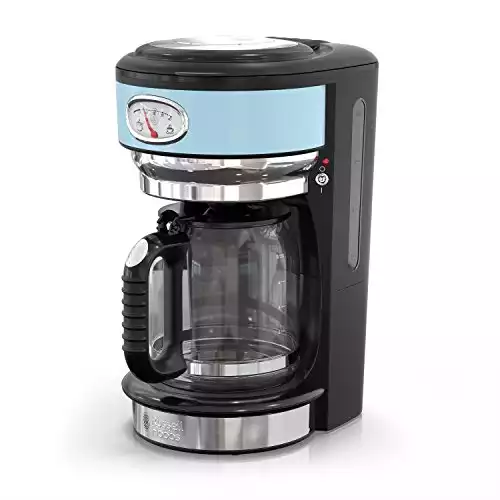 Russel Hobb's 8 cup coffee maker blue coffee maker joined our list of coffee makers who successfully married vintage aesthetics and functionality.
A special feature of this cutie is its progressive brewing gauge which allows you to see how long your coffee has been brewing and when it will be done.
But if you can't wait for the brewing process to end you can take advantage of its pause and pour feature allowing you to taste your coffee before the brewing process is complete.
It equally has a keep-warm function like most modern coffee makers. This little angel will keep your coffee warm for as long as 40 minutes after it's done brewing.
You may need that extra time, as some users complain that the coffee doesn't reach a hot enough temp within the standard brew time. Leaving it on the warmer for a couple minutes might help.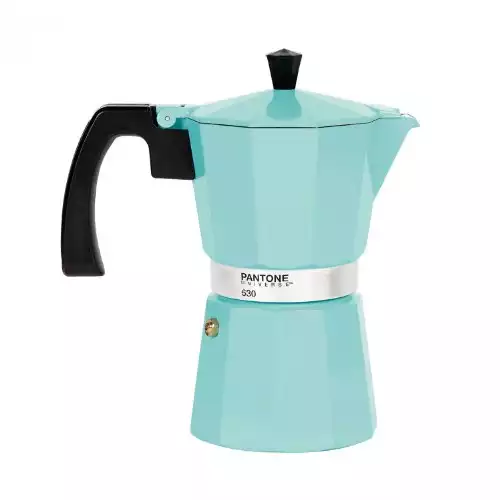 This one goes out to all the espresso lovers in the house. Whitbread Wilkinson outdid themselves when they found a way to make brewing an espresso this stylish. The Pantone coffee maker follows a classic Italian design and is made of cast aluminum.
This beauty is available in 2 colors, shoot green and the more popular vintage blue. It can make up to 3 cups of coffee and is compatible with gas and electric stove tops.
All these features ensure that you can enjoy a delicious cup of espresso in less than 4 minutes of brewing time. Its small size guarantees its perfect fit in any spot in your kitchen.
However, many users have complained that the color presentation in the photo is not the same with the physical product. This could be a major turn off if you're buying it for its vintage blue color.
Buyer's Guide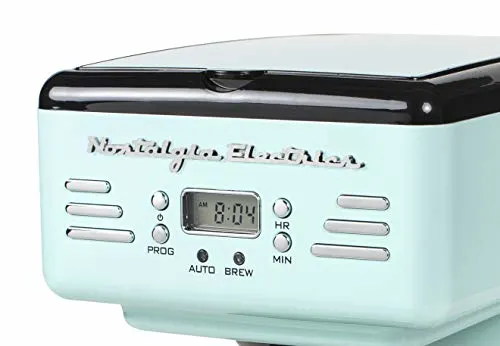 There's a perfect coffee machine for everyone. The formula to getting it lies in 3 things:
1) How much time you want to put into a cup of coffee every time you want one
2) How much coffee you want to make each time
3) And the final taste of your morning cup of joe
While you're looking for a retro coffee maker that fits your aesthetic style, you also expect it to do a good job of making your coffee. And we've concluded that your choice of coffee maker will revolve around cost, functionality, and ease of use.
Cost
The bigger the brand name, usually higher the cost. Some coffee makers cost well over $100 while others are less than $50. It's dependent on what brand you're looking at and what special features the machine has.
Convenience
Wouldn't it be great if your coffee could make itself? Well, it can. Our dreams of waking up to a cup of coffee every morning is now a reality.
Automated coffee makers can be programmed to brew your coffee up to 24 hours away. This is a common feature in most electric coffee makers today.
Machine Size
The size of your machine won't affect the quality of your coffee, but it will give you a headache once you realize it doesn't fit in its designated kitchen space. Be sure to look at the size of your machine and ensure it fits in your kitchen.
Brew size
More machines are offering a wider range of options for the amount of coffee you can brew at a time. One cup carafes are good for the single folks or people who generally don't need a lot of coffee at once.
While 4-12 cup carafes are better for large families and hosting social gatherings where everyone wants a cup of coffee. It's more cost and time effective than having 2 coffee machines.
Brew Time
Can't wait for your coffee to finish brewing? No problem, opt for a modern coffee maker with a pause and pour function that allows you to taste your coffee before the brewing process is complete. Or you can buy a machine with proven short brewing time if you're not open to taking your coffee before it's ready.
Additional Features
Modern-day coffee makers are becoming more diverse in what they can do. From programmable features that allow you to wake up to a cup of morning coffee.
An advanced showerhead technology for an evenly saturated flavored coffee. And an auto shut off feature that turns the machine off in case you forgot.
We could go on but I think you get the gist. They might not be your most important considerations in a coffee machine, but they're worth looking out for since most coffee machines come with them anyway.
Frequently Asked Questions about Retro Coffee Makers
Should my Retro Coffee Maker have a Thermal or Glass Carafe?
Thermal carafes are considered as a better option in terms of retaining your coffee's heat and keeping it piping hot for hours. However, retro coffee makers tend to sport a glass carafe. They are cheaper than their thermal counterpart and can double as a fancy jug for serving guests.
A major con of glass carafe coffee makers is their dependence on a heating plate to keep the coffee warm. This can result in a burnt taste in the coffee once left on the heating plate for too long.
In our opinion, if you're looking for a truly retro coffee maker than glass carafe is a better option because a majority of the coffee makers you will see in the vintage section use it.
How do I Clean my Retro Coffee Maker and How Often Should I Clean It?
Wash the carafe and reusable filter (if applicable) with warm soapy water and rinse. If you want to use a dishwasher then place them in the upper rack of the dishwasher. Clean your heating plate with a clean damp cloth. Never use anything rough or abrasive on your machine's heating plate.
Ideally, you should clean your retro coffee maker after each use. Remove grounds from the filter and wash each part as explained above. However, a deeper cleaning to remove mineral deposits should be carried out once every 3 months.
Drip Vs Pour Over: Which Retro Coffee Maker Makes Better Coffee
The age-old battle of drip coffee makers vs pour-over coffee makers has been on for a while. While they both have their independent advantages drip coffee makers cost less, are easier to use, and have about the same capacity as its pour-over counterpart.
Pour-over coffee makers, on the other hand, are easier to clean and take less time to brew your coffee when compared with drip coffee makers. But the ultimate question remains unanswered, who makes better coffee?
We're going to give this round to the pour-over coffee machine. Not because it makes better coffee, but because it gives you greater control over the extraction process of your coffee. The result? A stronger and richer taste that drip coffee makers can only dream of attaining.
Which Retro Coffee Maker Should you Spend your Money On?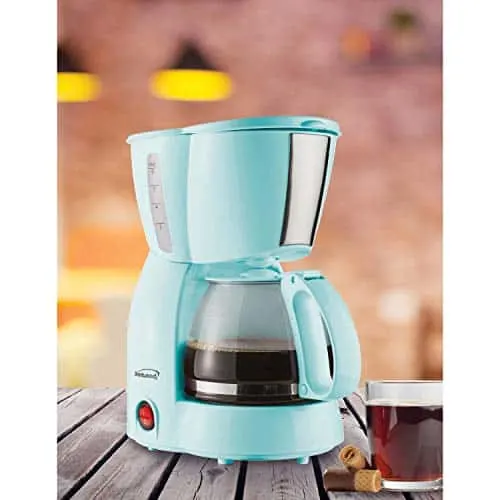 Each retro coffee maker on our list is perfectly designed to blend into your retro-esque kitchen, and become a focal point that shows off your amazing taste in kitchen appliances. So, it's no surprise you're having trouble picking which one to buy.
While we believe your choice of retro coffee maker is dependent on your taste, there's no denying that Smeg's vintage coffee maker beats the others. With its aroma function and beautiful design, the machine combines vintage aesthetics and modern-day functionality effortlessly.
Coming in second place is Cuisinart's vintage coffee maker. It's beautiful pastel pink color is a rare find, and will make a lovely addition to your kitchen. If you're looking for an option that allows you to control the taste of your coffee, this 2 filtered baby is the way to go.
Finally, our third pick is Brentwood's 4 cup coffee maker. Not only is the machine proven to be safe for your health, but it's also a budget-friendly option on our list. Safety, appearance, and functionality for an amount that won't put a dent in your pocket. I wouldn't waste time thinking about this one too much.