Latest posts by Will Ames
(see all)
For centuries, bread boxes were used as a means to transport, store and preserved fresh-baked bread. Nowadays, finding the best vintage bread box can still prove to be a simple, affordable way to add an authentic rustic quality to any traditional kitchen.
Whether it's an elegantly-carved wooden creation, a solid and sturdy ceramic, or a stylish stainless option, each one boasts its own unique charms while still serving a useful practical purpose, namely keeping your bread, bagels and baked goods nice and fresh.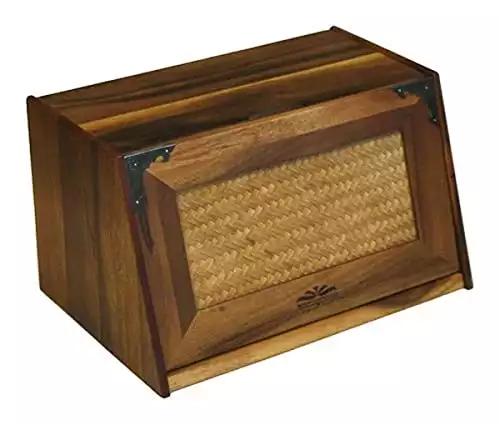 With so many attractive options to choose from then, which one should you spend your hard-earned money on?
To answer that question, we've tried, tested, and reviewed scores of this year's best-selling vintage bread boxes and put together this guide to the ten which we believe are truly the very best of the best.
The Vintage Bread Box: 10 Great Choices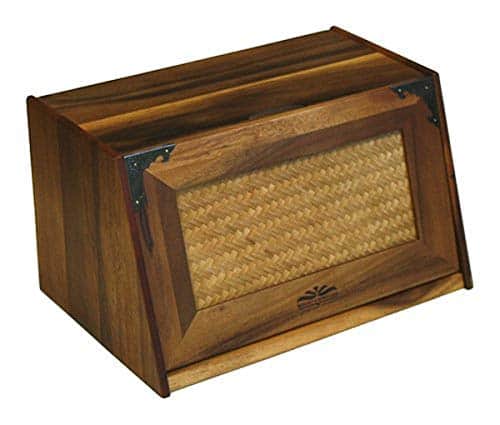 Size, durability, and aesthetic appeal were the three key factors we used to determine our top ten best vintage breadboxes. This stunning, antique-style breadbox from Mountain Woods earned top marks in all three categories, making it our clear, runaway winner.
Measuring 16″x 10.5″x 9″, this generously sized box boasts ample room for at least two full bread loaves as well as other baked products, all without any of them getting squashed.
Outside, Mountain Woods have built their box from acacia hardwood, a wood known not only for its high sustainability factor, but also for its remarkable durability and, of course, its natural beauty.
It's that beauty that really sets this one apart from the crowd. With is handcrafted design, gorgeous acacia finish, and rustic-look metal accents, the whole breadbox has a truly timeless look that helps take any kitchen back to a bygone age.
Finally, we should point out that -expertly hidden beneath its vintage appeal is a flip-down, magnetic lid, a modern addition that really helps to keep the bread fresh for longer.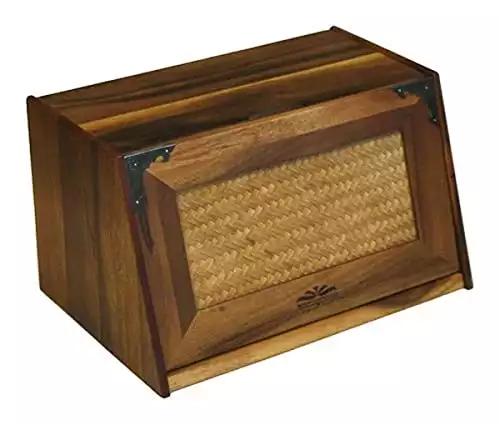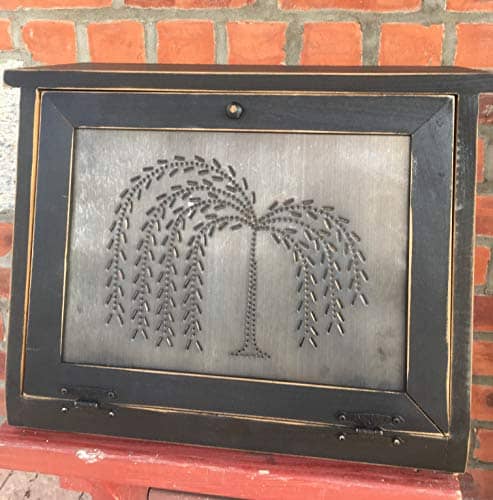 This Country Rustic Primitive Breadbox from KWC America won't just add a retro look to your kitchen, it will serve as a gorgeous focal point for the entire room.
One of the more unique-looking boxes out there, the solid wooden construction is painted with a distressed black finish to ensure it fits right at home in any rustic farmhouse kitchen, while the burnished tin inset comes with a pretty willow tree design punched into it.
Of course, that punched willow tree design does much more than enhancing the visual appeal, it also provides adequate ventilation, enabling the box to breathe for guaranteed freshness.
Not only does it look the part, but this one also just happens to be one of the largest breadboxes we looked at, with a thick shelf across the middle to increase its storage capacity. All told, there's no reason why you couldn't fit four full-sized loaves, as well as your favorite muffins, rolls, and pastries.
A truly one-of-a-kind kitchen item, this one looks so good and provides so much space that we've even seen people repurpose it as a handy organizer for their vintage desk.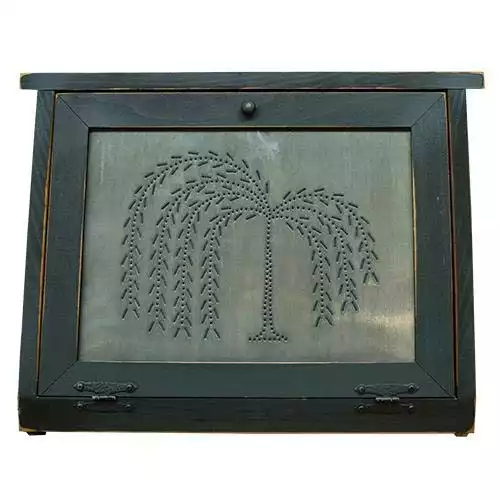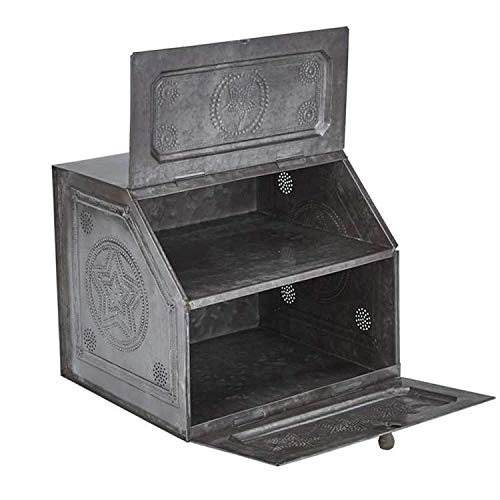 Another top-quality breadbox that doubles as desk furniture, Park Designs Star Metal Bread Box combines with a distressed, galvanized silver finish that means it would sit perfectly next to an old-fashioned typewriter in any old-school office space.
Still, we're focusing on the kitchen today, so let's talk about what a wonderful addition this one would make to yours.
Much like the product above, Park Designs' best-selling vintage breadbox comes with punched-in holes which serve a dual purpose; ensuring long-lasting freshness for your bread while adding an enchanting finish an already beautifully designed product.
Inside, the sturdy shelf increases the capacity and storage functionality, with enough space to comfortably fit four or five loaves with ease.
Though it's a little rough around the edges, that's all part of the metal breadboxes appeal – it genuinely looks as though it were handmade, coming straight from the workshop to your kitchen to lend it a legitimate farmhouse feel.
Related: Learn about the Hoosier Cabinet, an iconic example of vintage kitchen decor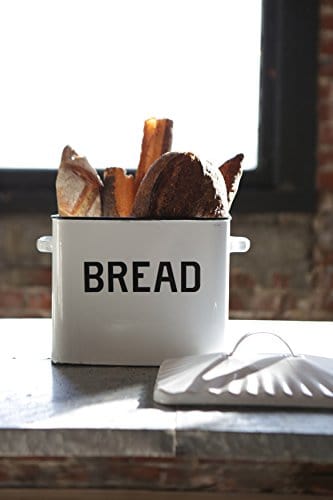 With its simplistic design, tall sides, and the single word 'BREAD' emblazoned in bold on the front, the Creative Co-op Enameled Metal Distressed Bread Box is one of those rare products that would blend in perfectly with just about any kind of kitchen design.
Sure, the soft groves and curved handles of the aluminum lid guarantee that it will make a great addition to a rustic, farmhouse kitchen, but there's also something about its timeless design that ensures it would work just as well in spaces with a 60s or 70s throwback theme.
Still have a modern kitchen and need a breadbox that won't look out of place? This one fits the bill in that respect too.
Unlike other horizontally-designed boxes with shelves, this sturdy metal box is much better for stacking things vertically, making it a great choice for baguettes and hard crust loaves than it is for your usual soft loaf.
Best of all, it's remarkably lightweight. Whereas other boxes weigh upwards of six or seven pounds, this weighs just one pound, meaning it's easy to pick up and move around at will.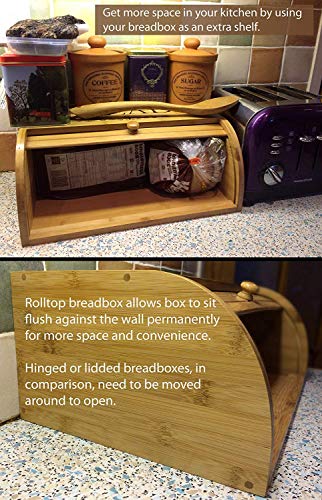 The best budget-friendly breadbox on our list, the Cookbook People Classic Filigree Wood Bread Bin proves that a low price tag doesn't have to mean low-quality.
Built from an eye-catching, all-natural bamboo wood with no staining or painting, this one doesn't just look attractive, it also boasts a strength and durability to rival any top-of-the-line product.
If there's one thing we like best about it, it's that Cookbook People have designed their vintage breadbox with a flat back and top, ensuring it fits effortlessly against a wall or underneath your kitchen cupboards.
Given the natural products used, the Classic Filigree Wood Bread Bin does suffer from the slight drawback that the wooden roll-top door can stick a little in cases of noticeable changes to the temperature or humidity of your kitchen. Should that happen, Cookbook People recommend simply rubbing the tip of a birthday candle along the door's groove to get things going again.
Though that may sound like a chore to some people, to us, it's those little imperfections that give products like this one a genuine vintage feel.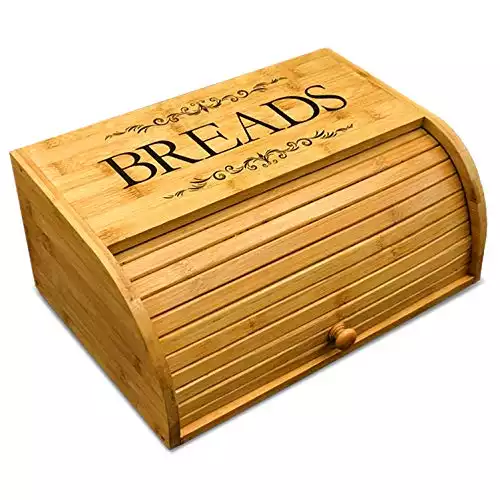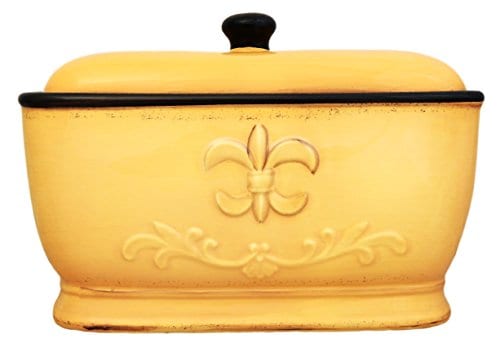 Add this beautiful Tuscany Fleur De Lis Bread Box to your kitchen and your guests will never suspect for a second that it isn't a genuine antique. Its hand-painted Fleur De Lis design and yellow glazed finish combine with an authentic distressed-look that makes it look like a well-loved heirloom that's been in your family for decades.
Of course, this weathered look is no reflection on the quality of the breadbox itself. Made out of highly resistant ceramic, it's been perfectly molded to fit a single loaf of bread and keep it fresh for days at a time.
Given its small size, it might not be the best option if you need something to hold an entire family's supply of bread, but it would make a wonderful addition to the dinner table, or for keeping a loaf on hand as you and your loved ones gather round for a hearty breakfast.
What's more, A.C.K. Trading Co. also sell other essential kitchen items in the same Fleur De Lis style, making this a great choice if you're looking to create a running theme throughout your kitchen.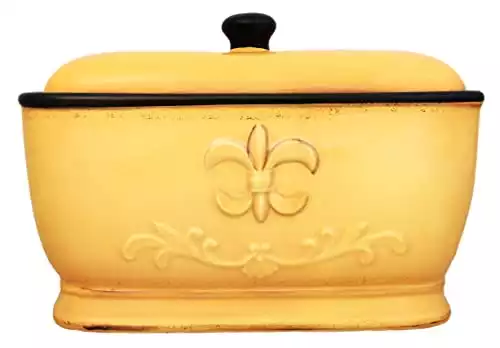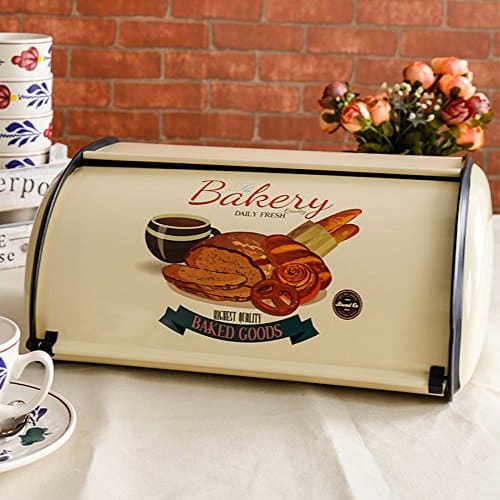 A throwback to a simpler time when buying a fresh loaf from the local bakery was still the norm, this Yellow Metal French Vintage Breadbox from Home by Jackie Inc has a delightful charm to it.
The light yellow finish is complemented by a wonderful painted image of fresh food and coffee, while the overall aesthetic means it would look right at home sat next to a retro refrigerator or other vintage kitchen items.
Hidden from view, the box contains useful ventilation holes to the rear, as well as a simple roll-top lid for easy access.
Inside, there's room to fit two medium-sized loaves. Though that may mean this isn't the largest breadbox out there, it's certainly one of the cutest, and for that reason alone we couldn't resist adding it to our list.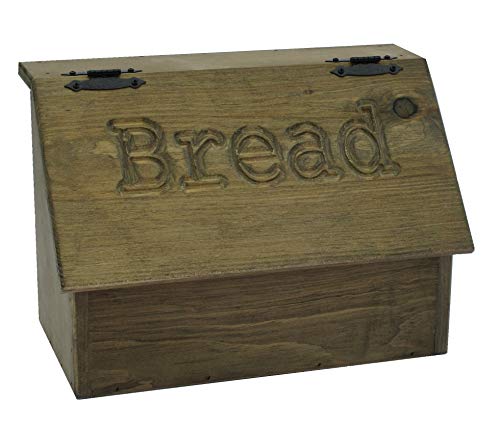 If you didn't know any better, you'd swear that this gorgeous breadbox from Dick's Wood Creations had been carved by hand by your friendly local woodworking enthusiast.
Trust us, we mean that as a compliment. Looking like little else out there, the rugged pine finish with walnut stain gives this one a handsome, authentically vintage that would make it a perfect fit for any traditionally designed kitchen.
Inside, this breadbox is deceptively large, with enough space to fit two full-sized loaves with no squashing involved.
As striking as it is, this one sadly lacks the ventilation holes that many of the best vintage breadboxes include as standard. While that may not be ideal, if you're looking for a breadbox that's more decorative than functional, this is a tough one to beat.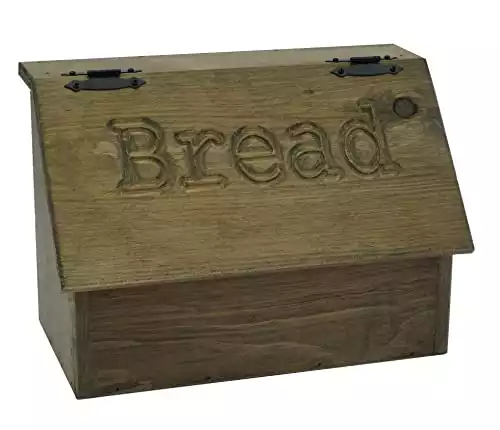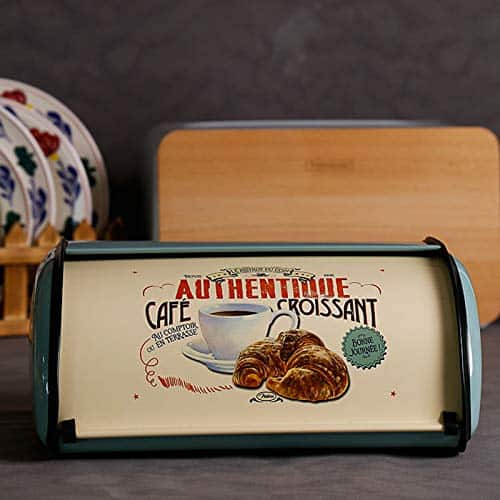 If you liked the idea of a stainless steel, roll-tup bread bin with a vintage print on the front, but weren't so taken with the seventh-placed Yellow Metal French Vintage Bread Box, this cute little thing from PENGKE may make a great alternative.
Though it's roughly half an inch bigger than the French vintage box, that doesn't really translate to much more storage space, but that isn't really an issue. It's still a generously sized product with room for several loaves, rolls, or bagels, with all the necessary ventilation holes in the back to keep things nice and fresh.
Outside, light yellow and mint green finish give it a retro-look that would blend in perfectly in a kitchen that's more 70s throwback than traditional farmhouse. Meanwhile, the French-themed print adds a certain charm that many fans of vintage style will find hard to resist.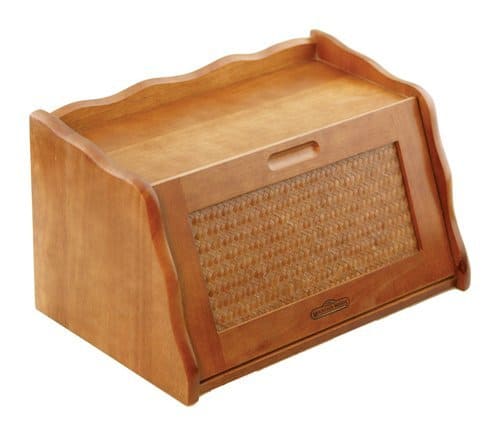 Finally, we come full circle as we revisit Mountain Woods and their beautifully designed vintage breadboxes.
This time, the brand have given their authentic, antique-looking breadbox an alluring honey-oak finish, making it a great choice for adding a vintage touch to an otherwise modern kitchen space.
Aside from its old-world charm, this one has a lot going for it, especially on the inside, where at least three large loaves can sit comfortably without any problem.
On top too, the perfectly flat top can easily serve as an extra shelf, making this one every bit as practical as it is pretty.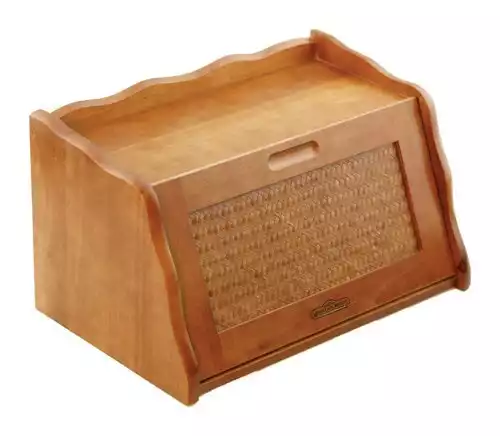 Vintage Bread Boxes – Your Frequently Asked Questions
Question: Are Ventilation Holes Necessary on a Bread Box?
Answer: While they aren't essential, ventilation holes definitely help. Left unventilated, bread boxes would eventually become susceptible to moisture which can cause bread to go mouldy.
While many of the best vintage bread boxes we've featured in this guide do include ventilation holes, there are a few that don't. Instead, these models rely on the small gaps around the edge of the box door to provide sufficient ventilation.
Question: What is the Best Material for a Bread Box
Answer: Wood, metal and ceramic are all good choices for a quality breadbox.
Of the three, wooden boxes tend to be the most spacious and aesthetically pleasing, metal boxes the most durable and easy to clean, and ceramic options the best at keeping your bread fresh.
Question: How Long Will Bread Stay Fresh in a Vintage Bread Box?
Answer: Placed inside any food quality bread box, a typical loaf of bread should enjoy maximum freshness for at least a week, several days more than you'd see if it were placed in other environments.
Question: Which is the Best Vintage Breadbox to Buy?
Answer: Choosing the best vintage bread box may all be a matter of personal taste, but if you ask us, nothing quite beats our first-placed pick, the Mountain Woods Brown Antique-Style Breadbox.
The perfect combination of gorgeous aesthetics, ample size and long-lasting durability, no other model quite meets all three criteria as well as this one.
Not that others don't come close. If your only concern is with design quality, then you'll find a lot to love about the unique style of our second-placed option Country Rustic Primitive Bread Box.
Finally, if you're looking to add a vintage look to your kitchen on a minimum budget, look no further then Cookbook People Classic Filigree Wood Bread Bin.
Affordable without ever being cheap, it's as well-built as any product out there and would make a beautiful addition to any vintage kitchen.