Latest posts by Will Ames
(see all)
There is something special about antique telescopes. Besides their sleek and elegant appearance, they look classy and valuable when displayed in nearly any room. However, considering these pieces' demand and value, shopping for the best antique telescope can prove to be a daunting task.
You need a functional and elegant telescope that will meet both your needs and budget. If you wish to purchase an antique telescope, but you are unsure of what to look for, this guide will hopefully make your selection process easier.
The Top 6 Best Antique Telescopes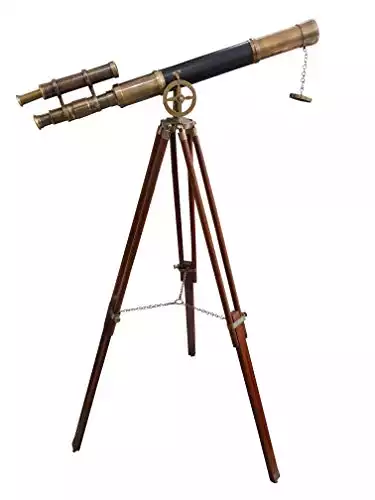 There is everything to love about this decorative piece, all from its elegance to functionality. Made of wood and brass, the telescope's quality is unmatched, and the fact that it comes with a wood stand makes it more complete.
The Maritime brass antique double barrel designer telescope has an antique finish to give it a vintage appearance. It is fully functional and super easy to use. All you have to do is adjust the eyepiece ring to achieve your preferred magnification, which is up to 15x.
Quality is critical, and you can trust that this telescope's manufacturers do not compromise on that. The telescope is beautifully designed and meets your performance needs. All the materials used are high-quality, and the telescope's functionality is tested after every stage of manufacturing.
If you are looking for a perfect item to give your room the old-times feel, this is the product for you. The wooden tripod stand is characterized by round wooden legs for stability. Each of the legs comes with solid brass fittings for easy setup. The screw release makes it easier for you to adjust the height to your liking. What's more? It has a brass chain that holds the wooden legs together, thus maximizing its stability during use.
You can use this telescope for a range of fun activities, including bird watching, trekking, or get it as a collectible.
Pros
The telescope comes with a tripod for stability
It features a beautiful design to complete any room
You can easily adjust the height to fit your liking
Super easy to set up
Cons
Some individuals complain that it is not as functional as expected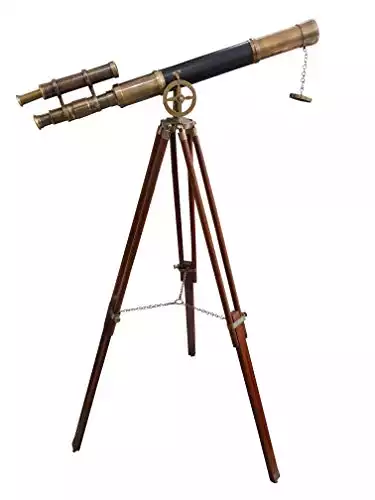 The first thing you will notice when you come across the Sailor boat antique telescope is its antique brass and brown tripod. This feature gives it a vintage feel, which will leave visitors wondering where you got such a piece in this era.
With a height of 51" and a diameter of 25", this telescope allows you to magnify things to a magnification of 42x. The handmade piece is also a super authentic décor that will undoubtedly give you the value for your money.
The floor-standing brass telescope has a wooden stand for stability and easy usability. It is also fully functional and adds class, elegance, and sophistication when placed in any room. Even better, it is super easy to clean using brass cleaners but ensure that you use soft hands due to protect the antique finish.
It is made of brass and wood; hence quality and durability are guaranteed. You can get this telescope for home decoration; rest assured it will be good in any room or as a gift for a loved one. It is a perfect table décor, but this does not compromise its performance.
Pros
The materials used are of the best quality
It is easy to use and clean
The telescope comes with stand stability
The telescope's performance is unmatched
Cons
Adjusting the telescope on a target can be a bit hard
Related: A guide to vintage navigational instruments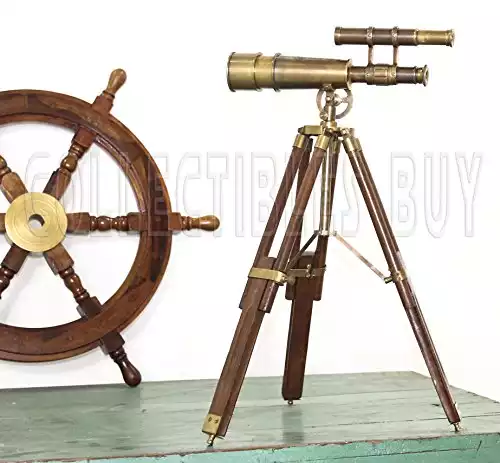 Whether it is your first time buying a telescope or looking to upgrade, the table décor telescope vintage marine works perfectly either way. It is loved for its incredible performance and high-quality materials that guarantee you the quality for your money.
This telescope is covered by barrel leather and comes with a nautical brass tripod. You can use it to view things and for decoration in your home. It is a perfect instrument for mariners and marine lovers.
This telescope features a stylish appearance that will look great in any room in your home. It has a brass and leather color to give it an old-times look and feel. Not only is this piece stunning but also, its functionality is to die for. It has a high-quality lens that gives you bright and clear images. You will also love how the telescope allows you to see every detail thanks to 15x magnification power.
It features a " tube length and 18" length. You can use it to view pirate ships from a far distance, watch birds, as a collectible, or as a gift for your loved one. The fact that it is vintage themed makes it an excellent idea to show royalty and importance.
Pros
Allows you to see clear and detailed images
It is made of high-quality brass and covered with leather for durability
The telescope is perfect for decorating your home
It is easy to use even for beginners
Cons
The height is not adjustable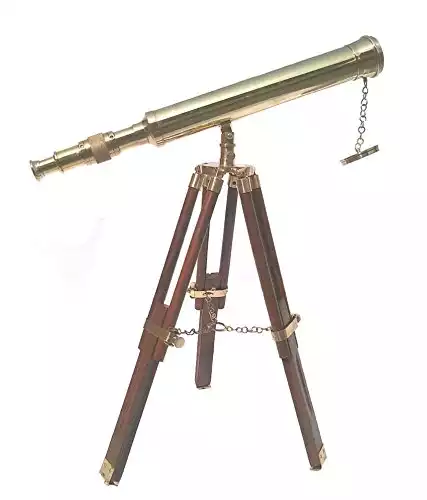 If you are after affordability without compromising on quality, the nautical brass telescope with stand is the perfect choice for you. The instrument has a vintage style, which adds to its decorative feature. The best part is that you can place it in any part of your home, and it will look great.
The nautical brass telescope has a stand that allows it to sit on the floor, desk, or table comfortably as you view the stunning view of your city or watch the stars at night. Measuring 18 inches, this telescope is easy to use and controls, thanks to the altazimuth mount.
The brass feature in this telescope allows you to track and scan objects smoothly, and you will also love how easy it is to set up. The telescope comes with a wooden tripod stand for increased stability and to improve its appearance. It has brass accents that are meant to add on to the telescope's beauty and offer extra stability.
This telescope offers maximum objects clarity with its coated lens for a more enjoyable experience. The telescope is designed in a way that it protects the lens from dust and other external elements.
Pros
The telescope has a vintage style for enhanced appearance
This instrument is easy to set up and use
Comes with a tripod stand for stability
It features an adjustable eyepiece for better objects' clarity
Cons
The telescope is small and must be placed on a surface for a better view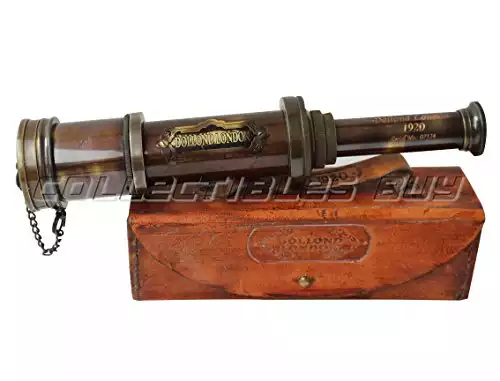 There is little to dislike about this small-size handheld telescope. For starters, you will love its affordability and its vintage nautical design. Even a beginner will like a pro when using this telescope for the first time.
It is a perfect instrument to scan the seas for treasure and pirates. Its authentic and elegant design also makes this item perfect for decoration or gift for a special someone. The vintage ship brass telescope is made of brass and wood for enhanced stability and increased lifespan. It comes in a high-quality wooden box for easy storage and protection.
What you will love most about this telescope is that its performance is as great as its appearance. It weighs less than two pounds, so you do not have to worry about getting tired after scanning for hours. Moreover, it is only 14" long, making it easy to move and control when zooming an object.
Although the telescope does not come with a stand, its small size makes up for the missing accessory. The telescope is ideal for use by both kids and adults.
Pros
The telescope is made of quality wood and brass for guaranteed durability
It comes with a matching storage box for protection
It is light and small-sized for easy usability and control
The telescope's performance is as excellent and outstanding as its appearance
Cons
The telescope does not come with a stand
The instrument is small, and you may not see as many details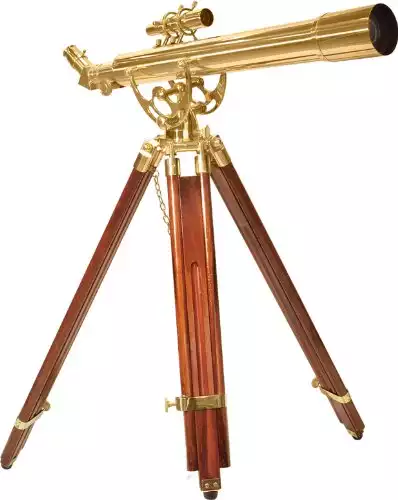 When you think of the Barska Anchormaster 28×60 brass refractor telescope, the first thing that should come to your mind is its high performance. The telescope has a simple, elegant appearance, but its functionality exceeds this benefit.
Every detail about this telescope has been designed with expertise, all from its incomparable optics quality and elegant tripod. It is made of sturdy wood and high-quality brass for maximum durability and stylish appearance that will look amazing in any room in your house.
The tripod is made of mahogany to give the telescope maximum stability during use, not to mention that you can easily extend the legs for convenience when viewing. It also has a brass chain for extra stability. It is characterized by a high-quality lens to give images a brighter appearance and allow you to see even the tiniest details.
Pros
The telescope gives you clear images that focus on every detail
It is made of high-quality wood and brass
Comes with a tripod and brass chain for stability
You can easily adjust the tripod's height for comfort when viewing
Cons
Some users complain that the tripod is heavy, making it hard to carry around
Antique Telescope Buying Guide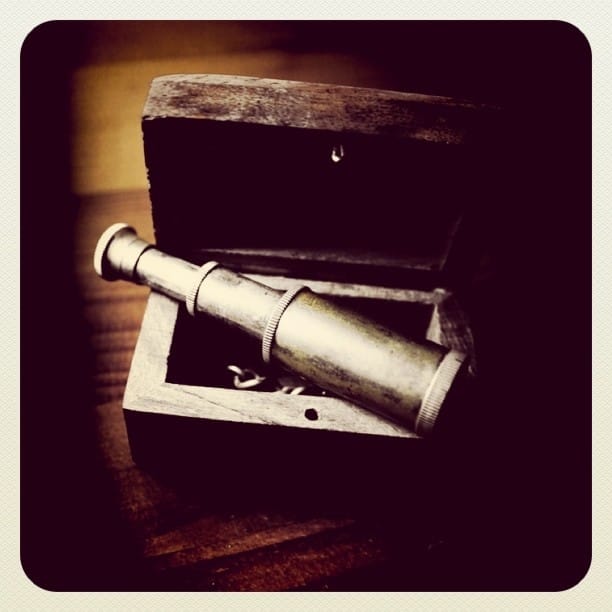 Now that you have an idea of the highly-rated antique telescopes on the market, the main challenge comes in deciding which of the six instruments to buy. The key is to buy a telescope that meets your performance and budget needs. Here are some factors to keep into consideration.
The Cost
How much to spend on a telescope is a very difficult question. Depending on your needs and interests you can spend as little as a hundred dollars, and as much as ten thousand dollars, or more. The important thing to consider is not how much you spend, but how the telescope you buy meets your needs. The most important thing you can do before investing hundreds or thousands of dollars in a telescope is to do some reading and research, and ask yourself what you want to do with the telescope.
Pay Attention to Magnification Power
The ideal magnification power is based on your distance from the object or area you wish to scan. It also depends on how much detail you wish to get. The most important aspect to consider is the size of the aperture to help you determine the telescope's power. The larger the aperture, the higher the magnification power, and vice versa.
Appearance
Appearance is crucial, especially if you intend to use the antique telescope as a decorative piece or a gift to a loved one. In this case, look for an elegant and stylish design. Nonetheless, if you are mainly focused on functionality, appearance does not matter.
The Size of the Telescope
The size will significantly establish how much detail you can view. Moreover, it will impact how much detail you can see through the telescope. While at the size, consider the telescope's weight to ensure that you can comfortably hold for long hours of viewing.
Does the Telescope Come with Accessories?
The extra accessories such as the stand, mount, storage boxes, and chain brass are a great addition. They make the telescope more interesting to use and store while saving you from the energy of holding it all the time as you view objects. Nonetheless, sometimes the accessories call for an extra cost, and you must keep that in mind to stick to your budget.
Final Thoughts
Each of the reviewed instruments has its pros and cons, and it is up to you to weigh them to decide which one works best for you. Suppose you are looking for the easiest antique telescope to use and maintain. In that case, you should go for the Maritime Brass Antique Double Barrel Telescope
For simplicity and high performance, Barska Anchormaster 28x60m Brass Refractor Telescope should be your go-to option. Simultaneously, the Vintage Ship Brass Telescope Marine Sailor Watch and Trekking Royal Navy Device Maritime Designer Nautical Replica is the ideal one if you want to save on cost.