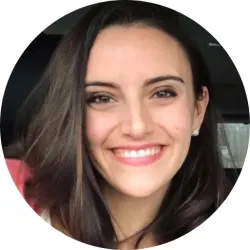 Latest posts by Courtney Myers
(see all)
Whether you're hitting the lake with friends or preparing for a picnic with the kids, you need a great cooler in your life. While massive, brand-name options are a dime a dozen on the big-box shelves, might we suggest something with a little more throwback flair?
Retro coolers are more than just eye-catching and decidedly cool. Many of them also feature innovative designs that you simply can't find in today's modern models.
If you're looking to add one to your collection, then we've got you covered. Today, we're sharing our top picks for the best retro coolers on the market. From the kitschy and quirky to the sleek and sophisticated, they just don't make them like that anymore.
How to Choose a Retro Cooler: Features to Look For
When you're on the hunt for the perfect retro cooler, chances are you already have an image of the perfect one in your head. Maybe you remember a beloved family one that you always threw in the trunk on family camping trips. Or, you may conjure up memories of the one your dad always took fishing or the vessel that stored your mom's infamous icebox cake for reunions and get-togethers.
Regardless of the memories, you've attached to this search; it can help to invest in a retro cooler that works as great as it looks. To help you find the best one for your buck, we've created a shortlist of features to consider.
External Aesthetics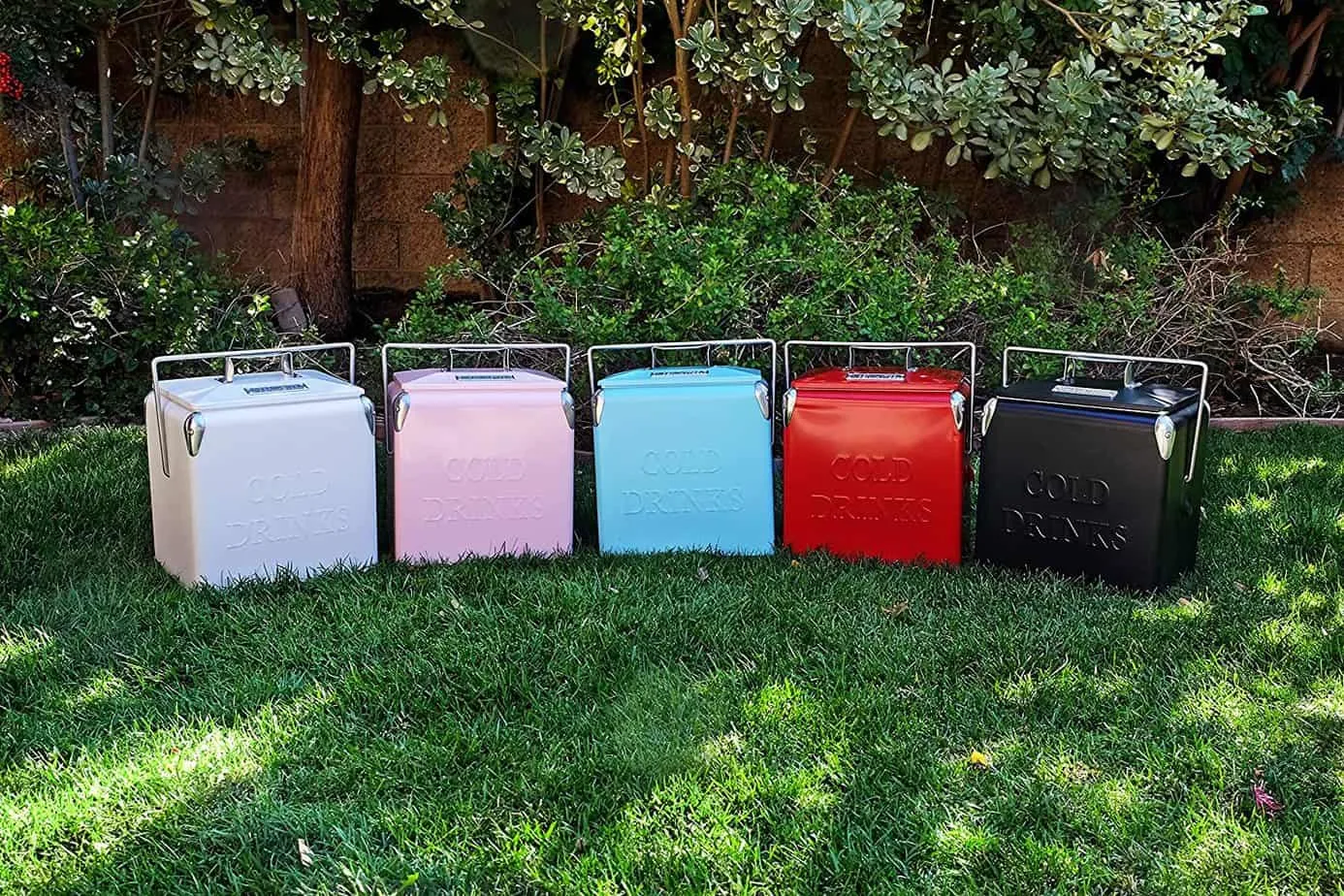 What good is a retro cooler if it doesn't look the part? You need one that will instantly bring to mind images of a bygone era, when things were easier and social media wasn't even a concept yet.
First, let's talk color. Some of the most recognizable throwback coolers are those that are decked out in bright, almost neon hues. These practically scream the 1980s and 1990s and are as iconic as Umbro shorts and Keds. If hues are important to you, then look for coolers that use a color-block design to incorporate multiple different ones.
For instance, the handles might be yellow, while the body of the cooler is bright blue or pink. Color-blocking hit peak popularity in the 1960s and 1970s, so these will instantly transport you back to an earlier time.
From there, be sure to take a second look at any time of writing, logo, or emblem that's attached to the cooler. If the brand name is featured prominently on the outside surface, then make sure the font is equally retro and special!
Materials Used
Did you find a retro cooler that fit the bill in terms of looks? If so, don't stop there. It's equally important to make sure it's durable and designed to stand the test of time. Most options will be made of heavy-duty plastic, which offers the following benefits:
Lightweight

Easy to transport

Easy to clean

Easy to store
If you're going for a very vintage look (think 1950s and before), then you can spring for a metal cooler. While they're cool, keep in mind that they might be heavier and more prone to rust than their all-plastic counterparts.
Storage Capacity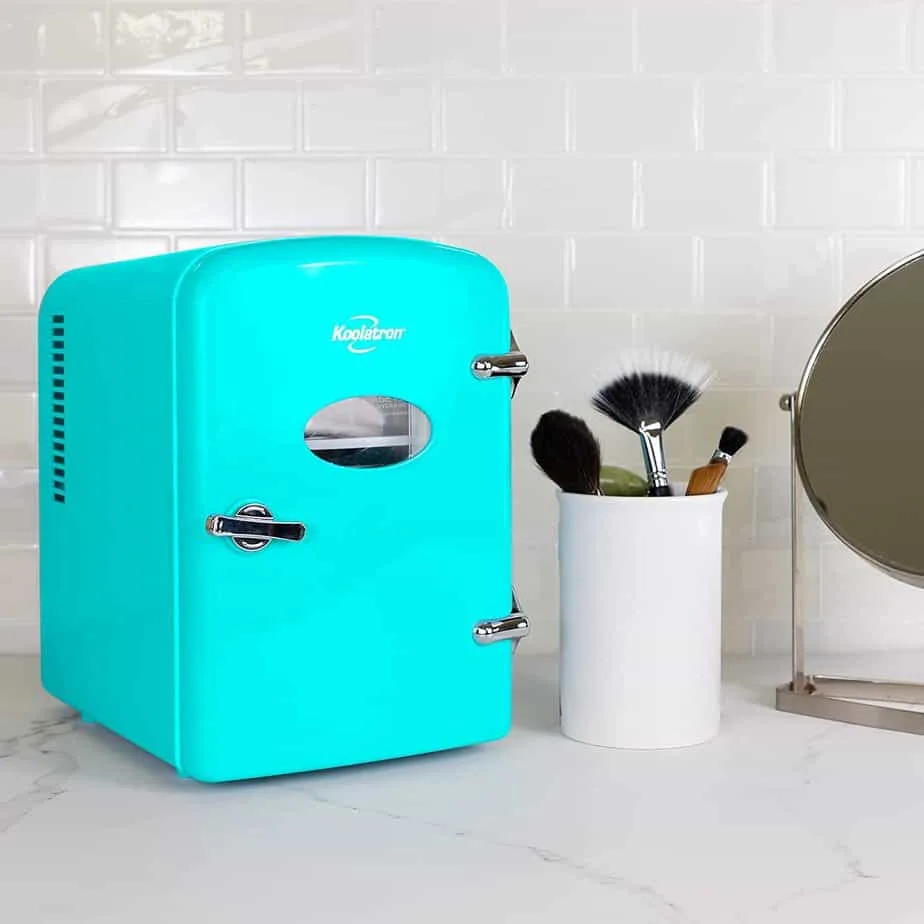 What good is a cooler if it can't hold all of your beloved foods and drinks? Maybe you want one big enough to store a complete 12-pack of your favorite sodas. Or, you may need one that's big enough to fit a dozen cupcakes.
Either way, be sure to read the item description to clearly understand the number of quarts that the cooler can accommodate. From small, four-quart personal coolers to 25-quart coolers big enough to hold a feast, you can find all kinds of sizes.
Insulating Properties
It goes without saying that a retro cooler should do its job. Remember: Unless you're buying one specifically to put on display and out of reach, then you need it to be functional.
This is where it pays to get a little modern. Over time, cooler designs have gradually improved and become more efficient. Today, most come equipped with special insulating features that allow them to keep your items colder for longer. A few of the most common features include:
Hard cooler sides

Brand-specific cooling technologies

Insulated lids
The whole point in bringing a cooler to any gathering is to keep your items cool and fresh. Make the most of your investment by choosing one that checks all the boxes in terms of both form and function.
Carrying Capacities
If you're just browsing retro coolers online from the comfort of your home, then a cross-body, cushioned carrying strap might not make too much of a difference. However, you'll be glad that it's there when you're lugging it from one spot to the next.
If yours doesn't include a strap, then look for verbiage around the handles. Have users commented that they're comfortable to hold? Or, are they complaining about blisters that formed on their palms after just a few uses? You'll transport your cooler for years, and you want to make sure the handles and straps are built with your comfort in mind.
Best Retro Coolers: Rating Criteria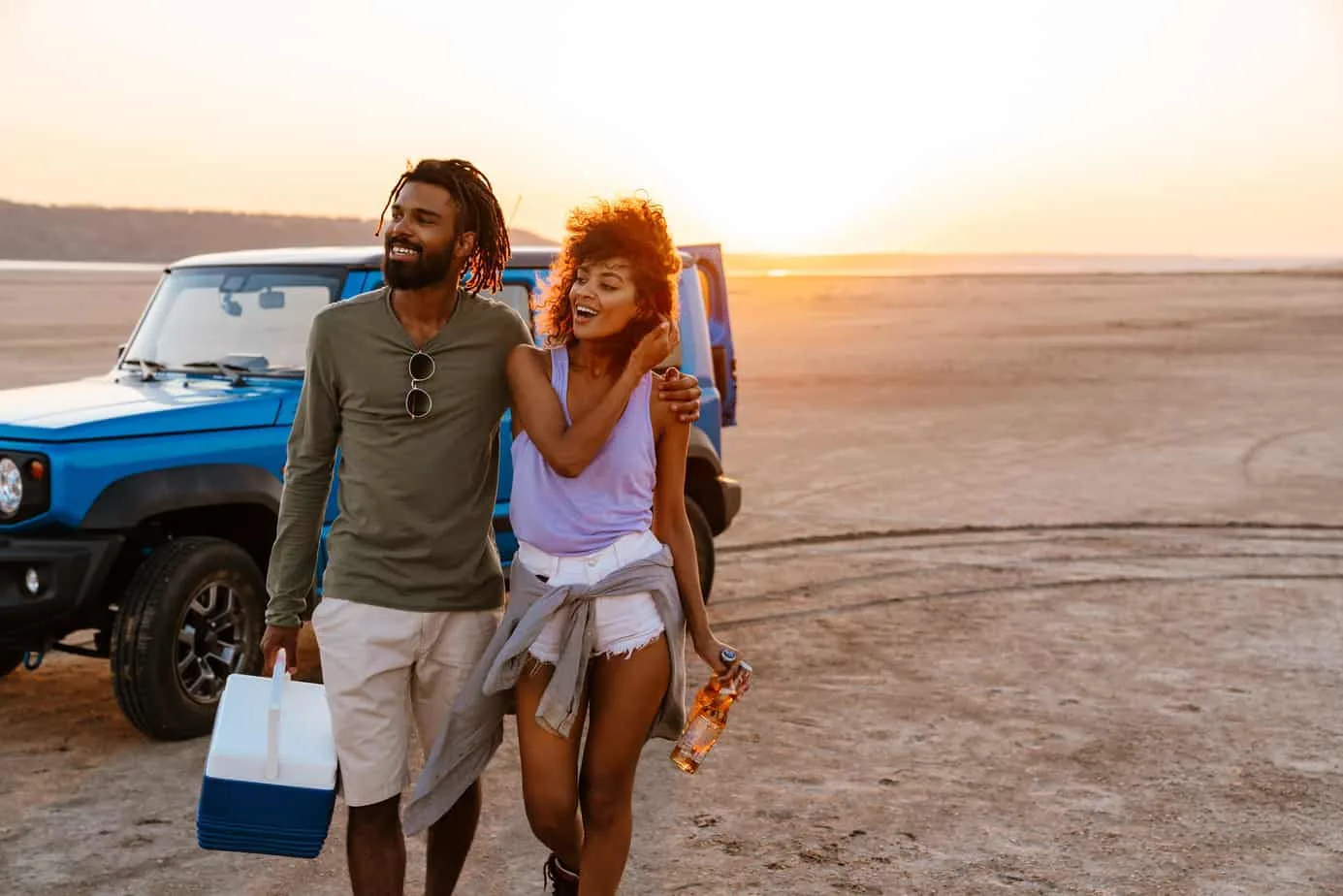 Before we dive into the specific coolers that made our list, let's briefly explain the rating criteria that we used to narrow down our selection! Keep in mind that retro and antique items are designed to appeal to different buyers. What one person considers rare and special, another might consider it too wacky or unconventional.
That said, we wanted to celebrate and recognize the coolers that caught our eye in terms of:
Unique aesthetic design

Affordable price point

Good user reviews (at least 75% five stars)

Vintage-inspired colors, styles, and designs
By keeping our criteria strict, we were able to weed out any coolers that might have looked cool but lacked functionality. This checklist also helped us steer clear of coolers that performed well and met user expectations but didn't feature those retro touches we all know and love.
Best Retro Coolers: Our Five Top Picks
Below, we're sharing five of our favorite retro coolers, all available online. Take your time and go through this list, making sure to look for the features that are the most important to you. Before long, you'll be hitting the beach or scoping out a mountain vista with the perfect accessory in hand!
Igloo Special Edition Insulated Cooler
The Igloo Special Edition Insulated Cooler is our top pick for a few different reasons. First, let's just talk about that color scheme. If bright teal, bold red, and happy yellow don't scream 1994, we don't know what does. For the hues alone, this 25-quart cooler won us over at first sight.
Thankfully, the functions and features that it includes are equally impressive. Spacious enough to hold plenty of drinks and cold items, it's the ideal size for a picnic or family meal. Yet, weighing around 12 pounds, it won't weigh you down as you travel.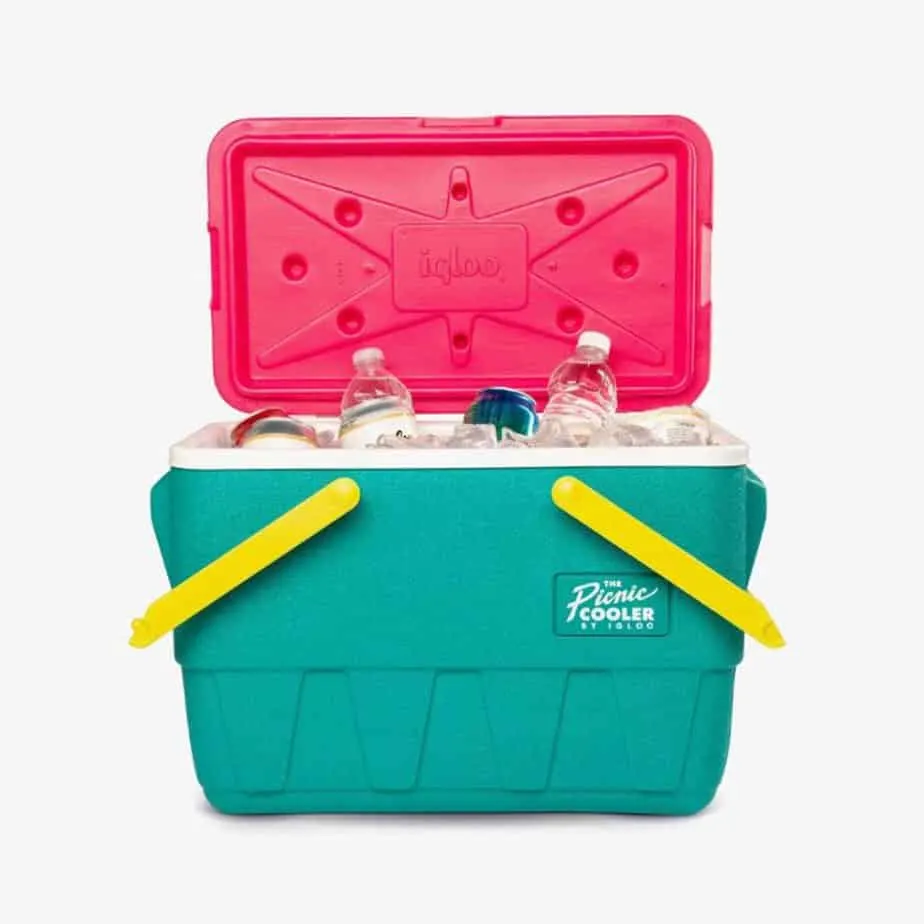 Pros
Spacious enough to hold up to 36 12-ounce cans

Insulated with Igloo's Cool Riser Technology and Ultratherm Plastic

Plastic handles with molded grips for easy carrying

Picnic-basket style handle option for one-hand travel

Smooth interior for easy clean-up
Cons
It may not be as durable as other models

Some reports of scratching during shipment
If you're looking for an Insta-worthy cooler that will look great in all those poolside shots, then this is the one. At just $82, it's an investment you'll appreciate for years to come.
Koolatron Coca-Cola Retro Ice Chest Cooler
While the Igloo option was a nineties throwback, the Koolatron Coca-Cola Retro Ice Chest Cooler takes you way back to the 1950s! Bringing to mind a simpler and more wholesome time, this stainless steel cooler is a gorgeous cherry red.
At just 14 quarts, it's smaller than some of the other models on our list, but the compact design also makes it convenient. This is the cooler to carry when you're rocking your favorite red lip and floral sundress, straw hat in hand. Of course, you'll want to fill it with — what else — Coke in glass bottles! The built-in bottle opener makes it easy to crack a cold one when the sun goes down.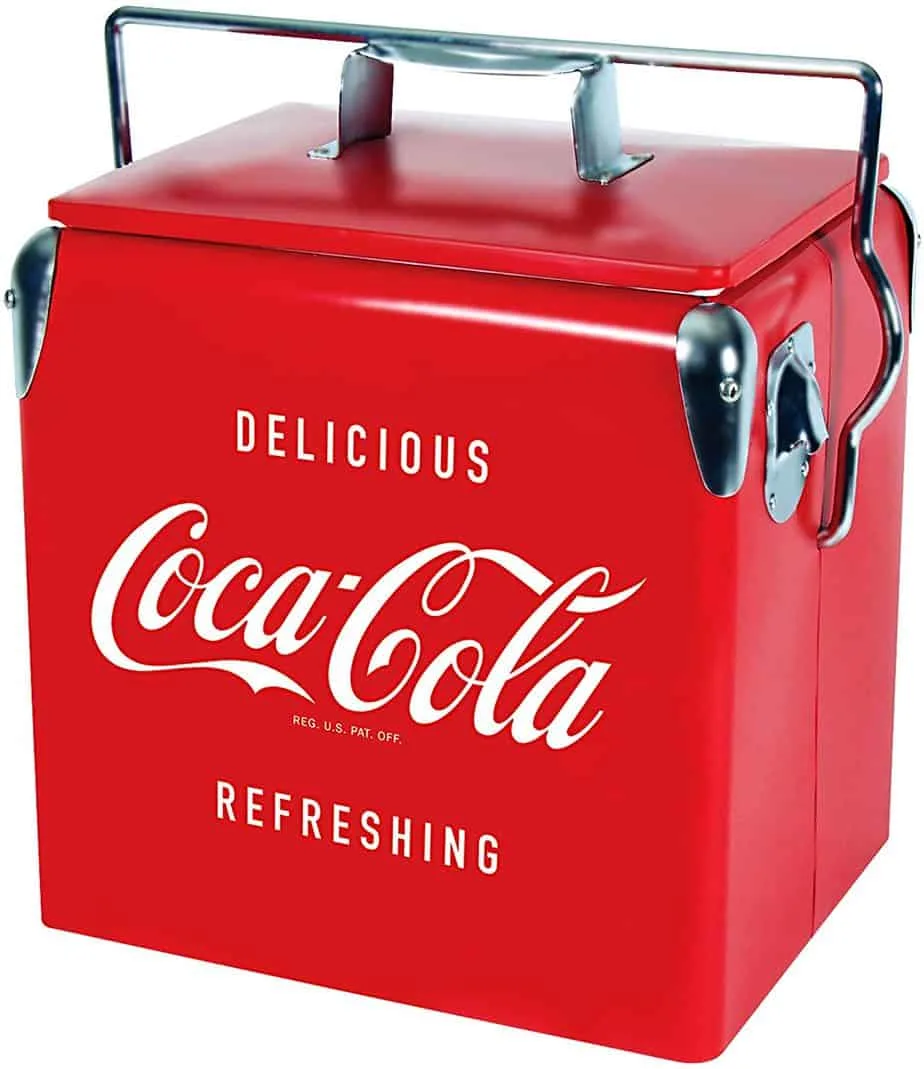 Pros
Official vintage Coca-Cola typography and artwork

Sleek, polished chrome accents

Self-locking handle prevents spills

Spacious enough to hold 18 cans or 12 bottles

Built-in bottle opener

Smooth plastic liner resists wear and cleans easily
Cons
Some had issues with the foam seal under the lid

Complaints about the uneven finish
This shiny metal cooler would make the perfect addition to anyone's retro collection. Display it on a bar cart or bring it to your next gathering, and expect plenty of compliments. You can snag one for just $80!
Engel Drybox/Cooler: Camouflage
Engel Drybox/Coolers have become synonymous with rugged durability. These containers will not only keep anything you add ice-cold, but they can also double as a dry box, keeping moisture and dust away from your valuables.
Though you can find many different colors, styles, and models online, we prefer the Engel Drybox/Cooler: Camouflage. The square, boxy shape serves up a major dose of vintage style, while the beige and brown color tones are reminiscent of old-fashioned military accessories.
This 13-quart cooler isn't anywhere near as bright and shiny as the others we reviewed, but it's sure to pique the interest of anyone looking for new hunting or camping gear in a unique retro design.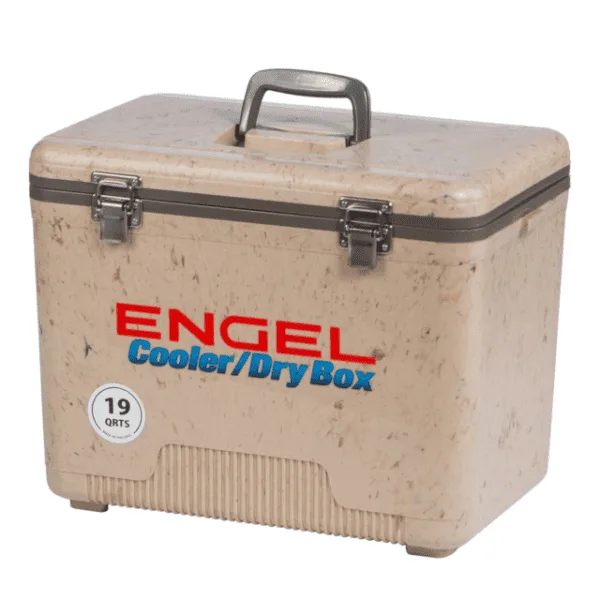 Pros
Airtight, waterproof EVA gasket around the lid

Recessed central handle

Convenient shoulder strap

Removable tray for a dry storage space

Stainless steel fittings

Non-absorbent liner for quick cleaning
As nearly 90% of reviewers agree, the Engel Drybox/Cooler offers a great aesthetic and top-quality function. Those who didn't love it noted these flaws.
Cons
Issues with the durability of hinges

Some reviewers noted that ice melted quicker than expected

Smaller than other models
This cooler is just $50 on Amazon and would make a great present for any outdoorsy, vintage-loving person in your life!
Igloo Limited Edition Playmate Series: MTV Black
The Igloo Playmate Cooler is as iconic as a pair of Doc Martens or a Hard Rock Cafe t-shirt. While we love the classic model (also available online!), we want to direct your attention to the jaw-dropping Igloo Limited Edition Playmate Series: MTV Black. If you've ever screamed excitedly at your television, "I want my MTV!" then you know how gloriously fun this 16-quart, kitsch-tastic cooler is.
Featuring the brand's classic tent-top design, this cooler is simple but feature-rich.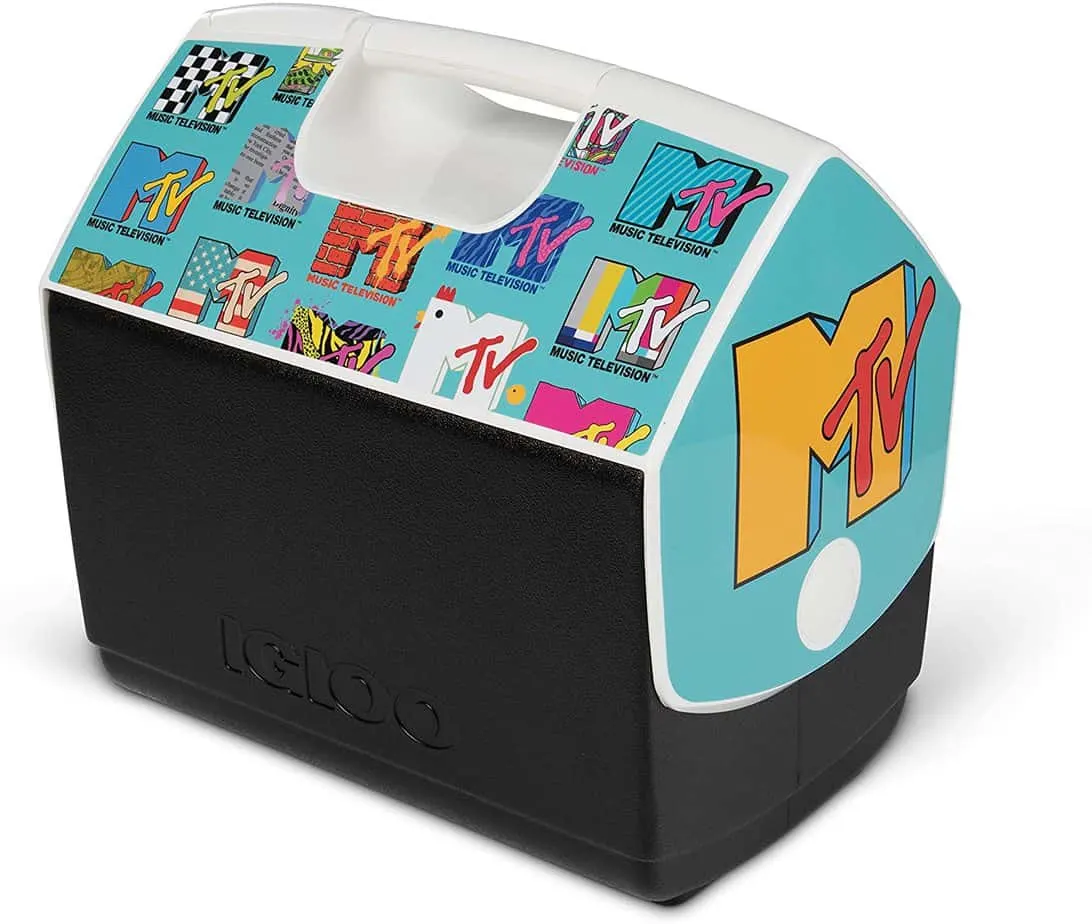 Pros
User-friendly, push-button lid design

Two-sided lid open/close navigation

Spacious 16-quart design

Colorful MTV logos on the lid
Cons
The image is a decal and could come off with wear

Some buyers noted issues with decal placement and bubbling

Issues with lid durability
At just $50, this cooler is a steal! Grab one for yourself and another for your bestie who remembers the glory days of TRL.
Permasteel Portable Picnic Cooler: Pink
We appreciate a straightforward design that's easy to interpret. That's exactly what you get with this super-cute Permasteel Portable Picnic Cooler: Pink. The stainless steel cooler is shaped similarly to the Koolatron Coca-Cola option, but this 14-quart option is a little more dainty and sweet.
On the front, you'll find the words "Cold Drinks" in the same pastel pink tone. This gorgeous shade celebrates the lighter-colored hues that dominated clothing and accessories in the 1950s and 1960s. Offset by the shiny metal handles, it pops beautifully and oozes with charm.
When it's party time, you can use the built-in bottle opener and cap catcher to keep things neat and tidy.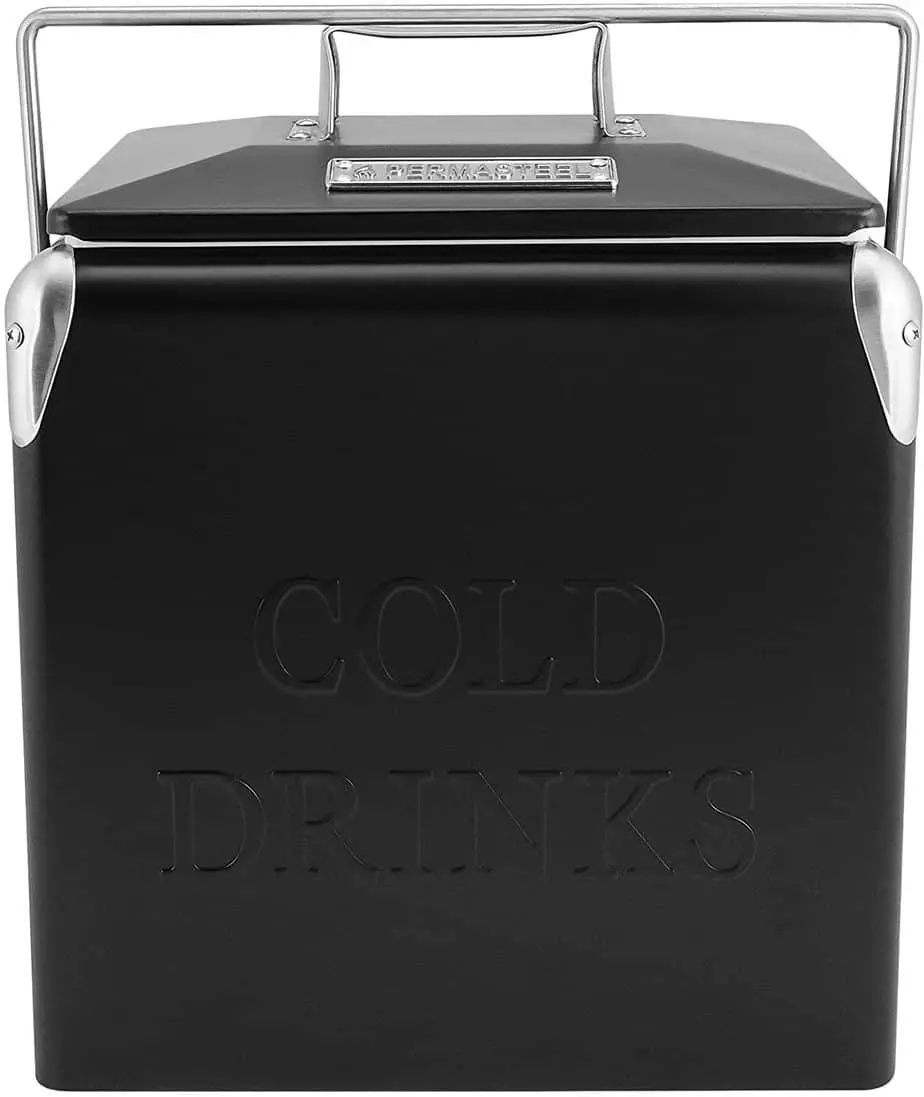 Pros
Easy-open lid

Drain plug for quick clean-up

Durable, powder-coated steel construction

Single steel handle for easy carrying
Cons
Some buyers report that it ice melts after 12 hours

No alternative double-handle or shoulder strap option
This cooler is only $70 online, and you can also find it in a few other colors, including black, red, turquoise, and white!
FAQs
Question: Should I Pre-Chill My Retro Cooler?
Answer: Pre-chilling your cooler can help it stay colder for a longer period. This step is quick and easy and can make all the difference when you're on hour 12 of a 24-hour excursion!
To pre-chill, start by filling your cooler with what's called "sacrificial ice." This is ice that you will only use for this purpose, and you'll toss when the time is up. In other words, this is not the ice that you'll use to cool your food and drinks.
Allow the sacrificial ice to sit in your cooler for a minimum of 12 hours. Next, dump it out and replace it with clean, clear ice that isn't wet. Then, you're good to go! Another way to keep your items cold for as long as possible is to pre-chill them in the fridge before adding them to your cooler. For instance, a glass Coke bottle that's already chilled will stay cold longer than a room temperature one.
If you stock yours without chilling anything first, then most of the ice will be used up trying to simply make them cold. Pre-chilling skips this step and lets the ice continue that cycle, not start it from scratch.
Question: How Should I Clean Retro Coolers?
Answer: Sticky soda spill? No problem! Most retro coolers (and their modern counterparts) are designed with a smooth interior that simply wipes clean with a damp towel. If you notice any odors or tough stains, then mix a little baking soda and water until you form a paste. Apply the paste to the inside and let it sit for a few minutes. Then, wipe it away.
When you first get your cooler, wipe the exterior and interior with a solution of mild dish detergent and warm water. This will remove any residue from shipping and ensure the surface is clean and ready for your items. Then, remember to clean it after each use, especially if you had it on a boat or the beach. Sand and salt can corrode the surface and affect quality over time.
Remember to air-dry your cooler completely before adding the lid and putting it in storage. Sealing it with moisture still inside could encourage the growth of mold.
Question: What Is the Best Way to Pack a Retro Cooler?
Answer: We all know someone who can load a cooler up like no one else. This person knows the exact way to place cold cuts, chilled salads, and cans in a veritable Tetris-like formation, where nothing is smashed, spilled, or squished.
If you aren't that person, then we have a few tips that can make it easier than ever to pack your cooler. While this guide covers the instructions in great detail, here are the top points to know:
• Always pre-chill your cooler
• Add large frozen or chilled items on the bottom (e.g., a cold 12-pack of sodas)
• Use ice blocks when possible
• Stick with a 2:1 ratio of ice to contents
• Fill the cooler to avoid air gaps
• Keep your cooler in the shade when possible
• Sprinkle rock salt on top of the ice when it's filled to the top
Notice point #3? One common mistake is to fill your cooler up to full capacity and then sprinkle ice around it. Instead, aim to have double the amount of ice and half the number of items. Pack in as much ice as possible for best results.
Question: How Do I Know What Retro Cooler Size I Need?
Answer: All of the retro coolers on our list are personal ice coolers. This means they're lightweight enough for one to two people to carry with ease. The largest one we reviewed (the Igloo Special Edition Insulated Cooler) will hold 25 quarts, while the smallest (the Engel Drybox/Cooler: Camouflage) will hold 13 quarts. This should be plenty for a moderately-sized gathering, as even the Engel cooler was big enough to hold 12 cans!
However, you can also find much larger, heavier-duty models if you prefer. Some coolers go up to 70 quarts or more! To choose the best one for your needs, think about the size of the crowd you usually entertain. Then, make sure you can fit enough drinks and snacks inside yours to feed them all!
Question: Should I Use Dry Ice in My Retro Cooler?
Answer: Dry ice is colder than wet ice. Plus, it doesn't melt, so you don't have to worry as much about soggy sandwiches! It's also lightweight and usually easy to find in your local grocery store.
For these reasons, many people decide to add it to their freezer, especially when they know they'll be using it for at least a few days. While this can be a great and effective choice, there are some guidelines to keep in mind.
First, dry ice is best suited for stainless steel or styrofoam coolers. The extreme temperature can cause damage to a plastic cooler if left for too long. That said, if you're determined to use dry ice, then add a protective styrofoam layer around the interior of your container. Simply cut pieces of styrofoam and lay them on the bottom and sides of your cooler. You can also use cardboard to achieve the same purpose.
It's also important to understand that as it melts, dry ice releases a gas. This gas can be dangerous to inhale or consume, so be sure to follow these important safety precautions.
Pack Your Retro Cooler and Take a Trip Back in Time
In a world that can feel so busy and fast-paced, we often find ourselves clinging to things that remind us of the past. We long for the days when life was a little less hurried and the basic things were best.
Retro coolers are a great way to incorporate that sentimentality into your everyday life. They're practical, cheerful, and inexpensive, making them the ideal vintage accessory. The next time you host a bonfire or plan a weekend by the coast, pack yours full of your favorite sippers and celebrate old-fashioned style!
For more insights and advice on everything old-timey, be sure to check out the rest of our informative guides!