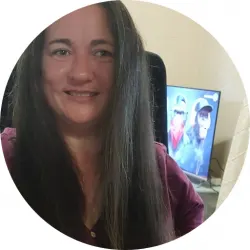 Latest posts by Caroline Lambert
(see all)
You find the best retro posters ideas in rockstars, popular movies, familiar brands, and the advertisements we can't forget. Collecting nostalgic posters is like taking a walk down memory lane, and I'm going to show you how fabulous that journey can be with the biggest brands, names, and movies.
Retro posters are reproductions of some of the most memorable banners to have embraced this world. From the rocking 1950s to the stormtroopers of the 1970s, some posters ignite the deepest parts of our being, and who can forget the NASA posters calling for more space explorers.
Some posters are as legendary as the memories they hold. I have a massive vintage and retro poster collection because my bedroom was as plastered with banners as a typical teen with a crush on her favorite rockstar. The two main reasons I choose my top posters are that they should be available and memorable to the masses.
No one wants to put an offensive but funny poster like this one on their wall unless they have a dark sense of humor. I have a wicked sense of humor, but to keep things famously retro, I'll stick to memorable posters. You'll find an exciting poster to add to your collection, especially if you're a Star Wars fan. Who isn't?
The Magic of Nostalgia
You might wonder why retro posters can enhance your home or collection. Nostalgia is the key. Everyone loves revisiting a simpler, happier time where everything seemed to add to their smiles. The adjective "nostalgia" defines just that, and it's about returning to that place you hold dear in memory.
Having posters displayed in your home or studio is like opening the door to another realm, one where you or your visitors can step into the memories of yesteryear. It's the same reason we love antique, vintage, and retro furniture. We always want reminders of long-gone moments we cherish.
Nostalgia is part of the human experience, and everyone feels it. It can even unify people, and what better way to ignite it than have a few posters of familiar musicians, movies, and advertisements to strike up that precious conversation? Undoubtedly, posters are a gateway to this human experience.
Retro posters are more readily available than the originals, and they allow you to have brightly colored prints encouraging the memorable journey. Visual perception automatically guides the human experience, meaning you're unconsciously instigating nostalgia, especially with relatable posters.
Knowing Your Posters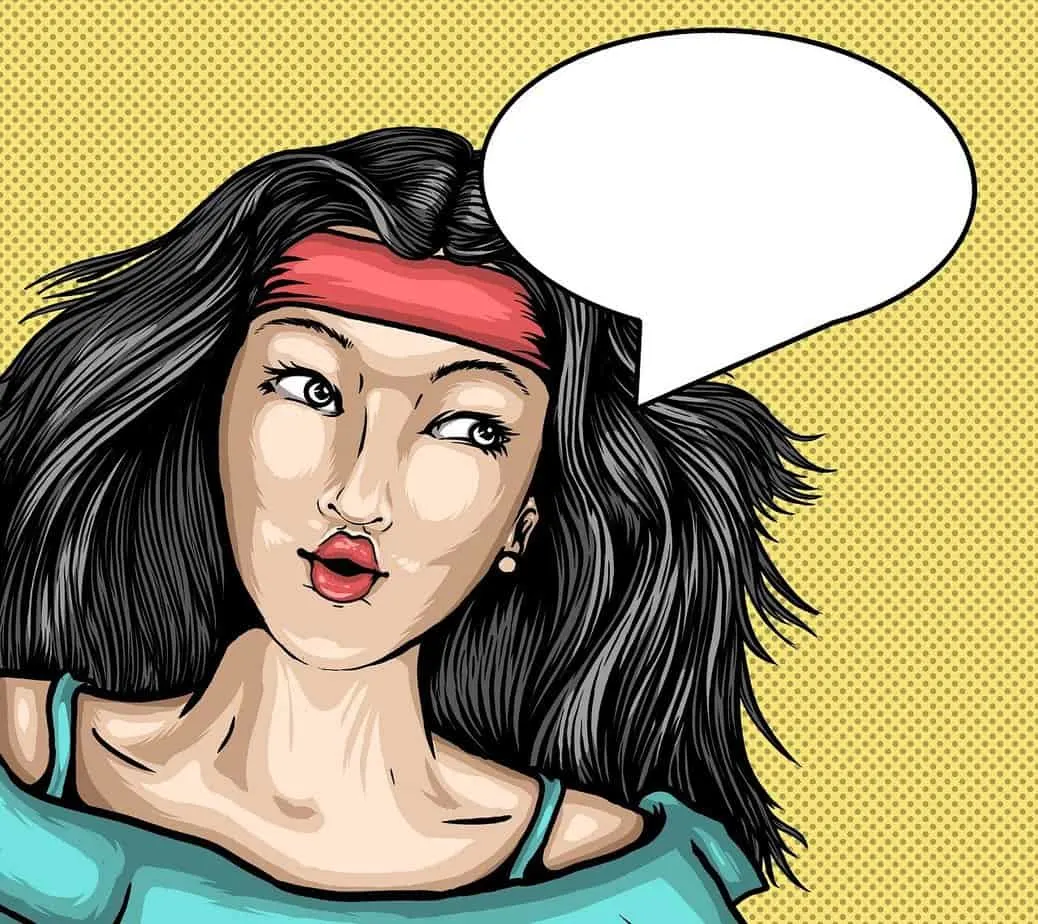 Before diving into the best reproduction posters, you should know the many types, popular collector's pieces, and what makes a good vintage poster. Anyone can print a vintage poster, so you should know what to look out for before adding your favorites to the collection. These are the ABCs of posters.
A: Type of Material
I lean toward my two favorite materials when choosing retro posters: poster paper and tin. They're the best material types for the original feel of a vintage reproduction or pop culture poster design. However, posters are printed on numerous materials, including:
Glossy

blueback paper

is more durable than paper, and it has a no-shine-through backing

Corrugated plastic

or coroplast is a synthetic, waterproof material you can hang outside (similar to tin)

Glossy

PVC

won't easily rip (a common problem with paper)

Glossy

Sintra board

is a thick plastic that won't bend or crease

Matte

foam board

protrudes from the wall, similar to mounted canvas

Matte

canvas

prints are a modern option for posters
B: Aesthetics
You can't deny that the aesthetics of a poster matter as much as the material on which it's printed. I'm also attracted to the way posters look. I consider four factors before adding a poster to my retro collection. It's hard to find posters with graphic textures, but they're the pride of my collection when I find them. The factors are:
Vibrant colors because I'm not a fan of black and white posters

Graphic texture because it adds to the reproduction quality (it can make a look and feel old)
because the fonts should match the original
Familiarity because I want each to remind me of something I enjoy
C: Types
Retro posters are reproductions of banners that remind you of something, someone, somewhere, or sometime. The main retro poster types are:
Even though there are many types of posters, the most common retro posters you'll find on Amazon are reproductions of:
Vintage

Advertising

Movies

Shows

Concerts

Pop culture

Travel

Events

Political campaigns
Again, I love vibrant, bright colors, familiarity, good typography reproductions, and one of my two favorite poster materials. Add a poster with graphic texture would be a bonus, but I won't use it as the criterion for my favorite posters. Movies, events, concerts, and advertising are four of my favorite types of posters, so I'll stick to them.
: Top 12 Picks
The magic of nostalgia combined with my desire to seek retro posters from the names, movies, and the American dream is bound to help you find a few new ones for your collection. These posters are all reproductions, meaning you can also easily find them on Amazon.
1. Star Wars: A New Hope
I couldn't possibly give the first spot to any poster but Star Wars, especially the original 1977 movie: A New Hope. What was known as Episode IV was released in 1977, and it was the start of a journey through space, Yoda, and the stormtroopers. Darth Vader holds the Rebel Alliance hostage, including Princess Leia.
Han Solo and Luke Skywalker must race to free the Rebel Alliance and destroy the galaxy gun, a superweapon designed for mass destruction. The weapon was a space station above the planet Byss, and it was capable of destroying entire planets. The movie wraps as Princess Leia presents medals to Luke and Han for their bravery.
The Star Wars brand became legendary, and everyone knows Yoda and Luke Skywalker to some degree. The memorable elements of this poster make it a must-own, and the fully licensed 24″ x 36″ poster is available for a reasonable price. It's a steal, or shall I call it a light-saber deal?
It's a reproduction of one of the original movie posters, showing Darth Vader, Princess Leia, R2D2, Luke Skywalker, Han Solo, Chewbacca, Obi-Wan Kenobi, and C-3PO. It also has the Twentieth Century Fox credits on the bottom of the poster.
2. Queen – New York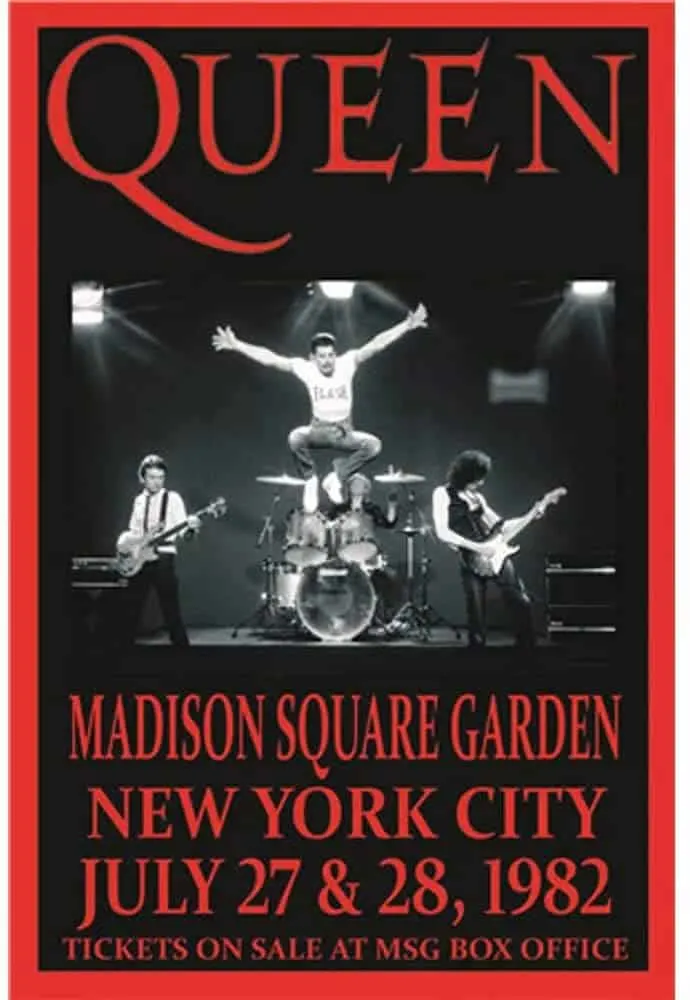 The biography called Bohemian Rhapsody was released in 2018, but Freddy and the gang's story goes way back. Queen's first album, called Queen II, hit the UK charts in 1973, and it was the beginning of an unforgettable era. Queen's music ranged from rock and roll to operatic pieces, creative and explosive.
Freddy was such a diva that their UK chart even popularized music video formats. I never got to attend one of Queen's live performances, but I've watched countless YouTube videos. Freddy has more passion than a stadium filled with broody women. He didn't just sing; he also performed art in every show.
Everyone knows the sad ending to Queen's story, thanks to the biographical movie, but an unshakable legacy remains for those of us who loved Freddy and those who fell in love with his movie persona. It was a close call between Queen and Star Wars for the number one spot, but Freddy deserves a top rank.
The Queen: Maddison Square Garden poster is a perfect retro option, especially for Americans or New Yorkers, some of whom might have parents who attended the concert. I love the energy of the poster because it shows Freddy as we know him. He was bold and always making a statement on stage.
It's an iron poster, making it more durable for collections. Heck, I'd pay my life savings to attend a live concert from Freddy and the gang. The 8″ x 12″ poster is for the July 1982 concert in New York.
3. NASA Recruitment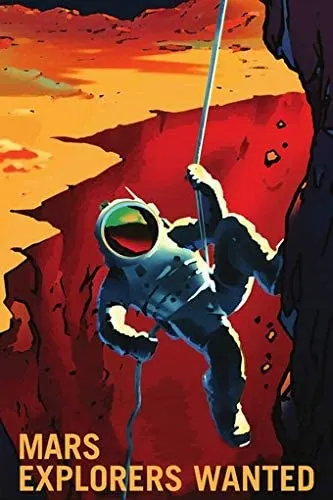 Calling all collectors! You can't miss the NASA: Mars Explorers Wanted reproduced recruitment poster. Americans are proud of putting the first man on the moon. Neil Armstrong was merely a starting point in 1969, but our curiosity with space and the infinite vacuum never lost steam.
Just as the army posted banners calling soldiers in the 1940s, NASA was inspired to call astronauts and space explorers. This poster is different in the sense that it calls for future explorers or Martians. Mars is the next frontier NASA wishes to help us explore, and the Mars Rover is already on the job.
NASA is a perfect representation of Americans because they're ambitious, aiming to send the first humans to Mars in the 2030s. Sure, the pandemic might've thrown a curveball, but this poster represents a reproduction of a dream, an American dream. It's a 24″ x 36″ poster.
The poster is a simple depiction of how humans on Mars will look, and the endless red sand and the abseiling astronaut are great recruitment foundations. This poster is a classic!
4. The Shining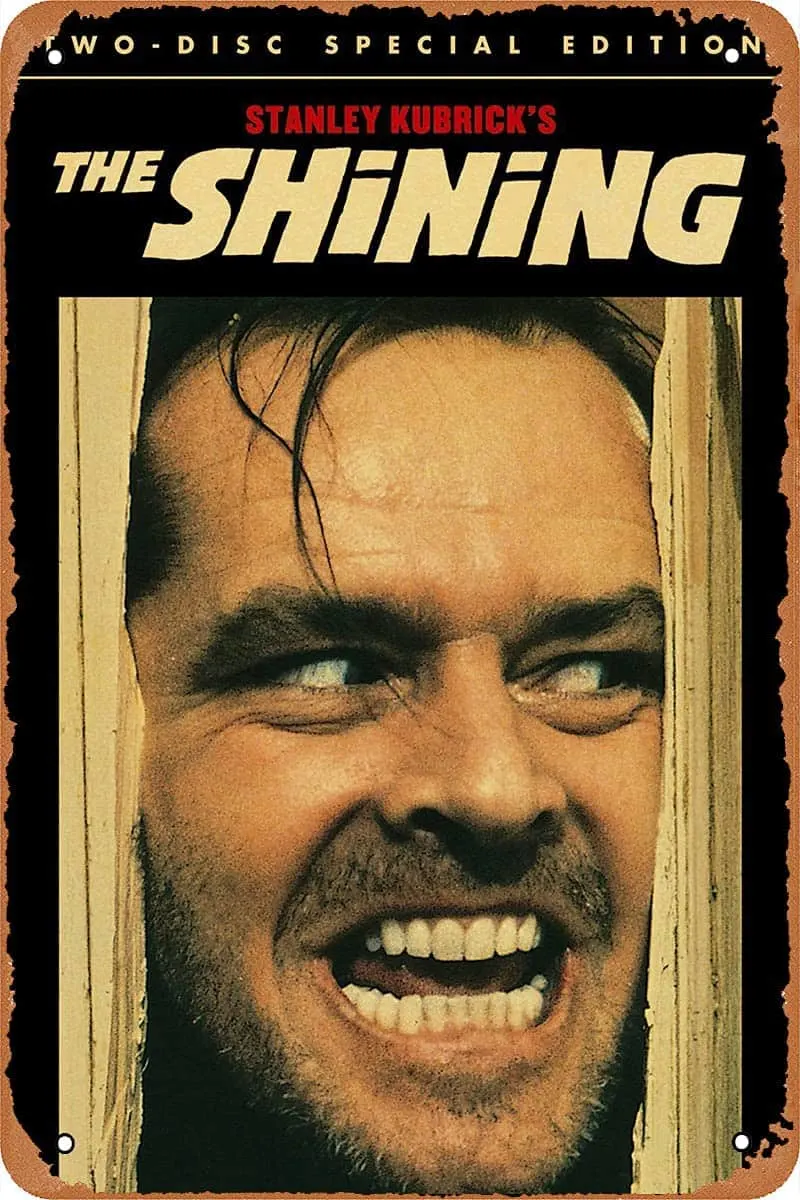 I must admit to being a huge Stephen King fan, and that's why The Shining movie poster has to make my list of retro favorites. It's a reproduction poster of the 1980 psychological horror movie that installed as much fear as Carrie and IT. Stephen King can strike horror in the minds and hearts of the hardiest readers.
He has a way with words, and his characters are insanely psychopathic. However, this poster represents the story of a hotel where everything goes wrong. Jack moves his family into a deserted hotel that comes with a distorted history, and the man loses his mind, becoming a deadly threat to his wife and young boy.
It's impressive how Stephen King loves using writers in his stories, which you can also see in Misery. Interestingly, he plays a cameo role in most of the movies made from his books. Fandom aside, this poster is familiar to many Americans as King's books and films are known from coast to coast.
The poster is a 12″ x 8″ metal banner. You might want to reserve this one for special occasions when you have unwanted guests so they can know they should leave or face the craze of Jack.
5. Pink Floyd – Carnegie Hall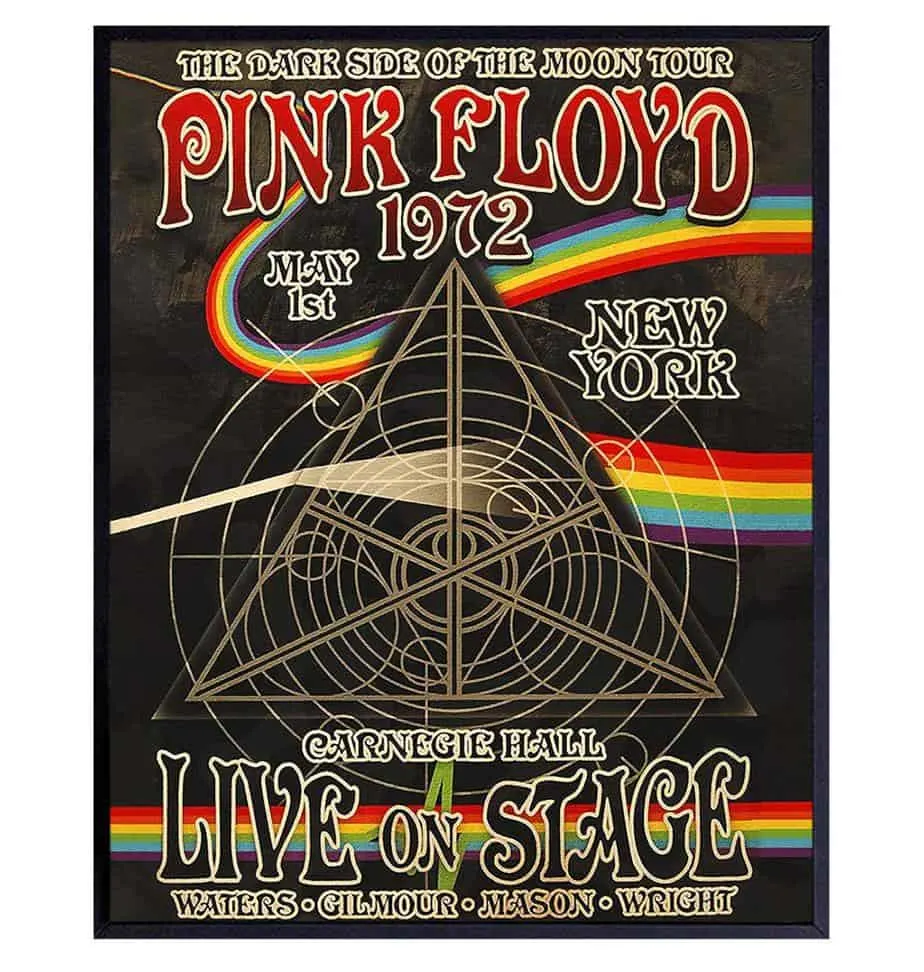 Pink Floyd is another rock band from London that falls into the retro era. You never think about it, but most of the best rock bands came from London. We love them anyway. Pink Floyd was another popular band with smash hits like "Comfortably Numb" and "Time." The 1970s were alive with their music.
Pink Floyd is also the first band to be called a psychedelic rock group, meaning hallucinogenic vibes inspired their music. This doesn't mean you had to use anything to listen to their music. It means the music could alter your perceptions and mind to create the same effect as hallucinogenic substances.
Look, I'm not going to judge the 1970s. It's no secret that psychedelia was part of the flower power movement. However, Pink Floyd's music brought about a new era. They experimented with sonic booms and philosophical lyrics, inspiring a lot of today's music.
The Pink Floyd: Carnegie Hall poster is memorable to multiple generations. It's a reproduction of their 1972 New York concert. The 8″ x 10″ concert poster advertises the Dark Side of the Moon Tour, and it's alive with psychedelic colors and elements.
6. Limited Edition Ford
Muscle cars and the American Thunderbird are nostalgic to most people. This reproduction of a limited edition Ford T-Bird poster is a classic reminder of a much-loved car. Ford manufactured numerous classic generations of T-Birds between 1955 and 1997. The car represents a class of luxury and comfort.
However, it also represents the muscle and roar of powerful engines. They made the best Thunderbirds from the 1950s to 1970s, better known as the second to fourth generation T-Birds. Thanks to collectors, the convertible beauties still roar down the highways, and we get to awe in their glory.
Ford has always been a big car brand in America, and we all know the 1979 Dukes of Hazzard partially popularized the mustang. We love thundering engines as Americans, and the Thunderbird series cleverly tugs our ambitions. This isn't an advertisement poster for Ford, but it's a beautiful collector's piece.
The poster is customizable. It showcases the inside of a Thunderbird, highlighting that glorious vintage wooden interior against the backdrop of a shimmering hood.
7. The Godfather (Hell, yeah!)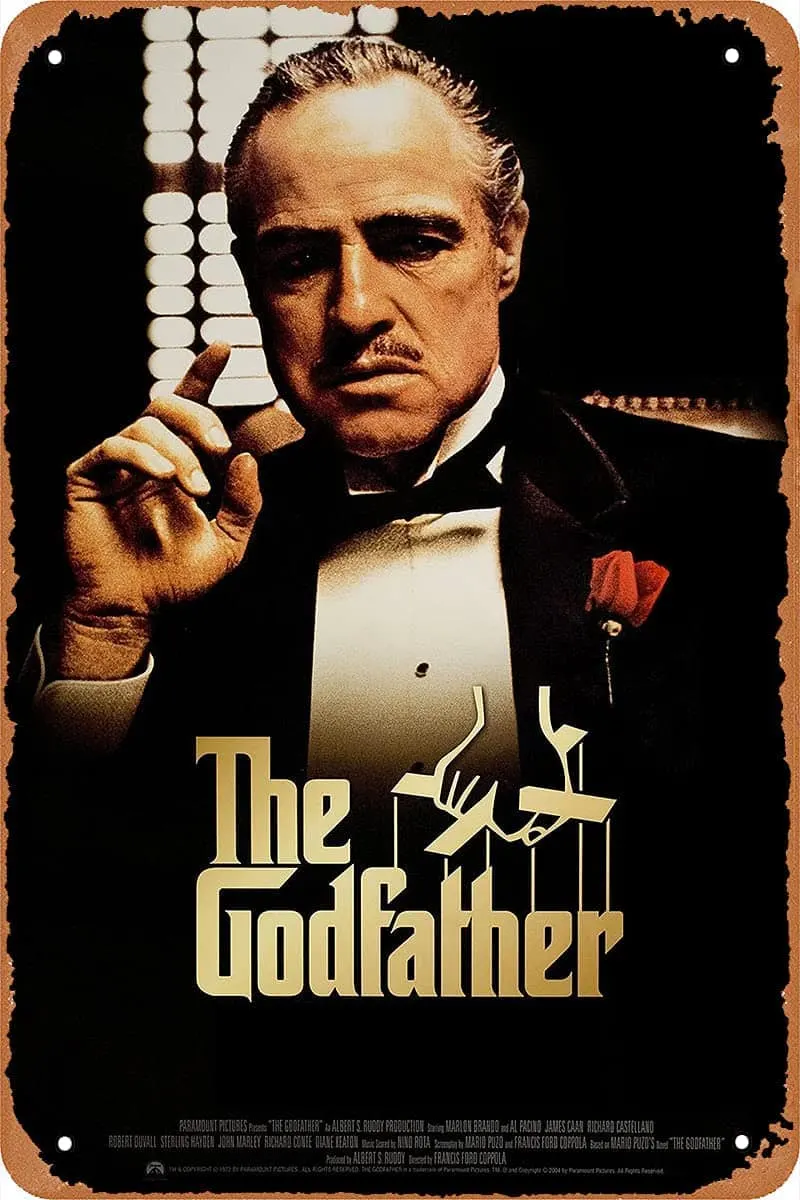 Al Pacino brought to life one of the best mob movies ever, The Godfather. The movie might be based on fictional patriarchy, but it's historically accurate to the post-war setting of New York. The Corleones family controls the city like the old-school gangs, not like modern-day wannabes.
The Godfather is a 1972 movie everyone knows and loves. You can't miss having this poster in your collection. Al Pacino's transformation from a family outsider to a don is a set memory in the minds of everyone who loved movies during this period. It's probably the movie that made Pacino's career.
The brutality of this mafia family earned the movie a great title in 1972: highest-grossing film. Many Godfather lovers call it the greatest mob movie ever made. From shootouts to family drama, this movie poster will add the ultimate retro vibe to your collection.
The 12″ x 8″ painted metal poster has a higher price, but it's guaranteed to get conversations flowing. It has the original don, Marlon Brando, on the poster, and it comes with the reproduced movie credits at the bottom.
8. Jimi Hendrix & Led Zeppelin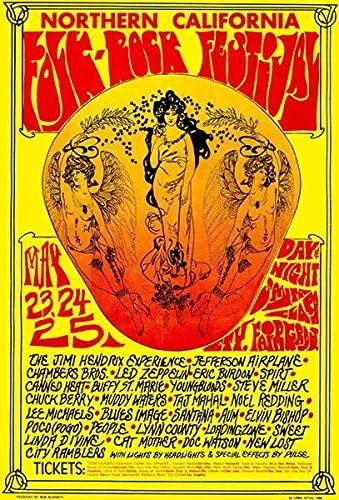 I'm sure you're noticing that the 1960s through 1980s was a time of hard-core rock and experimental music. Jimi Hendrix is a famous singer, songwriter, and musician, and his name is synonymous with broadening the opportunities of an electric guitar. He went where no one else dared.
Led Zeppelin is another English rock band from the late 1960s and 1970s that took America by storm. Robert Plant was the vocalist who tore the hearts of many listeners, and he also wrote many of the lyrics for Led Zeppelin until 1980. So, how do a rock band and famous guitarist make sense on a poster?
The beauty of this reproduced poster is that it's a Northern California Folk-Rock Festival advertisement from 1968. Sure, the 1960s is a far stretch for retro posters, but I love how it completes the East to West love for rock in America. From New York to California, rock concerts rocked our worlds.
The poster is a beautiful representation of the festival, and it mentions all the artists who performed. It's a 24″ x 36″ poster that shows how all of America enjoyed the rock era.
9. Burger King Whopper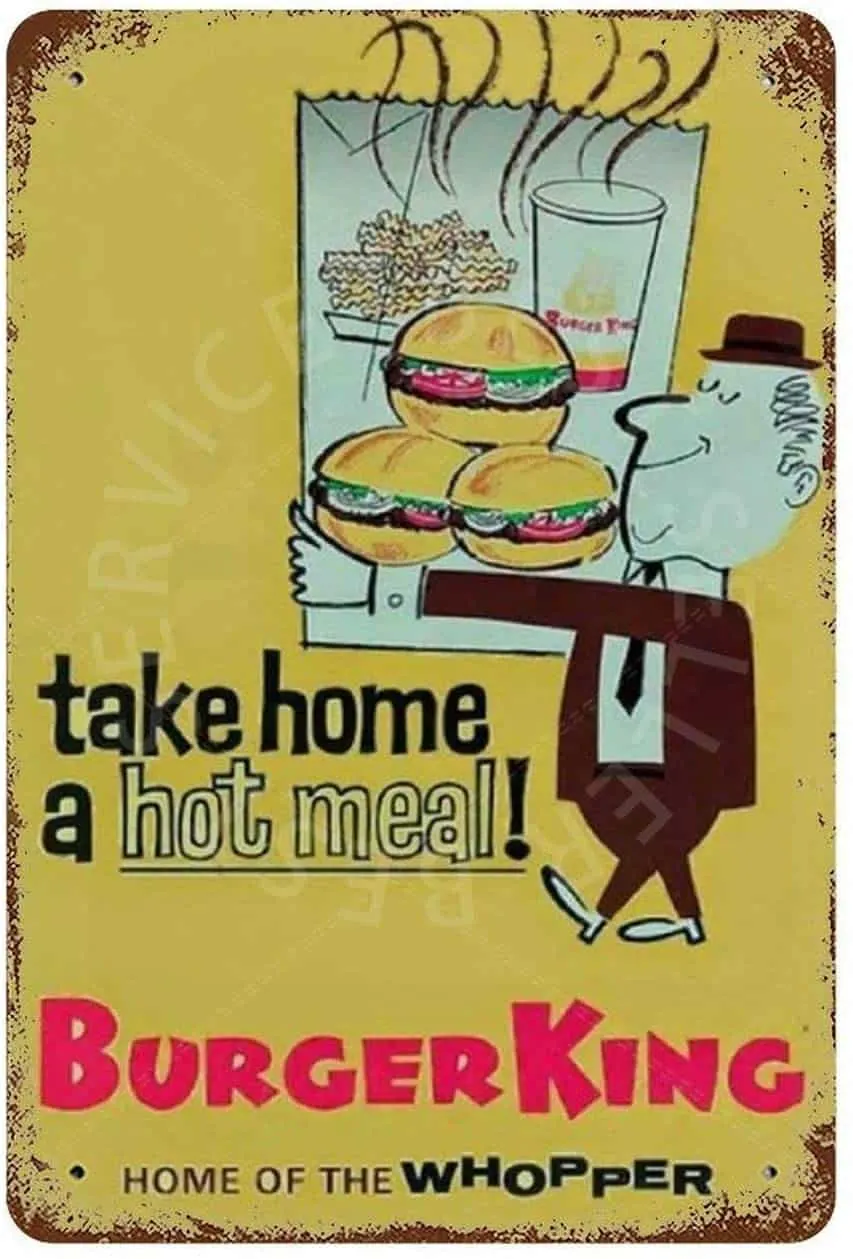 Beyond fast cars and Mars recruitment, America is also famously known for good burgers. Burger King launched the whopper in 1957, and it instantly became a favorite and remained so throughout the 1970s and 1980s. A good burger with friends is a memory everyone installs, and the chances are that it's Burger King.
Sure, we love tossing burgers on the BBQ, but ordering some fast food on a Friday night is an American staple. We aren't the largest (or dare I say roundest) population for no good reason. We always loved good food, fast service, and long-lasting laughs with friends at a burger joint, and we still love these things.
America is the birthplace of hamburgers, and Burger King earned their spot among the top contenders. They've been around long enough, and their burgers are better than McDonald's, in my opinion. The 8″ x 12″ metal Burger King poster belongs on this list.
It shows an all-American dad carrying his order of hot whoppers, and it reminds you who is the home of this phenomenal burger. Nothing could be more American in retro posters.
10. Footloose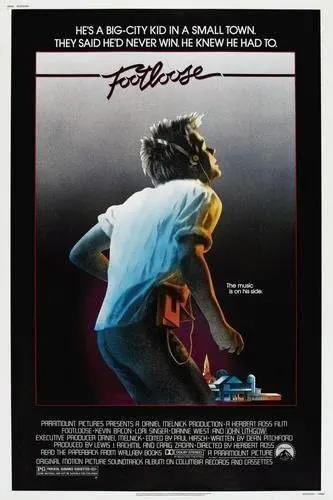 The rock and horror era is what defines retro posters right now. You'll notice how many movie posters are gory, dramatic, or insane, and the concert posters are mainly rock bands. However, one retro movie poster from the 1980s is a little less horror and more inspirational. Footloose is a much-loved movie, and the poster is nostalgic.
Footloose is a 1984 musical about Chicago's Ren and his family who move to a small town. Ren's musical ambitions are beyond what a small-town mind can fathom, which kind of makes him fit into the musical sensation era of the 1980s. The minister tries to ban dance, but Ren is alive with dynamic movement.
The movie almost has a forbidden romance, much like that seen in Dirty Dancing. A forbidden romance is the sweetest type, but add that to a ban on dance, and you have an explosive movie everyone remembers. Footloose is based on Elmore City in Oklahoma, which had a dance ban in place since 1898.
The Footloose 24″ x 36″ poster represents a 1980s teenager breaking the rules to follow his dreams. It shows Ren dancing to his own tune, and it has the reproduced credits at the bottom.
11. Woodstock 1969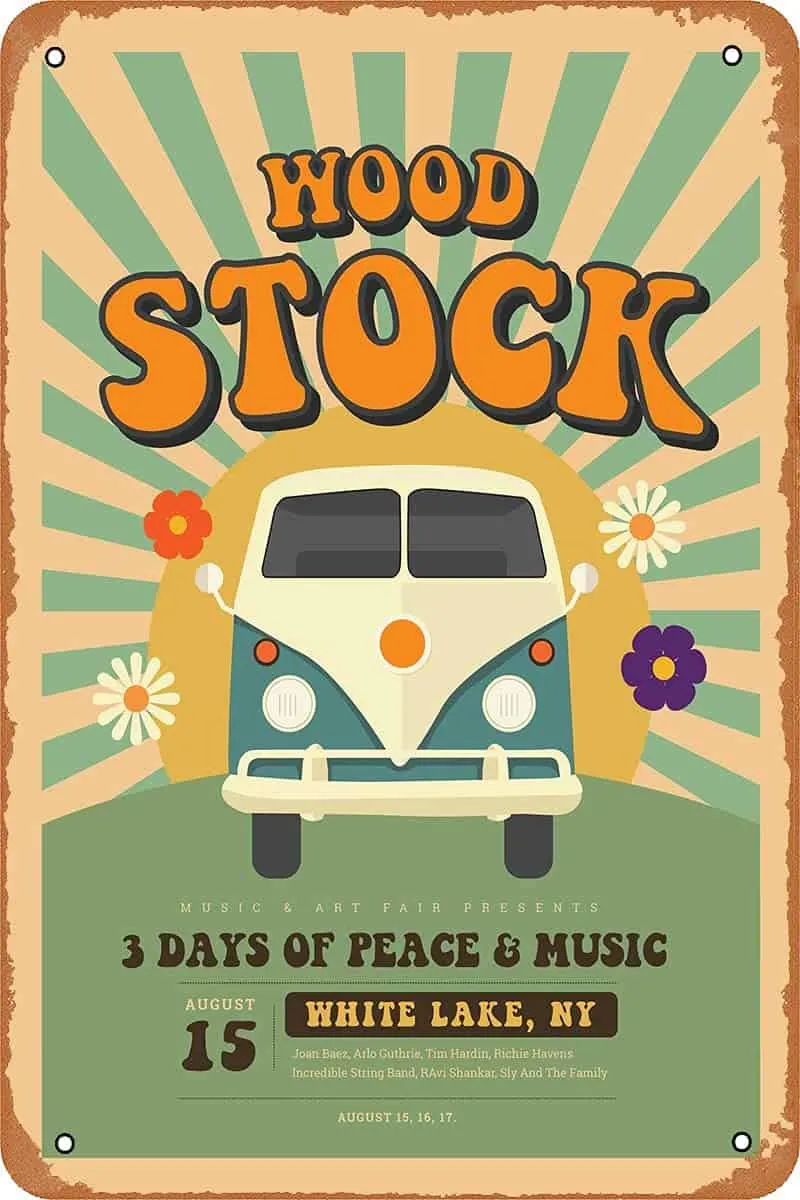 Woodstock is the penultimate representation of rock, roll, peace, psychedelia, and 3-day legendary festivals worldwide. The White Lake Woodstock Festival in New York happened in 1969, and the performers included Bert Sommer, Tim Hardin, Richie Havens, and Arlo Guthrie on August 15th.
The second day saw Santana, Janis Joplin, Credence Clearwater Revival, Mountain, The Who, and Keef Hartley. The next day saw Joe Cocker, Johnny Winter, and Country Joe & the Fish. The final day saw Jimi Hendrix and the Paul Butterfield Blues Band. Seeing the lineup makes me wish I was there.
Woodstock was a music festival that promoted rock culture during the rocking horror era. However, it encouraged peace with psychedelic vibes and even had people smoking all sorts of things. It's also famous for driving the sexual revolution of the 1960s and 1970s.
The 12″ x 8″ Woodstock 1969 poster is a must-have if you want to show all sides of the retro era. It shows the love bus we all know from the hippie era, famous to Woodstock festivals.
12. Uncle Sam Recruitment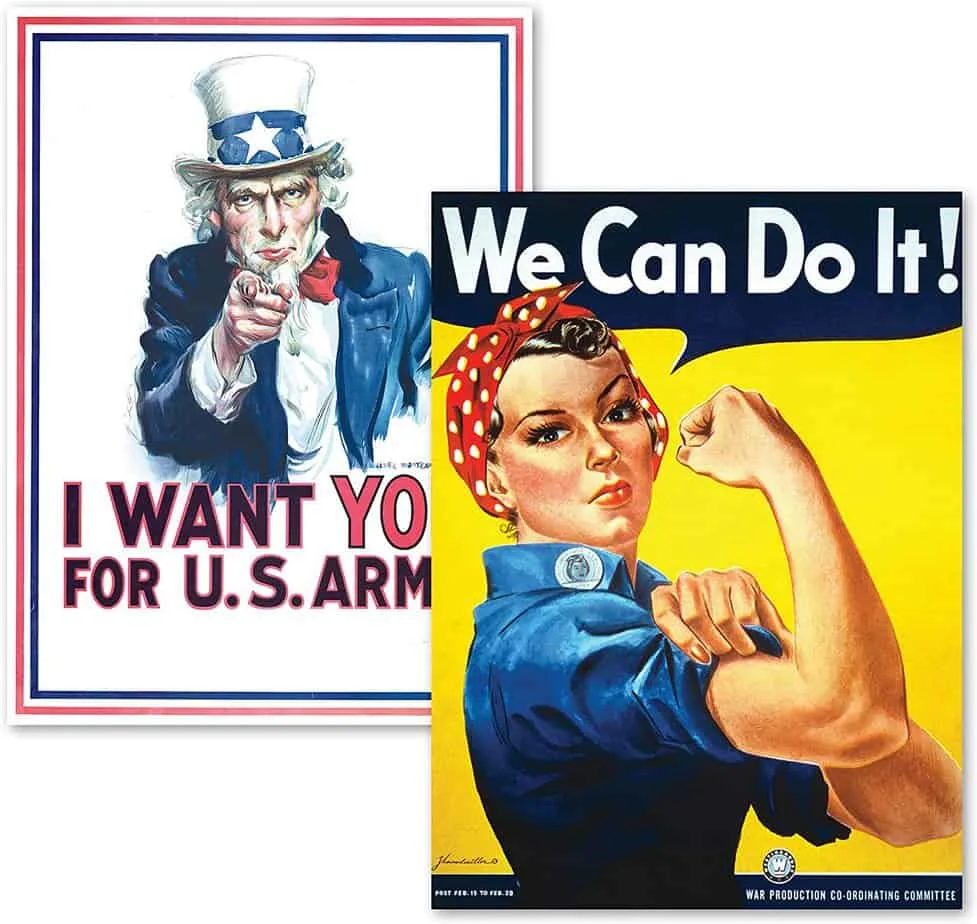 The 1970s were still ablaze with the Vietnam War, and Uncle Sam recruited young men to fight in Saigon. Uncle Sam represents a democratic and patriotic country, but the intention of sending our young soldiers to Vietnam was to prevent it from being converted to a communist region.
Unfortunately, Vietnam, Cambodia, and Laos folded into communist rule by 1976, but that's not the point of this amazingly nostalgic poster. Seeing the historical images of young men lined up, waiting to fight for what their country stands for, is enough to melt any heart. Patriotism was flooding the country.
Sure, we lost the war, and many people opposed it, but it strengthened the country's democratic alliance. That's what makes these posters so valuable to any collector. That's right, this is a two-poster reproduction of Uncle Sam and Rosie.
Both posters are laminated for extra care and measure 18″ x 24″ each. Uncle Sam's famous finger recruitment message is clear, and Rosie's encouragement is a lovely reminder of American working-class women who fought for their freedom and equality. Well, there's still much to do, but you get it.
Retro Posters: Pros and Cons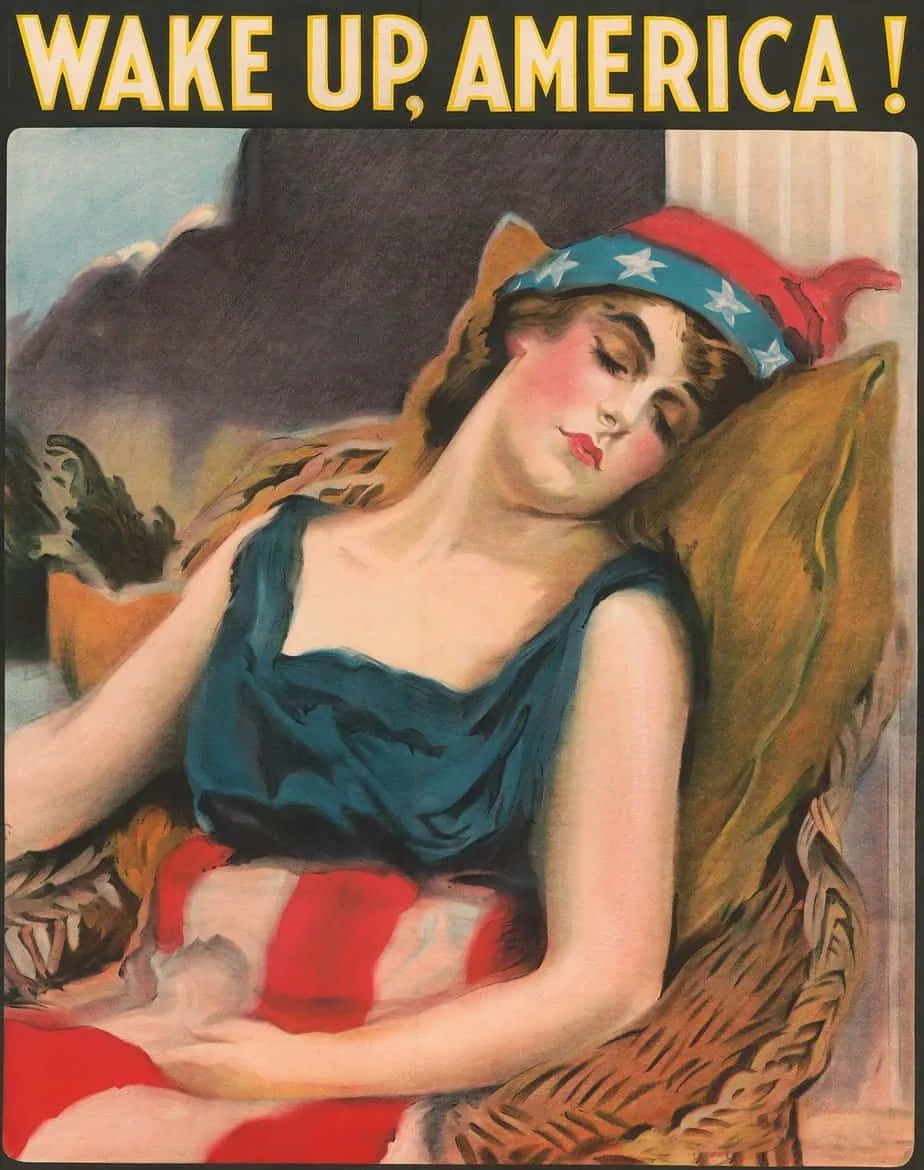 There's no way you never found a poster you love, but if you still need more convincing to start collecting retro posters, these pros and cons should do the trick.
Pros
Retro posters are a homage to times past, famous names, and happy memories

They come in a variety of options to suit your favorite bands, brands, movies, and advertisements

They're often thought-provoking and can kindle conversations

Retro posters are easier to find than original vintage banners due to being reproductions

They don't cost a fortune, making them an excellent collector's item

They can be framed, pasted, or nailed against your walls

They tell a story if you hang them cleverly

They act as keepsakes for fond memories

Posters are easy to change when you find new ones
Cons
Retro posters are reproductions, meaning they don't carry value

They can damage if you don't properly care for them

The replicas can have missing or inaccurate information

It can become addictive to collect retro posters
The pros outweigh the cons by a long stretch. Collecting retro posters is a cheap and fun way to start collecting old-timey reproductions. Some other exciting reproductions you can collect include:
Signs and posters are two of the most exciting and affordable collections you can build. Posters are my favorite collector's items because I can have 500 stored and ten on the wall. I also change them often to ignite new conversations.
How to Keep Retro Posters Perfect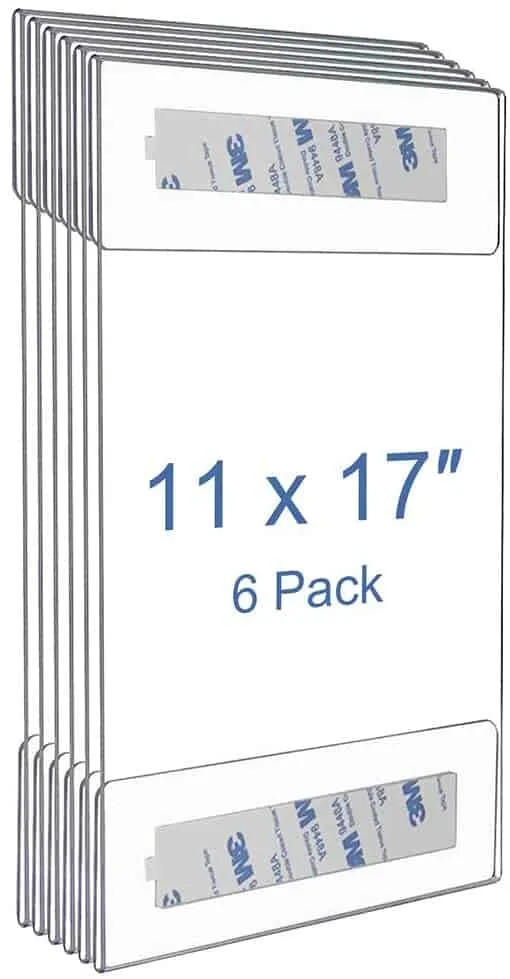 The advantage of buying retro posters is that they'll be newly printed, whether it's a metal or paper poster. They might look worn to match the era of the original poster, but they're as good as new. Keeping them that way matters if you're a collector.
Preserving Paper Posters
Posters are affordable collector's pieces, but preserving them also has a cost. It's well worth it when you can't find the poster anymore, but you know yours is safe and like new. The only rule of a paper poster is to sleeve it in a frame or poster flipbook.
The QSJY Wall-Mounted Flipbook works best for off-the-wall posters. It's a 20-pocket holder made from steel and PVC to keep your posters looking new while you still can show them off. It fits the 8″ x 12″ posters easily.
Alternatively, you can purchase the Niubee Acrylic Sign Holder sleeves to keep your posters safe in storage. You get six sleeves measuring 11″ x 17″ with adhesive sides to keep them airtight. This holder is worth every cent to preserve the life of your posters.
Finally, putting them in frames on your wall is the best value for money because you get to enjoy the endless nostalgia. You can buy a set of six Original Poster Frames measuring 24″ x 36″ to fit larger collectibles.
Preserving Metal Posters
Even metal posters can tarnish and degrade over the years. You have to start looking after them from day one. Follow these rules to keep them clean, rust-free, and in good condition:
Always clean it with a dry, lint-free cloth

Spray

Rust-Oleum Crystal Clear Matte Finish

over the front and back of the

Leave it to dry for two hours

Spray another light coat of

Krylon Clear Gloss Sealer

Leave it to dry as the colors enhance
With the sealers over the tin posters, you'll be able to hang them anywhere, even outside. Both sealers protect against UV rays and harsh weather. You also won't have rust, and they'll last eons.
Frequently Asked Questions
Question: What Defines a ?
Answer: Retro is a nostalgic reproduction of anything 20 to 40 years old, meaning posters representing the 1980s and 1990s will be retro in 2022. However, the 1970s are hugely popular in movies, music, and advertisements, so I've included some retro posters from this era, although they're almost vintage-style now.
Question: How Do I Pick a ?
Answer: I'm patriotic and love flying the star-spangled banner, so my favorite posters tell a tale of American history and popular music, movies, and advertisements. Decide what your collection criteria will be before choosing a poster. If you love movies, buy The Godfather, The Shining, and Star Wars posters right now.
Question: Will a Collection Ever Gain Value?
Answer: Sadly, retro posters are reproductions. They can't grow in monetary value, but they'll continue to be worth the nostalgia of the meaning behind each poster. Retro and reprint posters can never gain value, and only the original posters can become a valuable collection. It's a harsh reality, but it's not a dealbreaker!
: Final Thoughts
The internet is flooded with retro posters because it's so easy to recreate a memory on paper, but I've stuck to the American side of nostalgia. I also love movies, music, and memorable advertisements, and that's why I chose to stick to posters everyone will remember if they see my collection.
I don't collect posters to hide them in the garage. I want to show people my fantastic collection, and I welcome the conversations that follow. I had an antique business for more than a decade, and the most exciting thing I've learned to collect is posters. Sure, I have originals, but the retro posters are more readily available.
I recommend you start your collection today. If you love music, snatch those posters of Freddy Mercury and Woodstock now. If you love movies, grab Footloose. Maybe you're a petrol head. Buy yourself a Ford poster today. Choose your collection based on your passions, and it will bring many happy memories.
Whatever you do, don't let all the best posters reminding you of your childhood become unavailable.
For more old-school reading: