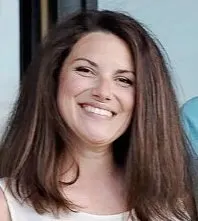 Latest posts by Sarah Caldwell
(see all)
Even now, with plenty of cars on the road, some people still prefer to save their money and use public transit. These methods of travel may be a bit slower, but they're cheaper, and you can simply relax and enjoy the ride.
Some of them, like trolleys, have a rich history, quaint design, and make the city through which they toodle look even more distinct and sophisticated. Many trolleys are reproductions and more than a few of them are used to give visitors a tour of the city.
However, there are still old trolleys in operation today. The oldest trolleys in America have such a fun history that after you read this, you'll have to go ride them all.
History of the Trolley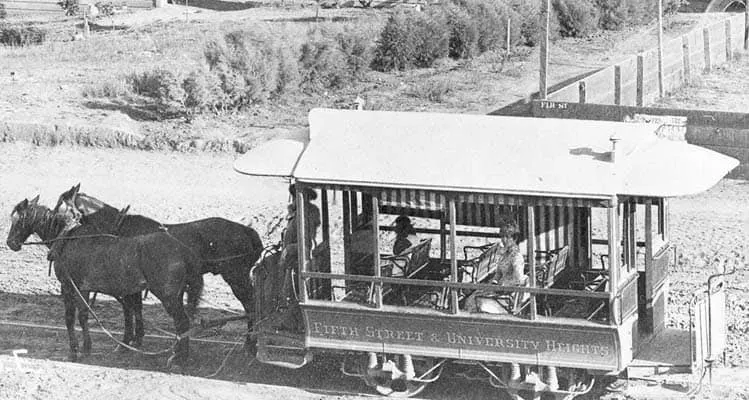 Sometimes called streetcars, trolleys have been around since the 19th century. They started as horse-drawn wagons and ran along rails in the city street, much like a street car today. These rails offered resistance to rolling so the horsecar could travel at higher speeds.
There were also omnibusses at this time, which were also horse-drawn, but the design of the car resembled trolleys you might still see today. However, the omnibus lines were unpaved and made for a slower, more uncomfortable mode of transportation.
In an attempt to increase profitability and carry more customers, the omnibus services began working with the horse-drawn wagon lines to transport more paying passengers. Dawning from this idea, the very first streetcar line was opened in 1832 in New York City.
New Orleans opened streetcar lines in 1834, and Toronto followed in 1849. The streetcars used horses or mules, but because of their greater stamina, mules were preferred. By the mid-19th century, there were 415 streetcar companies with more than 6000 miles of track. They carried almost 200 million passengers per year.
Other modes of power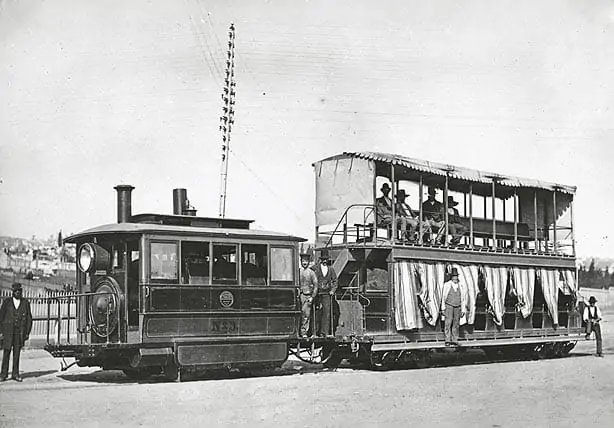 By the end of the 19th century, operators were looking into other modes of power, such as steam engines, tram engines, and even cable cars. In Washington D.C., horsecars converted to cable cars in the 1890s, and after 1893, they used electricity.
This meant you no longer needed to feed the animals or clean up their waste from the streets. It was much more efficient.
Some of the first cities to use electric streetcars were Montgomery, Alabama; Scranton, Pennsylvania; and Omaha, Nebraska.
Growth and decline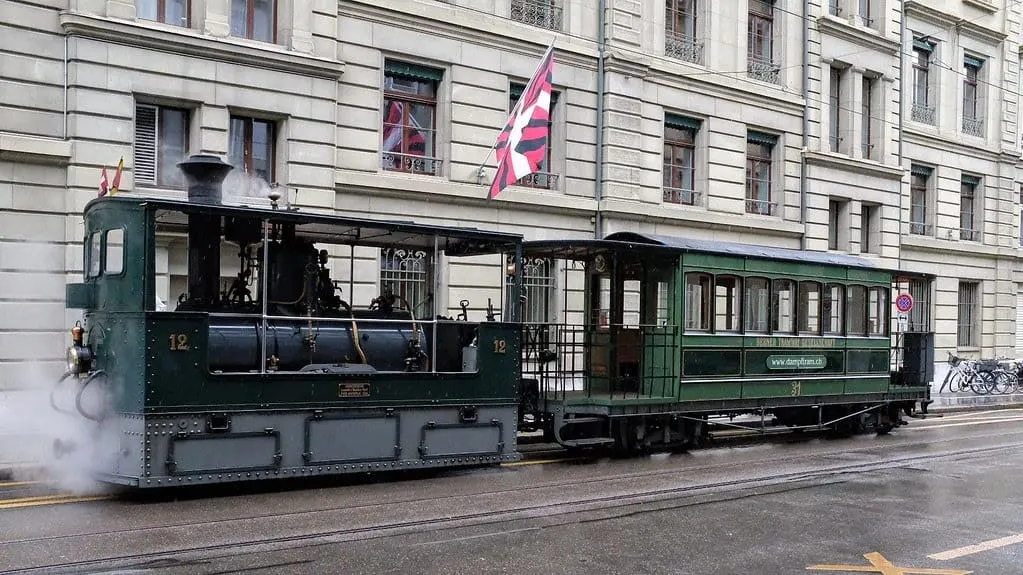 As you might imagine, the increased mobility allowed people to live farther outside the city. There were even interurban lines that connected large cities as well as other rural areas, giving many more people access.
However, as you might also imagine, the depression led to closures, and by the 1960s, the automobile was in more widespread use, eliminating the need for streetcars in all but larger cities.
Even in those large cities, the city bus took over because it could carry more people without the use of tracks.
First-Generation Streetcar Systems Still in Use
There are still quite a few streetcar systems still in existence. Luckily, the automobile and the oil industry didn't close all of them, contrary to what conspiracy theorists would say. During World War II, the streetcar systems enabled women to get to factories, and maintained easy access to jobs that were much needed at the time.
After that, not every streetcar system ceased to operate, and some of the oldest in the country are fully functional for tourism or for practical transport of passengers in and out of the city.
San Francisco cable car system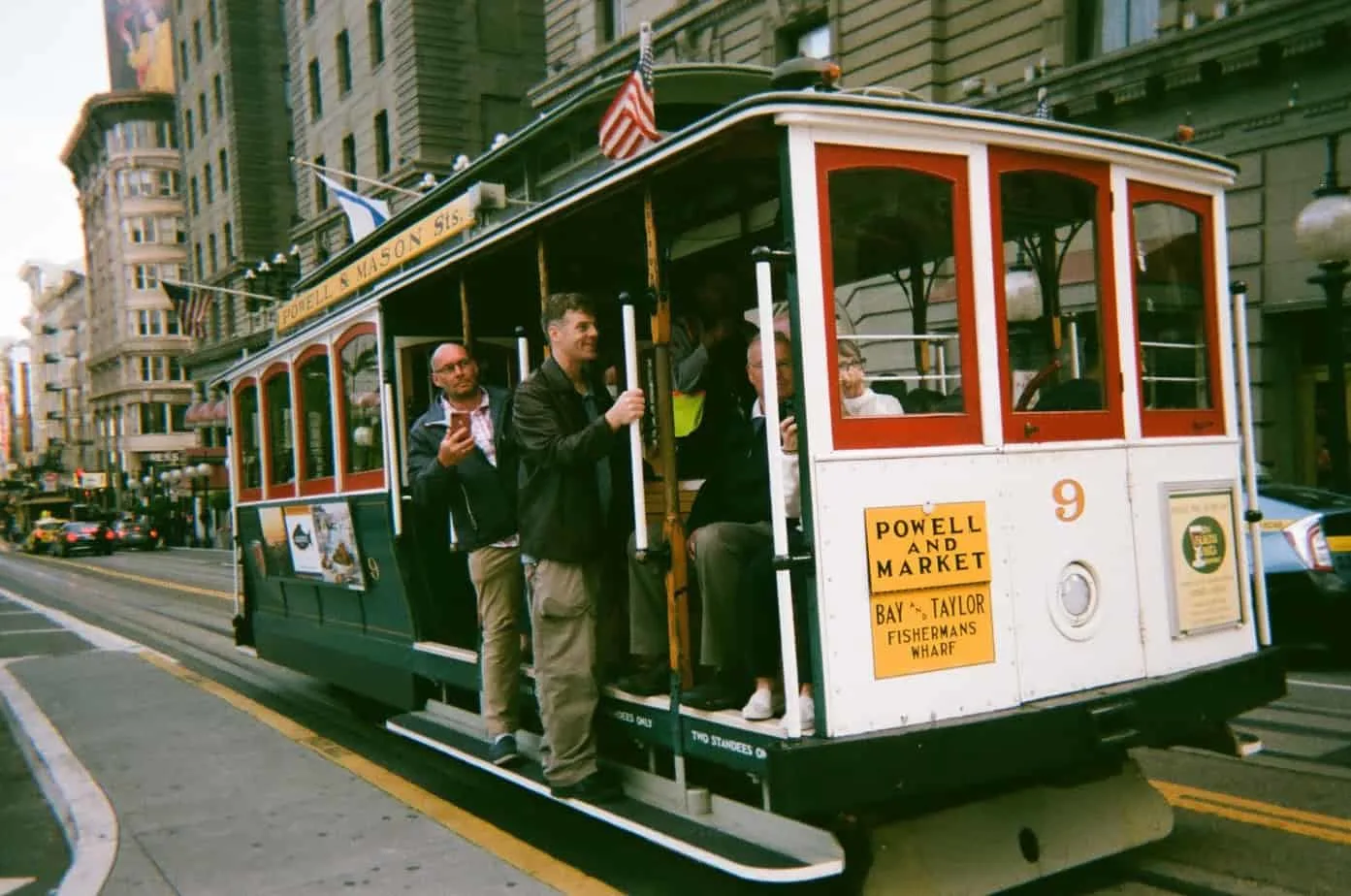 Perhaps one of the most famous cable car systems today is the one in San Francisco. It's a cultural icon, established in 1873. It's the world's largest manually operated system today, and it carries 7 million passengers per year, most of which are tourists.
Its cable cars are listed on the National Register of Historic places, and for just $8, you can take a ride on one the country's most well-known cars.
At its peak, it contained 23 lines, but only 3 are still in operation. However, it was shut down urgently in 1979 for repairs. It took 7 months to completely rebuild the lines at a cost of $60 million, due to how unsafe the lines had become.
Since then, the lines and cars are frequently upgraded to provide a safer ride for all passengers. There are currently 27 cars in operation, and they are rotated in and out of service based on a variety of factors.
For those interested in the history of the system, there is a Cable Car Museum on the Taylor & California line at Washington and Mason. The exhibits are totally free.
New Orleans streetcars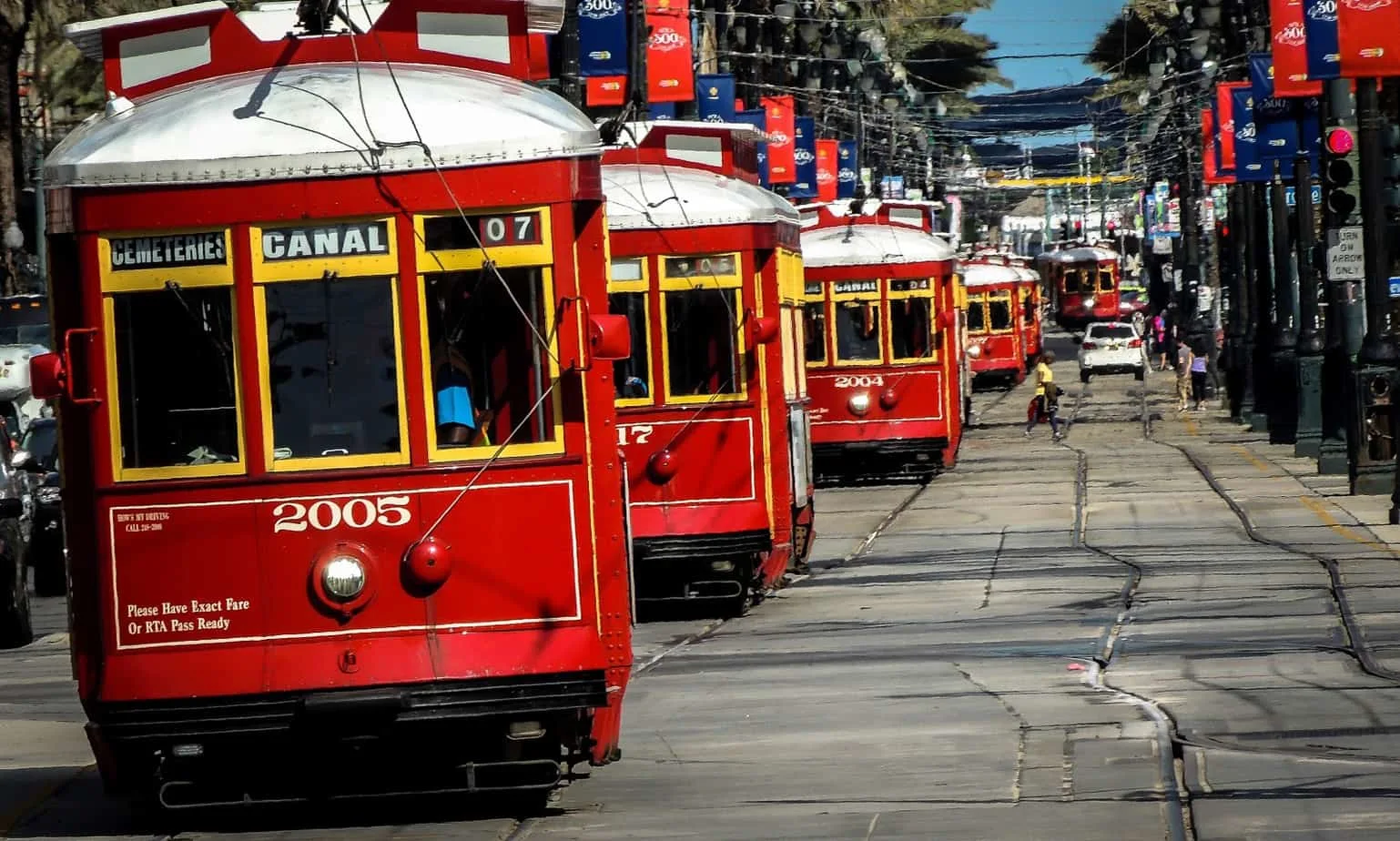 While the lines in San Francisco were shut down for a time, New Orleans has the oldest continuously operating system in the world. Aside from the 14-month interruption after Hurrican Katrina in 2005, the St. Charles Avenue Line has never ceased its operation for any reason.
The system was established in 1835, and today, it is operated by the New Orleans Regional Transit Authority. In its heyday, the city had more than 2 dozen lines. 5 of those lines remain today.
All but the St. Charles Avenue line, which is on the National Register of Historic places, were replaced by a bus service in the 1940s. Preservationists were never able to protect the other 4 lines from being discontinued.
Luckily, because the popularity of rail service increased again, there are still streetcars on all lines, and future network expansion is still underway. While tourists can ride, the system is used in large part by citizens who rely on public transit.
Boston Streetcar
The first trolley line in Boston was established around 1919. The system grew and changed rapidly through the 1950s, but today, there are only 5 lines remaining, they've all been converted to a subway system, and they've all been renamed from their original designation.
These streetcars started out as a trackless trolley system and many of the trackless trolleys remained well into the 1960s. However, lines were converted to busses as early as 1928, and there's still a very large bus transportation system in Boston today.
There are still a few trackless trolley lines near Harvard, but the original Boston streetcar as it was known in the early part of the 20th century has pretty much disappeared. The lines are now run by busses as well as the underground subway system.
The trolley lines as they exist today are mostly a tourist attraction, but it's worth a trip to the Harvard bookstore.
Pittsburgh streetcar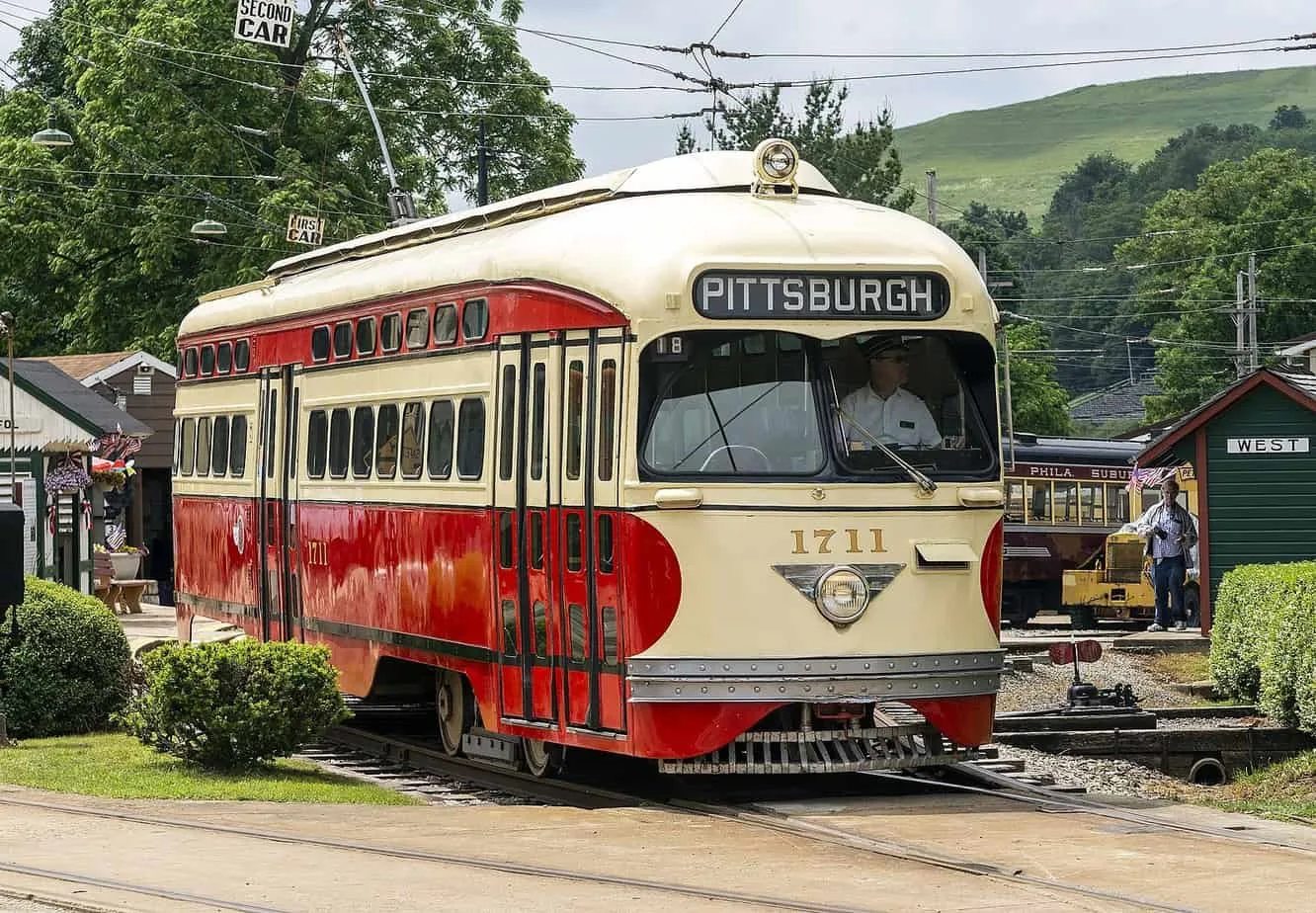 The vast majority of Pittsburgh's trolley lines were established by the 1910s, some as early as 1903, and quite a few of these lines still exist. In all, there have been 99 separate routes throughout the Pittsburgh area.
Today, the transit system runs on light rail and is more often referred to as the T. It consists of 3 lines. There were a total of 7 lines as recently as 1993, but four of them were closed by 2011, leaving the 3 still in operation today.
Newark Light Rail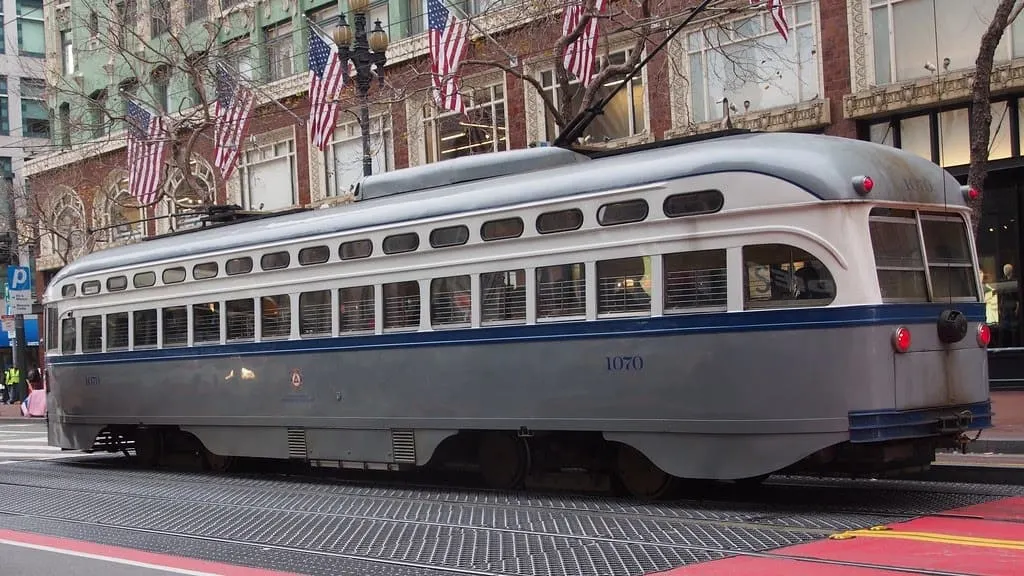 The Newark Light Rail began as an underground subway service in 1935. It now comprises above ground light rail cars and an underground subway network across two segments. One is the original subway line from Grove St. to Newark Penn Station and the other is the light rail Broad St. extension.
The original subway line is only 5.3 miles long, but it contains connections to many other bus routes, Amtrak, New Jersey Transit Rail Operations trains, and the PATH rapid transit system to Manhattan.
From 1935-1952, the original line continued to grow, but not all sections of the segment have been continuously in operation. The light rail was inaugurated in 2006, and both remain in operation today.
Hitch a Ride
It's disappointing to think that most of the trolley systems as they were in their heyday have been replaced by a more modern (read: safer) light rail system. The two most prominent examples of trolleys still in operation are San Francisco and New Orleans.
However, there are many cities like Boston, Pittsburgh, and Newark that have brought back public transit systems after many years of dormancy. Check out Kansas City, San Diego, Portland (Oregon), Salt Lake City, Atlanta, Oklahoma City, or Seattle. Other countries also have trolley routes still in existence, like Canada and Mexico.
It's worth a step back in time, even if you are riding modern equipment. Kansas City's light rail is even free. It's one of the best ways to park and ride downtown affordably, enabling passengers to attend concerts, go to dinner, and even live without their own car.