Latest posts by The Old Timey Team
(see all)
What's that childhood memory that comes to mind whenever you think of fairs and carnivals? Cotton Candy!
Nothing excites kids and even adults than tucking into an enormous cotton candy.
Cotton candy was first created by William Morrison, a dentist (ironically), and a confectioner named John C. Wharton in in 1897.
The sweet concoction was then introduced on the global stage at the St. Louis World's Fair in 1904. To create the wispy and light texture that we still crave, they used a machine that heated sugar and then spun it through a screen.
By the 1970's, the cotton candy making process was refined and automated. And this sweet creation was a staple at fairs, carnivals, move theaters, and festivals.
Now, with modern improvements on this candy-making technology, you can bring back some memories by easily making this treat at home. And if that's something you're looking for, we firmly believe that a retro design is best.
With a good retro cotton candy machine, you can easily make candy for your whole family. The right machine should be easy to use, energy-efficient, and allow you to make quality cotton candy with minimal effort and time.
Nonetheless, purchasing an appliance such as a retro coffee maker, toaster oven or cotton candy machine can be daunting, especially with so many choices out there. What looks like a great choice might prove you wrong.
To aid you in your search, we have put together a selection of what we think are the top seven best cotton candy machines to guide you through your selection.
7 Best Retro Cotton Candy Machines
1. Nostalgia Pcm805retrored Retro Cotton Candy Maker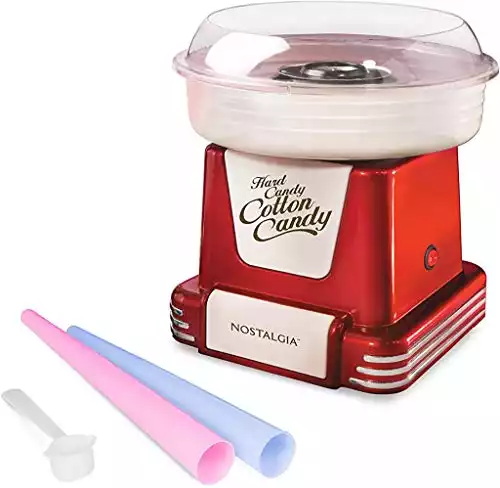 You will fall in love with this retro cotton candy machine's funky, retro design at first sight. It's compact and features a strong, durable construction for durability.
The Nostalgia Pcm805retrored is characterized by a distinct extractor head that creates room for you to use hard candy and flossing sugar to make extra delicious cotton candy. It is super easy to use and comes with two reusable cones, extractor head and sugar scoop for a fast candy-making experience.
Even better, it is made of a clear rim guard that protects the candy while letting you see through the whole process.
This retro cotton candy machine is also easy to clean and maintain. You can easily disassemble for fast cleaning and assemble it with as much ease. It is definitely an excellent addition to your home.
Pros
Super easy to use
Features an attractive-compact design
It is durable
It's economical
Cons
It lacks a temperature adjuster
2. Great Northern Popcorn Flufftastic Cotton Candy Machine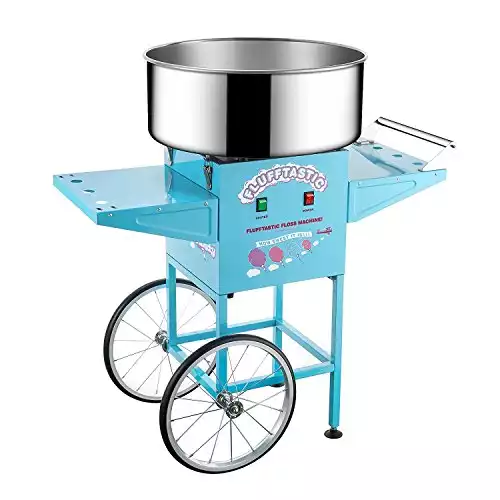 This vintage cotton candy machine is reminiscent of the ancient days' cotton candy makers. It is characterized by a powerful motor that allows it to produce up to 2 cones of cotton candy in a minute.
It has been praised for its silent operation which makes it ideal for home use especially with kids around. It also has a steel kettle and a scoop for easy pouring of ingredients into the cotton candy machine.
The Great Northern Popcorn Flufftastic Cotton Candy Machine features a beautiful appearance and a stylish cart for easy portability. It is also easy to use, clean and maintain. It comes with two shelves, each accommodating up to three cones.
Pros
It features a powerful motor for fast operation
The machine is easy to use
Easy to clean and maintain
Comes with storage shelves
Cons
Some users complained that the machine's coil burnt after a few uses
3. Vivo Candy-V002 Cotton Candy Machine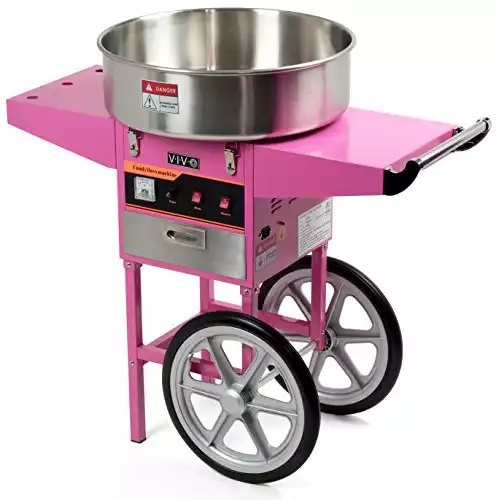 The Vivo Candy- V002 cotton candy machine is loved for its speed. In less than five minutes, your cotton candy will be warm and ready to serve. Its large capacity is also something to note as it allows you to make up to 3 cotton candies at once. It features a 1030W large bowl so you can make giant candies in a matter of minutes.
This retro candy machine operates on electricity, so you do not have to worry about the battery dying in the middle of your candy-making activities.
The downside, however, is that it only operates on 110V/60Hz power.
Pros
Has a large capacity
A speedy operation which helps you to save time
It operates on electricity for efficiency
The machine is easy to use and maintain
Cons
The heating element may at times shut down without notice
4. Great Northern Popcorn 6303 Cotton Candy Machine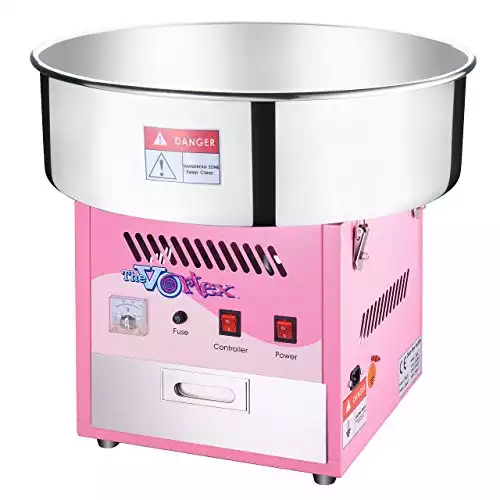 The Great Northern Popcorn 6303 Cotton Candy Machine is ideal for both residential and commercial use. The cotton candy machine features strong, durable construction, which makes it a worthy investment.
The candy machine features a motor for powerful top-notch performance and a 950w heating element. It is lightweight weighing only 22 pounds, so you can easily carry it around to your business and back home.
The cotton candy maker is built to offer maximum safety. It has a stainless steel pan that locks down when the machine is about to turn on. It is a safety switch that gives you peace of mind even if you have kids around.
The machine is easy to use as all you need to do is preheat it for a few minutes, include your floss in the sugar cup, and you are good to go. You will have your cotton candy cone in a matter of 30 seconds.
The cotton candy machine features spare ribbon belts, an instruction guide, and a scoop. Moreover, it comes with a giant drawer where you can store your sugar and candy cones.
Pros
It is super durable
Easy to use and clean
It has a continuously running belt-driven motor
Cons
You can only make one cotton candy cone at a time
5. Paragon Classic Floss Cotton Candy Machine with Metal Bowl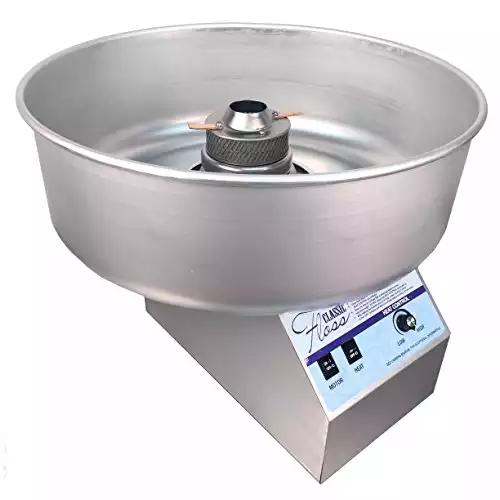 The classic floss cotton candy machine is the most loved among all the paragon candy machines.
For starters, it's not very expensive, and its functionality is unmatched. Unlike most ribbon-style cotton candy makers, this machine's head does not clog even after use for an extended period of time.
The Paragon classic floss cotton candy machine has strong stainless steel construction for maximum durability.
Its 5 inches metallic spinning head adds to its durability, and if well-maintained, it will undoubtedly serve you for a more extended period than plastic-made spinning heads.
The classic floss cotton candy machine comes with a 3400 RPMs motor for speedy cotton candy processing. To increase its durability and enhance easy clean-up, the motor has a shield to protect from sugar exposure.
It comes with professional control systems for efficiency during operation. These include power and heat switches and a knob for minimum and maximum heat control.
This provides you with the ultimate freedom to determine the ideal conditions to make perfect cotton candy.
The cotton candy machine operates with 1370W and 120V power.
Pros
Has a heavy-duty construction for durability
Features a metallic spinning head
The machine has a professional control system
Comes with a powerful motor
Can make up to 200 cotton candy cones in an hour
Cons
It is prone to noisy vibrations
6. Olde Midway Commercial Quality Cotton Candy Machine and Electric Candy Floss Maker – SPIN 2000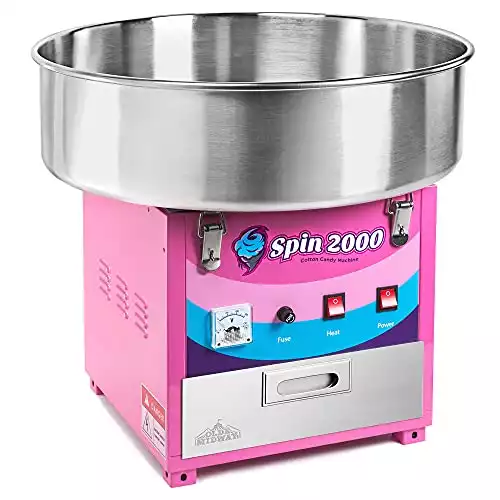 The Olde Midway cotton candy machine is fitted with a large stainless kettle that allows you to make huge cones at once. You will be pleased by its high-performance 950W heating elements and a powerful belt-driven motor for fast cotton candy making.
It comes with a large storage drawer where you can keep your floss, sugar, and cone. Even better, it features an ingredient scoop for easy measurements and pouring of ingredients.
The machine is easy to use with its two switches that enhance a smooth and hassle-free operation. The best part is that it does not produce noise.
Pros
Has a powerful motor
The machine is equipped with a storage drawer for convenience
It has a large capacity
Features fast operation
Cons
You have no control over the heat and power
7. Funtime Ft1000ccp Candy Cloud Cotton Candy Machine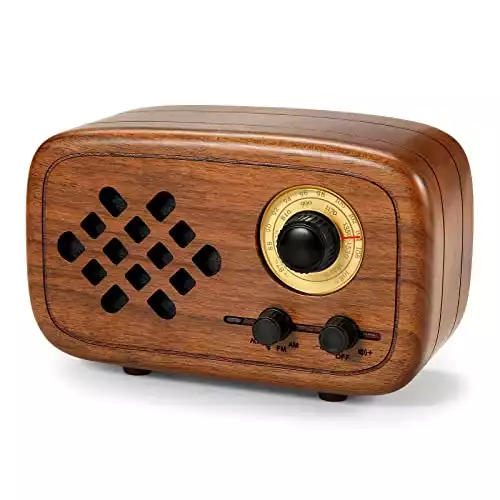 This machine is among the most powerful cotton candy makers in the market. With the Funtime FT1000CCP Candy Cloud Cotton Candy machine, you can make a candy cone in less than 30 seconds.
It is also equipped with extra safety measures, including a built-in fuse that makes it suitable for family use. It is perfect for indoor and outdoor cotton candy, making it easy for you to hold outdoor carnivals.
The machine is easy to use as it only takes you two minutes to heat the machine, and you are good to go.
The Funtime FT1000CCP Candy Cloud Cotton Candy Maker is equipped with a wheeled cart for easy portability.
The other fantastic feature is the steel storage tray where you can store your floss, scoops, and sugar.
Pros
Has an attractive design
Features a storage tray
Equipped with a wheeled cart for maneuverability
Fast operation
Cons
The machine is a bit hard to assemble
Retro Cotton Candy Machine Buying Guide
Now that you have gone through a wide range of top-rated retro cotton candy machines in the market, here is a checklist of things to consider before making a final decision.
How Do You Intend to Use the Cotton Candy Machine?
While at this, consider how often you plan on using the cotton candy machine. You should also establish the events or settings in which you plan on using it.
Are you looking for a residential or commercial cotton candy maker?
How often will you be hosting parties or celebrations?
With these considerations, you can quickly determine the ideal size, design, and additional features you need in a cotton candy machine.
Consider Your Budget
Budget is a crucial consideration when shopping for any home equipment, and this case is not an exception.
Establish how much you can comfortably spend on the cotton candy maker without breaking the bank. Nonetheless, you should not let the urge to save money mislead and push you to purchase a low-quality machine.
In most cases, cheap is associated with inferior products.
Expensive, on the other hand, does not guarantee you high quality.
Take your time to compare each cotton candy machine's features to determine which one is worth the quoted price. Select the most valuable, keeping in mind that a cotton candy machine is a long-term investment.
The Available Accessories
Although not each of the cotton candy machines comes with extra accessories, they are a good addition as they enhance convenience and flexibility when using the machine.
For instance, an ingredient scoop makes it easier for you to pour sugar while a cover shield maximizes the machine's durability.
A storage tray creates extra space for putting additional ingredients and other stuff that you might need during cotton candy making. Consider which accessories you might need and choose a machine that comes with them.
Portability
Mobility is crucial, especially if you are looking to start a cotton candy business or plan to host regular parties at your home. You need a machine to quickly move from one point to the next around the compound or parks. You should look for a cotton candy machine with a cart for easy movements.
Frequently Asked Questions
How Much Is a Retro Cotton Candy Machine?
Like when shopping for a retro fridge, the cotton candy machine's cost differs from one machine to the next. Commercial cotton candy makers are mostly more expensive than residential since they come with extra features and accessories.
How Much Cotton Candy Does One Machine Produce?
The amount depends on the size and speed of the cotton candy machine. The higher the capacity and speed, the more the candy you will make within an hour. The amount ranges between 100 and 200 candies.
Which is the Best Retro Cotton Candy Machine to Buy?
Each of the seven highlighted cotton candy machines will undoubtedly do the job perfectly.
If you are looking for a cotton candy machine to use in different settings, you should go for the Great Northern Popcorn 6303 Machine.
Its features make it suitable both for residential and commercial use. Its powerful motor and durable construction make it worth every penny spent.
The Paragon classic floss cotton candy maker is the best choice if you need the most durable machine of them all due to its strong stainless construction and a head that does not clog.
If you need a cotton candy machine for commercial use, Olde Midway Commercial Quality Cotton Candy machine should be your go-to choice.