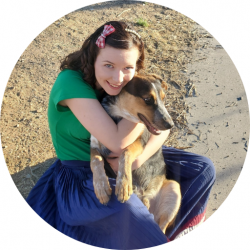 Latest posts by Brieanna Savard
(see all)
Games and game rooms change drastically as the decades roll by. Still, sometimes we see the old-fashioned ones come to life again, as many people wish to reenvision a certain era in their own home. Personally, I have always been closely drawn to the aesthetics and styles of the elegant Victorian era.
I have sought to incorporate that style in every aspect of my interior and garden design. However, with each individual, these vintage tastes may change or overlap as you gain multiple or lose particular tastes in decor.
I have combined my fondness for Victorian and 1940s designs. Therefore, I see a mix of the two in my clothing, beauty choices, and interior decorations.
If you love 1920s pool tables and board games but love the made popular in the 1960s, you can definitely incorporate the two and make the room original to your specific retro tastes!
1920s Style Game Rooms
The 1920s was known for its extravagance due to the economic rise of the day and can clearly be seen in interior design.
Board Games
In the "Jazz Age," which was also known by many other names, and the "Golden Age of Sports," many games and activities kept families busy when they were home.
Women wore silk kimonos while playing Mahjong a ga,e invented in China in the 1800s and made popular in Europe, the United States, and throughout the world around 1922. The game actually outsold radios within a year; both children and adults enjoyed various types of chess and Monopoly.
Monopoly was first patented in 1904 by Lizzie Magie as the Landlord's Game. Hokum, which was first produced in 1927, Pegity, which was first seen in 1925, and Sorry!, which was invented in 1929, were also popular games.
Table Games
Patented in 1921 by Harold Searles Thorton, Foosball Tables "have a rich past and interesting history. Documented as early as the 1920s, folklore claims that Alejandro Finisterre invented the foosball tables so children in hospitals could enjoy European football (or soccer) within the confines of the hospital walls.
Foosball game tables are now a popular form of recreation enjoyed by people all over the world. "-efamilyfun.com Table tennis or Ping Pong as it was nicknamed around the year 1900 (which rules are slightly different than table tennis), was first popular in the 1880s in England inspired by lawn tennis, although its first origins trace back to the 12th century AD..
By the early 1920s, the former parlor game's popularity was revived and called again by its first name, table tennis. Pool, known originally as Billiards, started as a table game in Northern Europe in the 1400s, based on the game of croquet.
Wickets, maces, and even false grass as the table's surface bed were incorporated to simulate the popular outdoor entertainment. Later, in the late 17th century, cues were exchanged for maces, the fake grass and wickets were eliminated, and rules changed over time, new games being invented as the years rolled on.
"Nine-ball" was a popular game in the 1920s. Pool tables from the 1920s and earlier can be found here at the Antique Billiard Supply.
A good ping-pong table for a 1920s-style game room would be this Barrington one from Amazon. Fairview Game Rooms sells a lovely vintage-looking foosball table via Amazon, which would look beautiful in a '20s room.
Children's Toys
Many children played with simple household items, such as pots and pans, sticks, and various other things that they made up their own games with. Still, many also owned two or three of the following 1920s-popularized toys.
Yo-yos were sold in stores and available in catalogs beginning in 1928, Pogo sticks hit the market in 1919, Lincoln Logs (patented in 1916) was an extremely fun set of building logs for children of the 20s, Tiddly Winks patented in 1889 kept little tots occupied for hours, Magic Lanterns (which were first invented in 1659) enchanted them, Chandler Gyroscope toys made in 1917 made their little minds think, while Tinker Toys (produced first in 1914), marbles, jacks, (both of ancient origins) the Teddy Bear (made and named after Teddy Roosevelt in 1902), various kinds of dolls, Rocking Horses (enjoyed by children since the 1600s), and Mickey Mouse toys (First drawn by Walt Disney in 1928), thrilled their little hearts.
Sports Popular in the Day
The National Football League (NFL) started its humble beginnings in 1922; Young people made dance marathons popular after a young woman danced for 27 hours straight at a party in 1923; the first Winter Olympics was held in 1924; Miniature golf was first invented in 1927 (which has spread very widely since then), and baseball, billiards, tennis, boxing, golf, and swimming were also very popular.
Going auto mobiling became an increasingly popular craze as car industries and the economy grew and poverty decreased- resulting in over a million automobiles in the United States by 1929.
Music
Dance bands such as Rudy Vallee's, Paul Whiteman's, and Ted Lewis' made dance band music popular in the 20s. Louis Armstrong, Count Basie, and Duke Ellington helped make Jazz music fans even more enchanted in that genre.
At the same time, Martin, Jimmie Rodgers, and Mamie Smith increased the popularity of Blues music. Broadway stars such as Al Jolson, Sophie Tucker, and Ethel Waters sang popular music in plays and shows.
Some of the most famous titles in the 1920s were Swanee 1920 sung by Al Jolson, Look for the Silver Lining 1921 sung by Marion Harris, On the Alamo 1922 instrumental played by Isham Jones, Dreamy Melody 1923 instrumental played by Art Landry, It Had to Be You 1924 sung by Isham Jones, Dinah 1925 sung by Ethel Waters, Some of These Days 1926 sung by Sophie Tucker, Stardust 1927 sung by Hoagy Carmichael, Ol' Man River 1928 sung by Paul Robeson, and Dream Lover 1929 sung by Jeanette MacDonald.
Indoor Activities and Out on the Town
The radio was a popular at-home source of entertainment for the whole family, as the television had not yet been introduced for the home.
Music, operas, and radio plays were all enjoyable. At the same time, Reader's Digest and Time magazines (begun in 1922 and '23 respectively), crossword puzzles, and jigsaw puzzles, and playing instruments made quiet time all sweeter.
Silent movies at the theatres were first seen in the 1890s, while the first 'talkie' came into being at the end of the '20s. Opera-going and attending plays were still the rage, all the while being overshadowed by "moving pictures".
Decorating Styles of the 1920s
According to Wikipedia, 1920s Art Deco is "is a style of visual arts, architecture, and design that first appeared in France just before World War I.
The Art Deco decor style influenced the design of buildings, furniture, jewelry, fashion, cars, movie theatres, trains, ocean liners, and everyday objects such as radios and vacuum cleaners. It took its name, short for Arts Décoratifs, from the International Exhibition of Modern Decorative and Industrial Arts held in Paris in 1925.
It combined modernist styles with fine craftsmanship and rich materials. During its heyday, Art Deco represented luxury, glamour, and exuberance.
From its outset, Art Deco was influenced by the bold geometric forms of Cubism and the Vienna Secession; the bright colors of Fauvism and of the Ballets Russes; the updated craftsmanship of the furniture of the eras of Louis Philippe I and Louis XVI; and the exoticized styles of China and Japan, India, Persia, ancient Egypt, and Maya art.
It featured rare and expensive materials, such as ebony and ivory, and exquisite craftsmanship. The Chrysler Building and other skyscrapers of New York City built during the 1920s and 1930s are monuments of the Art Deco style." –Wikipedia
Here are some photos depicting Art Deco style in rooms. You may want to adopt some of these features in your retro game room.
At least one of these designs (or one similar) should be incorporated in your 1920s-era game room. Similar patterns to these were often seen in many homes and public buildings.

Below are some typical 20s-era furnishings, from which photos you can draw inspiration!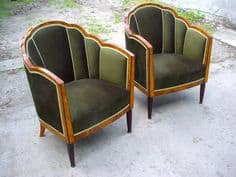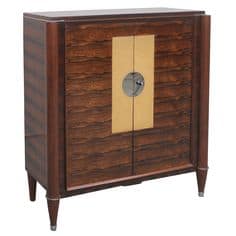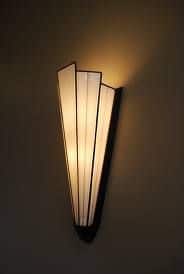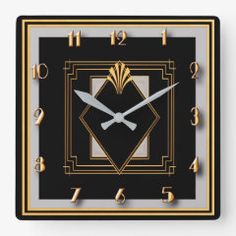 Posters of 1920s movies and art may be added to your game room to lend charm to your walls.

With forethought, taste, planning, and construction, your game room is destined to be one of a kind! With or without a dartboard, pool table, and shelves filled with vintage toys, I am sure it will be a room that will be special to your whole family for many years to come.
1930s Style Game Rooms
The 1930s still had design schemes carried on from the 1920s, and much of the furniture and some of the mirrors, wall hangings, doorways, etc. are reflective of the "Roaring Twenties".
However, due to the 1929 market crash and the increased realization that 'things' only stay with you for a season, the materialistic approach to interior decorating began to rapidly dwindle.
Though tastes were more modest and less extravagant, styles were beautiful and artistic, and the aesthetics were very fashionable (in a more conservative way). Pastels became the norm, and everything had a less geometric look.
Board Games
One game, called Finance, which was invented in 1932 by Dan Layman, was a popular game at the time (Parker Brothers produced it as Fortune shortly after), as was Monopoly (originally called Landlord's Game) produced in 1933, Anagrams, made in 1934 by Selchow and Righter and quite similar to Scrabble, Easy Money invented by Milton Bradley in 1935 (based on Landlord's Game), Stock Ticker patented in 1937 by the Canadian company Copp-Clark Publishing, Wahoo which was very similar to a German-made game coming into existence in 1907, Buccaneer patented in 1938 in England by John Waddingtons, Movie Millions produced in 1938, and Scrabble, created in 1938 and inspired by crossword puzzles.
Table Games Foosball
In the '30s, the French patented their own foosball table. An authentic 1930s table like this one (which is actually Italian) would liven up your game room with its vintage beauty. Table Tennis or Ping Pong rules arose when tricks to keeping the ball on the table emerged in the '30s as the sport's popularity increased.
The time limit was created, the net lowered, and a variety of plays were banned, such as the "finger spin serve." To make your game room more enjoyable with a 1930's-looking ping pong table, try this version from USAMadePoolTables, which appears more vintage than most.
Billiards or Pool in the time of Ralph Greenleaf and Alfredo de Oro was at its height. Many admired the prowess of these men, and they were very good at the game themselves. A pool table from Legacy Billiards is listed with details that nod to Art Deco designs in the 1930s.
Children's Toys
Boys and girls in the '30s were gifted at Christmas and on birthdays with inexpensive, high-quality toys (unlike many of the toys today) such as batons, Weeden steam engine toys, Balsa Wood Kits, Marx Flying Planes, Stick Horses, precious Shirley Temple dolls, all-steel Truck, Plane and airships, Bagatelle glass toy games(much like pinball machines), and Rolmonicas.
More expensive gifts were given by those who could afford it, such as Lionel Electric Train Sets, Chrysler Pedal Cars, Studebaker Farm Wagons, and Streamlined 3-wheel Bikes. As in the '20s, Lincoln Logs, Teddy Bears, Rocking Horses, and Marbles were still favored by the little tots.
Sports Popular in the Day
As in the 1920s, football was still very popular, but as a game, it increased rapidly in the 1930s. College football became well received by the latter years of the '30s. Baseball, which is known as "America's Favorite Pastime", also was popular, but not as much as football.
Baseball attendance rapidly declined as the Great Depression struck, and people no longer had that extra money to spend on attending sports games.
However, once the games were broadcast over the radio, the popularity increased, and baseball was again in high favor. Other sports watched and played in the 30s included tennis, basketball, boxing, swimming, Ice Hockey, and figure ice skating.
Music
Popular music in the '30s was made up of various genres such as the new jazz styles Swing and Big Band for which genre Glenn Miller, the Dorsey brothers, and Benny Goodman were famous. In contrast, the legendary Bing Crosby and others like Frank Sinatra and Rudy Vallee made Crooner music a popular genre.
Broadway dancers and singers Shirley Temple, Ginger Rogers, and Fred Astaire sang and danced their way into many hearts. At the same time, new songwriters Richard Rodgers, Oscar Hammerstein II, and Irving Berlin revolutionized Broadway and Hollywood musicals by inventing timeless tunes and words.
Well-loved songs in the '30s included Puttin' On the Ritz 1930 by Harry Richman, Out Of Nowhere 1931 sung by Bing Crosby, Night and Day 1932 sung by Fred Astaire, Hold Me 1933 sung by Elmer Feldkamp. I Only Have Eyes for You 1934 orchestra directed by Ben Selvin, Blue Moon 1935 orchestra directed by Benny Goodman, vocals by Helen Ward, The Glory of Love 1936 orchestra directed by Benny Goodman, vocals by Helen Ward, The One Rose (That's Left in My Heart) 1937 sung by Bing Crosby, Begin the Beguine 1938 sung by Artie Shaw, and Over the Rainbow 1939 sung by Judy Garland.
Indoor Activities and Out on the Town
On the radio, music, sports, news, "Fireside Chats" from the President, radio quiz shows such as Kay Kyser's Kollege of Musical Knowledge, and advertisements hosted by sponsors could be heard by people all around the US.
The radio was an extreme blessing during these hard times, and afforded hours of wholesome and educating entertainment for the whole family.
Jigsaw puzzles, reading books, magazines, and newspapers, painting, playing musical instruments, and doing various types of crafts were enjoyed in the home during free time. Theatres were very inexpensive to attend, usually costing from 25 cents to one dollar, and were another form of entertainment.
Morals in movies were rapidly declining, so Protestant Christians joined with Catholic Christians in 1936 to form a "Legion of Decency" and quickly made the ratings available for parents to read before allowing their children to go to a motion picture.
Ending in 1959, the pamphlets which became an immense book can still be found on the Internet Archive. This book is very helpful for both children and adults who want to be sure a movie is clean and good before viewing. Operas, plays, and variety shows were all well-liked and attended in the 1930s.
Decorating Styles of the 1930s
Styles varied with each homemaker's and each interior designer's tastes. However, the 1920s decorating styles, Victorian, and new, more modernistic themes were seen separately or together in the design schemes.
Some housewives wished to keep decorating their homes as their ancestors did in the mid-to-late-1800s, or how they used to in the '20s with whatever luxurious furnishings they still owned after the market crash.
Others followed the brand new styling ideas thought up by interior designers worldwide. In contrast, still, others adopted Asian, German, Meditteranean, or English furnishing tastes.
Rooms in the 1930s were decorated similarly to these three. Many of their color and aesthetic schemes can be adopted for your lovely 1930s game room.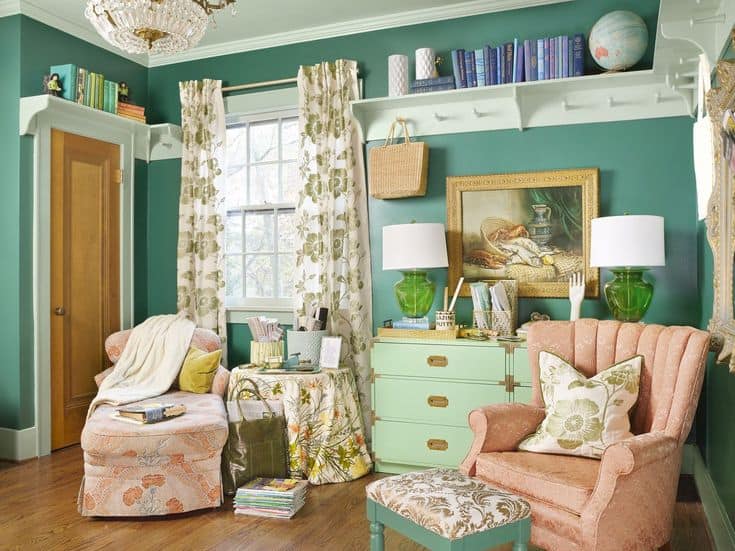 Wallpapers like these will add charm and 1930s flair to any game room.



(Photo credits: bradbury.com)
Incorporating a movie snack nook set into the wall, real authentic '30s era games for decoration, or a darling Shirley Temple doll set upon a shelf can create a real '30s feeling.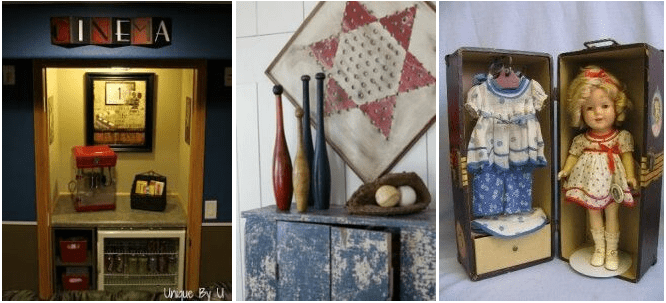 Movie and travel posters add lovely '30s aesthetic also and can be purchased easily from eBay or printed from your computer.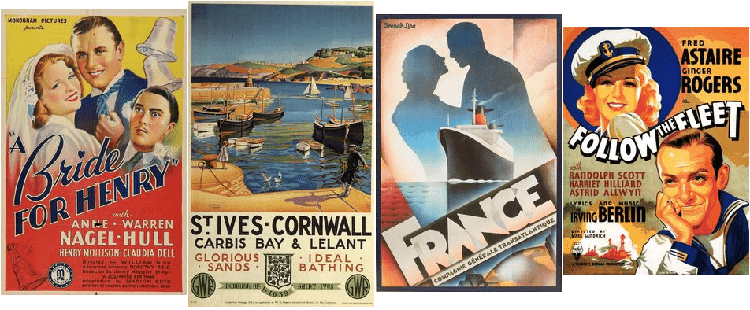 Whether you decide to incorporate more 1920s glamour which was still evident in '30s homes- but with more pastel color schemes evident, or the simple, depression-era loveliness in all its fullness, you and your family are bound to adore the 1930s game room, which is now all your own- even in this modernistic era.
1940s Style Game Rooms
Victorian designs were combined with simple, modern-1940s ones and made a delightfully wonderful aesthetic appeal. Homemade things cut the cost, and many people gave their neighbors furniture and nic-nacs they no longer use.
Overall, the 1940s was a very generous, friendly era, as Americans and Britons banded together in each their own country to make the world a better place. God was honored in how each did his bit, and men and women were blessed by their hard-working efforts to help one another in a war-torn society.
Board Games
1940's Citadel, 1941 US Service Game Kit, Cadaco-Ellis' All-Star Baseball -first produced in 1941, Hex, invented by Piet Hein in 1942, Walt Disney's Uncle Remus Marble Game from 1947, and Solomon Golomb's 1948 Cheskers were all popular with 1940's youth and adults alike.
Table Games
According to justfoosball.com, "It wasn't until the 1940s that Foosball saw a dramatic surge in popularity. Some believe this crossover to the mainstream was a direct result of the Second World War.
American soldiers stationed all over Europe, as well as European soldiers abroad on their own continent, became familiar with the game during their service. Before long, foosball tables cropped up at military hospitals and rehabilitation centers to get recovering soldiers back on their feet and in high spirits."
Here is a lovely Hathaway Foosball table fit for any '40s-style game room. During the war years, table Tennis or Ping Pong was mostly played for entertainment, as no world championships were played.
Soldiers may have taken part in games with each other while waiting to be sent on duty, and family and friends back home played it when they could.
Here is a ping pong table just right for a '40s-style game room. Over 15,000 Billiard or Pool tables were given to US soldiers. It was said by Willie Hoppe (the famous carom billiards champion) that "World War II saved billiards" as its popularity increased solely because the troops played it during their free time.
He gave the troops over 400 exhibitions. This 1940s-style table is perfect for an era-true game room.
Children's Toys
'40s boys and some girls adored the many war-inspired toys available including BB and Cap guns, model warplane kits made of steel, plastic, or wood and toy WW II army men.
The famous Steel Jeep based off of the army jeep of Norman Rockwell's beloved service boy "Willy" and the Sidewalk Pedal Plane, also constructed entirely of metal were popular. Girls wanted to be just like their hard-working housewife mothers and played with beloved Raggedy Ann, Honey Baby, and Baby Beautiful dolls, and toy housecleaning articles such as
Sports Popular in the Day
Most amateur and professional sporting events were paused or saw a drastic decline during the war years. Instead, even famous athletes such as Joe DiMaggio, Ted Williams, and Stan Musial served their country by joining the armed forces. Football and basketball saw similar popularity, while baseball soared in popularity.
However, many younger men served their country by heeding the draft call or enlisting during the war. Older men took their places at the request of President F.D.R..
Boxing, not typically well-known until then, saw a rising popularity increase during the 1940s, as it was a well-loved sport played among servicemen while off duty. Professional ring boxers played before crowds as well.
Joe Louis was the famous heavyweight champion for all of the 40s, as was no other professional boxer in all of the history of the ring. Other sports played and watched were golf (mainly played by women in those days), soccer, tennis, bowling, and archery.
As always, skating, tobogganing (sledding), swimming, and rowing were all lovely sports for the average young American.
Music
Popular music genres Big Band, Jazz, and swing from the '20s and '30s continued to be liked in the 1940s. While Latin -influenced music by such musicians as Carmen Miranda, Vincent Lopez, and Xavier Cugat. Country and western music were made famous by Roy Rogers, Gene Autry, and Patsy Montana.
The soul-stirring songs of World War II from the USO performers Bing Crosby, Kate Smith, and Dame Vera Lynn. Such music as the latter is destined to be loved and admired for many years to come. Popular titles of the day were Only Forever 1940 sung by Bing Crosby, Maria Elena 1941 sung by Jimmy Dorsey, White Christmas 1942 sung by Bing Crosby, You'll Never Know 1943 sung by Vera Lynn, This Land is Your Land 1944 written and sung by Woody Guthrie, Till the End of Time 1945 orchestra directed by Les Brown, sung by Doris Day, Five Minutes More 1946 sung by Frank Sinatra, Near You 1947 orchestra directed by Francis Craig, vocals by Bob Lamm, My Happiness 1948 sung by Bing Crosby, and A Little Bird Told Me 1949 sung by Evelyn Knight.
Indoor Activities and Out on the Town
By 1946, television sets were seen in 0.5 percent of American homes. Most of the 1940s families could not afford them, but a few of the very rich (some of the movie stars, probably) did own one.
The radio continued to be a lovely source of enjoyment and knowledge for families, as it could both let them know how the war was progressing through news, and afford entertainment through music, quiz shows, radio plays, and operas. Model planes and other war vehicles were enjoyed by fathers and children alike.
Sewing and knitting kept housewives occupied during their free time. Reading and playing instruments helped to pass the time productively, and playing party games with a dozen or so close friends was a well-loved enjoyment for young people.
Movies, Variety shows, operas, musical performances, and plays were still inexpensive to attend, many of which films were focused around the war to enlighten and encourage the American people during the rough wartime.
Bob Hope and many others went directly to soldiers overseas and on their bases. They encouraged them through jokes, songs, and funny performances. These men, too, needed to be uplifted by laughing- as do we all!
Decorating Styles of the 1940s
Linoleum floors were popular during this era, as they were inexpensive and easy to keep clean. People made do with what they had during the war, and housewives were thrifty but stylish in their decorating choices. With just a little, you can make a home look so beautiful that many would not know how hard it is to decorate with the monetary limitations you may have. Even a bucket of paint, one beautiful-but-inexpensive rug, and a few yards of different colored fabrics can liven up a living room. Once you stencil the walls, lay the rug down as the focal point, and sew the fabric into lovely curtains, tablecloths, and chair covers!
Paint, wallpaper, curtains, and rugs all lent beautifully inexpensive touches to otherwise plain rooms in the 1940s. Incorporated in your game room, you also can cut the costs of avoiding furnishing the room with more lavish decor.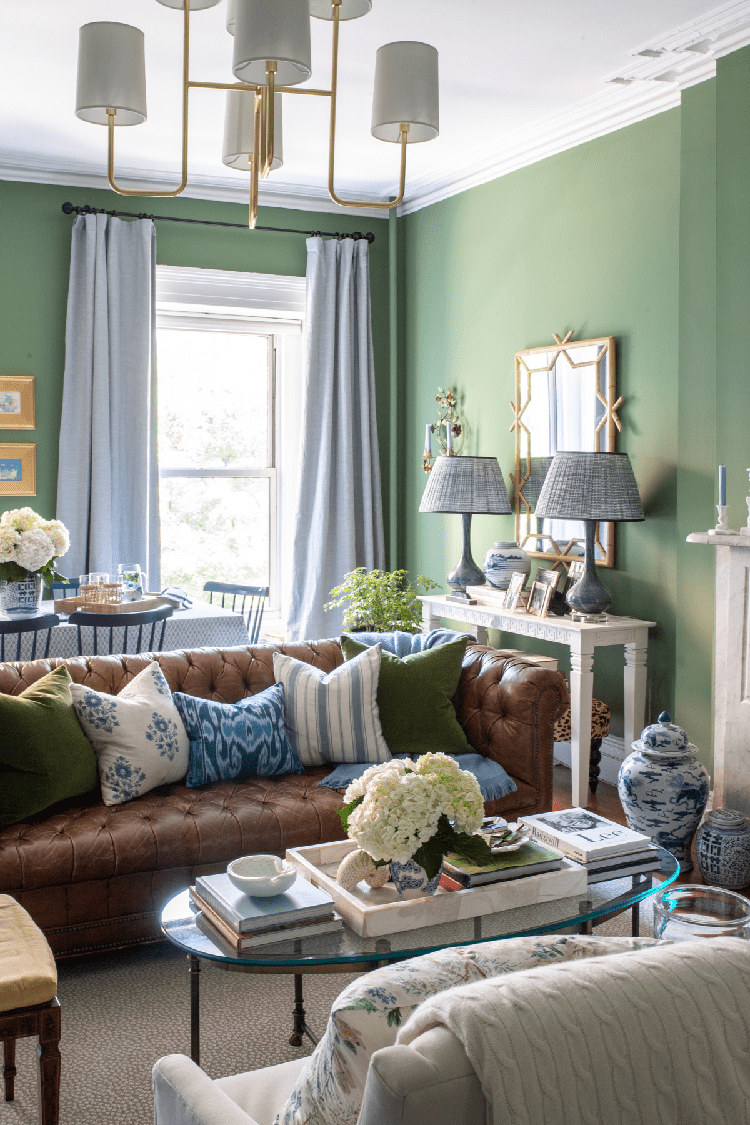 These wallpapers invoke a true '40s vibe- styles and patterns that were borrowed from Victorian decor in times past.

Different 1940s pieces will add more authenticity to your game room's theme, and some may include a Spitfire warplane-themed "ball gum" machine, an iconic Slinky, toy World War II airplane models, and a '40s-style telephone- newly recreated or authentic.

Movie posters- and posters encouraging war efforts- can liven up any '40s game room, and remind occupants of the good old days.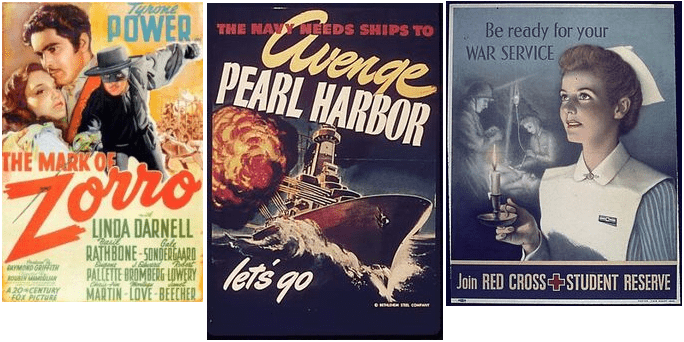 A little, old-fashioned radio, a vintage TV for an in-home theater, possibly a billiards table, and comfortable couches are perfect for your game room, which is bound to be perfectly beautiful with these and other vintage treasures you may bestow upon it.
1950s Style Game Rooms
After World War II was over, husbands and fathers came home from fighting, and most wives returned from working for the war effort to become housewives again. The 1950s was an era of elegant homes, clothes, and more prosperous businesses.
Women could once more afford to buy more new clothing for their families and redecorate the home with new furnishings.
It was an era of plenty, but not as extravagant as the 1920s. Families were closer-knit than in the Jazz era, and rebellion amongst the young people was seen less often in strong families. They were around each other much more than during the war years, and peace was at last in the United States.
Board Games
1950 Candy Land, 1952 Scrabble, Disney's 1953 Peter Pan (which came out around the same time the animated movie of the same name did), 1956 Yahtzee, 1957 Risk, 1957 Name That Tune, Alfred Hitchcock's 1958 Why, and Avalon Hill's 1959 Diplomacy are all wonderfully designed and extremely fun games from the '50s era!
Table Games
In Belgium in the 1950s, the first Foosball league was started. This foosball table from Babyfoot is a good idea for a true '50s-style room. Table Tennis or Ping Pong was very popular in this era- for teens and adults alike.
Angelica Rozeanu-Adelstein and Hiroji Satoh were big names then, the latter introducing the use of sponge rubber-covered paddles instead of dimpled rubber.
Here is an example of a 1950s-styled ping pong table. Billiards or Pool was still a craze and Willie Mosconi took over the world championship title in straight Pool. At the same time, Willie Hoppe retired undefeated in 1953. A perfect pool table for a room inspired by this era would be this gem from eBay.
Children's Toys
Boys and girls were able to have more expensive toys in this era. Some of their favorites included Kiddie Record Players, Disney's 1955 Davy Crockett toys and play outfits (after the popular historical movie), the 1958-patented Hula Hoop, the famous Barbie doll invented by Elliott and Ruth Handler and introduced by Mattel in 1959, and Fisher-Price's 1959-introduced Little People.
Sports Popular in the Day
Boxing and baseball continued to be a craze among the American people in the '50s, and golf, hockey, and college football were not far behind. Young boys occupied their time by playing ball in the street or shooting baskets, while girls and older boys played tennis, golf, and roller skating.
Ice skating and sledding in the winter were delightful, and swimming and boating were both perfect on hot summer days. Teams were formed for the roller derbies and boat racing, which were always fun to take part in or observe.
Music
The most notable genre of this era was Rock 'n' Roll, which saw its birth in the 1950s. Originally started by African-Americans such as Little Richard and Chubby Checker and made famous by singer Elvis Presley- also known as the "King of Rock 'n' Roll."
Pat Boone, Bobby Darin, Ritchie Valens, and others also produced Rock 'n' Roll music. The Rockabilly genre made popular by Carl Perkins was inspired by rock, R&B, and country music.
The name was made from a combination of "rock" and "hillbilly" and played and sung by such musicians as Jerry Lee Lewis, Gene Vincent, and Buddy Holly.
Pop music in those days was hardly influenced by rock, as "popular" songs became famous before and during the Rock 'n' Roll era. They featured many numbers well-loved in earlier decades.
Instead, its genre was inspired by swing, Big Band, and jazz of the 20s, 30s, and 40s. Some pop singers were Doris Day, Nat King Cole, Bing Crosby, Pat Boone, the Andrews Sisters, and Perry Como.
Country-style music was quickly becoming more popular, as singers Johnny and June Carter Cash, Hank Williams, Patsy Cline, and Les Paul. Rhythm and Blues (R&B) was still famous, and songs of that genre were made more famous in the '50s by Fats Domino, The Penguins, Frankie Lyman, the Teenagers, and Little Richard.
Well-loved songs in the days of the '50s included Sentimental Me 1950 sung by the Ames Brothers, How High the Moon 1951 played by Les Paul and sung by Mary Ford, You Belong To Me 1952 sung by Jo Stafford, That's Amore 1953 sung by Dean Martin, Secret Love 1954 sung by Doris Day, Earth Angel 1955 sung by the Penguins, Hound Dog 1956 sung and played by Elvis Presley, April Love 1957 sung by Pat Boone, Walk the Line 1958 sung by Johnny Cash, and Catch a Falling Star 1959 sung by Perry Como.
Indoor Activities and Out on the Town
According to Steve Wiegand from dummies.com, "At the start of the decade, there were about 3 million TV owners; by the end of it, there were 55 million, watching shows from 530 stations.
The average price of TV sets dropped from about $500 in 1949 to $200 in 1953." Thus, watching television shows was a much-loved occupation for families in their free time.
The radio was still popular in the home. Still, interest in it gradually declined as some of the same stations found on the radio appeared on TV, with visual features added to the audio entertainment.
Car radios, however, were just as famous as ever (which, actually, were first seen in the 1930s). Young people put on house parties often, and listening to records while dancing was a huge craze.
Newspapers, books, and magazines were read often by the family, and card games, brain teasers such as crossword and sudoku, jigsaw puzzles, crafts, and model building kept the brain of every family member healthy and happy. Opera, plays, movies, and concerts were enjoyable to patronize with a date, family, or friends.
Decorating Styles of the 1950s
'50s decor styles were vastly different from both the '40s styles and todays. Pastels such as yellow, pale green, blue, pink, and lavender were well-loved, as were the traditional colors of Scandinavian fashion- green, brown, cream, and other shades inspired by nature's colors, and more elaborate than the pastel palette.
The modern color scheme of the 1950s combined bright orange, chartreuse, black, white, and bright blue, and was quite different from the two former schemes, as you can tell!
Various popular design patterns included checker-board checks, stripes, space age-inspired designs (called Mid-Century Modern), and, of course, polka dots. Abstract art became a craze in some modern styles. However, floral, fruit, vegetable, and landscape designs still held sway in more traditional homes.
The first plastic decor items showed up in the '50s but, nevertheless, did not hold reign as they do today. Western decor in family rooms (such as a game room!) became very popular because of Gene Autry, Roy Rogers, and other cowboy actors.
Pastel, Scandinavian, modern, and atomic-styled rooms- all with a wonderful 1950s touch.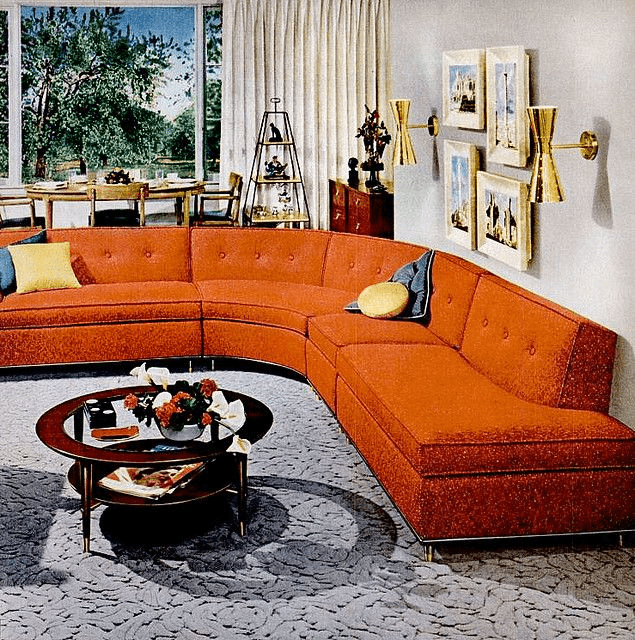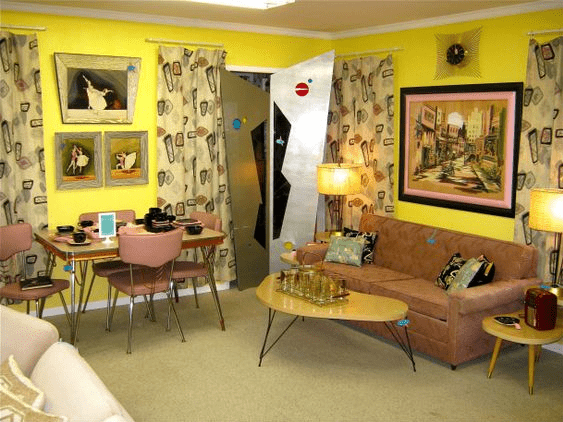 These patterns were very much in vogue! Incorporate one or more of them- depending on your type of 1950s style, and enjoy the '50s vibe!

Items from the '50s or reminiscent of '50s styles should be all-around your game room, giving it a glam, true-to-the-era look.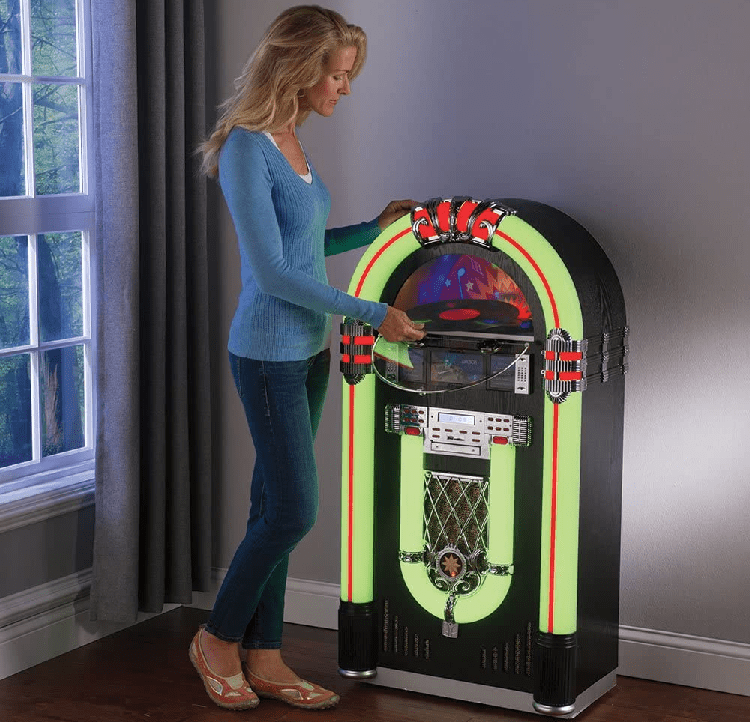 Posters of advertisements and movies go right along with 1950s game rooms and add a lovely vintage vibe.
Here are some ideas of what your '50s game room may look like! Incorporating diner-style features, a home theatre, or '50s farmhouse items are sure to please every member of the family.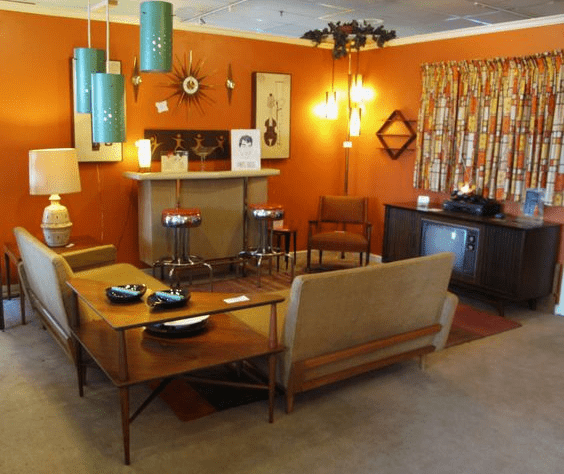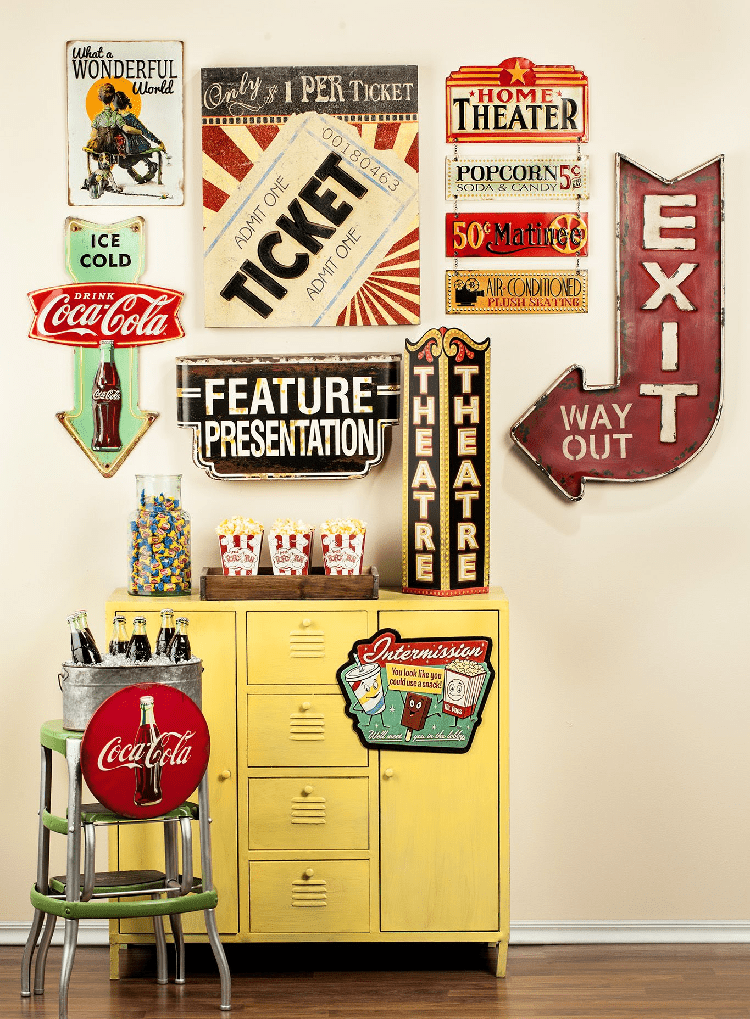 1960s Style Game Rooms
By the mid-'60s, rebellion uprooted many homes as many of the young people forsook their parents' good values. Before that time, however, and in many homes 'til the end of the era as well, families hung out with each other and played fun games.
However, more women were working outside of the home at this time, so the close-knit family life was quickly dying out, and children had limited time with their mothers and fathers when both returned at night.
Board Games
Popular games in the '60s included Hasbro's 1960 Game of Life, Milton Bradley's 1962 Stratego, 1963 Mouse Trap by Milton Bradley, Battling Tops produced by Ideal in 1968, Hasbro's Twister, Don't Break the Ice, and Ants in the Pants from 1966, '68, and '69, respectively.
Table Games
Larry Patterson is said to be the founding father of coin-operated Foosball, which was seen first in the United States in the '60s. Mostly a European game, it was introduced and gained its popularity in America in the 1960s.
Here is an authentic 1960s foosball table which, actually, is a coin-operated version. Table Tennis or Ping Pong wins were predominated by champions from Asia, China especially, and popularity in the sport was largely increased.
Here is a lovely table perfect for a '60s room from eFamilyFun. Billiards or Pool in the 1960s was when the Johnston City pool hustlers tournament started, and Minnesota Fats, Harold Worst, and Luther "Wimpy" Lassiter were famous pool player names.
A good example of a '60s-style billiards table is this Brunswick one from ShopOk.
Children's Toys
Children were blessed with "new-fangled" toys such as the 1963 Easy-Bake Oven produced by Kennar, the sci-fi-inspired Wham-O's Air Blaster gun which was first seen in 1965, 1968 futuristic Billy Blastoff action figure by Eldon, Colorform's 1968 Outer Space Men alien figures.
Good old-fashioned-inspired toys like Kennar's 1960 Give-a-Show film projector, 1964 G. I. Joe made by Hasbro, and the 1964 Gumby action figure toy made beloved by Art Clokey's animated show about a character who was literally formed from clay.
Sports Popular in the Day
Many sports which were popular in earlier decades continued to grow in popularity all over the United States. Professional baseball, boxing, and the now-popular professional basketball all held full sway in the '60s. At the same time, the first NFL Super Bowl in history was played in 1967.
College leagues of the sports named above (minus boxing) were also well-loved. The 1964 Olympics, held in Japan, was one of the greatest since the worldwide Olympics was officially organized.
Golf and soccer were both highly popular, and golf was played non-professionally by many people, as was tennis, skating, swimming, volleyball, and other sports like the '60s craze of surfing.
Music
Music drastically changed in the 1960s from only a decade before, and much of it was not acceptable by moral standards. Singers from the '50s who sang pop songs from eras past kept those tunes going, and some new ones had no immoral words in theirs.
Conscientious parents had to keep a strict watch on up-and-coming songs and guide their children on which ones to listen to. British Invasion-type music included tunes by the Beatles, Herman's Hermits, and the Animals; Surf Rock musicians were such as the Beach Boys, the Kingsmen, and Jan and Dean; Motown and R&B tunes were played by Stevie Wonder, the Drifters, the Spinners, and others; Roots Rock, also popular in those days, was performed by a number of singers including Creedence Clearwater Revival, Bob Dylan, and Bonnie Raitt.
Other genres seen in the '60s were Folk Rock, Hard Rock, and Acappella. Some of the best songs (and appropriate for all listeners) of that era were Georgia On My Mind 1960 sung by Ray Charles, At Last 1961 sung by Etta James, Love Me Do 1962 by the Beatles, Hey Paula 1963 sung by Ray Hildebrand, and Jill Jackson, I Want to Hold Your Hand 1964 sungby the Beatles, Unchained Melody 1965 by the Righteous Brothers, God Only Knows 1966 performed by the Beach Boys, Happy Together 1967 by the Turtles, What a Wonderful World 1968 sung by Louis Armstrong, and Good Morning Starshine 1969 by Oliver.
Indoor Activities and Out on the Town
The 1960s were considered the Golden Age of record players by some, as '60s versions were equipped with stereo playback and high-fidelity (hi-fi) sound reproduction. Color TVs were entering the scene, and many families who could afford it exchanged their black-and-white set for the "mod" colorized one.
Radios were hardly used in homes, and their popularity was largely confined to the car stereos. Dancing to pop and rock music was fun for young people, while older folks stuck to the traditional dances such as swing and waltzes.
Parties were sometimes wild and unruly, but parents supervised many, and traditional parties were often held among high-valued youngsters.
Reading books, comics, newspapers, and magazines was not usually as fun for kids as watching TV, so parents had to encourage them to go outside, read, or do something else off of the TV screen. (But compared with today, kids spent way less time on the TV screen than they do now.) Huge music festivals were seen often.
Unlike the more conventional concerts in opera houses or theatres, they were held outside. At the same time, viewers sat on blankets or lawn chairs. Going to movies at the theatre was still in vogue, as was attending classical plays and such shows for old-fashioned-loving people.
Decorating Styles of the 1960s
Paisley, whirls, tie-dye, patterns from India, and abstract designs featured bright colors that swam together like paint were all hallmarks of the era. However, many families chose not to go along with the trends, and a lot of housewives incorporated those wild patterns delicately in their homes while maintaining a homey feel nonetheless.
Shag rugs, lava lamps, space-inspired decor, and ethnic pieces from India, Africa, and tropical islands added charm or oddness- depending upon what the item was.
Yellow, orange, and green walls add liveliness to these '60s living rooms, while interesting pieces draw your eye to every corner. Each of these rooms could be a basis for a retro game room styled upon the 1960s era.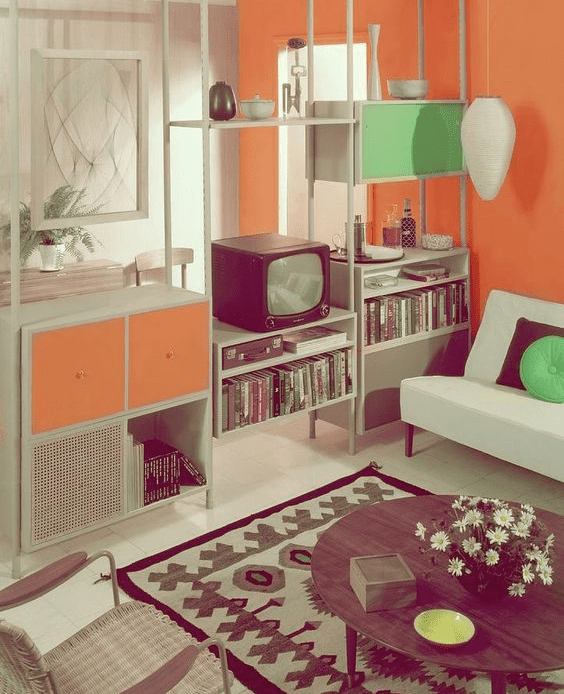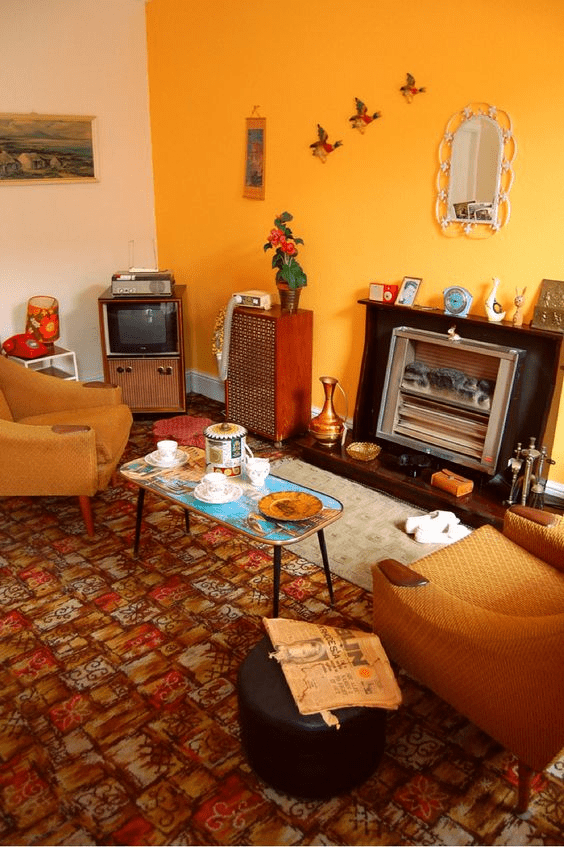 Wallpaper patterns may inspire you as you search for era-true pieces to place in your '60s game room. These patterns should be used sparingly, as one by itself can be powerful enough in a single room.

Authentic pieces from the '60s added to your game room will give a genuine feel of the era and may add charm and hominess.
Movie and travel posters set up on the walls lend laughter and the recollection of fond memories.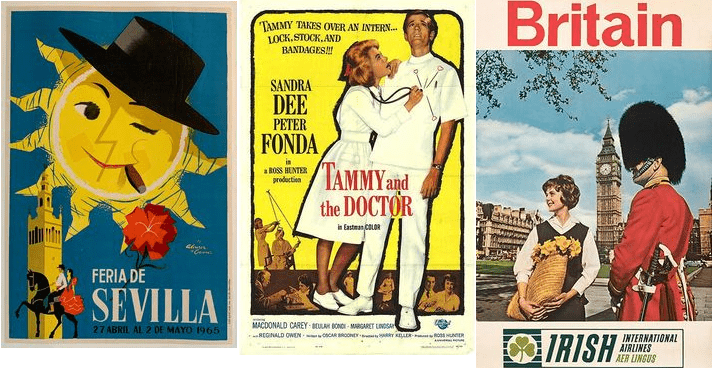 Maybe your 1960s retro game room will look like one of these! Guitars, bean bag ottoman, yellow couches, sophisticated pool tables, geometric wallpapers, floral curtains, and lovely wood game tables all figure in nicely with a mid-century-style game room!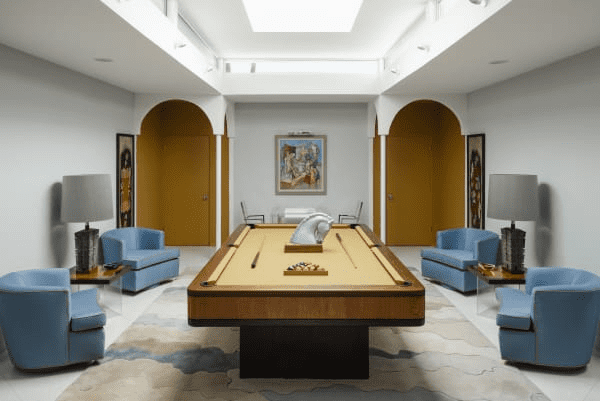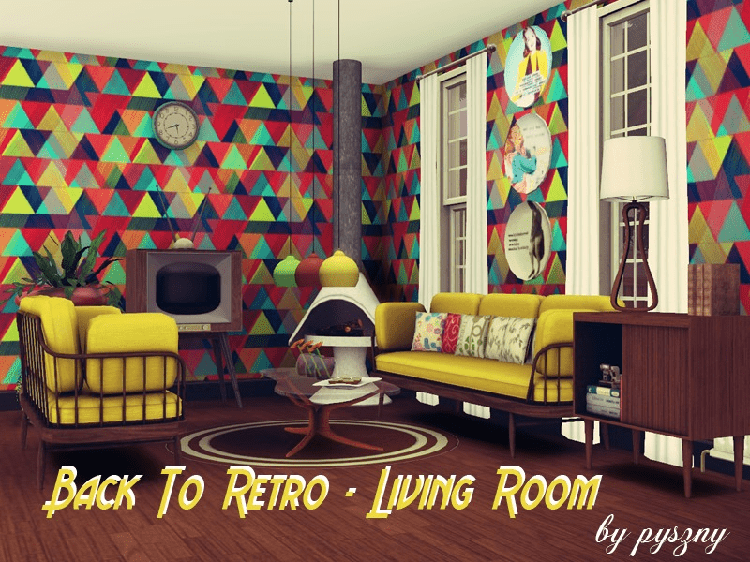 FAQS
Question: Which Era Should I Choose to Base My Game Room On?
Answer: Take a look at the other rooms in your house, and ask yourself which era your overall home style reflects. Try to go along with that general feel, unless you want a game room that reflects an era totally different than your other rooms.
Get your family's opinion on what decades they like, and you probably will have a much easier time decidin0 on the theme!
Question: Where Can I Find Period Furniture and Decorations?
Answer: Try shopping on eBay, Etsy, and Amazon for smaller furnishings, hunt down deals at yard sales and swapmeets, and visit your local thrift and antique stores. Many antique stores will know what era many furnishings are from, and then you can purchase accordingly.
Other online stores where you can find lovely decorations fit for your game room include RetroPlanet, RoyalSelects, Chairish, PiperClassics, TheVictorianTradingCompany, UrbanAmericana, houzz, Pepperfry, and 1stDibs.
Question: Can I Mix and Match Design Periods?
Answer: Yes, but it is not recommended in my opinion with the decades I have listed. To catch the full beauty of vintage decorations, you should envision one era, and the decor must reflect that era.
However, if you would rather mix together some of your favourite decor styles from two or more eras, by all means, go for it. Personally, I dearly love Victorian and 1940s decor together.
Conclusion
Having covered the years from 1920 to 1969, I hope you have found the information I have gleaned to be inspiring as you design and create the retro game room of your dreams!