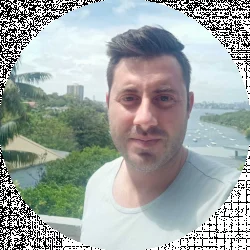 Latest posts by David Borgogni
(see all)
The term ping pong was coined at the turn of the 20th century, and even though the game of table tennis has evolved quite a bit since then, its rules remained mostly the same. That's why you can still use some of the best retro ping pong tables to play this game recreationally or at a professional level.
Although they were originally the same sport, several differences emerged over the years that created a distinction between table tennis and ping pong.
The term table tennis is usually used in competitive settings, while ping pong remains the term that denotes one of the nation's favorite pastimes. Also, the service and scoring rules are slightly different, but despite these differences, you can use the same tables to play either version of this sport.
In this article, we're going to take you through the most important properties of the best retro ping pong tables and help you choose the right model for you. Go through our guide to vintage floor lamps you can use to illuminate your living room or a study.
At a Glance – The 5 Best Retro Ping Pong Tables
Selection Criteria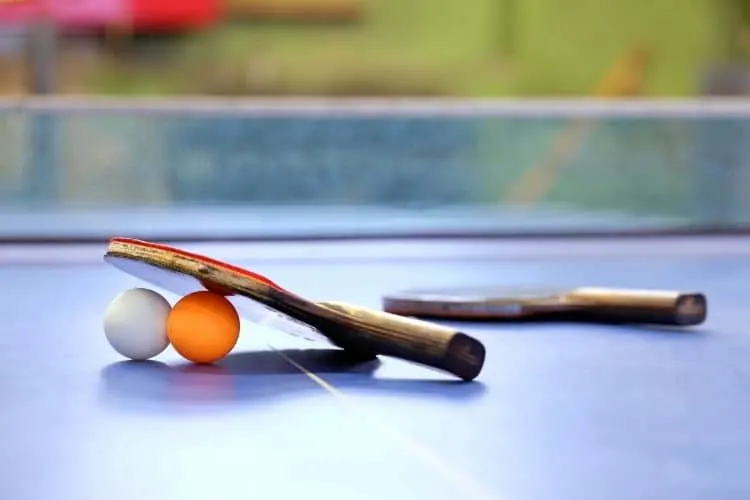 Although the game of ping pong has evolved through the years, the basic features of the tables have remained the same. The recognizable design of the two-field table divided by a 6-inch tall mesh net hasn't changed much over the years.
Although more contemporary versions of ping pong tables emerged over time, the classic tables with monochrome green, red or blue surfaces are still easy to come around. That's why deciding which retro ping pong table is the best can be difficult.
Let's take a look at some of the parameters we use to select the models featured in this article.
Build quality – Our selection of ping pong tables includes suitable options for professional and recreational use. The top of each table has a smooth surface that ensures a uniform ball bounce.
Visual appearance – Most of the models we selected for this article have a standard ping pong table construction, and they're not equipped with the advanced features offered by more contemporary models.
Check out our guide to the best retro jukeboxes that can help you recreate the look and feel of the 1980s and 1990s in your home.
Characteristics of Retro Ping Pong Tables
Originally, any type of table that was wide enough to accommodate the length of the net could be turned into a ping pong table. Even today, some ping pong tables have multiple functions, as they can serve as dinner or conference tables.
A classic ping pong table has a green or blue top surface and metal or wooden supporting structure. The top can be made of plywood, solid wood, or plastic. Folding ping pong tables on wheels were invented in the 1950s, and many of the models you can find on the market still stick to the original design.
Hence, a retro ping pong table may or may not be portable, allowing you to choose if you want a model you can move from one room to another. Browse through our guide to the best retro radios that can complement your retro ping pong table.
Types of Retro Ping Pong Tables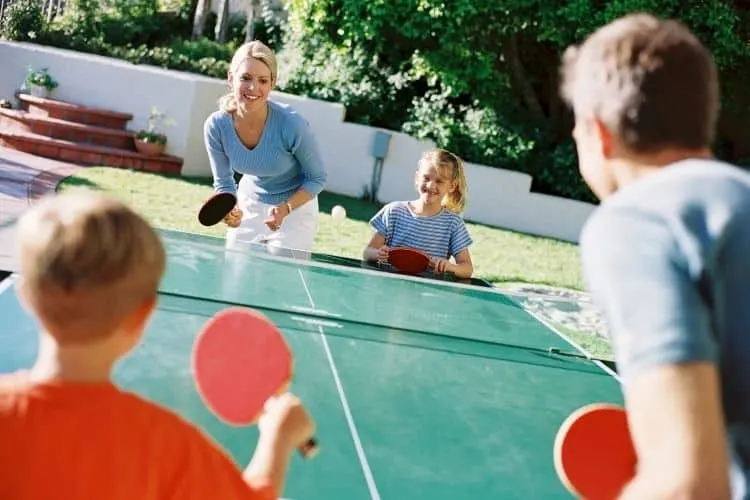 At first glance, most ping pong tables look the same, as they have just two components: an undercarriage and the tabletop. The net clamps and the net are removable on most models so that you can choose the type of net you want to use.
However, the properties of these tables depend on the context for which they're designed. Let's take a look at some of the most common types of ping pong tables.
Indoor ping pong tables – The lightweight construction and a smooth tabletop surface are some of the key advantages of indoor ping pong tables. However, direct sunlight exposure can damage the table's surface, which is why it isn't advisable to use these tables in outdoor conditions.
Outdoor ping pong table – Often stripped of advanced features, these tables have a rugged undercarriage and a waterproof top. They can be either installed permanently in a part of a backyard or portable.
The playing field materials can also help you differentiate between different ping pong tables, and you can choose between retro models with a wooden or plastic top. Go through our guide to types of rocking chairs if you're looking for a timeless piece of furniture.
Dimensions of Retro Ping Pong Tables
The sizes of table tennis tables are standardized, and they depend on the model you pick. You can choose from the following dimension options.
Regulation ping pong table – The so-called tournament size ping pong tables are 9 feet long and 5 feet wide. Their top is at the height of 2.5 feet, while their markings are 0.7-inches wide. The thickness of these tables depends on the model, and it usually determines their quality.
Recreational tables – These tables can have standard dimensions, or they can be considerably smaller. Models that are 84 inches long and 42 inches wide are commonly labeled as mini ping pong tables, and they're usually aimed at children.
Other versions of these tables, such as conversion tables that don't have an undercarriage, are also available in multiple sizes, but their visual appearance can't be described as retro. Read our guide to the best vintage mirrors to find a model that matches a classical home décor style.
Recognizing a Good Retro Ping Pong Table
You don't necessarily have to get a retro ping pong table manufactured decades ago since most of the industry-leading brands still produce models that evoke the style of the table tennis tables produced in the 1980s and 1990s.
Probably the easiest way to spot a good retro ping pong table is to look at the width of its playing surface. Ideally, the model you choose should have a top that is 0.8 or 0.9 inches thick, but these tables can be very expensive.
A more affordable option is to choose a model that is 0.75-inch thick, as they provide a good ball bounce and tend to hold well over time. Tables with playing surface depths of just 0.5-inch are budget-friendly, but they deteriorate quickly and don't allow the ball to move properly.
Check out our guide on the history of retro aesthetics to learn more about how this style developed.
The Most Important Factors to Consider While Choosing a Retro Ping Pong Table
The table's style is one of the key factors you'll have to keep in mind during your search, but you should also pay a lot of attention to the model's functionalities.
The portability, the quality of the undercarriage, or the table's stability are among the features that can help you decide which model to choose.
Determining if you want to use the table outdoors or indoors can also be useful because it will narrow down your options. Let's take a look at more factors you should take into account while selecting a retro ping pong table.
Available Space
Checking how much space you have at your disposal will enable you to know if a regulation table is too big for the room in which you want to use it. In case you decide you want to get an indoor model, you should ensure that you can leave a few feet of free space on all sides of the table.
On the other hand, outdoor retro ping pong tables must have a waterproof top and sturdy construction that protects them from the elements. You should also consider models made of concrete despite the fact that the surface of their tops is far from ideal.
Portability and Storage Requirements
A tournament ping pong table can occupy quite a bit of space, so unless you have an entire room you can dedicate to table tennis, you'll have to find out how difficult it is to move the model you're interested in.
These tables can weigh more than several hundred pounds, and moving them without casters can be very difficult. Also, you should check the table's assembled dimensions in order to know how much space you're going to need to store it.
Keep in mind that lightweight retro ping pong models might struggle with stability.
Playing Frequency
Most homeowners use their ping pong tables recreationally. That's why there's no need to get a retro model stacked with advanced features if you're planning to use it to entertain your guests.
On the other hand, getting a model that has independent halves and the playback feature can be very useful if you want to practice your serve or backhand. You should also check how difficult it is to assemble the table if you're planning on using it every day.
Quality of the Materials
All components of a retro ping pong table should be made of durable materials that won't lose their properties quickly. For instance, you should only opt for a model with aluminum legs if its top isn't heavy because the support system might deteriorate under the table's weight.
Plywood is the best surface for table tennis because it won't flex, and it has a coating that protects it from wear and tear. Plastic tabletops are also available, and they can be an affordable option for recreational players.
Budget Limitations
The price range of indoor ping pong tables spans from less than $100 for mini and entry-level recreational models to more than $3,000 for tournament models.
There's no need to spend more than $500 if you're looking for a retro model you can use to play table tennis at home, but you should bear in mind that the quality of the model's components and its durability often depend on its price.
The average cost of outdoor ping pong tables varies from $400 to $700, although some models can cost more than $5,000.
The Pros and Cons of Retro Ping Pong Tables
Pros
Offer an indoor recreational activity
Source of entertainment at parties
Allow table tennis enthusiasts and professionals to practice at home
Quick assembly process
Cons
Direct exposure to sunlight can damage the playing surface
Retro ping pong tables can occupy a lot of space
Top 5 Retro Ping Pong Tables
Hall of Games Ping Pong Table – The Best Regulation Ping Pong Table
The solid wood construction and sturdy legs ensure that you can play high-intensity games on the Hall of Games ping pong table. The legs are equipped with 2.5-inch levers that allow you to adjust the table to the floor surface and level the playing surface.
The 0.75-inch thick top is made of MDF wood that allows the ball to bounce evenly in all parts of the playfield. This regulation ping pong table has standard tournament dimensions, and it is multifunctional, so you can use it to play card games or as a dining table.
Pros
Elegant retro design
Sturdy construction
Easily adjusts to different surfaces
Consistent ball bounce throughout the playfield
Cons
The table can't be folded
Not for outdoor use
Go Sports Ping Pong Table – The Most Affordable Ping Pong Table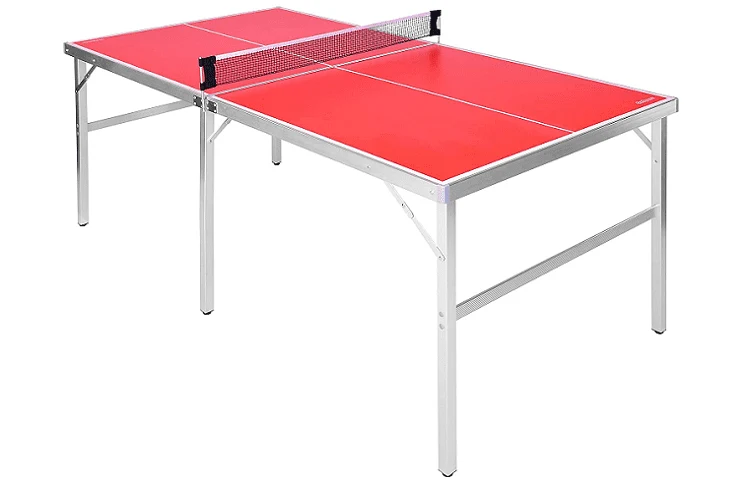 You can opt for the blue and red playfield version of the Go Sports ping pong table. This model is suitable for indoor and outdoor use, and its dimensions of 6 x 3 feet make it a good option for small rooms.
Its aluminum legs are sturdy enough to support the top, but they can't adjust to uneven surfaces. The table is foldable, and it has a carrying handle that enables you to carry it to its storage space.
This model comes with a pair of paddles, four balls, and the net, so you don't have to purchase any accessories separately.
Pros
Perfect fit for small spaces
Low storage requirements
Not affected by the elements
Affordable price
Cons
Flimsy construction
Thin playfield
Joola Nova Ping Pong Table – The Best Outdoor Ping Pong Table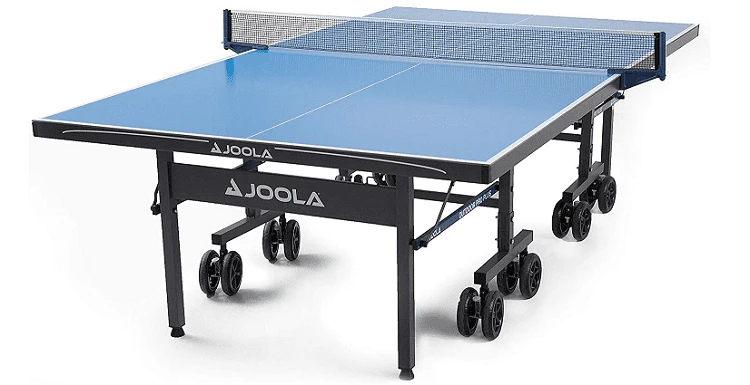 Produced by one of the best brands in the industry for more than fifty years, the Joola Nova ping pong table is one of the sturdiest outdoor models you can get. The table has standard tournament dimensions as well as a single-player playback feature that allows you to elevate a half of the playfield.
Its all-weather outdoor net and table surface guarantee that the table won't get damaged by rain or direct sunlight exposure. The undercarriage is fitted with 6-inch casters that allow you to move the table easily or lock it in its current position.
Pros
Quick and simple setup
The undercarriage is powder-coated and corrosion-resistant.
The table separates into two halves for easy storage
Great for polishing table tennis skills
Cons
The table cover is sold separately
Moving the casters over bumpy surfaces can be difficult
Butterfly Ping Pong Table – The Best Indoor Ping Pong Table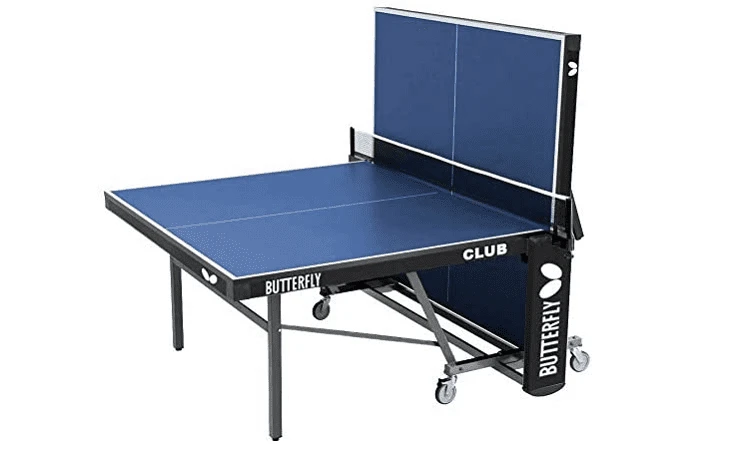 Although it is designed for 2 to 4 players, you can convert the Butterfly ping pong table to a single-person table by turning one of its halves upwards. The 1-inch top ensures an equal ball bounce on the entire playfield, while the height adjustment mechanism allows you to create an even playing surface.
The undercarriage of this foldable ping pong table is made of alloy steel, and it features four steel legs that add to its stability. This Butterfly's model is for indoor use only, and using it in outdoor conditions might damage it permanently.
Pros
The depth of the playfield is 1 inch
Sturdy support construction
Folds quickly into the storing position
3-year warranty
Cons
The table weighs 256lbs
More expensive than most of its competitors
STIGA Advantage Ping Pong Table– The Most Portable Ping Pong Table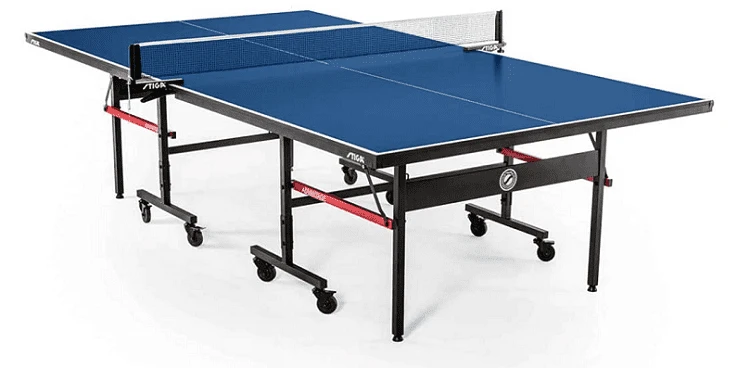 The QuickPlay design enables you to set up the Stiga Advantage ping pong table and start a game in less than ten minutes. This model also has a safety-latch mechanism that locks the table in the upright position and allows you to practice independently.
The 3-inch casters make the table portable, and they have lock mechanisms that prevent the table from moving during intense games. The width of the tabletop is 0.6 inches, so you should consider getting the pro version of this table if you want a model with a larger playfield depth.
You'll also get a 72-inch tournament-grade net if you decide to purchase the Stiga Advantage ping pong table.
Pros
Locking the wheels is easy
Simple net tension and height adjustments
Lighter than most regulation tables
Reasonable price
Cons
The playfield is only 0.6 thick
Frequently Asked Questions About Retro Ping Pong Tables
Question: How Many Players Can Play on Retro Ping Pong Tables?
Answer: All regulation tables allow for two to four players, while foldable models also offer a single-player option. The maximum number of players on mid-size tables is two.
Question: Do I Need a Cover for a Retro Ping Pong Table?
Answer: Covering your table whenever it isn't in use will protect it from scratches or drink spills.
Question: How Much Clearance Should I Have From Each Side of a Retro Ping Pong Table?
Answer: You should create at least 5 feet of space for each player and 3 feet of space on the sides of the table.
Question: Can I Clean a Retro Ping Pong Table With Water?
Answer: Yes, but only if its playing surface is waterproof. You should use a dry cloth and a spray cleaner to remove the dirt from the tabletop.
Our Verdict: What is the Best Retro Ping Pong Table You Can Get?
The aesthetic is only a part of the appeal of retro ping pong tables, as they offer you a way to exercise daily or to have fun with your friends. Although the term ping pong evokes the noncompetitive nature of the sport, you can still use these tables to practice or compete with other table tennis enthusiasts.
We recommend the Hall of Games ping pong table because it offers a perfect combination of functionality and elegance. In case you're looking for a more affordable model you can easily fold and store, you should consider getting models like the Stiga Advantage or Joola Nova.
Which retro ping pong table are you going to choose? Let us know in the comments, or continue reading our guide to the best retro Bluetooth speakers you can use to listen to music while playing table tennis.