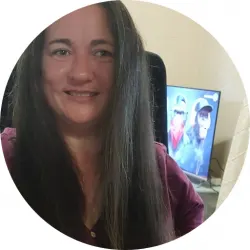 Latest posts by Caroline Lambert
(see all)
Nostalgia is the definition of retro furniture because we love reproducing the past as a society. The best retro TV stands give us one more way to revisit times past, and some old-world entertainment units never went out of fashion. You're about to find your nostalgic living room key based on value and versatility.
Retro furniture has a magical ability to take us back to our childhoods. It's funny how we detest anything our parents used in their homes as teenagers, but we get this yearning for the old-timey reminders when we reach our late 20s onward. Suddenly, you find yourself shopping for brands your mom bought.
You find yourself looking at your fifth table with corners raised and water damage as you feel your rage bubbling when suddenly, a memory pops into your head. You can't remember your mother ever buying a second table, and just like that, you find yourself in the store, looking for something with that 80s quality swag.
The reason we revisit past furniture trends, again and again, is that the styles never go out of fashion because of their quality, aesthetics, and, admittedly, pizazz. Let me take you down memory lane to find the best retro TV stand.
Understanding Retro Furniture
Retro furniture is often confused with vintage or antique pieces, but some significant differences exist. Vintage and antique furniture are original pieces produced many moons back. Vintage furniture is between 50 and 70 years old, whereas antique furniture is 100 years old or more.
Retro furniture wasn't produced in the period it imitates, and it's a nostalgic reminder of furniture manufactured 20 to 40 years ago. For furniture to be retro in 2022, it would have to be a reproduction of something produced between 1981 and 2001. Retro styles are consciously derived copies of style, fashion, and furniture.
Many popular retro furniture choices depict 1970s styles, but times have moved along, meaning retro is now from the 1980s. I also love the 1970s furniture designs, and I might allow one or two into the best TV stands, but my focus will be on what falls into the correct historical period.
Retro Rating System
The reason I choose the best entertainment stands is that they must be retro. Additionally, I look at the value. In fairness, the price will match the quality of your TV stand, but I'm capping the budget at $350. TV stands under this price with the genuine authenticity of retro vibes will earn two stars.
Finally, each piece of furniture will earn between one and three stars, depending on its versatility. A TV stand that fits into any room or design will earn three stars, whereas it will earn one star if the design matches are more challenging. Each TV stand will have a star rating between three and five.
Types of Retro TV Stands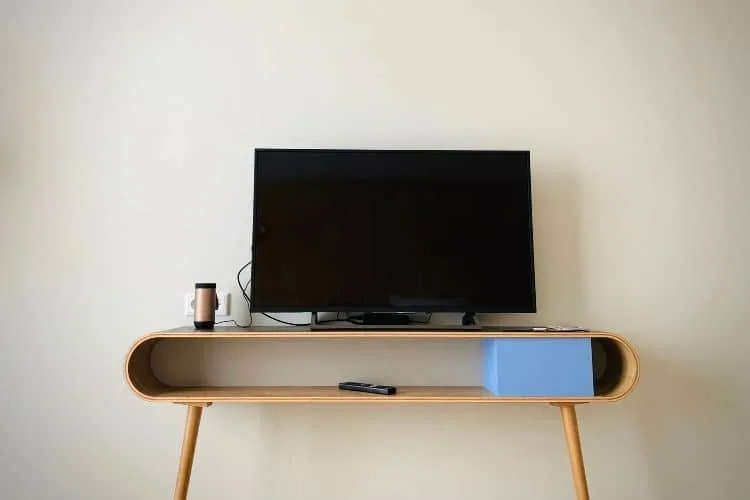 Staying true to the period currently considered retro means I should share the most common TV stands used in the 1980s and 1990s. Some 1970s styles were still trending, and there were three main types of entertainment units found during this time.
Media Console (Hutch)
A media console is a modern name for a hutch. It's a big, bulky piece of furniture intended to surround your TV, often reaching the height of the doorways. Another name for a media console is a wall unit. It can consume the entire wall on one side of the room, but it's pretty impractical in modern homes, especially with flat screens.
Credenza
You also call a credenza a dining room sideboard, but retro TV stands often come in a credenza style where the stand sits lower than the modern units. This trend began in the 1970s and lasted throughout the 1980s. They have a sleek aesthetic with outward-facing legs and are closed like storage cabinets.
Media or TV Stand
The TV stands we know today already came into fashion by the 1980s. You'll notice many retro TV stands have multiple compartments for different electronics and cable holes because we have an entire network of cables running around them. These stands are often open with shelves for each electronic.
Top 10 Retro TV Stands for Your Home
I'm nostalgic, so I love everything I see when shopping for a retro TV stand. I was in the antique business for more than a decade, which explains why my heart and mind are absorbed by the beauty and quality of wood and old-timey designs, but I'll stay true to my reasons for choosing the best ones.
Bates TV Stand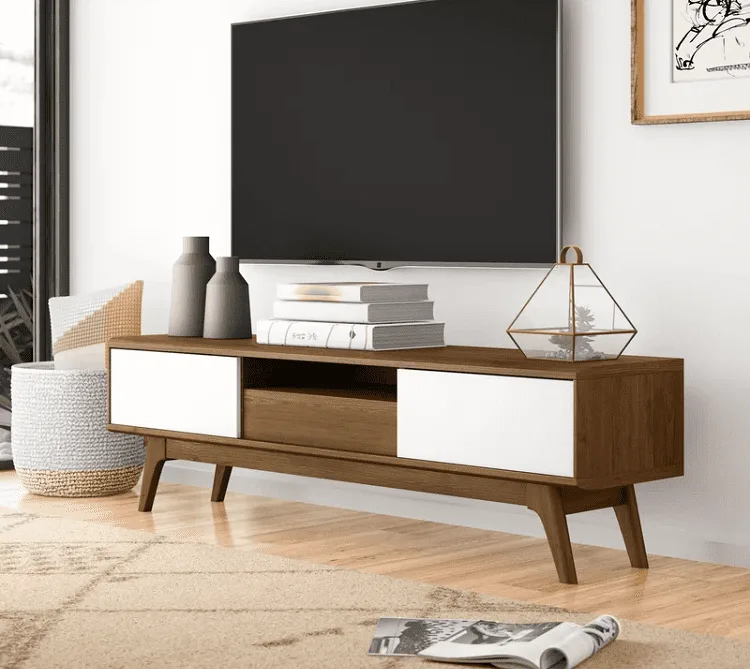 The Bates TV Stand is a fabulous retro design, and it has nothing to do with Norman Bates or Psycho, both representing the 1960s, the wrong era. This stand is the perfect combination of retro outbound legs with two-tone finishes contrasting natural wood grains against a blushing white.
Imagine painting this unit in different colors. You could have blue and white, yellow and green, or black and gray. The two-tone finish inspires you to experiment with other colors that fit better into your interior. The Bates Tv Stand is a reproduction of what you'd find in the 1980s, having the famous low profile of a credenza.
Key Notes
Priced at $279.99 with free delivery
It's made of engineered and solid wood
It has one concealed drawer, one shelf, and two cabinets (adjustable shelves)
It has amazing outbound legs for extra support
Dimensions: 58.5″ W x 17″ H x 13.5″ D
Weight capacity: 250 lbs. (even your chubbiest friend can disco on this one)
Recommended screen size: 65″
Available in any color you're prepared to paint
Downsides
It's not well ventilated
You have to assemble it
The Bates TV Stand is gorgeous, high-quality, and worth it. The ability to paint the two tones differently will allow you to use it in any home.
Star Rating: 5
Grandstaff TV Stand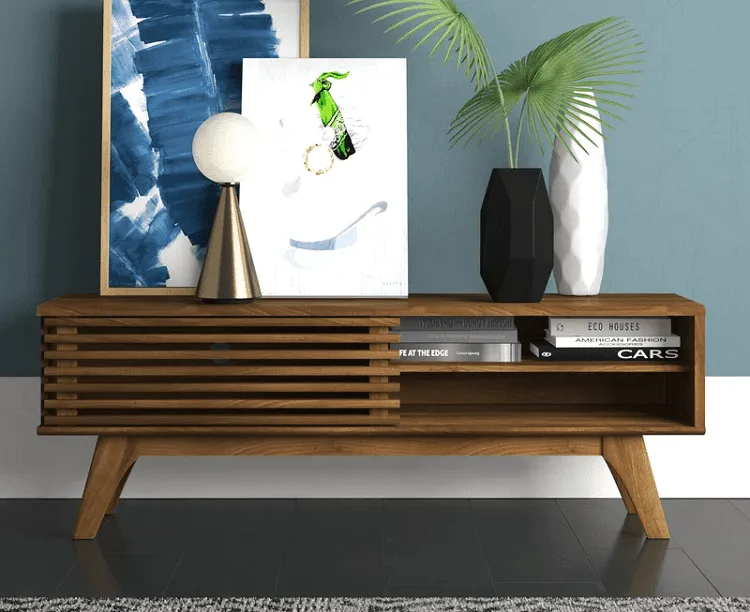 The Grandstaff TV Stand is a mixture of credenza and media stand, but it's gorgeous! It has those outbound legs with rounded edges, bordering between the 1970s and 1980s. The slatted sliding door elaborates the design, while the beautiful wood grain is a touch of nature in your living room.
This unit has a streamlined feel with walnut finishes, and the two shelves have cable management holes to make modern living easier while you enjoy a retrospective living room. I love this TV stand because it matches any style or color, and it simply blends into the background like a tree fades into a landscape.
Key Notes
Priced at $219.99 with free shipping
It's a combination of solid and engineered wood
It has two cabinets and two shelves
Convenient cable holes and ventilation
Dimensions: 48″ W x 17″ H x 13.5″ D
Weight capacity: 150 lbs.
Recommended screen size: 55″
Available in charcoal, walnut, oak, and walnut/white
Downsides
The shelves aren't adjustable
You have to assemble it
Overall, the retro TV stand fits excellent value and quality. The range of colors available helps you match it to any style or color accents in a room.
Star rating: 5
Casamudo Credenza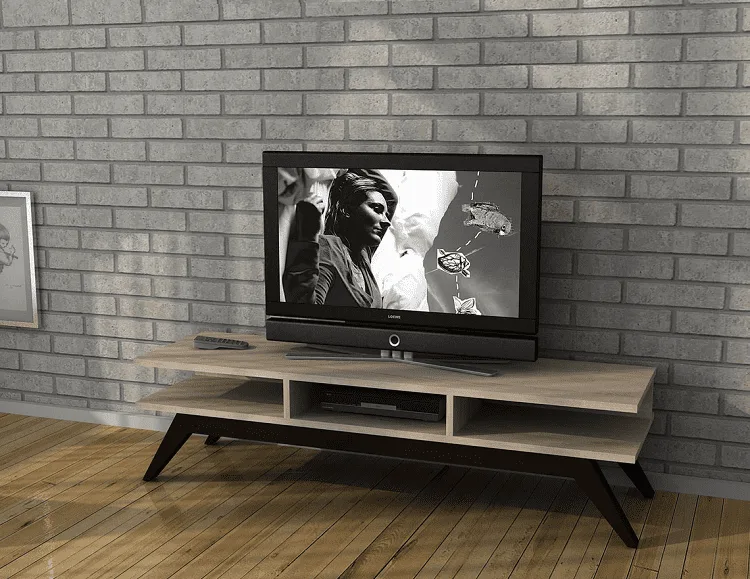 The Casamudo Credenza is a beautiful representation of retro TV stands following the low-profile trend of credenzas. It's a handmade beauty fashioned with open shelves and outward legs, and it has a free-flow feeling with open shelves, perfect for people who don't have kids who pull everything.
The low profile alone would be a disaster for small children because they can topple the TV. However, this stand meets all my needs because it can fit into most modern designs with that touch of retro pizazz. This unit is fashioned on styles trending in the late 1980s to early 1990s.
Key Notes
Priced at $99.90
It's made of European particleboard
It has three open shelves
Completely ventilated for electronic preservation when binging Netflix
Dimensions: 47.2″ W x 15.7″ H x 14″ D
Weight capacity: 150 lbs.
Recommended screen size: 55″
Low-profile, sturdy design
Downsides
It won't work in homes with small kids
The shelves aren't adjustable
The Casamudo Credenza is a perfect retro stand that fits most styles and homes, and it's one of the cheapest options you'll find. The quality comes in the form of it being low enough.
Star Rating: 5
Chantsong TV Stand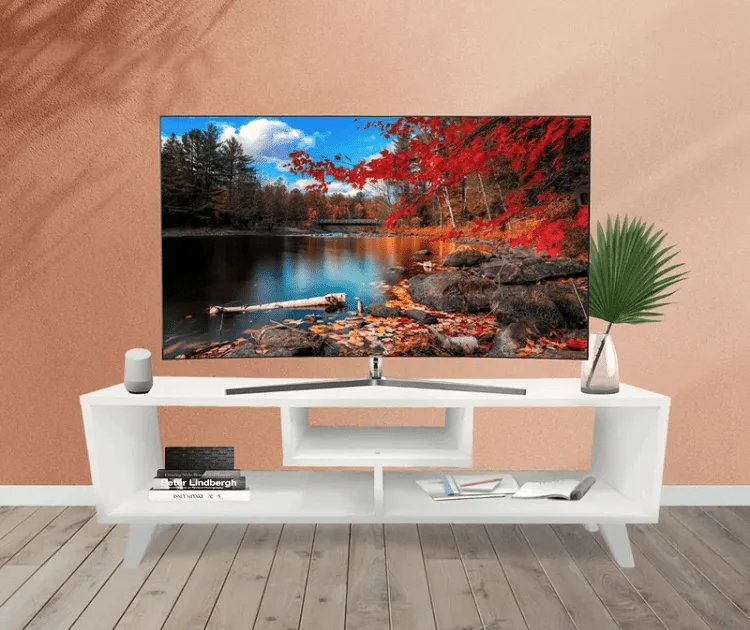 The Chantsong TV Stand falls into the retro line for two reasons. It uses the timeless color white, and it has rounded edges with a low profile popularly used in the 1990s. It looks like something from the X-Files. The early 1990s saw Mulder and Scully on the screens, perfectly matching the alien style of this stand.
This stand is aesthetically beautiful, even though it looks like something from another planet. It was considered modern in the 90s, and the best news is that it fits into most contemporary designs. It won't fit into rustic styles, but it matches nearly everything else.
Key Notes
Priced at $139.99 with free delivery
It's made of engineered wood
It has two compartments and one shelf
Complete ventilation
Dimensions: 47.5″ W x 15.2″ H x 11.6″ D
Weight capacity: 150 lbs.
Recommended screen size: 55″
Cone-shaped legs for additional stability
Downsides
It's another risky stand with small children
It requires assembly
The Chantsong TV Stand is a gorgeous retro option due to its versatility in style and color accents. It's also great value for money and sturdy as heck.
Star Rating: 4
Vasagle Retro Stand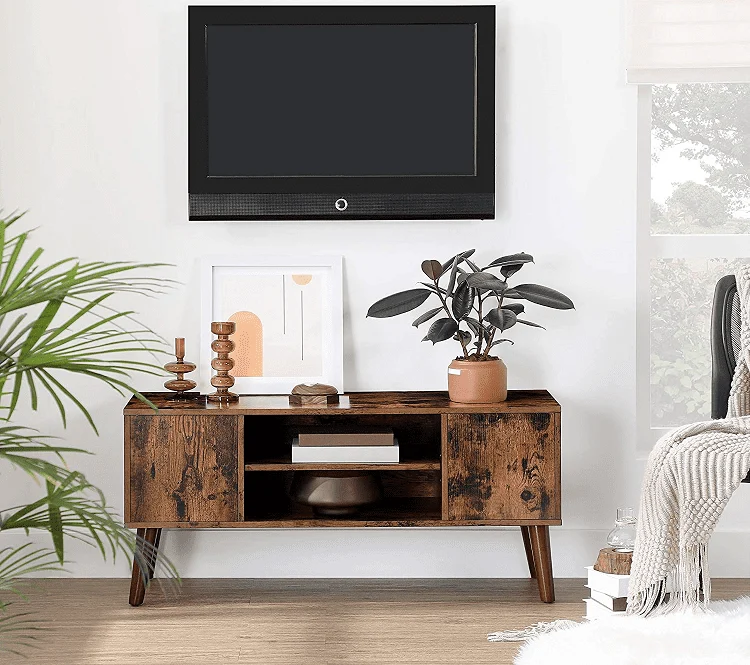 The Vasagle Retro Stand is a return to classics with wood accents. The style of round and outward faced legs fits better into the late 1880s and early 1990s. It's a bulkier unit but a lovely piece of retro flair to add to most living rooms. Its natural form with wood grain would likely fit better into the farmhouse and rustic designs.
However, I imagined painting this stand with a pastel blue to make it fit other styles. It would still look retro. Retro furniture often includes contrasting colors and accents. Think of the bell-bottom era with flashy glasses too big for our faces and jackets made of patched colors. It has an eclectic modern tone.
Key Notes
Priced at $106.23
It's made of premium particleboard
It has two shelves and two push-to-open cabinet doors
It flaunts canted legs with floor protectors
Convenient cable management holes
Dimensions: 43.4″ W x 19.5″ H x 15.8″ D
Weight capacity: 110 lbs.
Recommended screen size: 50″
You can paint it easily
Downsides
It requires assembly
It doesn't fit every trending style
The Vasagle Retro Stand is of great value, good quality, and it matches various styles, making it somewhat versatile enough for your home if you don't have a retro living room.
Star Rating: 4
Allegra TV Stand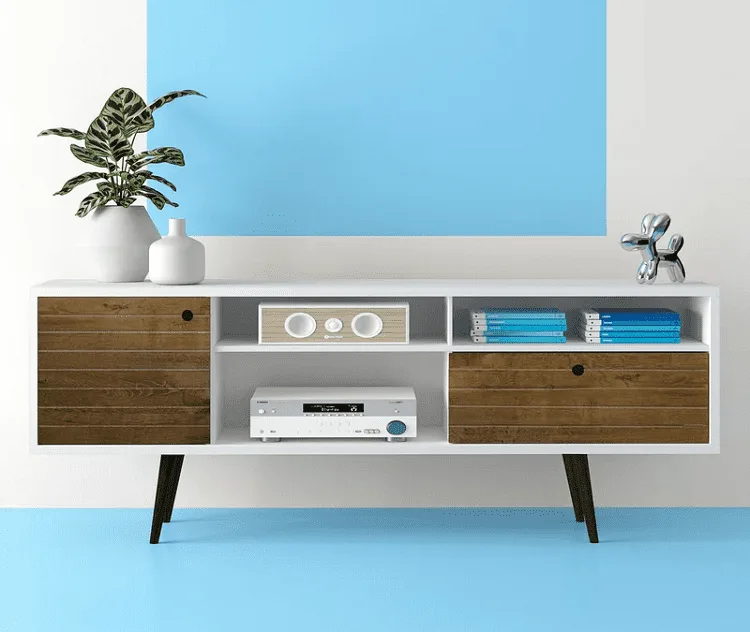 The Allegra TV Stand marries 1990s reproduction to modern homes. It has a touch of old-school flair with a modern twist. The outbound legs, low profile, and contrasting colors suggest retro, but the false asymmetry of the shelves brings a different tone to the unit. It still fits into any retro living room.
The two-tone stand becomes a focal point in any room. The sleek indented lines fade into the white contrast, giving it a greater depth. I could see this on the set of Friends, and it looks like something Monica would add to her apartment. Who thought the Friends apartments would be retro today?
Key Notes
Priced at 229.99 with free delivery
It's made of solid and engineered wood (recycled materials)
It has three shelves and two cabinets (all are various sizes)
It has the famous two-tone finish for retro styles
Convenient cable management holes
Dimensions: 70.87″ W x 26.58″ H x 15.2″ D
Weight capacity: 132 lbs.
Recommended screen size: 55″ to 70″
The doors open to 90°
Available in white/rustic brown, black, rustic brown, rustic brown/aqua, rustic brown/yellow, white, white/aqua, and white/yellow
Downsides
It requires assembly
It's larger than most of the retro stands (good if you have a large screen)
The Allegra TV Stand is worth every cent, and it's a sturdy entertainment unit. It can match most styles due to the many colors you can order.
Star Rating: 4
Modway Render TV Stand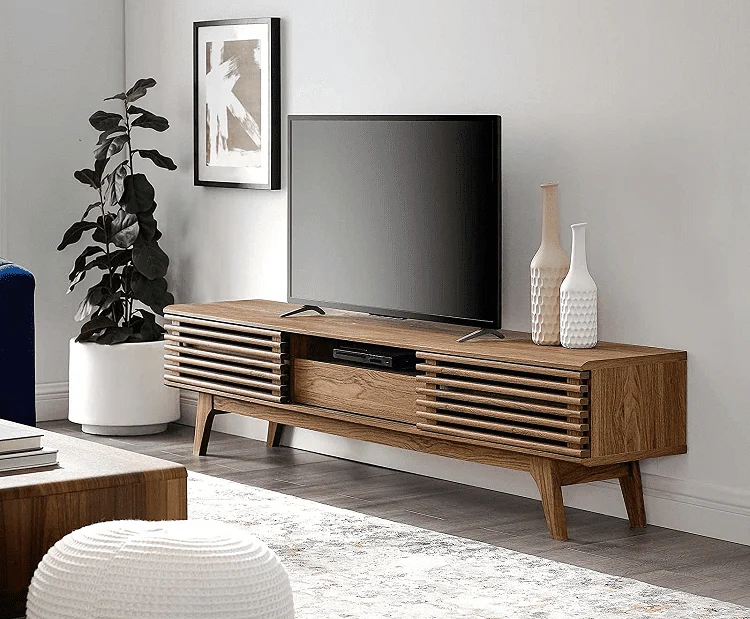 The Modway Render TV Stand is another gorgeously slatted example of the 1980s, a time Prince was crying in purple rain, and pop culture was bursting at the seams. The 80s are legendary, but this stand comes close to encumbering the era of great artists. I love the extent of the slatted sliding doors.
The outward-facing, tapered legs are sturdy enough to hold the monstrous length of this unit. It might not be everyone's cup of tea, but this stand will fit into rustic, farmhouse, retro, mid-century, vintage, and some modern designs. The slightly rounded corners also give a strong 80s and 90s vibe.
Key Notes
Priced at $300.67 with free delivery
It's made of particleboard with a walnut finish
It has two shelves, two sliding doors, and one easy-sliding drawer
The tapered legs add to the stability
Dimensions: 70″ W x 17″ H x 13.5″ D
Weight capacity: 100 lbs.
Recommended screen size: 78″
The drawer offers concealed storage if you move the slatted door
Downsides
It's not well ventilated for electronics
It requires assembly
The Modway Render TV Stand is a phenomenal retrospective, but it can be limited to specific interior design styles. It's well worth the price, though, and the quality is surprisingly good for such a wide unit with four legs.
Star Rating: 4
Barnyard TV Stand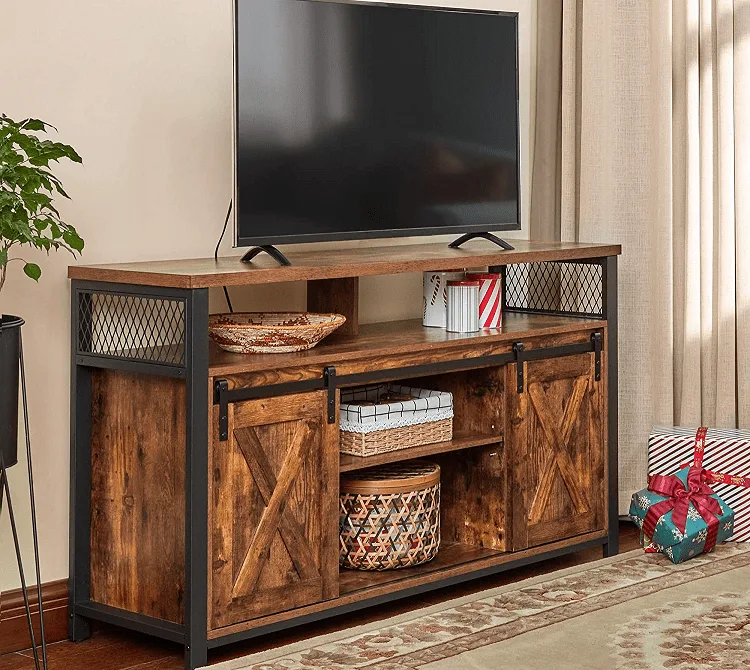 Barnyard styles fall under the umbrella of farmhouse designs, which started in the 1700s but became widely popular in the early 1990s. The Barnyard TV Stand falls within the retro years, and it's a beautiful piece of furniture. I'd classify it as a hutch due to its size, but it doesn't consume the whole room.
The details of the stand allow you to blend this one into the farmhouse, rustic, retro, or industrial style homes, but it doesn't fit well into contemporary or minimalist designs. The raw beauty of this TV stand truly makes you think you're on a farm, away from the craze of city life.
Key Notes
Priced at $229.99 with free delivery
It's made of particleboard and metal
It has two cabinets and three shelves
Convenient cable holes with adjustable shelves
Anti-tip structure
Dimensions: 53.1″ W x 29.9″ H x 15.7″ D
Weight capacity: 110 lbs.
Recommended screen size: 50″ to 60″
Available in charcoal gray/black and rustic brown/black
Downsides
It doesn't fit every style
You have to assemble it
The barnyard stand brings a little farmhouse back to the modern home, but it falls short in versatility. The value and quality are top-notch.
Star Rating: 3
Modway Omnistand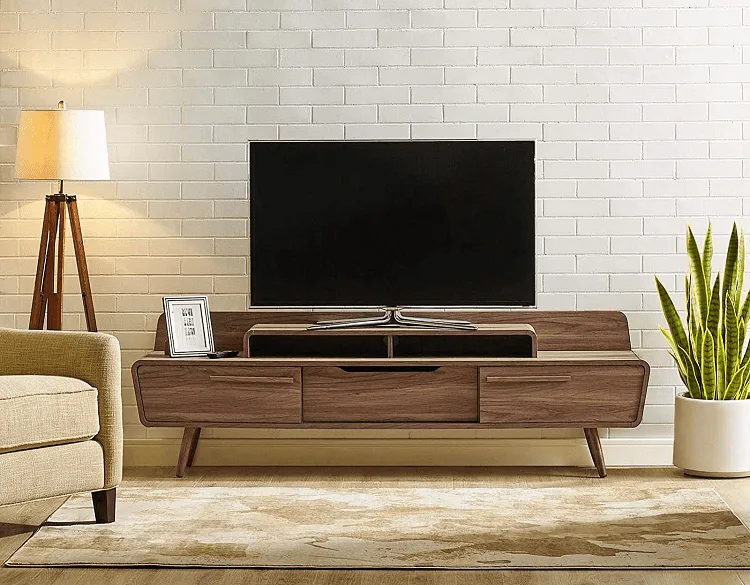 I'm a little confused by the Modway Omnistand, but it's an entertainment console that also fits into the late 1970s to early 1980s era. It almost looks like a headboard, which doubles it to be eccentric. Retro styles often include eccentric touches and distinctive finishes, and this one meets every level of weirdness.
However, it's a lovely stand with the usual rounded corners and tapered legs. It's a sturdy unit with some potential. It might not fit into various styles, but it will look perfect in a retrospective home. If you're feeling bold enough, you can add it to a mid-century modern home.
Key Notes
Priced at $297.45 with free delivery
It's made of engineered wood with a walnut finish (yes, walnut was hugely popular in the 70s and 80s)
It has one full-extension drawer, two open shelves, and two sliding doors
Convenient cable management holes
Dimensions: 74″ W x 23″ H x 15″ D
Weight capacity: 110 lbs.
Recommended screen size: 55″ to 78″
It has a durable, anti-tip construction
Downsides
It's poorly ventilated for electronics
You must assemble it
Some people love the diner retro design, but it limits your accents, styles, and colors in a room. The versatility is challenging, but it's a beautiful retro stand made to last.
Star Rating: 3
Merseyside Media Console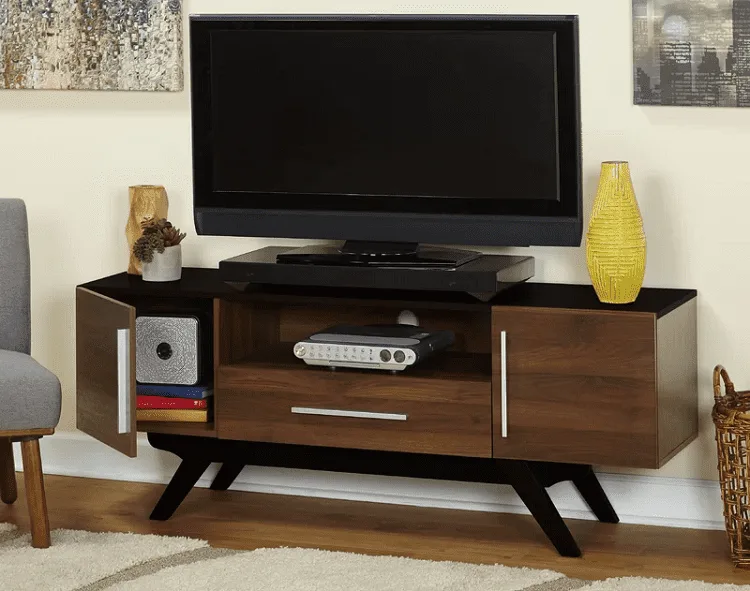 The final entry is the Merseyside Media Console, and it's great if you want to turn your living room into a periodic style. The console is as old-school as it gets, and the slanted legs emphasize the straightforward design of the stand itself. This unit has strong vibes from the 1970s to 1980s.
Remember that veneer was popular during these decades, which means retro furniture will likely showcase some engineered wood with beautiful walnut finishes. The biggest issue with this classic beauty is that it doesn't leave much room for matching it to other styles, and it will look boldly old-school.
Key Notes
Priced at $269.99 with free delivery
It's made of engineered wood with a walnut finish
It has two cabinets, one drawer, and one shelf
Convenient cable management holes
Dimensions: 59.25″ W x 22.75″ H x 16.75″ D
Weight capacity: 55 lbs. (Yikes, that's not much)
Recommended screen size: 42″ to 58″
Available in walnut or walnut/black
Downsides
It doesn't have good electronic ventilation
You must assemble it
The Merseyside Media Console is as retro as you get, but it's not versatile, even with paint. It's reasonably priced, and you can't deny the quality of the structure, although the weight capacity leaves much to be desired.
Star Rating: 3
Olde Worlde Tips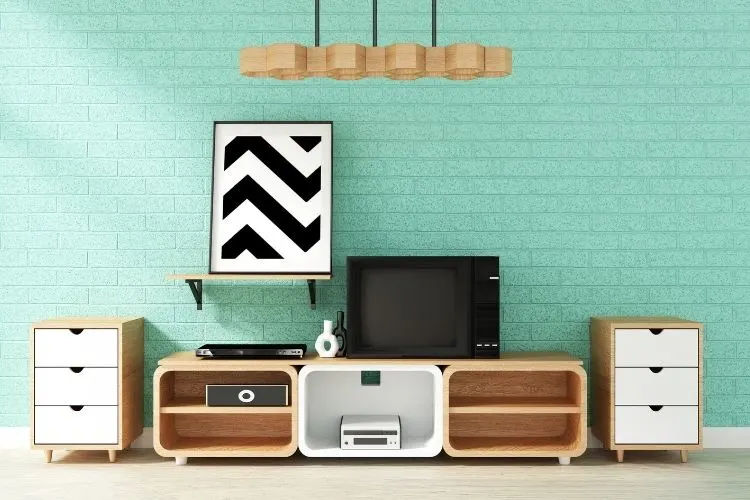 Retro is an ever-changing style because it stretches from 20 to 40 years back. Retro styles were highly focused on the 1970s until 2022 came along. Look at it this way, 2022 didn't just change the way we live, socialize, and work; it also changed how we should be retrospectively styling our homes.
Sure, you don't need to be as strict as I am when it comes to periodic accuracy, especially if you love the flower power vibes of the 1970s. Everyone loves minor psychedelic elements in their lives, but I tend to be periodically accurate because I specialized in antiquities for a living. Don't get me wrong; I love retro living as well.
To understand what retro matches, you should explore the many faces of how it looks. The two main decades for retro designs have officially become the 1980s and 1990s.
The 1980s
The 80s brought us some of the best music, TV shows, and pop culture, but our homes commonly had:
Bright and bold Memphis Designs
Heavy and elaborately patterned drapes
Perfectly monotonous rooms with bright colors
Massive speakers loud enough to wake the dead
CD racks everywhere!
Bright vintage lamps (hot enough to burn paper)
Pop culture wall posters to line a path to the moon
Beige, teal, and pink walls
Hanging plants
Phones attached to walls
Solid wood dining tables and chairs (often terribly uncomfortable)
It's lovely to add 80s touches to your home, but it's not something you can go pack in a box with dynamite and wait for it to explode to paint the walls. The 1980s brought some beautiful furniture that fits into other styles, but today, completing an 80s retro home is social suicide.
The 1990s
The 90s were when the internet exploded, and people could use it to fix those elaborate 80s homes before completing their social suicide pacts. The 1990s looked like this:
Larger entertainment units to house an ocean of electronics
Romcoms brought some popularity to shabby chic styles and painted furniture
Eclectic surges in decorating styles saw bright colors and effects enter homes
Mediterranean influences introduced hints of Tuscany and Provence to our cottage-style homes
Bold accents like stone and wooden walls
Halter tops and flare pants (we want to forget this one)
Wood cabinets with white countertops
Pastel colors and plastic plants
Bold and damask patterns
Wicker furniture
The 1990s are easier to match to contemporary designs, but it's all about balance. Retro accents are incredibly eye-catching if used correctly. Would you turn an entire room into a 1970s Austin Powers shag corner just because you love the 70s influence on retro designs? No, I hope you said no.
Balancing Tips for Retro Furniture
Once you choose the suitable retro TV stand for you, you can match numerous interior styles. You can add accents from multiple designs to create something eccentric enough to set a new trend. These are the styles in which you can use retro furniture:
Antique
Contemporary (in some cases)
Cottage
English
European
Farmhouse
Shabby Chic
Vintage
Recommended Complimentary Pieces
It all comes down to balancing retro furniture and decor with other styles. Adding a retro TV stand to your home will bring that nostalgic feeling back, but you can also add some additional accents like:
Frequently Asked Questions
Question: What Era is the Current Retro Style in 2022?
Answer: Retro styles stretch from 20 to 40 years back, which means the 1980s and 1990s are the main inspiration for retro fashion, furniture, and designs today. Anything older would is considered near vintage, which is 50 to 70 years in the past. The clock certainly keeps moving, and so does this ever-changing style.
Question: Is Retro Style Still Trending in 2022?
Answer: Due to retro styles evolving constantly, it can never truly go out of style. It continues to reproduce the nostalgia from decades earlier. As the styles change, retro designs will mean different things. It's the only evolutionary style because it depends on societal revisits to past times, fashions, and interior designs.
Question: What is the Difference Between a Retro and Vintage TV Stand?
Answer: They might look the same, but vintage and retro TV stands have a significant difference. Vintage TV stands were made between 50 and 70 years ago, whereas retro TV stands are currently reproduced to imitate the furniture designs in the 1980s and 1990s. The one is genuine, and the other is a sentimental imitation.
Best Retro TV Stands: Final Thoughts
Again, be careful of retrospecting so hard that Austin Powers shows up in his time machine. I love anything with a story, though, and retro furniture might be a reproduction, but it still tells a tale of a time long gone. Furniture is mass-produced with highly questionable quality today, but old-school furniture fits well into modern homes.
I have a few gorgeous pieces accenting genuine antiques and popular vintage furnishings. I didn't have to step back into 1980 to add a retro TV stand. I simply had to find one that fits into my current style. It gave me the nostalgic feeling I craved while keeping my living room versatile and stylish.
I recommend the Bates TV Stand due to its versatility and sleek design. If it doesn't fit your wistful ambitions, choose any of the other options. The point is that you kit your home with a retro masterpiece, any of them.
For more retrospective reading