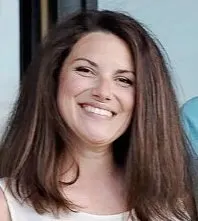 Latest posts by Sarah Caldwell
(see all)
The Hamilton Watch Company was incorporated in 1892 in Lancaster, Pennsylvania.
They released their first watch in 1893. They continued American operations until 1969, when they were bought by the largest watch manufacturing company in the world, the Swatch Group.
Along the way, they produced many different types of watches. Some of the most notable were the watches they shipped overseas during World War II, when commercial watch manufacturing ceased.
They made marine chronometers, deck watches, and pocket watches for the U.S. military as well as allied troops.
However, the vintage Hamilton pocket watches are a thing of beauty, and if you can find one in pristine condition today, you'd be ever so lucky.
History of Hamilton Watch Company
The Hamilton Watch Company succeeded from three other watch manufacturers in Lancaster, Pennsylvania.
The Lancaster Watch Company was bought out by Abram Bitner, who started the Keystone Standard Watch Company.
Keystone had a patented dust proof watch design that they created with a mica window covering the opening in the plate of the movement.
In 1891, Keystone merged with a watch company out of Illinois called Aurora Watch Company.
Unfortunately, in that same year, Keystone went bankrupt and was bought by the Hamilton Watch Company. Stockholders originally wanted to name the company Columbian, but the Waterbury Watch Company had a trademark on the name.
They eventually decided on Hamilton, named after James Hamilton, who was the son of Scottish-born lawyer Andrew Hamilton. He founded the town of Lancaster and was the original owner of the land where the factory was built.
Their first watch was an 18-size antique pocket watch with 17 jewels. For the first fifteen years, they only manufactured an 18-size and a 16-size.
During the railroad expansion leading up to World War I, Hamilton manufactured pocket watches and owned 56% of the market. Their first series of pocket watches was called the Broadway Limited and was known as the "Watch of Railroad Accuracy."
The first wristwatch was made in 1917 and was a 0-size, 17 jewel, 983 movement marketed to men, even though the design was originally intended for women's pendant watches. They switched over to manufacturing only wrist watch models after World War I.
During World War II, they dropped their consumer products and focused on their business model to serve the allied military forces.
Hamilton enjoyed its last decade of being a powerhouse of American manufacturing in the 1950s.
The release of a celestial time zone clock for the Astra-Gnome project modeled what cars would look like in the year 2000 and the first electric watch was worn by Elvis in the movie Blue Hawaii.
Broadway Limited Railroad Pocket Watch
Most Broadway Limited edition pocket watches are 16-size, 17 jewel watches. They feature the name HAMILTON pocket watches displayed prominently on the open face. Each minute on this railroad watch is identified by a black tick mark and every five minute interval is marked with a red number. There is a dial with a second hand situated where the 6 should be.
The watches are encased with a high grade, plain, solid back and a clear cover on the open face. Under the back cover is the mechanism, etched with "Hamilton Watch Co Lancaster, PA" and the number of jewels.
If they still work, the Broadway Limited edition series of pocket watches go from about $200 to $500 or more, depending on condition. Because Hamilton built watches so well with high-quality parts, much work, even if they were heavily used.
These are some of the most collectible Hamilton pocket watches made, and they're highly sought after by collectors everywhere.
While not as valuable, the S18 pocket watch, manufactured around 1897, is much more ornate. It's a unique find, and you'll pay less than $100 for it. It's much less likely that these still work if you find them, but they're definitely vintage.
The watch case of this railroad grade pocket watch is made of a silver ore. Once again, the back of the case is high grade, plain and the cover on the front is clear, giving visibility to the face without opening it up. The inside of the back is typically stamped with the silver's patented date.
The face features "Hamilton Watch Co" in a beautiful scripted font.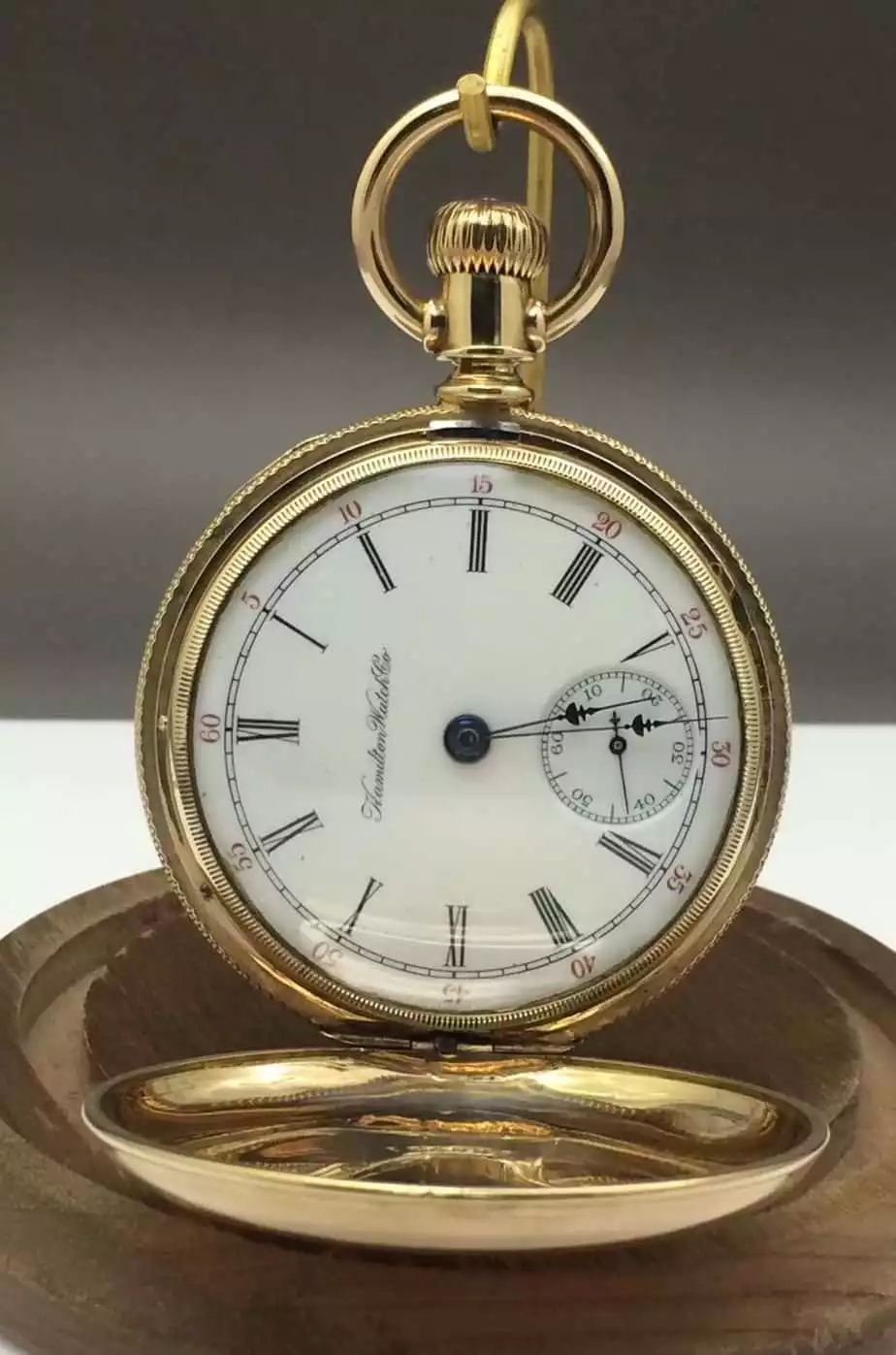 Hamilton S18 Pocket Watches | eBay
Find the best deals on Hamilton Size 18 Antique Pocket Watches when you shop the largest online selection at eBay.
Check Prices
We earn a commission if you make a purchase, at no additional cost to you.
Each number on the railroad grade pocket watch is a Roman numeral, the minutes are identified with black tick marks, and every five minute interval is marked with a red number. The second hand is positioned where the VI would go.
Underneath the back, the mechanical parts are marked with "Hamilton Watch Co. Lancaster PA." in an Old English font, but this one isn't marked with the number of jewels. It's an 18-size, 17-jewel watch.
Related: Best Pocket Watches for Vintage Time-Keeping
This railroad watch is another notable collector's piece, featuring many of the same design aspects as the first two, with minute markings on the face and a second hand at the bottom. It says HAMILTON on the face and is a 16-size, 21 jewel pocket watch manufactured around 1908.
In 1950, Hamilton released the 992B model, which was a commemorative model based on the original. It said HAMILTON RAILWAY SPECIAL on the face and rested in a 10K gold filled watch case.
This 16-size, 21 jewel pocket watch with railroad grade quality features ornate scrollwork on the casing and was manufactured around 1908. The mechanism is marked with "Hamilton Watch Co USA," the number of jewels, and the model number.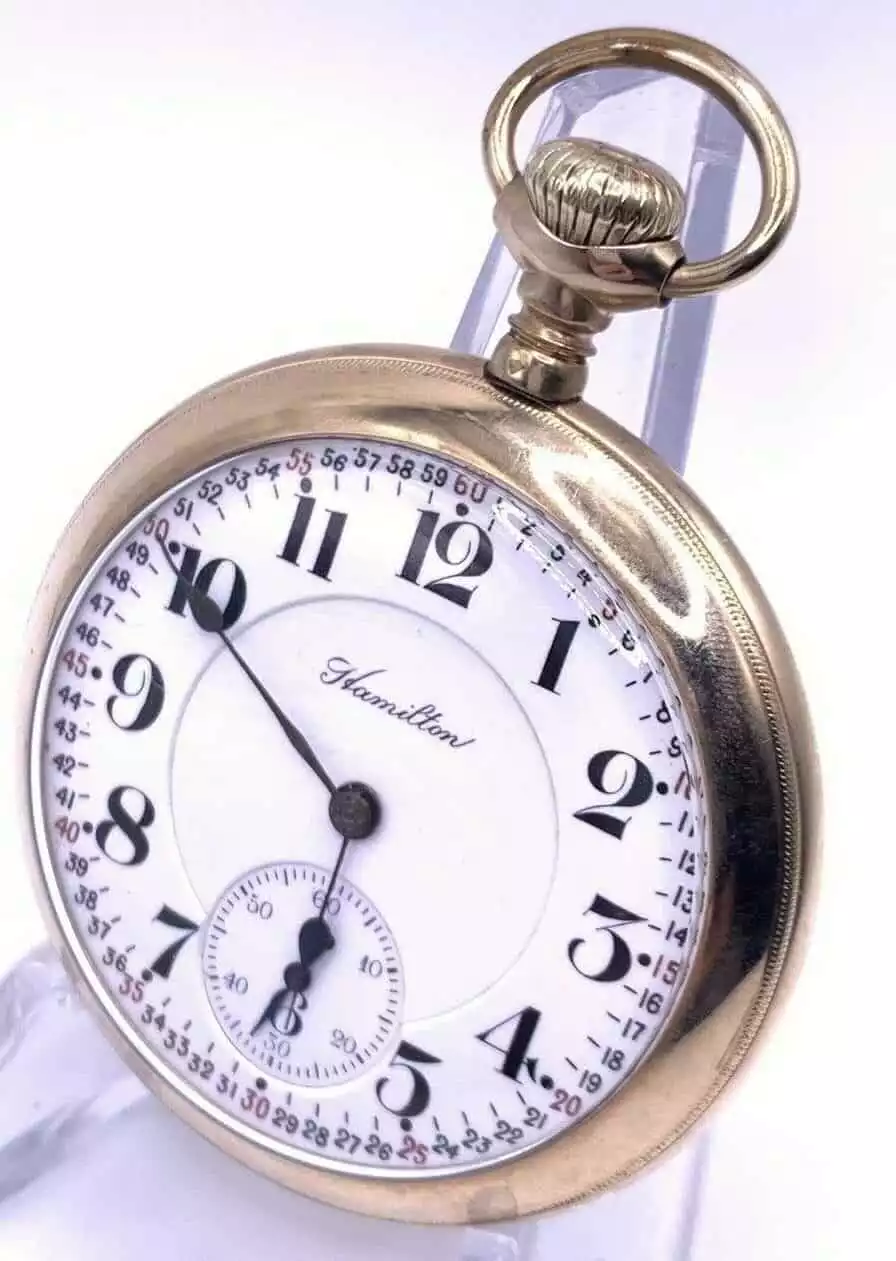 Both of these models are equally collectible and go for around $300 depending on condition.
If you weren't a fan of these watches mentioned above, I have an alternative option for you. It is an American watch, Waltham 'American Watch Company' Grade, 21 Jewel, Model 1872.
These watches had a special solid-gold case and would not fit in anything else. This American pocket watch is a factory non-magnetic version that has a special balance that includes a compensated non-magnetic balance wheel, a platinum pallet fork, and a white metal hairspring.
FAQ
Question: Where is the ? on a
Answer: You will find the serial number of your Hamilton Pocket watch by removing the back cover of the watch. The number will be engraved in the movement of the watch.
Question: How much is a Hamilton Railway Special worth?
Answer: The Hamilton Railway Special pocket watch can range anywhere from $200, if it is isn't running and has some condition issues to about $500, if it is in a great condition.
Question: Which type of is the best?
Answer: The quartz movement, is the best type of watch movement because it uses a battery for its power, and doesn't need winding like a mechanical watch. The quartz movement is the most accurate type of movement.
Final Thoughts
If you're in the market for a vintage Hamilton pocket watch, you'll find plenty of them around. Many still work, but you'll pay a pretty penny for those in great condition. They're well worth it if you're a true collector. However, there are others that are just as fun to collect and won't cost you that much at all. An example being the Hamilton S18 Pocket Watch. What are you waiting for? Go antique watch shopping!