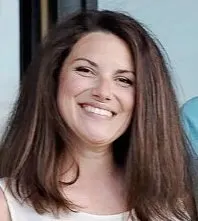 Latest posts by Sarah Caldwell
(see all)
Waterbury clocks are famous for the use of brass in their clocks. They were one of many clock firms in Connecticut, but they were likely one of the most famous. They were huge, popular, and very successful.
In fact, you've heard of the company they eventually became, even though you might not know it. You may even own one. Have I peaked your interest yet? Read on to find out more.
Who was the Waterbury Clock Company?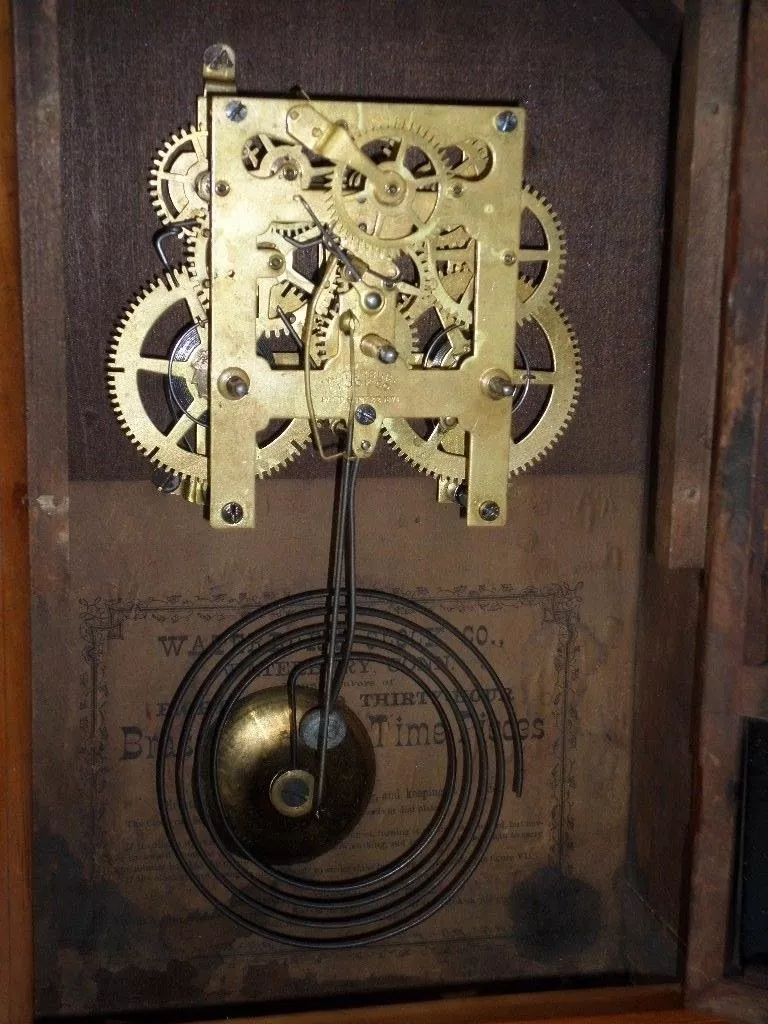 Image via Wikimedia Commons
The Waterbury Clock Company started its life in 1857 as a subsidiary of a brass manufacturing company called Benedict & Burnham. In fact, they didn't have any experience in making clocks, but they wanted a way to use their brass movement.
By the time the Waterbury Clock Company went out of business in 1944, they had become one of the most well known makers of antique wall clock models. They also made different mantel clock models, watches, and clock movements.
Because they were so deeply ingrained in the brass manufacturing business, this metal became a huge part of the design of all of their clocks, but in the beginning, they didn't employ anyone who had any experience making clocks.
Instead, they sold movements and cases for clocks made by others. The brass movement was marked with the Waterbury Clock Co. name and can typically be identified by their rounded edges.
Finally, they hired brothers Chauncey Jerome and Noble Jerome. Production grew rapidly after that in the 19th century, and in 1873, they had to build a new production facility to accommodate the number of products they were making.
They added non-jeweled pocket watch models in the 1880s and 90s and by 1890, the company was making 20,000 clocks and watches every day. They sold these products through Sears, Roebuck & Company as well as a few other retailers.
By 1915, they were making more clocks than any other clock factory manufacturer in the United States. They were producing somewhere in the neighborhood of 600,000 clocks and watches every month between their two production facilities.
The Waterbury Clock Company had a good relationship with R.H. Ingersoll & Brother, another watch company at the time. The company began to struggle in 1922, so the Waterbury Clock Company bought them and they became the Ingersoll Waterbury Clock Company.
Unfortunately, the Waterbury Clock Company began struggling during the Great Depression, too. One of the things that kept Waterbury watch afloat during the Great Depression was their agility and willingness to move to more modern designs.
They began producing Mickey Mouse wristwatches, which were insanely popular and started a trend that continues to this day, despite the fact that no one, including Walt Disney himself, thought they would sell.
They also began making modern electric clocks in 1932. This shift proved that they were able to adapt, and during World War II, they began supporting the war effort. In 1942, they sold to a Norwegian group who renamed the company the United States Time Corporation, which eventually became the Timex watch.
Famous Waterbury Clocks
Waterbury clocks remain very collectible today. There were over 600 models produced, and while some are more famous than others, all are still very high quality, especially if they're in good condition. Here are a few of their more popular items.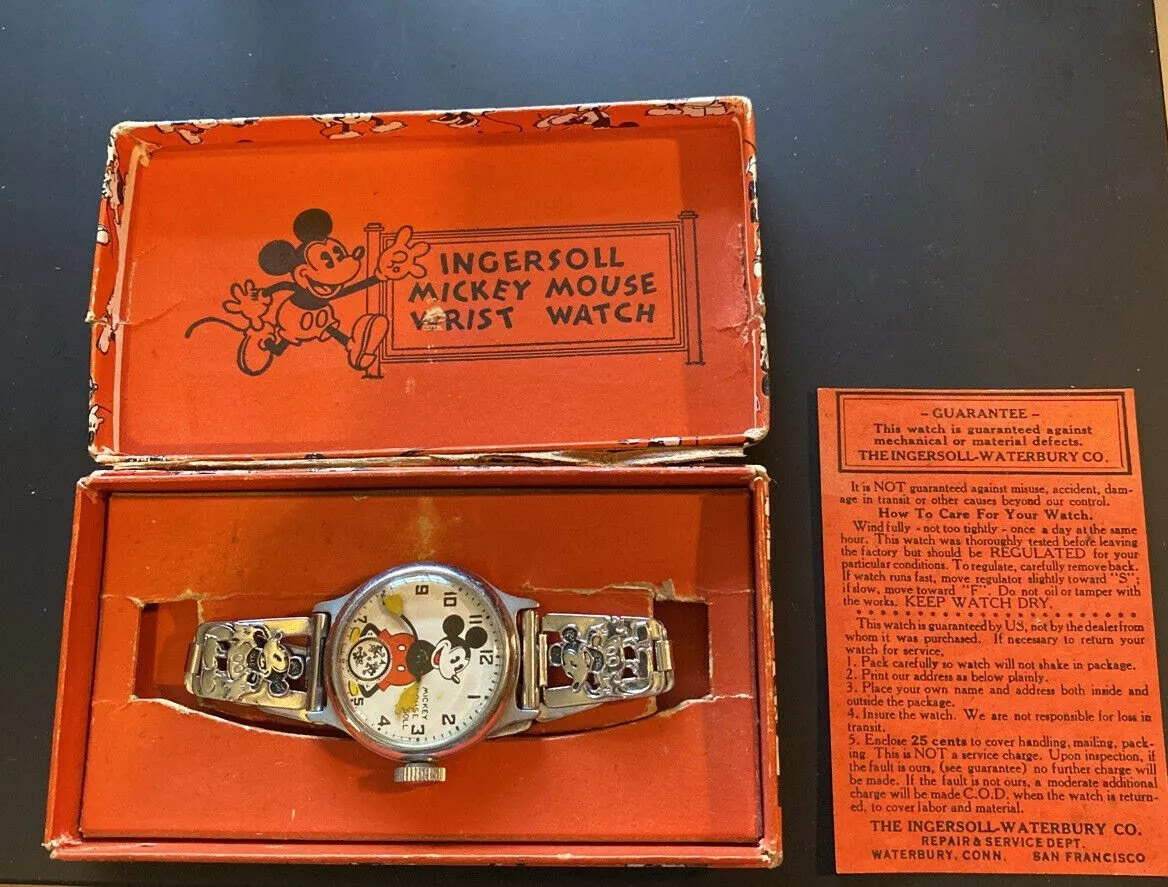 Image via eBay
The story behind Waterbury's Mickey Mouse watch is a fascinating one. In fact, no one thought it would sell. Not only did it sell, but it practically saved the company. You can read the story in more detail here, and if you're in the market for a Mickey Mouse watch of your own, you've got some stiff competition.
The watch pictured here was actually a later model than the original, and was made under the Ingersoll Waterbury Clock name. However, it demonstrates how the watch became one of the most popular items that the company produced, and it followed many iterations after it first came out.
Related: Check out more of our favorite antique clock styles for collectors.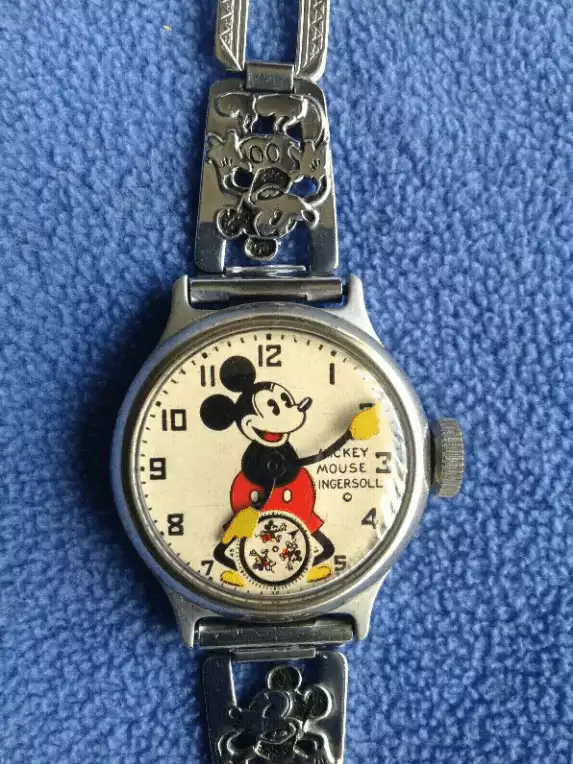 Wrigley Regulator
This particular Waterbury clock is an interesting one. It was manufactured in 1900 specifically for the Wm. Wrigley, Jr. and Co. The Wrigley family were famous for chewing gum, but the relationship between the two companies ensured that they had a Waterbury clock model in their name.
The Wrigley Regulator clocks were finished in an oak case, included a 31-day month around the outside of the face, and had a paper label on the inside of the case. Interestingly, this model is not in the Waterbury watch catalog, which may indicate that it was originally made for the family and then entered into mass production later.
The Waterbury Cat
This is one of many Waterbury models that were designed in the shape of something else entirely. Waterbury made a banjo, a ship's bell, music men, and a sunflower, to name a few.
The Cat has a cat face with a tail pendulum. It was manufactured around 1935 and was definitely a novelty clock. They're very rare today, and if you can find one, you're very lucky.
Augusta
One of the more widely available Waterbury clocks is the Augusta. It was first manufactured in 1893, but there are still quite a few in circulation. They were large, open swing clock with two dragons at the top.
The top decorations and trim are very ornate with intricate details, which was very common at the time.
Identifying a Waterbury Clock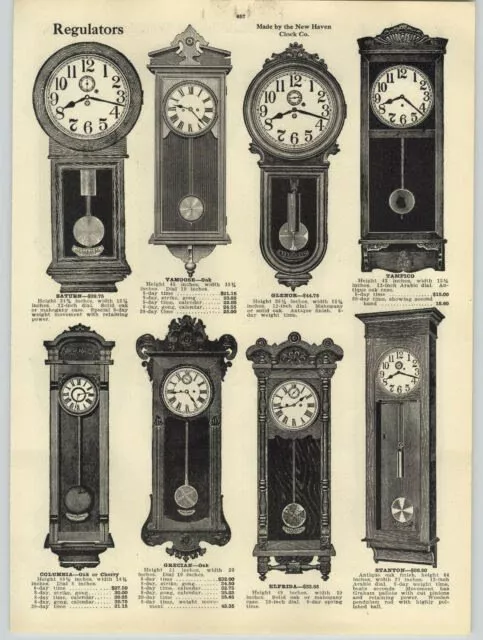 Image via eBay
There are several distinguishing characteristics of a Waterbury clock, the first of which is likely the easiest to identify. Every Waterbury clock was marked with the company name "The Waterbury Clock Co."
This marking is typically engraved or printed on the dial face. You may also find it on a paper label on the back of the clock or inside the clock case.
Style
While it may be difficult to identify a Waterbury clock by its style, you can almost guarantee that it's made of oak or walnut. Almost all faces display Roman numerals rather than digits. However, the company did an excellent job of keeping their clocks current with the fashions of the year.
You'll find Waterbury clocks in a variety of styles including Mission, Art Nouveau, Art Deco, and Victorian Revival. Some are wall clocks while others are free standing. If you're interested in learning more about the endless number of styles, there are large volumes published about their identification.
Characteristics
Most Waterbury clocks are made of wood. A very small number of clocks with a black finish were made, and even fewer were made in white. You may occasionally find a porcelain or enamel finish.
All clock movements are engraved or stamped with the manufacturer's name, the date, and a Waterbury patent marking. These movements had rounded corners and were made of brass. If they were made of steel, it was brass-plated.
FAQ
Question: What are dials made of?
Answer: Watch dials are made of vitreous enamel. This is a type of glass. In the USA, they call it porcelain enamel. But sometimes, it is abbreviated wrong as porcelain. And this is where the porcelain dial gets its name from.
Question: Are clocks worth anything?
Answer: Yes, Antique Waterbury clocks are very valuable when they are still in a working condition.
Question: Where are clocks made?
Answer: The Waterbury clocks are made in the the Waterbury Clock Company factory in Waterbury, Connecticut.
Waterbury Clock Pricing
Many Waterbury clocks are highly sought after. In good condition, antique Waterbury wall clock models can bring upwards of $800. Some of the small, brass alarm clocks may only cost around $30.
If you're in the market for an original Waterbury Mickey Mouse watch, get in line. These aren't hard to find, but you won't come by them cheap. You'll pay at least a few hundred to get one in good condition. Another option is to get a Waterbury clock that is still in a working condition by bidding at an auction. So make sure you are the highest bidder!
Top Image Credit: Image by Housing Works Thrift Shops via Flickr