Latest posts by The Old Timey Team
(see all)
Weather vanes, or wind vanes, are often found perched on top of roofs to indicate the current direction of the wind.
While these are mainly used as decorative pieces in the modern world, they have an interesting backstory that many might be surprised to learn about.
In this post, you'll learn all about the iconic weather vane, including its history, heritage, famous examples, and where you can find classic copper models today.
The History of the Weather Vane
The weather vane is believed to have been first created in 48 B.C. by Greek astronomer Andronicus. Designed to replicate Triton, the Greek god of the sea, he installed it on the top of Athens' Tower of the Winds.
As the air blew, the arrow in Triton's hand would move toward that direction.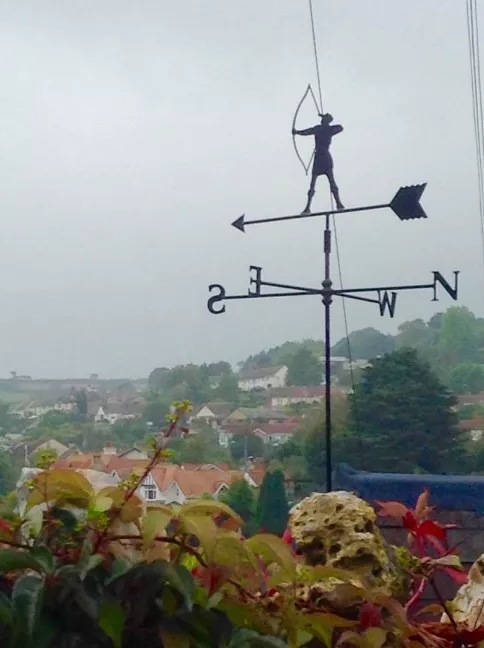 Over time, this device gained popularity in the Greek and Roman world and many wealthy people installed it on top of their homes as a way to honor their mythological gods.
Eventually, the weather vane spread throughout the world. Besides homes, they were fit on top of ships and barns.
During the 9th-century, churches also equipped weather vanes on top of them as Pope Nicholas I declared that a rooster-shaped weather vane would help the church to remember Peter's disloyalty toward Jesus.
The church also believed that the rooster depicted light and resurrection making it even more symbolic to place on the exterior of a holy dwelling.
The weather vane remained popular, but as the years passed, it went through a major redesign, especially during the Middle Ages where they used cloth alongside it for better accuracy.
When settlers arrived in America, they also brought the tradition of the weather vane with them. In the 1700s, many metalworkers sculpted unique items for buyers to place on their homes or barns making it now a nostalgic piece of Americana.
While they were used for practical purposes at first, when the Victorian era arrived, weather vanes were modified into art pieces and became much larger and more intricate in their designs.
Related: 12 Navigational Instruments we Still use Today.
How Do Weather Vanes Work?
A weather vane works on an axis system. The top of the weather vane features an image (such as a rooster) and a small arrow. The bottom will display the directions.
After it has been secured on a structure, the weather vane will begin to move around according to the wind patterns. To help you visualize where it's blowing, the arrow will turn toward the direction on the bottom.
For best results, a weather vane needs to be placed on a high elevation and away from large buildings to catch the wind.
Why the Rooster?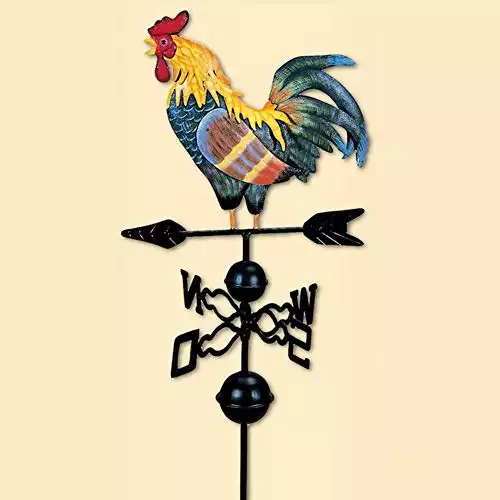 As mentioned above, the rooster was first used by the church because of its Biblical symbolism. However, the rooster has since been a favorite shape for weather vanes because its tail can catch the wind better compared to other figures.
Iconic Weather Vanes in History
There have been thousands of weather vanes constructed throughout time, but there are a few that stand out.
The Bayeux Tapestry
The Bayeux Tapestry isn't a weather vane itself, but has a rooster weather vane embroidered in it. This tapestry celebrated Britain's Norman conquest and shows a worker installing the weather vane on the roof of Westminster Abbey.
Mount Vernon's Dove of Peace
When the Revolutionary War ended, George Washington requested a custom weather vane to be made for Mount Vernon. Known as the Dove of Peace, it was meant to symbolize tranquility and unity in the country.
Ottery St. Mary Cockerel
Built in 1342, this British weather vane rests on top of a local church and is equipped with pipes. Its original design caused it to emit a rooster-like cry as the wind blew through it. However, this became a slight annoyance to the locals and the pipes were sealed. The cockerel was also used as target practice by Oliver Cromwell's troops during the English Civil War.
Monticello's Weather Vane
Thomas Jefferson wanted to build a weather vane on the top of Monticello's Northeast Portico and connect it to a compass in the room beneath it. This way, he could tell the direction of the wind without having to step outside.
Faneuil Hall Grasshopper Weather Vane
This iconic weather vane was designed in 1742 by Shem Drowne, a Boston craftsman, to embellish the top of the city's Faneuil Hall. The grasshopper weighs around 38 pounds and features copper and gold pieces.
Since it was installed, it has survived an earthquake and was used during the 1800s as a time capsule. It was also the subject of a lie-detector test during the War of 1812. To ensure soldiers weren't British spies, they would be asked to identify this famous object. If they didn't know what it was, they would be further questioned.
The Oldest Weather Vane in the World
The oldest weather vane still in existence is the Gallo di Ramperto. This rooster-shaped weather vane was constructed in 820 C.E. Made out of copper, it once adorned the roof of Italy's San Faustino Church.
Wind Vanes for Today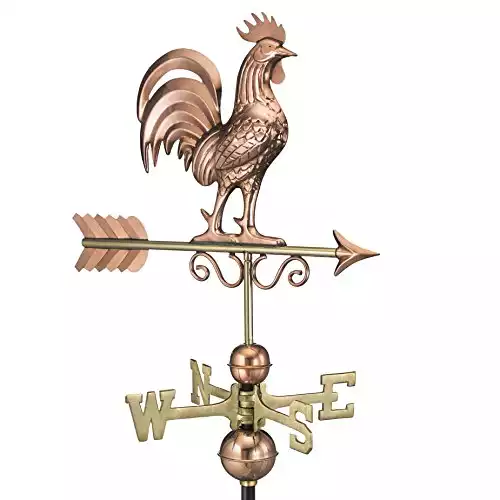 If you're searching for a traditional wind or weather vane for your home or shed, you can still find classic designs that are beautiful and functional:
Weathervanes of Maine, in business for over 30 years, offers handcrafted weathervanes and cupolas, with over 1000 unique designs in production.
If you're looking for antique or vintage wind vanes, check out eBay. There's a huge selection of vanes and lightning rods made from copper, metal, cast iron, wood and more.
For custom and truly unique weather vanes, check out the metal sculptors at Tucker & Holland. They've been making beautiful, heirloom quality pieces for over 50 years
Weather vanes have been used for centuries and are popular for their traditional rooster shape. These distinctive objects have not only helped generations understand the weather, but have served as a symbolic art piece.