Latest posts by Will Ames
(see all)
The iconic Texaco logo, with a capital "T" inside the star, was first used by The Texas Company to market its asphalt to consumers back in 1909.
The company later branched into the gasoline market as Texaco, and its iconic star logo started appearing on signs, gas pumps, oil cans and more.
If you're a collector of vintage and retro advertising memorabilia, you can still seek out these original Texaco signs on places like eBay and Craigslist.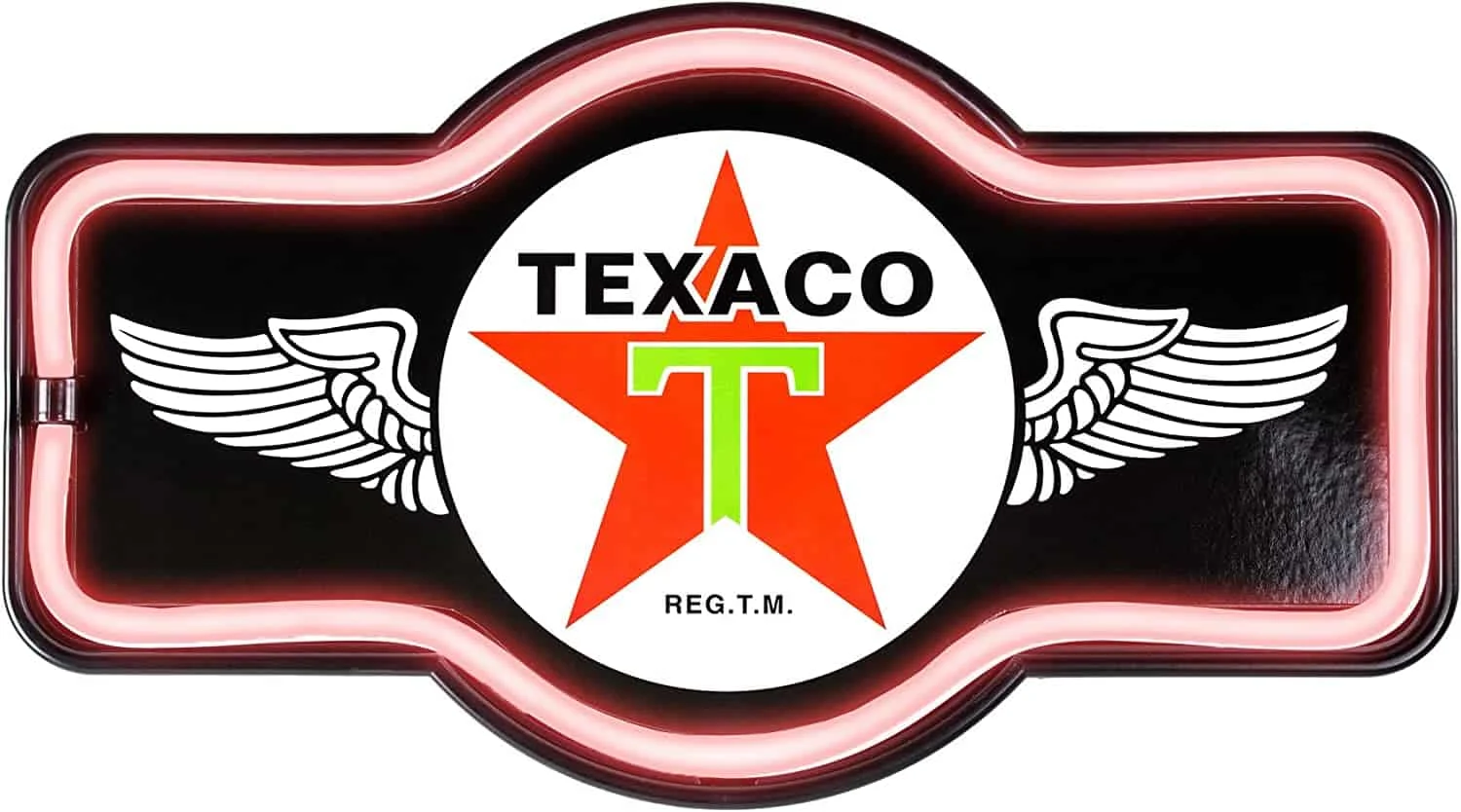 But if you're looking for some bold retro decor for your game room, bar, restaurant, garage or workshop, you want might want to combine that famous logo with modern touches such as LED backlighting, lightweight materials and pre-drilled holes for easy hanging.
In this case, you can check some of the Texaco sign reproductions available on sites like Amazon.
In fact, there are tons of these available. To help you sort through the bunch and find some truly retro wall art, we've chosen 6 of our favorite vintage Texaco signs for your old-timey styling.
The Top 6 Best Vintage Texaco Signs
1. Desperate Enterprises Texaco '36 Round Tin Sign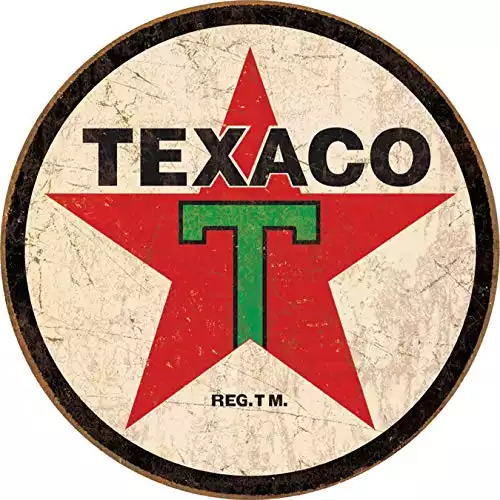 It would be almost impossible to start any guide such as this one without first tipping our hat to this Desperate Enterprises Texaco '36 Round Tin Sign, an effortlessly cool piece that offers everything you could possibly ask for in a vintage Texaco sign.
Measuring 11.75″ in diameter, this lightweight tin collectible sign features the classic Texaco red star with the green T, black TEXACO branding, and black circular border. This was exactly the kind of design you would have seen from as early as the mid-late 1930s, meaning it was prominent during the time of World War 2.
However, the black border around the green T more accurately dates it to 1948, and to be truthful, it really does look that old.
It's weathered, distressed, oil-stained look makes this one look like it was plucked straight from the walls of a wartime mechanic's workshop and placed in your home, while the scuffed and faded edge of the circular border lends the whole thing an air of authenticity that makes this collectible reproduction sign a must for any fan of vintage decor.
2. Texaco Oil Gas Station – Reproduction Vintage Advertising Marquee Sign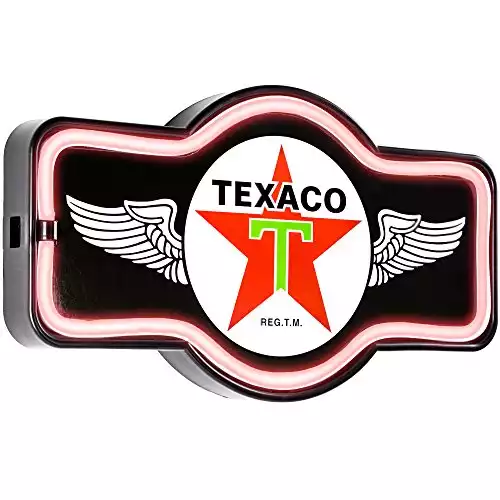 If you love the idea of an old-school sign but still want something that wouldn't look too out of place in a modern environment, this Texaco Oil Gas Station – Reproduction Vintage Advertising Marquee Sign is the way to go.
Again it features the iconic red star, green T logo, this time with a white border, dating it to some time between 1936 and 1963. The unique design is topped off with wings spreading out into a black background, and a seriously cool LED light rope which, when turned on, looks just like the classic neon lighting of old.
All this makes it a perfect choice for hanging on the wall in a diner, or above a bar to recreate a retro bartending experience, though it would still look just as impressive hanging in your man cave, workstation, or games room.
The LEDs are powered by 4 AA batteries, though we've heard some owners complain that the sign burns through batteries really quickly, so you may be better off using the 6″ wall plug that comes included.
Whichever method you chose to power this gorgeous replica advertising sign, it's sure to be a talking point in any room you place it in.
3. Neonetics Texaco Motor Oil LED Lighted Sign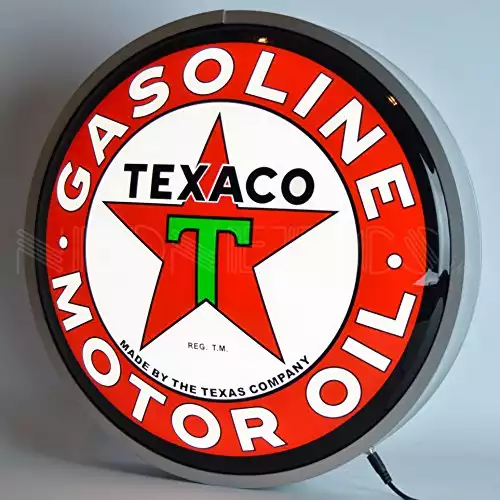 We'll move away from neon signs soon but, before we do, we couldn't resist telling you how much we love this Neonetics Texaco Motor Oil LED Lighted Sign.
Once again, we're looking at the legendary five-pointed star, symbolic of the state of Texas and the origin behind the brand's famous "you can trust your car to the man who wears the star" advertising jingle from the 1950s and 1960s.
With this one, you've also got the bold 'GASOLINE/MOTOR OIL' branding surrounding the logo, making this a great example of old-school advertising being used as modern-day decor.
The neon backlights are powered by a standard plug and add give the whole thing a stylish finish that would make it look just as good hovering over your retro fridge in a throwback-style kitchen as it would in a bar, diner, or themed restaurant.
4. Open Road Brands Texaco Galvanized Metal Tin Sign
The Open Road Brands Texaco Galvanized Metal Tin Sign is the perfect combination of the dirty, beat-up look you get with our first-placed sign from Desperate Enterprises and the awesome winged logo featured on the neon advertising marquee we looked at earlier.
The combination of embossed metal and black paint looks highly impressive, giving it the kind of style that makes it seem as though it came straight from the walls of your local biker bar or saloon. Meanwhile, the whole thing suitably scratched, battered, and worn to give it a genuine feel.
Perfect for garages, workshops, and even old-school office designs, this is undoubtedly one of the best-looking Texaco sign reproductions you're going to come across.
5. Open Road Brands Texaco Dealer Restroom Wall Art
And now for something completely different. If you own a bar, diner, or other commercial venue with a vintage feel, the Open Road Brands Texaco Dealer Restroom Wall Art is practically a must-have.
Think about it. Can't you just picture this one hanging on the wall above a jukebox, a retro-style phone hanging next to it, and the kind of atmosphere that instantly transports you back in time?
Of course you can, but there's no reason why only commercial venue owners get to have all the fun with this gorgeous sign. Stick it at home in or around your bathroom and it's sure to be a fun conversation piece whenever you have guests over.
6. Maiyuan Motor Car Oil Metal Sign
It's dirty, it's battered, it's seriously well worn…
And those are all its good points.
With the possible exception of our top-ranked sign from Desperate Enterprises, no vintage Texaco sign looks more like the genuine article than the gorgeously grubby Maiyuan Motor Car Oil Metal Sign.
Instead of the five-star logo, this one features the hexagonal design that the brand adopted in the early 1960s and kept all the way through until 1981.
While that may mean the design itself isn't as old as other signs on this list, the faux-rust around the edges and beautiful weathered look really make this one appear as though it's withstood the test of time.
As if it could truly tell you a story or two about the things it's seen over the years.
Vintage Texaco Signs – Frequently Asked Questions
Question: Are These Texaco Signs Authentic?
Answer: Genuine antique Texaco signs typically cost hundreds, if not thousands of dollars. The products in this list are authentic reproductions that have been officially licensed to various companies from Texaco themselves.
Question: Why Are Texaco Signs So Popular?
Answer: Texaco signs have always been popular thanks to the company's iconic status and instantly recognizable logo. An American institution for over a century, the brand's famous ethos of "fuelling adventure" really appeals to the sensibilities of collectors, plus, let's be honest, they are just really, really cool.
Question: How Do You Hang a Vintage Sign on the Wall?
Answer: Most signs come with pre-built holes through which you can drill regular screws. Depending on the surface, some can even be attached to the wall using magnets, though these won't be as secure as those that are permanently fixed with screws.
Question: What's The Best Vintage Texaco Sign to Buy?
Answer: You've seen our pick of the top vintage Texaco signs currently out there, but which is the best one to spend your money on?
As with most things, the answer to that is all a matter of taste.
If you like a combination of retro appeal and modern features, the electric-powered faux-neon style of the Texaco Oil Gas Station – Reproduction Vintage Advertising Marquee Sign will be a great choice.
If you're on the hunt for a sign that offers unbridled amounts of old-school cool, Open Road Brands Texaco Galvanized Metal Tin Sign, will make an attractive addition to any space you place it in.
Yet if you want the absolute best sign on the market, one that looks authentically vintage, boasts the iconic Texaco logo, and is a breeze to mount to your wall, the Desperate Enterprises Texaco '36 Round Tin Sign offers all of that and then some, making it just as perfect for your home as it is for your bar, garage, or workshop.