Latest posts by The Old Timey Team
(see all)
Vintage luggage is making a comeback. And it's not hard to see why.
Vintage luggage from the 19th century was often crafted with the best materials and designed to withstand the harsh conditions of early modes of travel.
Boxes, trunks and early suitcases featured intricate details, brass finishings and hardware, leather and fine upholstery, and elements of authenticity such as personal inscriptions and manufacturer's details.
Nowadays, vintage luggage from the mid to late 19th century is a collector's dream.
Before the Suitcase
Among the many luggage innovations from the 19th Century, the most important and best known piece is the suitcase.
At that time, the transition from trunks to smaller and more portable suitcases was done for the literal purpose of carrying mens suits.
But the suitcase quickly evolved into a multi-compartment packing device with attachments for hat boxes, specialty shirt sleeves, and hidden pockets for valuables.
Leading up to the suitcase, the types of vintage luggage included "carpet bags" for shorter trips and a variety of trunks, in all shapes and sizes, for longer trips and storage needs. Out on the trail and in the military, they carried their gear in heavy duty rucksacks.
As we look at vintage luggage from this time period, it is evident that designs developed in response to a growing interest in traveling, both as a leisurely pursuit and a necessity to migrate.
Steamer Trunks and More
When people traveled in the 19th century, it was not done lightly. First, this was likely a serious voyage, possibly emigrating across the ocean to a new country.
Or traveling over miles of rugged country to stake their claim and start a new life.
Even if traveling regionally by horse and buggy, rail or steamer, these were significant journeys.
And to make things even more challenging, travelers carried their belongings in heavy trunks made of wood and metal.
But the trunks were beautiful and well-constructed.
They were adorned with decorative cross sections and slates of painted wood, heavy duty metal hinges and clasps, and leather coverings to resemble the style of furniture at the time.
The Steamer Trunk
The steamer trunk was perhaps the most popular trunk from the 19th century.
Steamer trunks were typically 14" tall to comply with steamship regulations, and the original steamer trunks had flat to slightly rounded tops so they could be tightly stacked within the ship's berth during transport.
Smaller versions of these ocean-bound trunks were called cabin trunks. The carry-on luggage of the time, cabin trunks were smaller and designed with low profile tops to fit under seats. They included several compartments to store valuables that would otherwise be kept in the main luggage hold and subject to theft or damage.
Because steamer trunks were often exposed to the elements, they also needed to be as waterproof as possible. To this end, steamer trunks were coated with tree sap or covered with canvas, leather or patterned paper.
Steamer trunks, along with other 19th century trunk styles including barrel-tops and Saratoga steamer trunks, often included elaborate tray systems for transporting and storing a full range of items.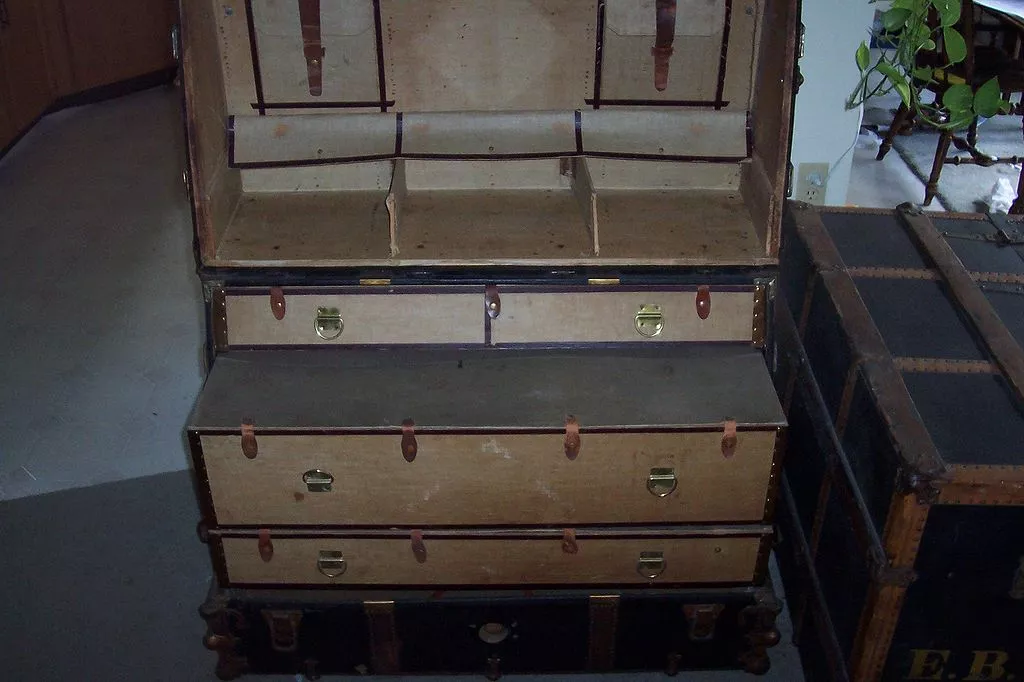 Tray systems included compartments for shirts, coin boxes, document storage, hat boxes, and secret storage compartments.
Vintage trunks from the 19th century are prized by collectors today. They are viewed as true relics from a time when luggage were designed to be very durable, fashionable and personalized to a great extent.
That's why serious collectors seek trunks with unique historical elements, such as emblems or family adornments. They also look for trunks that are still in good condition, with original details, working hinges and limited wear and tear.
Luxury Trunks from France
In France, companies like Louis Vuitton, Goyard and Moynat were designing steamer trunks for a new market of luxury travelers.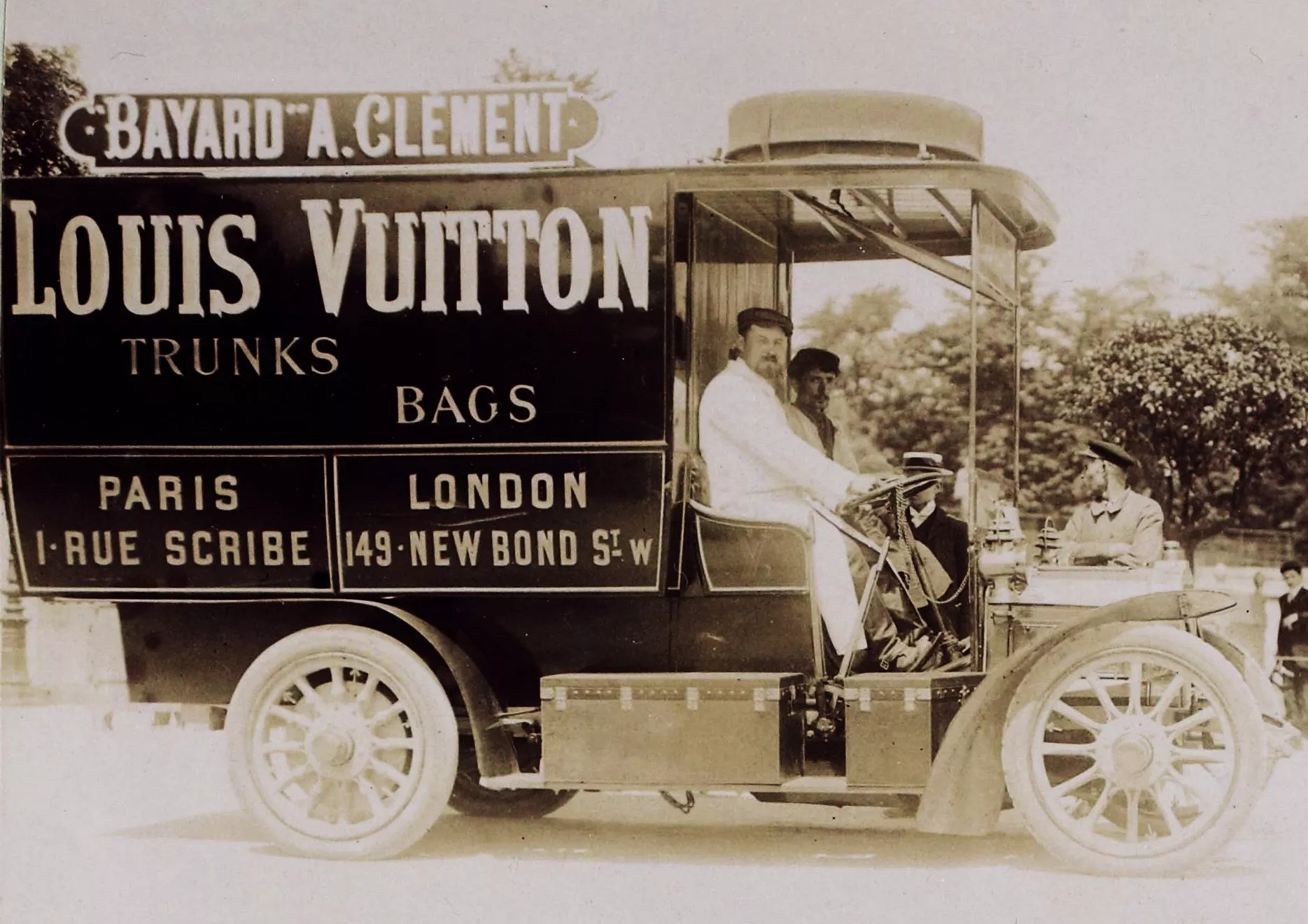 Beautifully crafted with artistic patterns, brass hardware, and interior trays lined with the finest textiles, these trunks were fashionable but also lightweight and durable.
Authentic French vintage trunks are still among the most treasured and valuable finds for collectors, along with the ever-stylish modern versions and throwback vintage styles from these companies.
The Suitcase Makes Its Debut
The availability of a new breed of luggage, the suitcase, coincided with the travel boom that really took hold in the first part of the 20th Century.
By that time, the original suitcase had been adjusted somewhat, and there were different types and styles to choose from.
But many were still like the earliest models, in that they were larger and much more cumbersome than what people think of as a suitcase today.
These suitcases folded out, and often had several compartments, unlike the clamshell styles that are popular now.
The cases were also still quite heavy, but not durable enough to withstand being stored in ship holds with trunks, so their use was somewhat limited at first.
Originally, the suitcase was an afterthought as part of the leather goods and luggage business.
In just a few short years, though, this new method of taking items along on trips had become the symbol of travel nearly everywhere.
From just a couple of mentions in the catalogs, all the way through to pages and pages of choices, the suitcase's position in the marketplace developed and changed quickly. That gave people who wanted or needed to travel lightly a lot of sizes, styles and packing configurations to consider.
Suitcases offered a very practical and convenient alternative for travelers who needed to carry belongings and move to where the work was on a regular basis.
In rural and agricultural communities, members of this growing class of migratory workers were known as 'suitcase farmers'.
They traveled during harvesting season and, because of the convenience the suitcase afforded, were ready to pick up and move to the next crop destination at the drop of a hat.
Which leads us to one of our favorite types of vintage luggage: the Hat Box.
The Hat Box Was an Important Accessory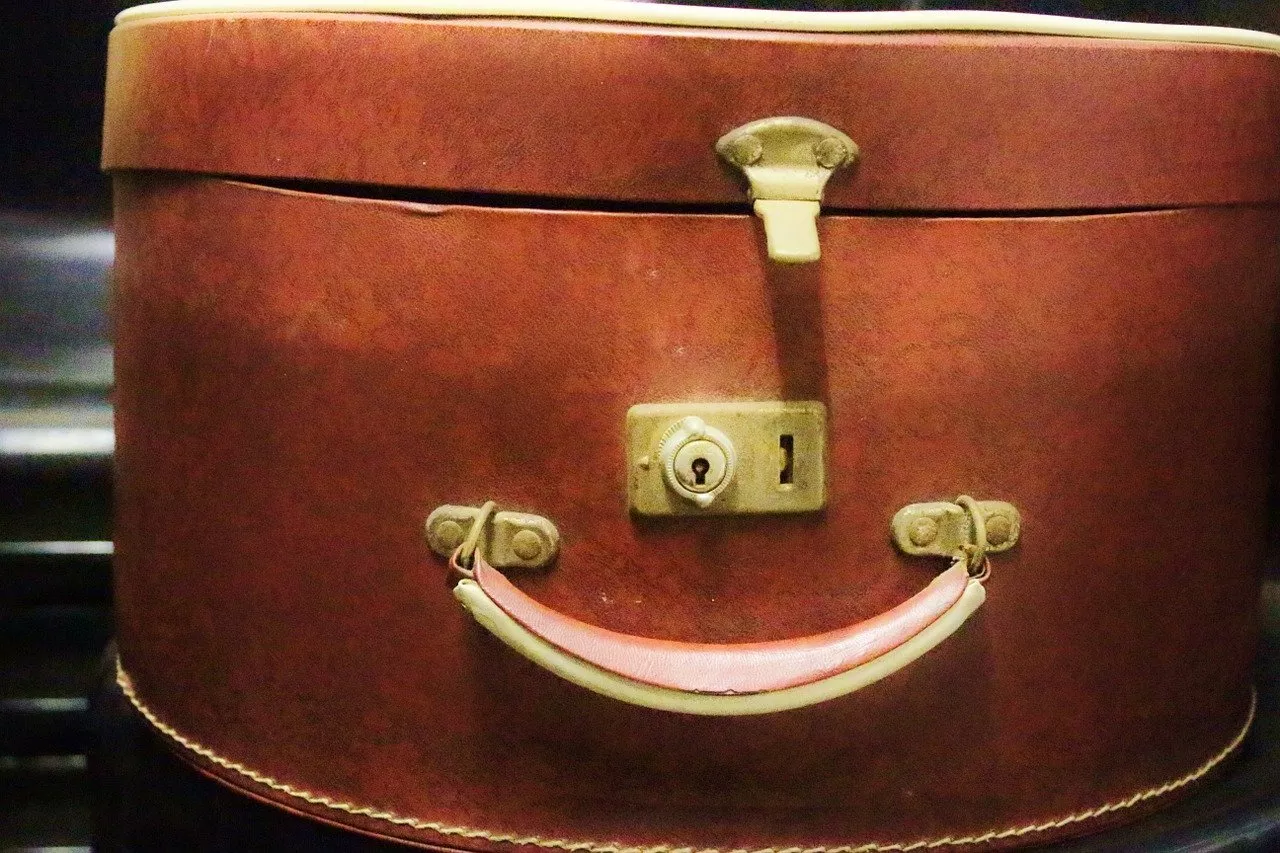 Hats were much more commonly seen in the 19th Century than they are today. These hats were also larger and more stylish than what is typically worn today.
They are not like the baseball caps and other options that can be found in stores. Instead, they were more decorative, taller, and generally had wider brims or more detail that required extra care when moving them from place to place.
Women, especially, wore hats with their elegant dresses, and larger hats were often symbols of status or wealth within the community.
Men typically wore a form of top hat, especially when well dressed for an event.
In order to make sure they could protect their hats from harm, people needed hat boxes when they traveled. These were sturdy boxes, and they often had a string or handle that could be grasped in order to carry them.
However, they were delicate enough inside to keep from damaging a hat, and they had to be stored with care so that trunks and other large pieces of luggage would not harm them if there was any movement of the cargo on a ship or when traveling by rail or other means.
Often these boxes were made from leather, and the inside was lined with paper and plush textiles to protect the hat on its traveling journey.
For men who preferred not to use a hat box, there was the collapsible top hat. Because it folded up, it was much easier to store. It could still be placed in a hat box, but there was room for more than one hat that way.
Additionally, it could be carefully placed in the special compartment a trunk or suitcase, where it could make the journey to the traveler's next destination without much fear of damage.
This protected the hat, and also reduced the need for additional luggage, since carrying extra hat boxes to store more hats was not necessary. Some travelers could use a suitcase and a bag, even if they were taking a relatively longer trip.
Luggage has come a long way from where it was in the 19th Century, but now the items that were used in the past to travel are being used in stationary ways to liven up decor throughout homes and businesses.
Whether or not you're a collector, it's hard not to appreciate the quality, beauty, durability, and style that 19th Century luggage had to offer.