Latest posts by Will Ames
(see all)
Hip flasks are back in style
While hip flasks became a fashion trend back in the 18th century, their popularity as a convenient and inconspicuous way to carry booze goes back even further.
Flasks were used by a broad cast of historical characters, from flappers of the 1920s and Western cowboys, to Roman legionnaires and generations of infantrymen.
When the 18th Amendment took effect and prohibition began, some states banned the sale of flasks.
Nowadays, it's still considered a violation of open container laws to carry your spirits in a flask while in public.
But flasks have been a part of our drinking culture for centuries. And these days, using a traditional flask is a nice complement to the rise of micro-distilleries and artisan spirits (we prefer a nice bourbon).
Hip flasks have a lot of sentimental value. And antique flasks have become sought after collector's items.
But if you're looking for a traditional hip flask, one that has stood the test of time and stays true to the earliest days of American drinking culture, look no further than the The Great American Flask from Jacob Bromwell®.
The Great American Flask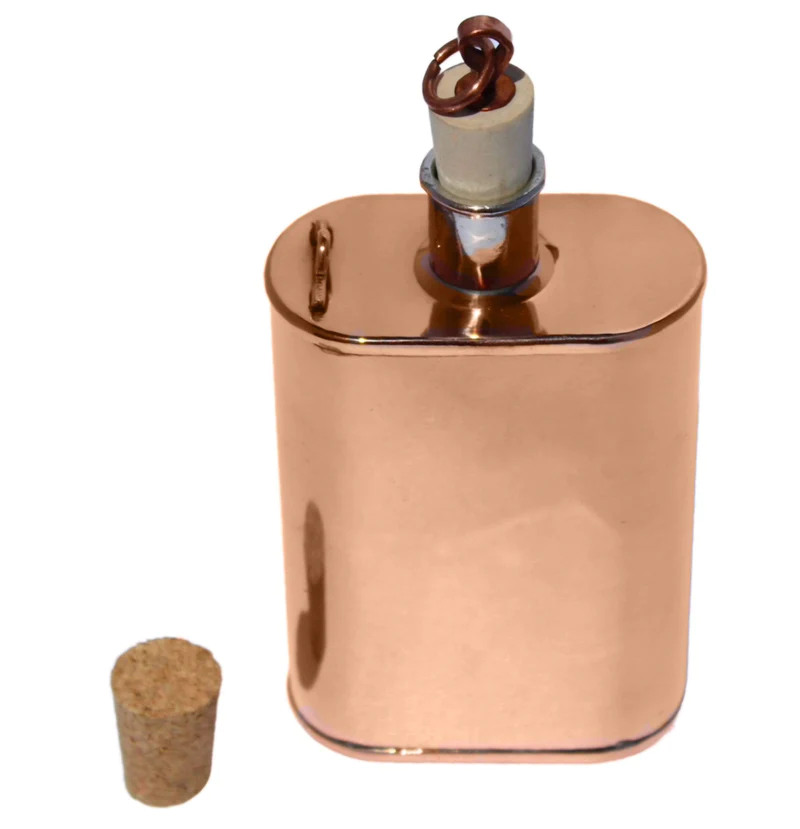 In 1819, Jacob Bromwell started making kitchen and housewares in Cincinnati as the Bromwell Brush and Wiregoods Company.
One of the oldest continuously owned and operated companies in America, the Jacob Bromwell® brand has long been associated with high-quality materials, craftsmanship and authentic design.
The Great American Flask is no exception.
This beautiful flask is made from pure, solid copper. Each flask is hand soldered at their workshop in Vermont.
Jacob Bromwell® stays true to their original 1819 flask design. The flask has unique rustic elements, such as the birch stopper, and elegant refinements.
And it will last a lifetime. In fact, each flask comes with a lifetime guarantee. So it's something that can be handed down from generation to generation.
Because it's made from pure copper, the flask will not rust. Just make sure that you do not put this flask in the dishwasher. This one is strictly hand wash.
The Great American flask holds 9 oz. of liquor. This is a standard amount that's perfect for personal use or sharing amongst friends.
This flask makes a great gift too.
And to make your gift even more special, you can add a custom engraving to the flask or a handmade wooden box with your order.