Latest posts by Will Ames
(see all)
Forget about your modern speakers or Amazon Echo and instead invest in one of the best retro jukeboxes which not only offer an old fashioned aesthetic but offers fantastic sound quality that musicians dream of.
We've already shown you how a retro radio can really add a nostalgic retro vibe to your home and a jukebox can take it even further. They are an interesting feature and with their quirky designs and old timey feel guests to your house will instantly notice it and want to crack on the tunes.
Before the days of Spotify, bluetooth speakers and even stereo systems, jukeboxes played an important part of bringing music and entertainment to parties, diners, bars and music halls. The great thing about the retro jukeboxes that you can buy these days is that they combine an old fashioned and vintage jukebox style with modern features so you get the best of both worlds.
We have compiled a list of the best retro jukeboxes that you can buy right now to create a nostalgic sound and look to your home.
6 best retro jukeboxes for a nostalgic sound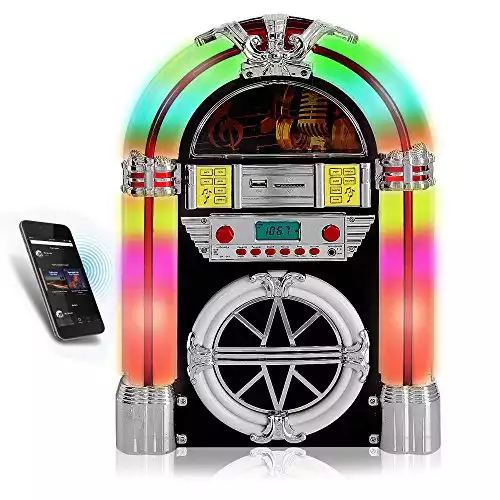 This retro designed jukebox has a real classic style to it and combines both modern jukebox features with a nostalgic design.
It certainly has the aesthetic of a jukebox you'd find in someone's home decades ago with its vibrant color scheme and it lights up as well when in use. Perhaps one of the best features is the fact that it is pretty compact as it measures 12.5 x 8.75 x 18.5 inches. You can easily set this in your kitchen or on a table in your living room or even in your man cave, without taking up too much space which is ideal if you don't want the jukebox to overpower a room. While we are talking about jukeboxes and different rooms, a juke box that will look stunning in your man cave is the Seeburg juke box, but I have to warn you, they are pricey.
The Pyle PJUB25BT Bluetooth Jukebox comes with a host of modern features including bluetooth compatibility, USB port and SD card ports and auxiliary input so that you can enjoy today's hits. So, you can either connect your smartphone or tablet wirelessly or simply plug and play to create amazing personalized musical experiences. There is also AM/FM radio available with this jukebox as well.
If you are looking for a retro style jukebox that comes with modern features so you can easily play your favourite songs on a nostalgic device that will bring a splash of color to your home, this is the perfect choice.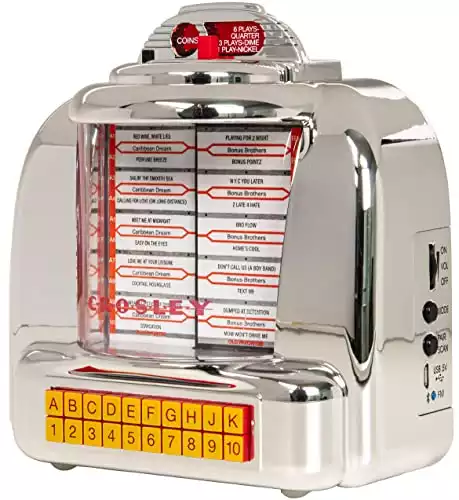 When we think of a jukebox many of us cast our memories back to old diners where you could drop a coin in and put on some songs.
The Crosley Jukebox CR1120A-SI Diner Mini Jukebox is a scaled down version of this and it will sit neatly on your kitchen countertop so you don't need a whole lot of space to house this music player. It has a real vintage jukebox design complete with coin insert at the top as well as flip cards showing the songs available just like they had decades ago. There is also a red light at the top which turns on when in use.
This retro jukebox also has modern features such as bluetooth receiver so you can load up your Spotify and play your music easily while there is a USB power input as well if you want to plug and play. Just to add to the nostalgic feel there is a FM radio receiver so you can scan for various radio stations.
This retro jukebox certainly isn't the biggest on our list but it has a real nostalgic design and if you ever played songs on one of the full size versions in diners back in the day, it'll bring up a lot of good memories.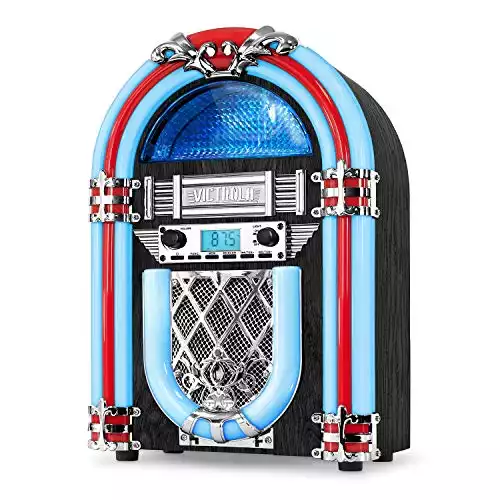 The Victrola Nostalgic Wood Countertop Jukebox has a classic 50's design to it combined with various connectivity options so you can easily play the songs you want to hear.
It has bluetooth receiver capability so you can hook it up wirelessly to your smartphone and put on whatever music you want while LED lights tubing around the sides lights up in 5 different colours which is really cool. There is an FM radio option as well which lets you have up to 50 preset stations and you can use the 3.5mm AUX connection if you want.
It isn't massively big so this retro jukebox will sit nicely on a table or cabinet without taking up a lot of space while still giving out a good level of sound. It also allows you to play CDs (which are kind of retro in themselves these days!) so you have various options for putting on your favourite music with an old jukebox timey design.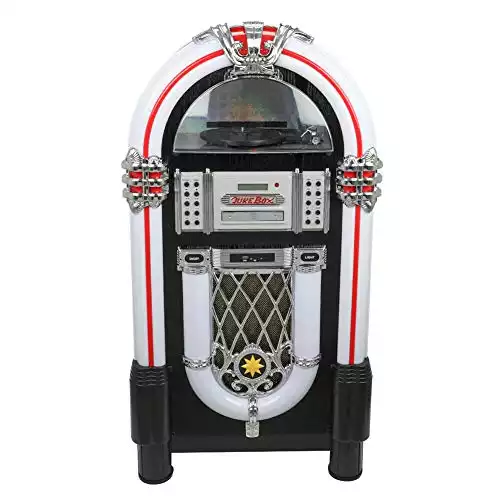 There isn't anything that compares to vinyl record when it comes to retro music and this Vinyl Jukebox Turntable, CD, USB/SD,Radio,Bluetooth CD Player features a really neat 3-Speed turntable (33/45/78 RPM). If you want to truly recreate a nostalgic and retro sound then this jukebox is the perfect way to do it.
Even if vinyl record isn't really your thing, you can still play music the modern way with bluetooth connectivity as well as USB and SD card slots. You can even dust off your old CD collection too because there is a CD record player which is a nifty feature to have. There are 5 music styles you can set on this jukebox – ROC/CLR/POP/JRZ/FLR.
FM radio and an auxiliary input connection are both present and this jukebox not only looks the part with its nostalgic design and colour changing LED lights but it combines both retro ways to play music with modern jukebox features.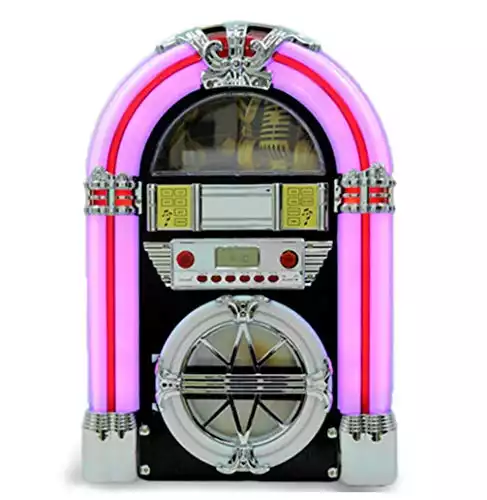 Some jukeboxes can take up a bit of space at home and while they retro look can really fit in if you have a more old jukebox style, finding a place for it to sit permanently isn't always easy.
This Mini Tabletop Retro Jukebox Wireless Wood Sound System is ideal if you want a smaller jukebox that'll fit pretty much anywhere in your house. It conjures up memories of dances in years gone by and its bright and colourful design will stand out and make people take notice as soon as they walk into the room. It is perfect if you want to set it in the kitchen for parties and you can also store it away easily too if you wish.
It offers various wireless connectivity options so while you get a retro looking design for this jukebox you also get modern features so you can put on your favourite songs with a quick tap on your phone.
Don't expect a Wurlitzer jukebox here. But even though this retro jukebox doesn't have as many features as some others on our list, it does have a really cool style with its classic jukebox design and will fit nicely in a small space.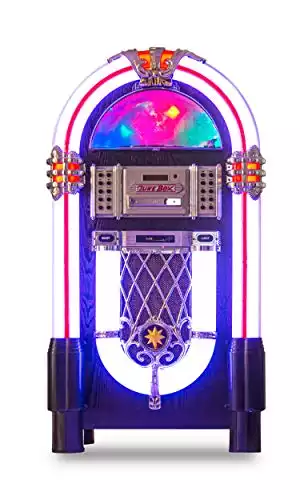 With color shifting LED lighting and bluetooth connectivity, you can really add some brightness and a modern way of playing songs to your home with this retro jukebox.
There is a CD player too on this Retro Jukebox Wireless Bluetooth Color-Changing Wood Full-Size Sound System so if you have an old CD collection you can get it open and play music that you might have forgotten even existed. You can connect to your favourite radio stations with this music record player while there is USB port, SD and bluetooth connectivity available which gives you a range of options to play music.
This retro jukebox isn't massive but it isn't small either so you'll need a decent space to place it however it will fit in brilliantly with its old fashioned design.
Retro Jukeboxes – Frequently Asked Questions
Can I use these retro jukeboxes with my smartphone?
Yes. All of these retro jukeboxes have various modern connectivity methods such as Bluetooth and some have USB ports too. This means you can easily hook up your smartphone and play songs from Spotify or the music streaming service of your choice.
What about vinyls and CDs? Can I play those?
Some of the jukeboxes that we have listed have the capability to play both vinyls and CDs and some have capability for one or the other. So, you can get out your old vinyl or CD collection and put them to good use for a truly nostalgic sound.
Do these retro jukeboxes have AM/FM radio capability?
Yes, some of the retro jukeboxes that we have listed allow you to connect to either AM or FM radio or both. Some also have preset options so you can save your favourite radio stations and find them easily again in the future.
Do I need a lot of space for a retro jukebox?
These jukeboxes come in different sizes so you'll need to have a think about what space you have available to store it at home. Some are tabletop jukeboxes so they'll fit on a kitchen counter or a cabinet while others are a bit bigger so you'll need a bit of dance floor space that is also nearby to a power socket.
How are these retro jukeboxes powered?
Some of the models will have a mains power source that you just plug into the wall while others like the smaller Crosley Jukebox CR1120A-SI Diner Mini can be powered via a USB cable.
What are ?
Digital jukeboxes allows users to organize audio files and MP3 into playlists so that they can play their music.
Which is the Best Retro Jukebox to Buy?
Having a retro jukebox in your home can add a real vintage flavor to your decor while also providing a cool way to put on your favourite music.
The 6 retro jukeboxes that we have listed here are ideal for adding a nostalgic element to how you put on entertainment for yourself, family, friends and guests.
How do we pick the best retro jukebox as all of the ones we have listed have a great range of features? Well, we're going to show you two and which one you buy will depend on the space you have available.
Best large retro jukebox – Vinyl Jukebox Turntable, USB/SD,Radio,Bluetooth CD Player
Best smaller retro jukebox – Crosley CR1120A-SI Diner Mini Jukebox
The Vinyl Jukebox Turntable, USB/SD,Radio,Bluetooth CD Player has everything you could want. Not only does it offer a retro design but it provides various modern and nostalgic ways of playing music. This includes the 3-speed turntable at the top so you can whip out your vinyl collection as well as bluetooth, USB and SD connectivity. It even has a CD player as well although it does take up a bit of space so that is something to think about before you buy.
If you are a little short on space and you aren't too bothered about having features like being able to play vinyl and CDs, the Crosley CR1120A-SI Diner Mini Jukebox is exactly what you need. It is a scaled down version of the type of jukeboxes you would have seen in diners back in the day and even has a coin slot at the top.
We really like the old flippable song title cards and you get bluetooth and USB connectivity alongside FM radio. For anyone who is looking for a retro jukebox but doesn't have a lot of room to store it this is ideal.