Latest posts by Will Ames
(see all)
Streaming your favorite tracks from your smartphone is all well and good, but for fans of all things vintage, nothing quite beats hearing a song when it is played through the best retro radio.
Whether you're using the Bluetooth connectivity to hook up your radio to Spotify or going for the authentically old-school experience of tuning into FM radio, listening to the music you love through any of the products we're about to share with you today creates an altogether nostalgia vibe, taking you back to a time when the radio really was the heart of the home.
For today's guide, we looked at scores of the best-selling retro radios on the market, carefully picked what we consider to be the six very best of the best, and provided you with an in depth review of each one to help you decide which vintage music player is worth spending your hard-earned money on.
Top 6 Best Retro Radios in 2022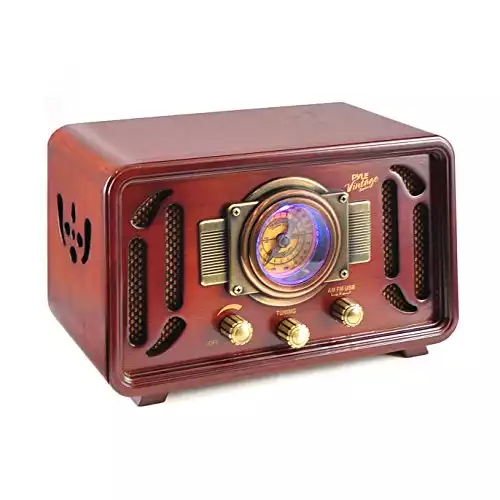 Pyle Retro Wireless Bluetooth Radio Speaker | Amazon
The Pyle Vintage Radio Sound system combines yesterday's classic style with today's latest technology. Built-in Bluetooth and full range stereo speakers allow you to wirelessly stream music from devices like iPhones, Androids, Smartphones, iPads, Tablets, etc.
Buy at Amazon.com
We earn a commission if you make a purchase, at no additional cost to you.
09/20/2023 01:27 pm GMT
Though aesthetic appeal may not be the only factor taken into consideration when choosing the best retro radio, we couldn't resist giving the Pyle Retro Wireless Bluetooth Radio Speaker top marks for its unparalleled beauty. Boasting an authentic vintage style that is sure to turn heads whenever you have guests over, this one looks as though you could switch it on and instantly be transported back to the golden age of radio.
Instead, turning that dial keeps you very much in the 21st century, as beneath that gorgeous lacquered wooden finish, and one-of-a-kind, old-timey radio dial lies the best modern stereo audio technology you're going to get for such a reasonable price.
As well as the standard AM/FM Radio (controlled via the stylish, gold-colored rotary knobs), the Pyle Retro Wireless Speaker connects to all modern devices such as smartphones, tablets, and computers via either USB port or Bluetooth so that you can enjoy your favorite station in crystal clear quality.
Though it was the Pyle Radio's remarkable design that first caught our attention, we're pleased to report that the standard of both the construction and the audio quality also rival -and in many cases surpass- many of the products you'll find in this guide, making it a clear winner in our book.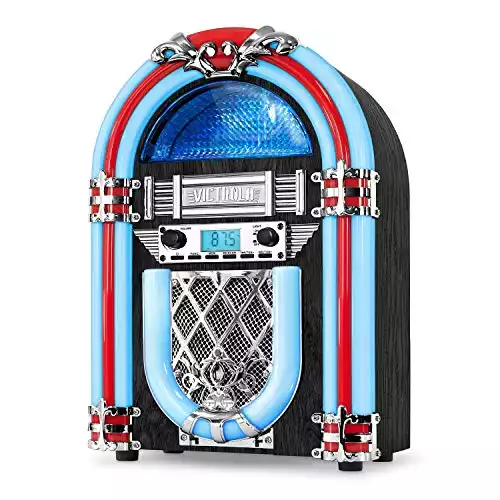 Victrola Nostalgic Wood Countertop Jukebox | Amazon
Victrola desktop Jukebox brings the classic '50's Vibe right to your countertop. Featuring five bright color-changing LED tubes, FM radio, 3. 5mm aux-in, and Bluetooth capability. At just 15" Tall, The desktop Jukebox allows listeners to get that old-time diner-style wherever they want!
Buy at Amazon.com
We earn a commission if you make a purchase, at no additional cost to you.
09/20/2023 09:16 pm GMT
You've installed that retro refrigerator, scored yourself some of those vintage Coca Cola glasses, and even installed the classic American Diner artwork on the wall. Now there's only one thing left to do to add some serious old-school cool to your kitchen:
Finish it off with this sweet Nostalgic Wood Countertop Jukebox with Built-in Bluetooth from Victrola (Free Shipping Cost).
Plucked straight from a 1950s diner, the attractive blue and red tubes can light up when turned on, though personally, we think it looks even better without the LED lights activated. Meanwhile, the tubes are complimented by intricately designed metallic accents and a Bluetooth speaker grid which make this one of the most unique looking vintage radio models you're going to come across.
Turn it on, and you'll find an FM radio with 20 presets, an auxiliary input jack, and Bluetooth capability so that you can stream from a smart device located anywhere within a 30-foot radius of the jukebox.
Of course, we mentioned what a great addition this would be to your old-school kitchen, but the radio's compact, 15″ tall design means it would look just as good in your home office, chill out space, or anywhere you wanted to enjoy quality sound with a throwback feel.
Take a look at some more of the best retro jukeboxes you can still find today.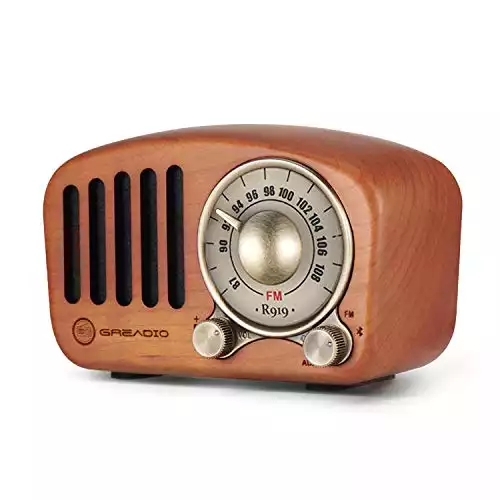 Greadio's Vintage Wooden FM Radio | Amazon
The walnut wooden radio speaker can be a perfect decoration or artwork when you place it on a desk and shelf or anywhere you want. Stylish and retro style matched with that pretty warm-colored of the old style radio speaker, it goes seamlessly with all the hardwood furniture around your house.
Buy at Amazon.com
We earn a commission if you make a purchase, at no additional cost to you.
09/20/2023 12:25 pm GMT
Truthfully, there's a lot of things we love about Greadio's Vintage Wooden FM Radio. It's the way its creators have managed to take the old-timey style aesthetic that is the hallmark of many of the best retro radios and bring it right into the 21st century, creating a product that would look just as impressive in a contemporary setting is it would in a more traditional, bygone-themed space.
The natural walnut wood not only lends this one a striking beauty but also makes it one of the most durable products in our guide, adding a strength and resilience that few others can match.
Still, what's really important here is the sound quality, and to that end, Greadio absolutely delivers.
Measuring just 4.4″ x 2.7″ x 2″ is so small that you can hold the entire thing in one hand, yet it's speaker quality is that of a much larger radio. Turned up to full volume, you'll be surprised at just how loud it can get for its size, all while ensuring crystal clear sound.
Likewise, the analog FM radio picks up your favorite radio station much better than you'd expect for such a tiny product, while the option to play MP3s from a memory card or stream via Bluetooth also work really well.
Oh, and did we mention that it also comes in a rather charming carry bag? OK, so that may not be a deal-breaker, but it certainly adds to its appeal, especially as an affordable gift item.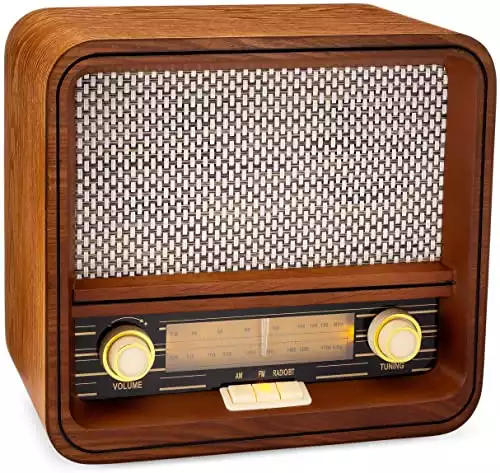 Like our first two picks, the ClearClick Classic Vintage Retro Style AM/FM Radio (Free Shipping Cost) has a lot going on in the style department, with its rich, real-wood finish, smooth curves and vintage speaker face giving it such a decidedly authentic feel that you could easily mistake it for a genuine antique.
Yet what really earns this one its place in our guide is the sound quality. Crisp, clear, and with ample amplification, this 11″ x 10″ retro radio packs a sizable punch that belies its compact design.
Speaking of design, the one noticeable flaw with the ClearClick Wooden AM/FM original Radio is that the on/off switch is located at the back of the device. That might not be a problem if you're placing it on the edge of your vintage desk, but if you were planning to install it in a cabinet or on a shelf, then it isn't the most practical option.
Still, what it lacks in well-thought-out button placement, it makes up for with a combination of stunning traditional design, high-quality performance, and all the standard feature pack you'd hope to find in a modern radio, including Bluetooth connectivity, aux-in mode, and of course, the AM/FM radio itself.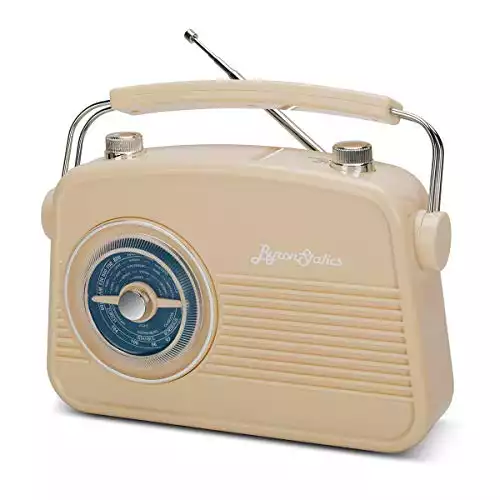 Byron Statics Vintage Portable AM/FM Radio | Amazon
A flashback to the 50s, this neat little radio combines trendy retro appeal with a super-handy design, finished in a classic cream and black color, you can plug it into the mains or pop in batteries to take it on the road.
Buy at Amazon.com
We earn a commission if you make a purchase, at no additional cost to you.
09/20/2023 09:24 am GMT
Unlike the other three products we've looked at so far, the Byron Statics Vintage Portable AM/FM Radio doesn't come with Bluetooth capability and lacks many of the features you'd probably expect from a radio sold in 2022.
You know what? That's exactly why we love it.
We talk a lot about authenticity when it comes to vintage-style gadgets, but that usually extends no further than the design as most of the functionality is indistinguishable from contemporary products.
That's not the case with this one. Not only does the Byron Statics Vintage Portable AM/FM Radio look the park, but it's analog-only design also means it functions exactly the same way that a genuine vintage radio would in the days before the digital age.
Simplicity is the key here, with a simple volume knob, a large tuning knob on the front, and a third knob to switch between AM and FM radio. That's it. No special feature or fancy tricks, just a solid, old-school original radio that's built to last and offers great sounding audio.
All told, this simple set up and neat design makes this one a great gift idea for elderly relatives, particularly those not-so-tech-savvy loved ones who are put off by all the bells and whistles of modern digital radios.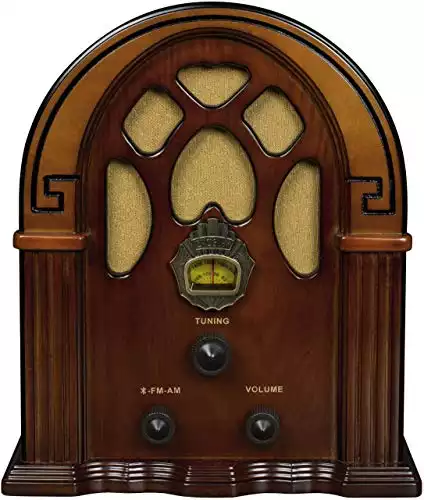 Crosley CR31D Companion Retro Am/FM Tabletop Radio | Amazon
Have a guest at the fireside with the classically styled Crosley Companion radio. Built-in the tradition of wooden cathedral-style cabinets, this radio features AM/FM frequencies and even a built-in Bluetooth receiver that allows you to stream your digital music wirelessly through the built-in speakers.
Buy at Amazon.com
We earn a commission if you make a purchase, at no additional cost to you.
09/20/2023 10:56 pm GMT
There was no way we could end this guide to the best retro radios without doffing our hat to the Crosley CR31D Companion Retro Am/FM Tabletop Radio, an elegantly designed, antique-style radio that looks like it was transported right from a cozy 1940s living room.
Crafted using the same painstaking style of cathedral-style cabinets, the solid walnut finish and striking attention to detail of the cutout details give this one a bold, handsome appearance that speaks volumes about its durability while at the same time serving as a talking point of any room it is placed in.
The analog AM/FM tuner adds that all-important sense of authenticity, though the Bluetooth connectivity ensures modern users can still stream their favorite song from their iPads, laptops, or smartphones.
A true throwback to the days when the radio was the primary form of home entertainment, the Crosley Companion Radio is definitely worth considering for anyone looking for that genuine vintage feel from their music player.
Frequently Asked Questions About Retro Radios
Question: What is Bluetooth for On a Radio?
Answer: Bluetooth is a kind of wireless technology that makes use of UHF radio waves to send and receive data over short distances. Though it can be used for everything from multi-player gaming to sending files from your smartphone to your laptop, it's most popular use is for transmitting audio from one device to another.
For example, if you have a Bluetooth-enabled radio like the ones in today's guide or a contemporary smart Bluetooth speaker, then you can use it to play your favorite music directly from your smartphone, tablet, or Bluetooth-connected laptop without having to use a USB port or auxiliary input.
Question: Is FM Radio Going Away?
Answer: It would be a little disheartening to spend money on a traditional FM radio only to find out that the medium was set to go the way of VHS tapes and 8-track tape players. Fortunately, that's not the case.
Despite what you may have heard, there are no plans to switch off FM altogether or completely replace it with digital radio.
Though the rumors of FM radio's demise have been greatly exaggerated, it's no surprise that they exist. After all, sales of digital radios have soared in recent years, and the majority of FM stations are making the move to offering digital delivery of their service.
However, this is going to be in addition to, rather than instead of, traditional FM broadcasting.
In other words, if you do purchase a retro analog radio, you should be perfectly fine listening to your favorite shows and radio station for years to come.
Question: What is a ?
Answer: A telescopic antenna is an antenna whose receiving or radiating element, such as the arm of a dipole, is made in the form of an expandable metal tube or a system of metal rods that is of approximately equal length.
Question: Are an aux and a the same?
Answer: The construction of the aux and headphone jack is often the same. However, the difference is that the aux is universal for sound while the headphone jack is suited for headphones.
Which is the Best Retro Radio to Spend Your Money On?
If you've spent time reading the reviews of our top six picks and still can't decide which one to actually purchase, allow us to help you out with a simple reminder:
Though any of the above products would make a wonderful addition to any home, the one you might consider to be "the best retro radio" all comes down to what you're looking for in a retro radio.
If you're an audiophile for whom sound quality is always the top priority, the Greadio Vintage Wooden FM Radio will undoubtedly be your favorite station, packing powerful performance into a small-yet-beautifully-crafted frame.
If you're all about the style factor and find yourself more concerned with how your radio looks than how it sounds, give the Victrola Nostalgic Wood Countertop Jukebox a try. A throwback to the classic American diner, it serves as a great conversation piece in any retro-themed room.
And if you want the complete package? If you're looking for a top-line product that matches premium quality sound with stunning aesthetic appeal? Look no further than our first-placed pick, the Pyle Retro Wireless Bluetooth Radio Speaker.
Combining a genuine vintage look with a host of modern features, it's everything you could possibly hope for in a retro radio and more. And a bonus is the classic design of the retro radio, will add to the decor of your home. So go to your nearest antique shop, and get yourself a retro radio today!