Latest posts by Will Ames
(see all)
That more people than ever before are bringing the best vintage keyboards into their offices, game rooms, and workspaces is a sign that all good things in life really do come full circle.
Once thought of as little more than a "newfangled writing machine," the humble typewriter would go on to transform the world of work, becoming a staple of offices, newsrooms, and writers' desks up and down the land.
Then, almost as quickly as it caught on, the typewriter fell rapidly out of favor as modern technology and the practicalities of the modern QWERTY keyboard took centerstage.
Yet as useful as today's keyboards may be, there's no denying that they lack the aesthetic charm and overall experience that you only get with a typewriter.
In a hurry? Our Top Picks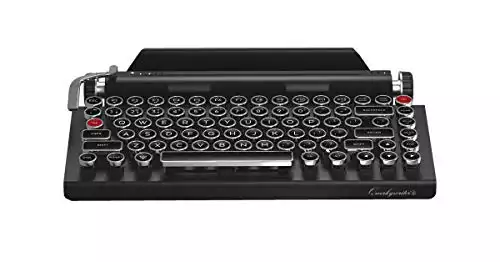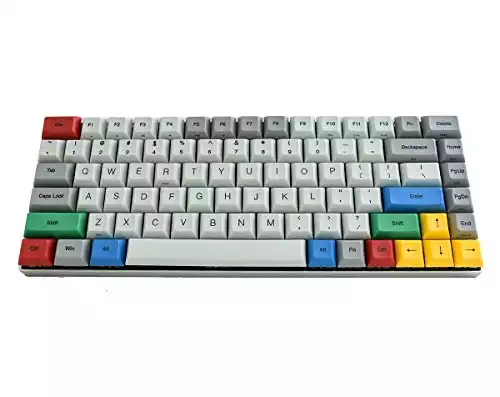 This is no doubt why the vintage keyboard market has positively bloomed over the last couple of years as users look for an affordable product that combines all the old-school cool of a classic typewriter with the contemporary features of a standard computer keyboard.
For today's guide, we've tried, tested and reviewed scores of such keyboards, not only those that have that distinctive typewriter feel to them, but also those that are guaranteed to make you feel nostalgic for the classic age of computer gaming and make you yearn for the days when playing your Commodore 64 was the height of entertainment.
Having looked at so many different ones, we picked out what we truly believe to be the six very best vintage keyboards on the market today to help you decide which one to spend your hard-earned money on.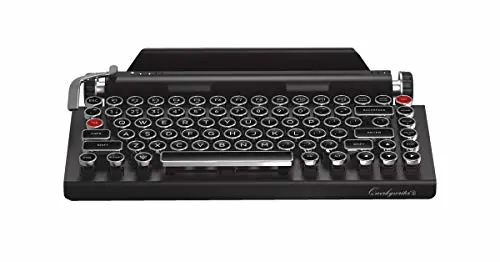 If there's a more beautiful retro keyboard out there then we haven't seen it, and trust us, we looked at scores of best-selling products before giving the coveted first-placed pick to the Qwerkywriter S Typewriter from Qwerkytoys.
While other keyboards may have a "typewriter-style" design, this is one of the few models out there that genuinely looks like the real thing, complete with an authentic carriage return and two roller knobs which double as a page-scrolling tool, making them as practical as they are pretty.
The Qwerkywriter Typewriter keyboard has an all-metal construction and circular, typewriter keycaps all add to its striking appearance, though as with all good keyboards, this one also packs in plenty of functionality.
First up, this retro classic keyboard offers you the option to choose between wireless and wired connectivity, with a Bluetooth connectivity option that allows you to connect to three devices simultaneously. Then there's the handy tablet stand, making it easy to slot your iPad right in there and get to work.
Finally, there's the unique twist on the standard carriage return. More than just a decorative item, using the return provides the same function as pressing "enter" though it can be programmed to perform another task such as typing a frequently used word, or even copying and pasting.
All in all, a winning combination of vintage design and modern technology that would make a great addition to any office, game room, or workspace.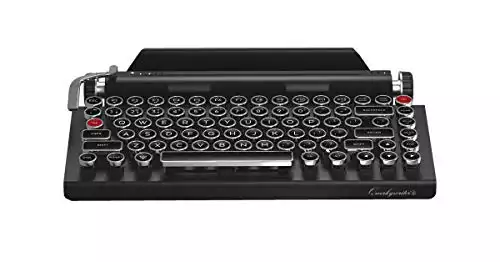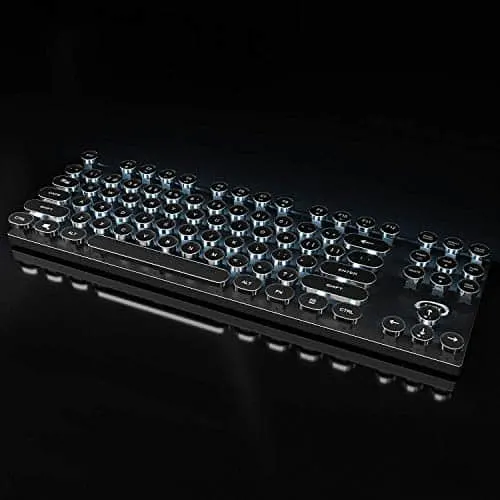 With its gracefully curved design, smooth, typewriter-like keycaps, and elegant black and white finish, the ARTIX LED Backlit Keyboard looks mightily impressive right out of the box. Turn on one of the several backlit mechanical keyboard modes, however, and this already-gorgeous backlit keys retro typewriter keyboard becomes practically a work of art.
OK, so LED backlight are hardly conducive to an authentic retro experience, but it more than makes up for it in that department with the satisfying "clack" of the typewriter keys and the decidedly old-school feel.
Powered by USB connectivity, the ARTIX Typewriter keyboard uses a simple plug and play system, so you don't have to waste time installing drivers or worry about any complicated set-up process.
Instead, just plug in the device, start typing, and experience the pure joy of a retro style keyboard that is just sheer fun to use.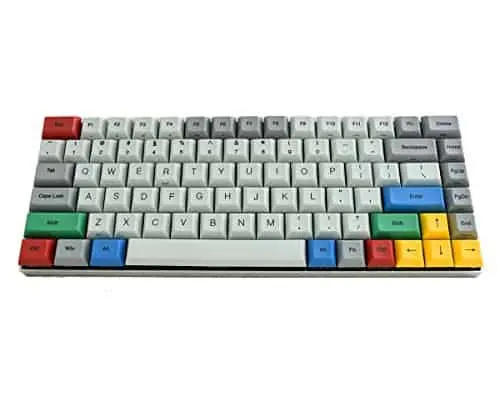 If you're looking for more of a retro-gaming vibe and a better gaming experience than a classic vintage typewriter, the Vortexgear Race 3 Mechanical Gaming Keyboard comes highly recommended.
The mixture of color and grayscale keys gives this one a certain throwback feel that conjures forth images of playing those classic early consoles back in the 70s and early 80s. Yet as retro style as this one might be, its quality is definitely as modern as it gets.
Make no mistake about it, this is one seriously well-built keyboard, with nice, thick keys and a sturdy metallic construction.
If you do like the look of this one, it's worth keeping in mind that it is a 75% keyboard, meaning – you guessed it – that it's 75% the size of a regular-sized keyboard.
To achieve this compact design, the Vortexgear Race 3 – Gaming Retro Mechanical Keyboard omits the standard left-hand numeric keypad but still has all of the function keys and other useful features.
A great choice for gamers or those looking for a simple, stylish upgrade to their home computer system, the Vortex Race 3 definitely has a lot to offer.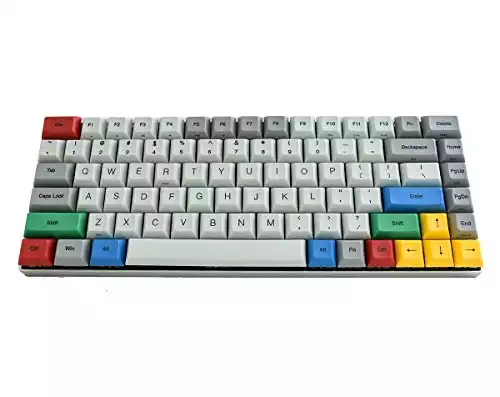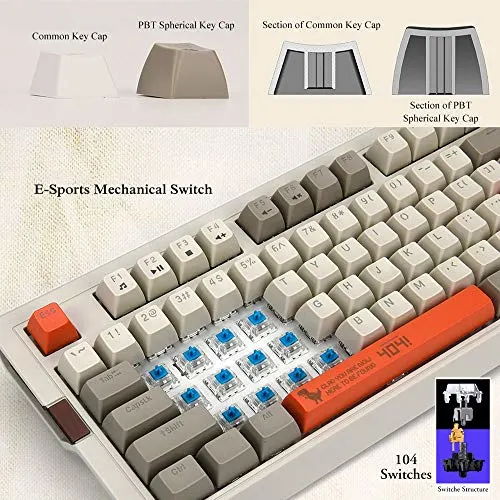 If the NACODEX AK510 Retro RGB Mechanical Keyboard's combination of browns, beiges, and oranges don't make you nostalgic for a simpler time when home computer technology was in its infancy, perhaps nothing will.
That old-school color combination, combined with its solid construction and vintage design makes it a great choice for hooking up to your retro gaming collection and playing those old Commodore and Amiga games the way they were meant to be played.
Meanwhile, you'll still enjoy all of the modern features you'd expect from a premium quality keyboard.
The usual 104-key layout features all of the standard keys and even offers volume and multimedia controls via the function keys. If that isn't quite enough for you, the included driver can be used to preset macro programming files for a more bespoke approach.
Power comes from a USB connection which, though not as practical as a wireless option, certainly adds to the authentic retro experience.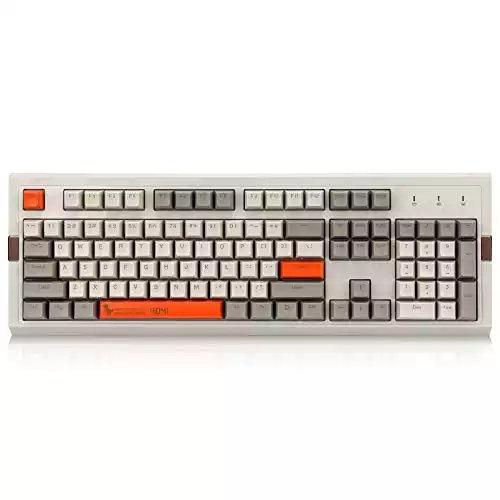 NACODEX AK510 Retro RGB Lighting Mechanical Keyboard | Amazon
NACODEX & AJAZZ AK510 RGB retro mechanical keyboard has a distinctive gray and white retro narrow bezel design, which is inspired by the father of typewriter Christoph Larson Shoals and the first commercial typewriter in QWERTY layout.
Buy at Amazon.com
We earn a commission if you make a purchase, at no additional cost to you.
11/29/2023 07:42 pm GMT
An essential for any vintage desk, this high-quality retro mechanical keyboard takes an abundance of modern features and presents them in an effortlessly cool vintage design with round keycaps that looks and feels like a real typewriter.
The chrome-plated body and keycaps of the Azio Retro USB Mechanical Keyboard lend mean that this one doesn't just look gorgeous, it's also remarkably durable, and well set to withstand plenty of heavy use.
Features-wise, we love the easy access shortcut hotkeys for improved productivity, while the useful N-Key rollover (NKRO) ensures that all keystrokes are registered no matter how fast you decide to type.
A solid alternative to any of the products on our list, it's reasonable pricing also makes the Retro Azio Keyboard one of the best vintage keyboards for those with a modest budget.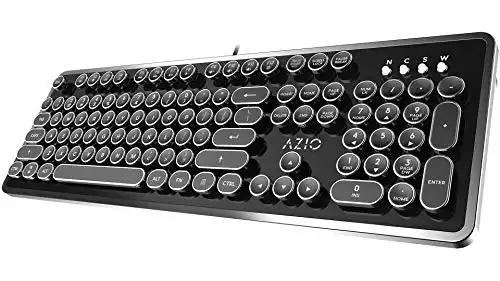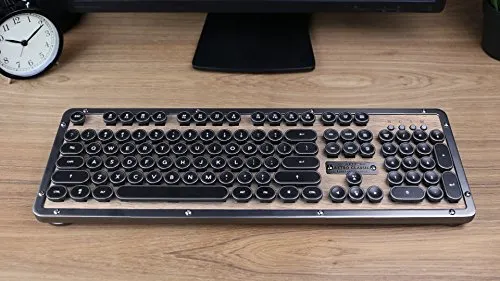 If you liked the layout, functionality, and general build quality of our fifth-placed pick but weren't so smitten with the finish, then Azio's second addition to this list might be just the thing.
The Azio Retro Classic Elwood Bluetooth model styles itself as a luxury keyboard with round keycaps, and in that respect, it certainly lives up to its promise. There's no denying what a beautiful piece of kit this really is, with its genuine wooden surface top and lovingly handcrafted alloy frame, it's like steampunk-meets-retro-sophistication-meets-vintage-grandeur.
To put it another way, the Retro Classic Azio Keyboard looks incredible.
Still, as we all know, looks aren't everything. If you're planning to use this Bluetooth keyboard as a day-to-day keyboard, then you'll be pleased to know that these robust modern mechanical keyboards earn rave reviews for its functionality.
Easily adaptable for both Mac and PC use, a simple switch allows you to toggle between the two, while a second switch can be used to determine whether you power your keyboard using Bluetooth connectivity or USB cable.
Finally, we have to mention those oh-so-clicky keys. One of the main reasons why many people look to add a vintage keyboard to their workspace is that deliciously solid click that the typewriter keys make, a much satisfying typing experience than offered by the dull thud of a standard keyboard.
Thankfully, this one delivers that satisfying click in spades, making it a joy to use no matter whether you're working on the next great American novel or simply blasting your way through your favorite game.
Frequently Asked Questions About Vintage Keyboards
What is a Mechanical Keyboard?
A mechanical keyboard is the traditional computer keyboard with the thick keys with premium quality mechanical switches beneath each keycap. It's for this reason that the majority of the best vintage keyboards are mechanical by design – they're a throwback to the way keyboards used to be made before the modern, membrane keyboard (the ones with flat, backlight mechanical keys).
Mechanical keyboards often feel better to use, giving a noticeable clicking sound with each press of a key. They also tend to be much more durable, outliving your typical membrane keyboard by several years.
Best of all, they can be easily customized. If you don't like the style of your keyboard or you prefer a different layout that's more conducive to the game you're playing (or generally just to the way you use a keyboard), then it's easy to take the keys off the board and swap them around.
That said, mechanical keyboards aren't perfect. They tend to be heavier, noisier, and more expensive than membrane varieties.
If you're working in an open-plan office or anywhere where the constant clickety-clack of a mechanical keyboard is likely to bother others, you might be best sticking to a quieter membrane option for now.
What is N-Key Rollover?
Often abbreviated to NKRO, n-key rollover is a feature included in most vintage mechanical keyboards which ensures that every key pressed is registered regardless of how many other keys are pressed at the same time.
If you're playing a game, for example, then you might be using the arrow keys to move your character while at the same time pressing a numerical key to carry out a certain action in the game.
With some membrane keyboards, the rubber keys can sometimes result in your keyboard failing to register both keys at the same time.
This is what's known as ghosting, and if you've ever had that happen to you, you'll no doubt know what we mean when we say it can seriously mess up your game, your document, or whatever you're working on.
NKRO is an anti-ghosting feature which ensures that no matter how many keys you press at the same time, each one is fully detected.
What's the Difference Between a Retro Keyboard & Vintage Keyboard?
For the purposes of this article, there's no major difference between a vintage keyboard and retro keyboard. That said, there's such a thing as the Retro Aesthetic, which might feature a 1980s or 1990s look.
What is the Best Vintage Keyboard & Retro Keyboard Money Can Buy?
By now, you've seen the six products we believe are the six very best vintage keyboards on the market today and, if you're anything like us, you'll no doubt agree that any one of them would make a fantastic addition to your office or game room.
Still, right now you're only looking to buy one new keyboard, so which one should it be?
Truthfully, that all depends on what you're looking for in a vintage keyboard.
If aesthetic appeal is your only concern then you'll find a lot to love about the Azio Retro Classic Elwood Bluetooth model with its gorgeous real-wood surface and retro design.
If you're more concerned with features like preset macro programming, media controls and effortless plug-and-play and customizable keycaps? You may prefer our fourth-placed model, the NACODEX AK510 Retro RGB Mechanical Keyboard.
If, on the other hand, you're looking for a true, premium-quality vintage keyboard that combines flawless functionality with remarkable design, then the Qwerkywriter S Typewriter really is impossible to beat.
Packing a whole host of contemporary features into a classic design, its authentic typewriter style and exceptional build quality are guaranteed to add an abundance of old-school cool to any room you use it in.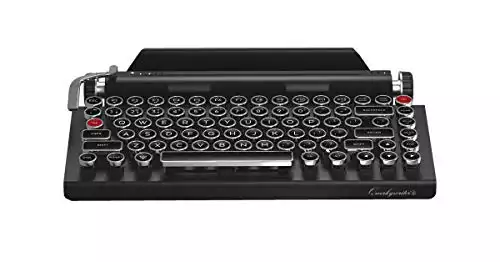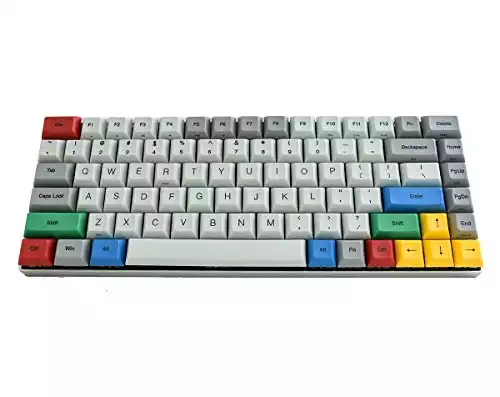 How do I charge my ?
You charge your Azio retro classic keyboard simply by plugging in your USB-C cable and charging it.
Final Thoughts
Have you added a vintage keyboard to your home, office or dorm room? Let us know in the comments below. Retro keyboards will give your home a vintage look and feel, that you won't be able to achieve with a regular keyboard and mouse. Happy Vintage keyboard shopping!