Latest posts by Brette DeVore
(see all)
The canvas bell tent glamping trend has taken over campgrounds overnight.
But did you know canvas bell tents have been around for ages?
From housing military soldiers on the battlefield to hosting scout slumber parties, the history of the bell tent has not yet folded.
Bell Tents in Military Campaigns
Unlike army barracks of today, bell tents were the common living quarters for soldiers. From the Byzantine Empire to The World Wars, almost every military campaign has found use for these highly transportable canvas shelters.
Early European Military
Although there are not too many records, the earliest conical style tents began to take shape around 600 AD during the reign of Emperor Maurice for the use of the Byzantine Army. After that, bell tents appear as early as the 9th century.
The Crimean War
In 1855, both the British cavalry and Turkish encampments used bell tents in the Crimean War.
The first heavily documented war, due to the invention of photography and telegraphs, helped record the use of bell tents.
Often times, captains posed with their horse outside tents for a photograph.
The Anglo-Zulu Conflict
After a diamond mine discovery, Brits expanded aggressively into the African Zulu nation's territory.
Given a set of strict demands (like turning over weaponry) in which the Zulu declined, they were forced to fight the British.
Another well-recorded war, historical documents show "Allowance of Camp Equipage" citing officer's tents and common tents.
World Wars
As the Zulu empire was annexed, World War I erupted. The tent was once again used for military encampments but this time expanded beyond the Brits and Yanks.
When the Aussies and Kiwis joined the Great War to have a go, the ANZACS (Australian and New Zealand Army Corps) also utilized conical bell tents.
The American Sibley Tent
Inspired by Native American Tipis
About 10 years after the Zulu Wars, the American Sibley tent came into creation. Henry Hopkins Sibley became so inspired by Native American tipi construction he took certain aspects and enhanced the design.
The biggest difference Sibley made was making the tent setup more efficient.
Instead of 12 wood poles acting as a tripod, he used a single metal center pole for quick construction and lightweight transportation.
Once the pole was up, you only had to stake down the sides to make the canvas taught.
And lacking a center fire pit meant no smoke; the tent is covered instead with a few ventilation caps.
Historians recognize the slight differences in European bell tents and American Sibley tents.
Today, however, you'll often find most manufacturers using the two names interchangeably.
Design Licensing and The American Civil War
After the tent pattern was patented in 1865, the US Army offered Sibley a $5 royalty for each tent required during the Utah Expedition.
Eventually, the campaign grew to pay Sibley for 44,000 canvas tents.
But Sibley never touched most of the money.
Resigning from the United States Army at the onset of the Civil War, Sibley joined the southern rebellion and Confederate States Army. He was considered a traitor and lost rights to subsequent royalties.
Leisurely Activities: Where Canvas Bell Tents Are Pitched Today
Today, bell tents are no longer used on the battlefields. Instead, they are pitched for more leisurely activities and social events.
Glamping: Luxury Camping Tents
Take it from me: Bell tents for rustic themed weddings provide couples (and sometimes their guests) a unique outdoor wedding.
Engaged couples are staking out group camping sites in beautiful natural settings for their wedding venue. And they pitch traditional bell tents to get hitched.
Even the hospitality industry has taken note of the glamping trend. Though these are usually are much larger tents with luxury features. For example, if it's not a hotel rooftop campground like Melbourne's St Jeromes The Hotel, it's an eco-conscious farm in Upstate New York like Firelight Camps.
Learn more about some of the best glamping experiences around the globe.
Events and Music Festivals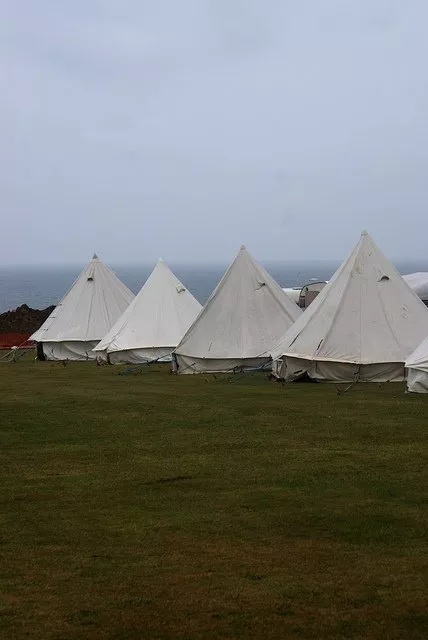 Concert ticket holders of pop-up arts and music festivals like Burning Man have embraced the glamping lifestyle.
Burners love bell tents for many reasons: Rolled-up sidewalls for breezes and zippered PVC groundsheets for cleaning mud.
There's also the communal aspect to these tents; they grab a passerby's attention.
Wellness and Hospitality Industry
The wellness and hospitality industry have also embraced bell tents as holistic service sanctuaries.
Yoga retreats, guided meditations and massage therapy sessions bring together yogis and teachers looking to become closer to nature (and unplugged from everyday life) under one canvas roof.
At these gatherings, you may even come across different tent styles–called lotus tents–with higher walls for more standing room.
Scout Groups Across the Globe
Boy Scout and Girl Scout groups across America, and international scout groups, still use bell tents for outdoor learning experiences.
Scout leaders and scout parents love bell tents for campsite sleepovers and as a venue to hand out scout badges.
Historical Reenactments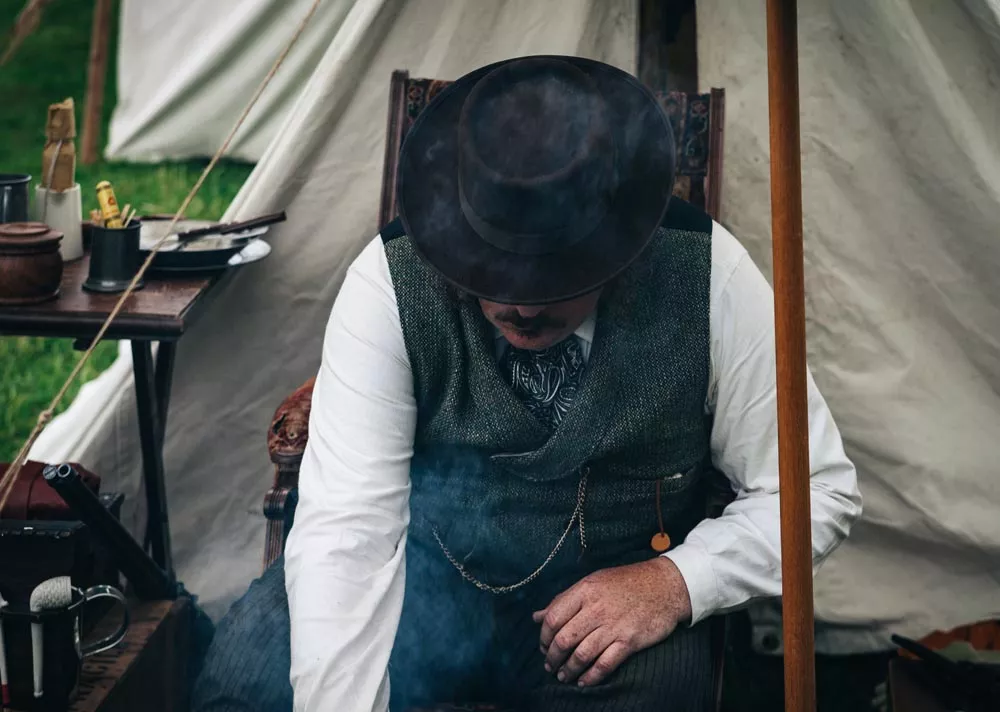 Historically accurate re-enactments turn to these tents for shows and demonstrations across the United States and the United Kingdom. And you'll typically find costumed actors portraying battles from many of the earlier-mentioned wars.
Another bell tent fan base–although based in fantasy–is LARPers, or Live-Action Role-Playing.
Replace the antique muskets and cannonballs with wands and dragons, and you get the idea. LARPers will retreat into the woods for days over a Game of Thrones-style competition (PG-rated, of course).
If you've ever seen a bell tent in person, they are quite impressive.
And I can tell you from experience–because I'm the proud owner of one myself–that they take no more time to set up than modern, polyester tents. They keep cool in humid conditions and provide plenty of indoor space.
So grab yourself some folding campaign furniture, pack your vintage-style rucksack, and set up camp this summer. You'll be the belle of the ball campground!
Interested in a bell tent for yourself? Check out CanvasCamp, Stout Tent and SoulPads for a few canvas bell tent manufacturers.
For a nice all around glamping bell tent, check out our review of The Dream House Bell Tent.
If you're a stickler for a more historically accurate tent, check out Tentsmiths.