Latest posts by Brette DeVore
(see all)
There was once a time when hotels lacked television or booking websites to advertise. Instead, providing well-designed guest welcome amenities that were hard to pass up, guests did the advertising legwork for them. Compliments of the hotel.
Hotel Complementaries in The Golden Age of Travel
When airflight became a common mode of transportation, we entered what was considered the Golden Age of Travel.
Hotels and lodging accommodations competed with clever advertising gimmicks from mailable postcards to luggage labels. Listed here are a handful of those gimmicks.
Smoking or Non? Hotel Restaurant Matchbooks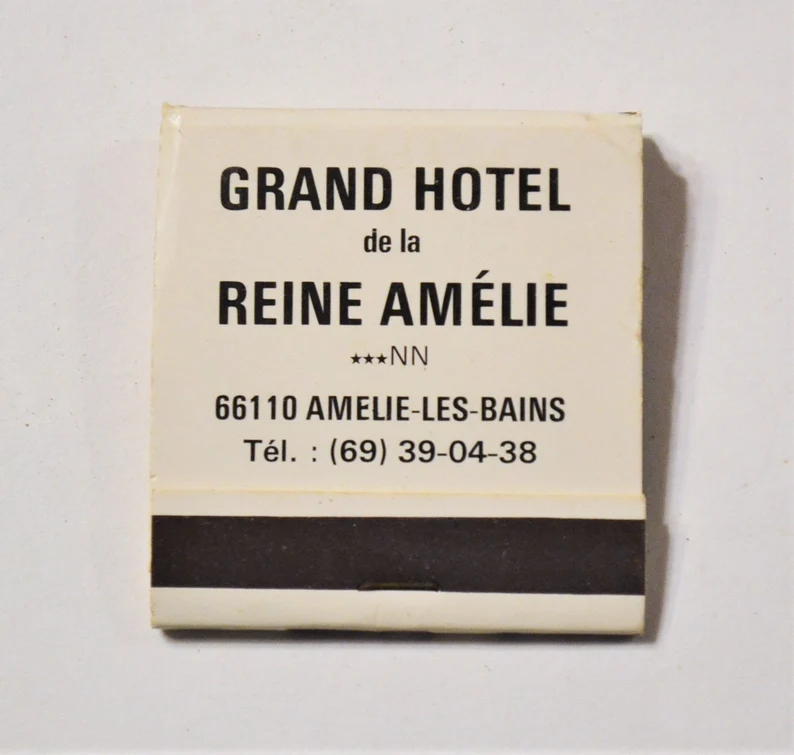 Hotels and restaurants once advertised on matchbooks and matchboxes. The collection of match-related items, called phillumeny, keeps wanderlusts searching for these unique ads today.
But matchbooks became a dangerous liability to hotels (especially before fire-resistant bedding and drapes) by enticing guest to smoke and potentially cause fires.
The final flick of the finger came in 1973, after Bic's invention of disposable cigarette lighters. Standard 20-stick matchbooks were no match for Bic's 3,000 ignited lights. After that, anti-smoking campaigns in the 1980's were the final nail in the coffin.
And that's just the matchbook.
Furthermore, recent statewide smoking bans prohibit hotels and motels, along with restaurants and bars, from allowing smoking in public areas like lobbies and corridors.
Although some states allowed a percentage of smoking rooms, it's no longer common to see hotel nightstand ashtrays. Today, smoking rooms are practically nonexistent in hotels.
Wish You Were Here! Hotel and Motel Postcards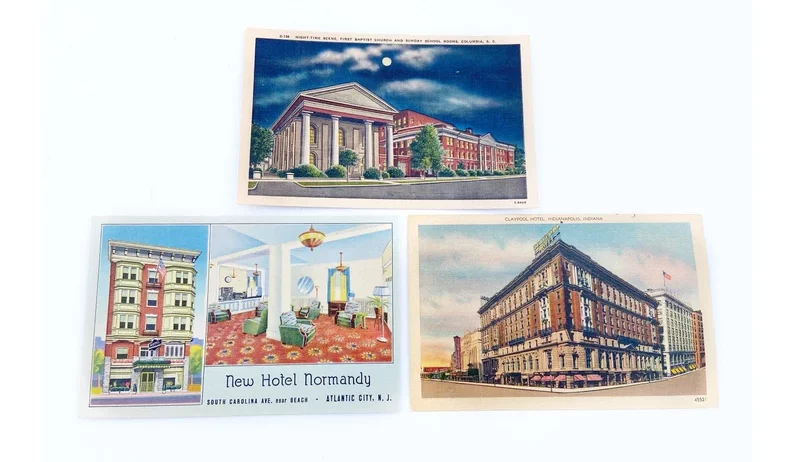 In the Victorian days, not everyone could afford 35mm cameras. So when visitors toured historic landmarks like the Statue of Liberty, they'd pick up printed postcards of where they visited to mail back home.
In the 1920s and 30s, lodging and hospitality brands soon realized this was an inexpensive way to advertise and adapted the habit as well.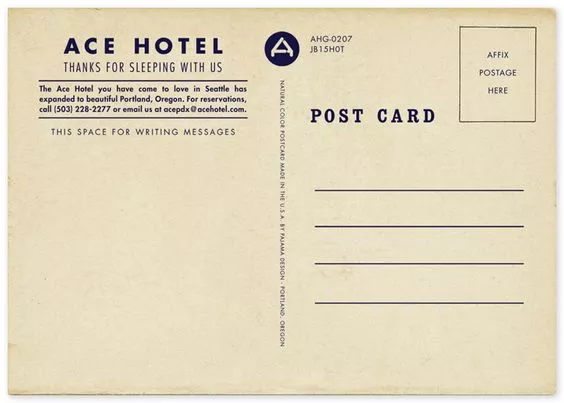 Along with their location and contact information, hotels often featured two images: One of the hotel's exterior facade, the other of a standard guest room interiors.
"Free with Stay" postcards were often left at the reception check-in areas and on guest room desks. That way, guests could write home to their honey while marketing the hotel. Also, before World War II, hotels with indoor plumbing had bragging rights.
Take a Letter: Promotional Hotel Pens and Pads
Also on hotel desks, you might find letterhead stationery pads for jotting notes and making scribbles. You might have even found fountain pens for using.
Even though we have digital note-taking apps on our phones, hotel rooms today still offer this note-taking pad amenity. Even as technology has advanced, some of us still prefer to keep a handwritten daily journal.
Room Service, Please! The Turn Down Pillow Mint
Leave your room for dinner and night caps and you'd return to find housekeeping provided an evening bed turndown service. And what's on that pillow? A wrapped chocolate mint candy, in case you had a sweet tooth.
But this little hotel gesture didn't begin as a marketing ploy. It began as forbidden romance.
Story goes… upon booking his usual penthouse room at The Mayfair, the actor Cary Grant asked a hotel staff member to trail chocolates through his room in hopes to charm a woman he was seeing.
When the hotel manager discovered the staff member trying to come up with that many chocolate candies and asked why, it gave him a grand idea: Make the gesture a standard Mayfair amenity. Only one chocolate per pillow, of course.
After that, the pillow mint idea was eaten up by hotels across the country. They still offer it till this day. Some hotels offer different snacks–Doubletree offers cookies–but the idea is the same.
Luggage Labels and Hotel Fanclubs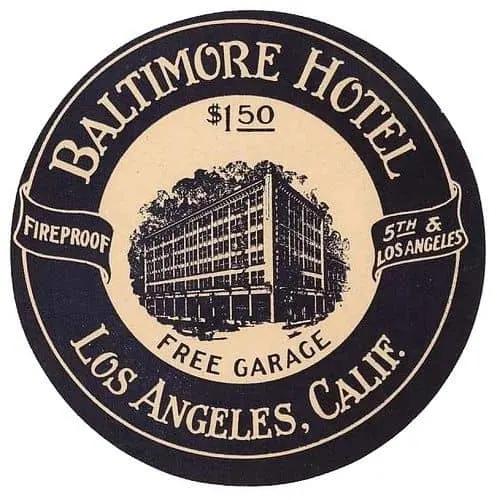 You might see vintage suitcases, steamer trunks and luggage with a few travel stickers slapped on the sides, proudly displaying every town its previous owners set foot.
While they don't do this much today, you can still find hotel sticker reproductions to achieve vintage luggage styles.
As for the lasting effects of luggage stickers, they're similar to the way we place bumpers stickers on cars. Only now, you might see less elaborate, Euro-style oval decals of the driver's favorite beach towns.
Tourists of Today: What Hotel Welcome Gifts Are Trending Again
Hotels have shifted gears, providing less of these classic, ubiquitous amenities. But what makes a guest return to hotels today, without these styles of advertising?
Practicality Over Waste
Today's traveler isn't interested in free stuff or being wasteful. Miniature soaps and shampoos are obsolete; guest have their own prefered brands. And they'd rather drink out of ceramic mugs than throwaway styrofoam cups–and that's if they make coffee in their room at all!
The New Guest Experience
With a new travel generation wanting experiences over luxuries, it's become harder for hotels to market themselves.
The sharing economy, with companies like Airbnb, has offered travelers a more unique experience. They're no longer sold to by matchbooks featuring high-rise hotels with "indoor plumbing" written in bold graphics.
The only way hotels have edged ahead is by offering guests bike rentals to tour the town and picnic baskets (with local foods) to take along with them. Instead of allowing guest to pocket a free product, hotels now realize they'll make a longer-lasting impression by giving a more memorable trip.
But that doesn't mean we don't long for the old-timey days! And some would even argue we've entered a new golden age of travel.
For example, even with smoking on the decline, matchbooks have made a comeback.
Even as a non-smoker, I still appreciate the many matchbook designs, hoarding them inside fishbowls and igniting candles in homes (if not hotels). For the same remindful reasons, postcards have also come full circle.
Needless to say, hotel advertising has come a long way, from copy ads in newspaper spreads to the captivating neon signs of Route 66.
It's funny–we travel to seek out unfamiliar places, but gush over finding something reminiscent of the past. And the same goes with hotel amenities.