Latest posts by Will Ames
(see all)
The idea of "glamping" is probably not something our ancestors had in mind when they started using bell tents.
In fact, the use of canvas bell tents dates way back to Byzantine military campaigns in the 7th century.
These tents were used extensively in battles throughout the ages, reaching the height of American consciousness during the Civil War.
Now, the glamping trend has brought this traditional bell tent design back to the forefront.
Bell tents are often seen at campgrounds, concerts, historical reenactments, weddings, and more.
And thanks to some modern improvements in design and construction, they are easy to pitch, resistant to the elements, and roomy enough for standing or sheltering larger groups of campers.
But some campers are wary of the costs of these larger bell tents. And this is especially true for tents that have luxury features and higher end materials.
So if you're looking for an entry-level bell tent that will meet most of your glamping needs at a modest price, check out the Dream House Bell Tent.
The Dream House Bell Tent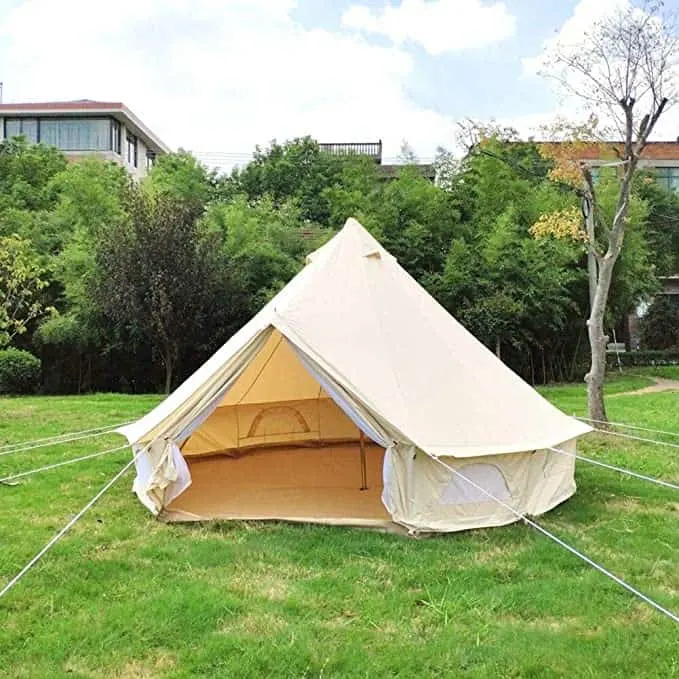 There are certain features that are essential to proper glamping.
First, you need enough room to spread out.
The Dream House Bell Tent comes in two sizes: a 5 meter and 4 meter diameter version.
Each version is plenty large for most glamping requirements.
For example, the 4 meter version has a door height of just under 5 feet, and a top height over over 8 feet. So there is plenty of standing height.
Also, although the footprint isn't huge, the smaller version of this tent still has enough room to fit 1 queen-sized bed and 2 twin-sized beds!
Easy Assembly.
Next, you don't want to waste your precious glamping and leisure time trying to set up your tent.
Luckily, this bell tent is very easy to set up and take down. It takes most campers about 15 minutes to assemble and pitch.
There should also be protection from the elements.
The Dream House is waterproof and windproof. Specifically, this tent features 3000 mm waterproof polyurethane coated fabric and taped seams to make sure you stay warm and dry.
Historical Appeal.
If you also want a tent that is consistent with the traditional bell tent design, the Dream House has this historical appeal.
While it has plenty of modern enhancements, the traditional bell tent design makes it perfect for historical settings such as battlefield reenactments or old-timey wedding venues and campgrounds.
Drawbacks of the Dream House.
As we mentioned, this tent is economical when compared to some of the other high-end glamping bell tents.
And, as always, with the modest price tag comes a few drawbacks.
For example, at 75 – 80 lbs without the poles, the 5 m version is pretty darn heavy. Just make sure you're not solely responsible for carrying this tent on a long trek to the campground or concert venue.
We also noticed that the lightweight plastic pegs do not match the quality standards of the rest of the tent. Luckily, this a pretty easy fix.
Just replacing the plastic pegs with some heavy duty metal tent stakes will save you a lot of frustration down the road.
A Great Entry-Level Glamper.
Overall, we think the Dream House Bell Tent is a great way to start your new glamping hobby.
Learn more about the background of bell tents and growing interest in glamping.