Latest posts by The Old Timey Team
(see all)
It's been nearly 20 years since production ended on the Leica M6 camera, and photographers are still reviewing it.
So, how is it that this 35mm film camera continues to capture such attention and praise, well into the era of digital photography (and long past its availability in stores)?
Some of it may have to do with Leica's proven reputation for quality cameras.
Some of it, though, has to do with the remarkable camera itself.
A Brief History of Leica Cameras
Leica first made its mark on photography by popularizing the compact 35mm camera. Today, it remains a prestigious name in photography. However, they weren't always a camera company, nor were they always called Leica.
Before Leica Made Cameras, they Made Microscopes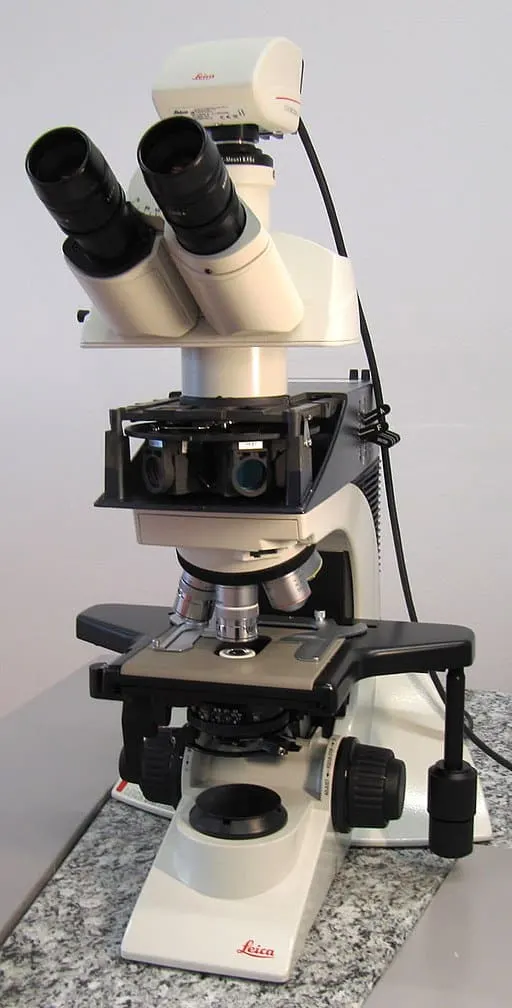 What we now know as Leica was founded in 1849 by a young German inventor. He called it Optisches Institut, or Optical Institute in English, and began producing microscopes. The devices were "noted for their quality and precision", according to the company's official history.
In 1864, a 21-year-old mechanic named Ernst Leitz started working at Optisches Institut. As a teenager, Leitz had learned about production, distribution, and management as an intern with Swiss watchmakers. This knowledge served him well. A year after his arrival, he was made a partner, and within 5 years, he was running the whole operation.
Under Leitz's leadership, production expanded rapidly. He renamed the company "Ernst Leitz – Optische Werke – Wetzlar" and introduced steam energy in 1883.
In 1887, the company produced its 10,000th microscope; that number doubled just three years later. Leitz opened a New York branch in 1892.
In 1906, he introduced an 8-hour workday and began providing health insurance for company employees, both rare practices for the time.
Leica Developed the First Commercial 35mm Compact Camera
In the late 1800s and early 1900s, the development of film and the production of the inexpensive Brownie camera by Eastman Kodak helped to popularize photography for the masses.
At the time, cameras remained relatively large and bulky. Made of cardboard, the ubiquitous Brownie was 3 inches tall, 3 ⅛ inches wide, and 5 inches deep.
Oskar Barnack and Max Berek were hired by Leitz in 1911 and 1912 respectively. Barnack was working to build a more portable camera, and Berek drew the first Leitz camera lens. Together, they changed the direction of Ernst Leitz – Optische Werke – Wetzlar forever.
In 1913, Barnack created the Ur-Leica, a small camera utilizing 35mm film.
The name for the camera means "Original Leitz Camera." It was a combination of the German prefix "ur" (meaning "original" or "earliest"), the first three letters of Leitz, and the first two letters of Camera.
Another prototype was made in 1914, but it wasn't until 1923 that the project gained traction. The company, now run by Leitz's son, produced a small run of the Leica A.
The camera underwent testing both in the factory and by photographers. Although the results were inconclusive, it officially went into production as the Leica I in 1924.
Ernst Leitz II took the Leica I to the 1925 Leipzig Spring Fair, a trade fair dating back to the Middle Ages. The camera was a hit, and the company quickly followed up with two additional models: the Leica Luxur and Leica Compur. Ernst Leitz – Optische Werke – Wetzlar was officially in the camera business.
Leica's Early Years Established them As a Leader in Photography
In 1926, Leitz released a projector for slides or film, allowing photographers to display their images. Four years later, Leica I Schraubgewinde ("Screw Thread") arrived with a replaceable lens that screwed into the camera body via a threaded mount. The mid-1930s brought both lens innovations and a lightmeter developed by Max Berek.
In 1947, Magnum Photos was formed by legendary photographers Robert Capa, Henri Cartier-Bresson, George Rodger, and David Seymour. All four used Leica cameras.
They, along with other notable photographers, have produced some of the world's most iconic images with Leicas.
The Leica brand and position in the camera industry was so strong that the Leitz Company officially became Leica in 1987. Today, the company still produces both film and digital cameras. Sold at a premium, these high-quality devices continue the company's 170 year legacy in optical technology.
The Leica M6: 1984-2002
About the Leica M6
Leica's M system debuted In 1954 with the Leica M3. It introduced a new method for mounting lenses and kicked off an era of significant success for the company. 30 years and many developments later, the M6 joined the lineup.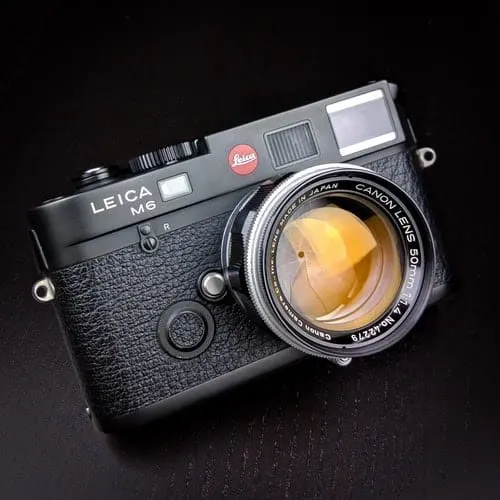 The Leica M6 is a mechanical 35mm film rangefinder camera. It was the first Leica camera with an TTL ("through the lens") light meter built in.
35mm film was the standard of the time, with a sensor roughly equal to a "full frame" digital camera today. As with other mechanical cameras, the M6 has no electronics for its basic functioning. It requires a battery only for light metering.
The focus on the M6 is also manual. Rangefinders like the Leica M6 work by displaying two two images in the viewfinder: the primary composition and an inset segment of the same. To focus the shot, the photographer adjusts a mechanism until both images align.
Versions of the Leica M6
The Leica M6 (1984-1998) and Leica M6 TTL (1998-2002)
The original Leica M6 was made for 14 years, until 1998. That year, it was replaced with the Leica M6 TTL.
The new M6 TTL introduced TTL flash, which automatically adjusts the flash based on the camera's light reading. The newer camera also has an improved shutter dial.
Additional Editions of the M6 and M6 TTL
Within the M6 and M6 TTL lineup, Leica released many specialized editions, which were produced in small numbers.
The Colombo '92 was a green-bodied version that commemorated the 500th anniversary of Christopher Columbus' arrival in what would become the Americas. The 1995 Royal Wedding Edition came in a wooden box lined in blue velvet and was engraved with an emblem modeled after the Danish prince's royal crest.
In 1996, the Platinum Bruckner Edition commemorated the death of Austrian composer Anton Bruckner. It had a body covering of blue iguana.
Other special releases, among many more, honored the turn of the millennium in the year 2000, the original M-system release (the Leica M3), and Leica Historica e.V, Deutschland, a photo society founded in the 1970s in Wetzlar, Germany.
What makes the Leica M6 so good?
Many photographers will tell you that the best camera is the one in your hand, and most will ask about the camera's intended use before they commit to a recommendation.
Despite this, some cameras are objectively the best. The Leica M6 seems to fall in that latter category. So what makes this camera so objectively good? Let's look at some of the most common themes in recent reviews.
The Leica M6's Small Size
The Leica M6 is small; one reviewer noted that it was little bigger than their iPhone X. According to Wikipedia, it measures in at approximately 5.4 x 3.0 x 1.32 inches and weighs 20.6 oz.
For comparison, two DSLR camera models popular with current photographers are the Canon EOS Rebel T6i and the Nikon D750. The Canon is approximately 5.2 x 4 x 3.1 inches, weighing in at 19.6 oz. The Nikon is somewhat larger, roughly 5.6 x 4.5 x 3.1 and 29.7 oz.
The film-based Leica is quite a bit smaller (particularly in depth) than both of these modern models, and much lighter than the Nikon.
The relatively unassuming size of the Leica M6 makes it a good choice for street photography or any time a photographer might want to go unnoticed. It's also perfect for travel when size and weight are a consideration (though one would have to leave additional space for film).
Manual Functioning: Tactile, Reliable, and Fun
For many photographers, a manual camera offers an intriguing departure from modern digital cameras. With no electronics, the camera relies entirely on human intervention to operate; a photographer must engage fully with the camera to take a photo.
Additionally, while mechanical cameras certainly can fail, they're often touted as more trustworthy than electronic cameras, especially as they age.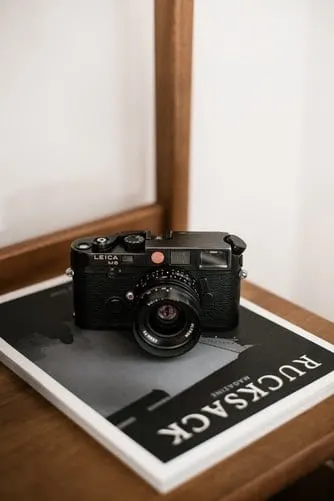 With a mechanical camera, a photographer is not at the mercy of automatic functions. They are in full control. Reviewers specifically praise the smooth film advance and large shutter dial of the M6 and M6 TTL.
Even more, they note the simplicity of the M6. There's no interface to fiddle with, no complicated menus. Aperture, ISO, and shutter speed are set with dials on the camera body.
With the M6, a photographer may also use a manual flash, and they'll need to focus the shot, but otherwise, there's little else to manage in taking a photo.
Taken together, these features lead some reviewers to describe the experience of using a Leica M6 very simply: it's fun.
Purchasing a Leica M6 or Leica M6 TTL
Where to Buy a Leica M6/M6 TTL
Two decades after production ended on the Leica M6 lineup, purchasing one isn't as simple as walking into your neighborhood camera store. Still, there are plenty available for the determined purchaser.
Well-known camera retailers such as B&H Photo and Video, Adorama, and KEH Camera sell Leicas among their used gear. The brand-specific Leica Shop, based in Austria, sells vintage models along with new.
Additionally, cameras can be found on eBay as well as Etsy. Goodwill Industries, known for its neighborhood thrift shops, operates an online auction site that offers Leica cameras on occasion. Photographers looking for a deal might also scour local classifieds, garage sales, thrift shops, and more. It's not unheard of to discover an undervalued gem, though likely challenging.
What You Can Expect to Spend on a Leica M6/M6 TTL
A 1986 advertisement in Modern Photography magazine listed the price of a Leica M6 body at USD 1,695. In today's dollars, that translates to just over $4,000.
Remarkably, the Leica M6 has held much of its value over the last 34 years. Current prices on eBay mostly range from $2,500 to $3,000 for the body only. The asking price for a mint-condition camera, with all the original packaging, is more than double that.
It should also be noted that the camera itself is only part of the purchase; a photographer will also need to budget for lenses. The M ecosystem includes a wide range of focal length and aperture options; the prices for these lenses vary accordingly, from the hundreds to the thousands.
Considerations for Buying a Used Leica
When considering a Leica, it's crucial to know what you're getting into. Some photographers using the camera were surprised by the transition from an SLR ("single-lens reflex") or digital SLR to a rangefinder. These cameras simply might not be right for everyone.
Beyond that, though, it can be helpful to consider the camera's care. While the M6 is known for its durability, it's worth making sure that everything works, checking all the levers and buttons.
Some resellers will indicate when a camera has been CLA'd. Short for clean, lubricate, and adjust, this is the equivalent of tuning up a vehicle. It helps to ensure that the camera is in good working order before purchase, particularly given the high price tag.
It might seem like a lot, but both the price and the hunt are worth it for many photographers.
As one reviewer and long-time Leica fan warned, "Never, ever sell a Leica. You'll just end up buying another one at some time in the future."