Latest posts by Will Ames
(see all)
Have you ever wondered how some guys seem to always get their mustaches and beards looking so immaculate and well-shaped?
These fine gentlemen aren't just born with perfectly groomed facial hair – more often than not, they've had a little extra help to make them look perfect.
Here's an overview of the best mustache wax to help you find one that gives you the same results.
The mainstream use of mustache wax was first seen in the 19th century, when twirling and shaping one's mustache was a popular men's grooming style.
And now, over two hundred years later, mustache wax and beard wax are two of the main products in mens grooming that have been gaining a lot of popularity over the last couple of years.
These old timey grooming products make it easy to get your beard and mustache looking incredible without causing unwanted stickiness or oily residue.
Intrigued? Read on to learn more about choosing and using the best mustache wax.
The Benefits of Using Mustache Wax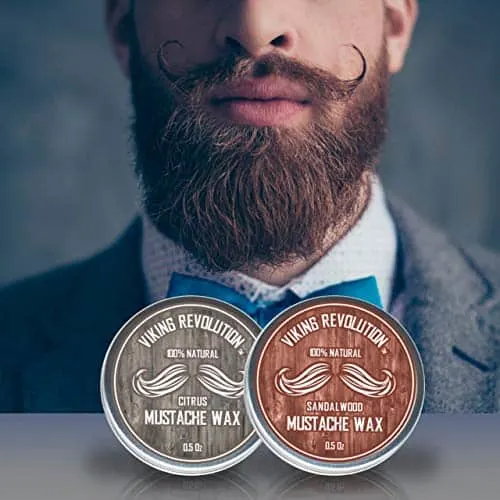 Mustache wax is often made from paraffin, beeswax, and other natural substances. Aside from giving you an easy way to control the appearance of your beard and mustache, this cosmetic product also comes with a delightful scent too.
The most obvious reason to use mustache wax is that it allows you to sculpt your facial hair into a style you can control.
You give your appearance a more controlled, slightly glossy look that's sure to provide you with a much-needed boost in confidence. At the same time, mustache wax keeps the hair that you've grown on your face out of the way of your mouth, so you can eat, speak and kiss without your whiskers getting in the way.
So, how do you choose the right mustache wax?
What to Consider When Buying Mustache Wax
These days, there are plenty of top-selling mustache waxes on the market to choose from. Finding the perfect solution for your needs will mean considering your personal preferences, and paying attention to a few key features, including:
Hold strength: How much hold do you need your mustache wax to have? A stronger hold may be essential for longer mustaches and people with coarser, more unruly facial hair. For guys with finer facial hair, a lighter grip might be fine too.
Scent: You're going to be smelling your muscle wax all day long, so it's important you pick a scent that you like. There are plenty of great options out there, from citrusy tones, to something more earthy or woodsy. Choose a wax that doesn't smell too heavily, so you don't get a headache.
Ingredient quality: As with any cosmetic product that you'll be applying to your face, it's important to choose something with high-quality ingredients. Make sure that you've got a wax with more than just shaping power. You need something that moisturizes and supports your facial hair too.
Appearance: As strange as it sounds, some mustache waxes come with tings and colors that can complement your facial hair. Most men will prefer to stick with a clear option, but you might decide to explore and try something different from time to time.
Packaging: Small jars and tubs of mustache wax are usually the best option for men who want to take their cosmetic products with them on-the-go. Make sure that your packaging is portable enough for your needs.
Related: Our guide to the best vintage shaving kits
6 Amazing Mustache Waxes to Try in 2022
Now that you know what to look for in an incredible mustache wax, you're ready to start checking out some of the options available in the market. There are dozens of choices out there, but here are some of our favorites to get you started.
1.Opium Den Mustache Wax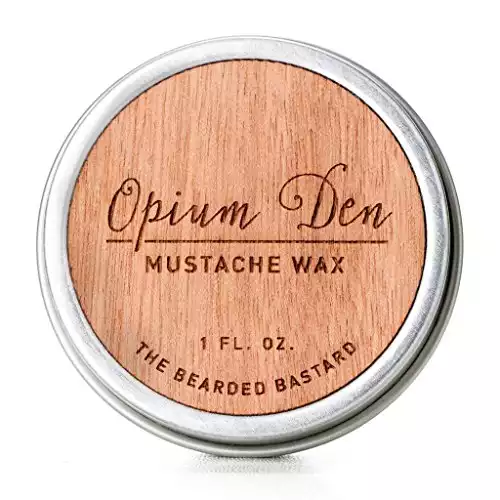 Affordable but high in quality, the Opium Den mustache wax from the Bearded Bastard is an excellent choice for any man. Made with natural ingredients like cocoa butter, lanolin, beeswax, and jojoba oil, this wax is fantastic for managing your unruly hair without putting chemicals on your skin. What's more, the scent is incredible took, with hints of spice and smoldering resins woven in.
This is a great mustache wax for people in search of strong hold, and it can last all day in the right circumstances. The Opium Den wax also comes in a beautiful hand-crafted tin that you'll love showing off.
2. The Honest Amish Beard Wax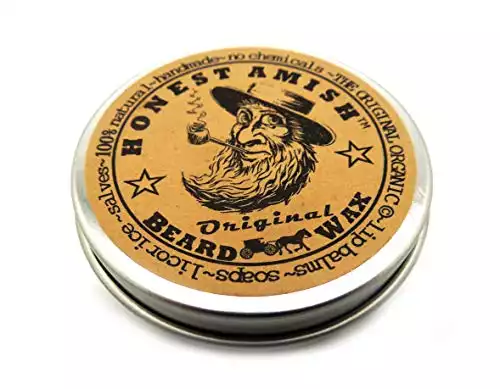 The Honest Amish Beard Wax is a highly traditional approach to wax that's great for anyone with a lot of mustache and beard hair to control. First sold in the 1970s, this is a wax with a lot of heritage. It smells quite soft, and citrusy thanks to its combination of natural nut oils, butters, and fruit oils.
The Honest Amish is still a popular choice for wax 45 years after it was created, and it comes in quite a large tin, so you won't run out too quickly. Choose this balm if you're looking for a semi-hard hold, but not something that leaves your beard too crunchy.
3. Fisticuffs Mustache Wax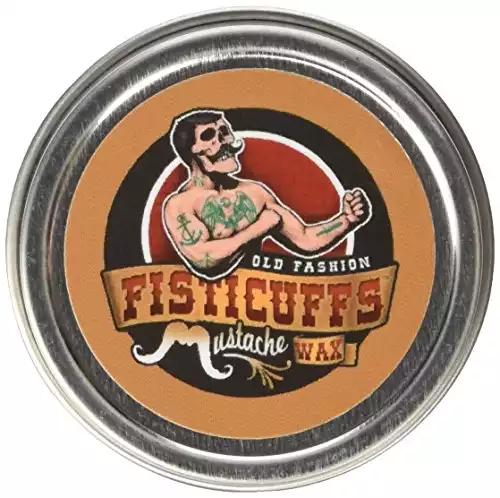 A hand-poured wax designed to give you maximum control over your style, the Fisticuffs mustache wax is an excellent choice for people with complex styles. This delightful wax comes with a soft citrus scent that's sure to leave you feeling refreshed all day long. What's more, it's made entirely with high-quality ingredients, so you know that you're not exposing your skin to anything dangerous.
Best for people who want a significant amount of hold, the fisticuffs wax includes petroleum jelly, pine sap, coconut oil, jojoba oil, and tea tree oil. There's a range of different scents available if the original doesn't appeal to you too.
4. Seven Potions Beard Wax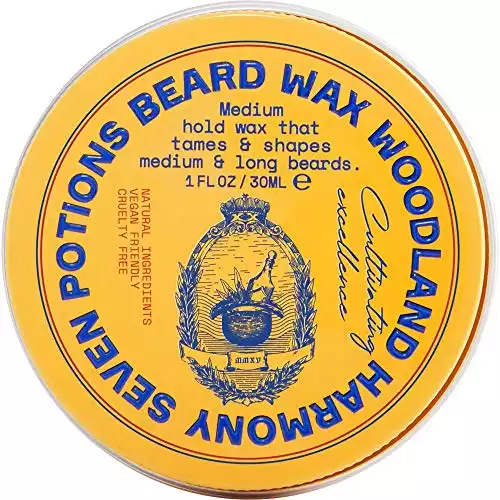 The beard and mustache wax from Seven Potions is another highly traditional choice that's sure to appeal to a range of men. Fantastic for any kind of facial hair, this medium-hold wax is better for styling than complicated shaping. If you're thinking of doing curls with your mustache, you might need something stronger.
What this wax lacks in stiff results, it makes up for with luxurious butters and oils that keep your mustache as healthy and luxurious as possible. Choose this option for a naturally well-tamed look.
5. Death Grip Mustache Wax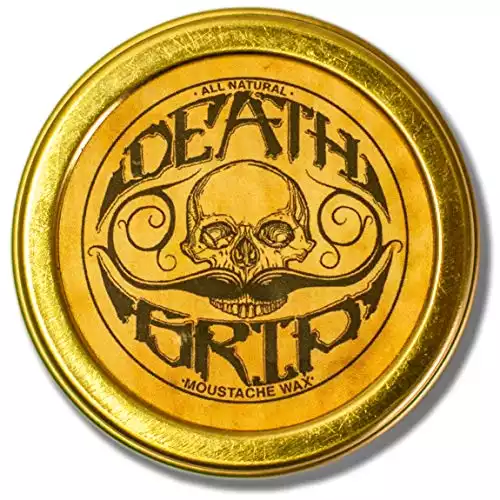 Probably one of the strongest mustache waxes that we've covered so far, this amazing product from the Vintage Beard Company comes in a 1 ounce metal tin that you can carry with you wherever you go. The great thing about Death Grip is that it's designed using a perfectly-chosen blend of all-natural and cruelty-free ingredients, so you won't have to worry about what you're putting on your face.
The company behind death grip mustache wax claims that it's only for people with serious mustaches. That means that it's great if you're looking to do something really wild with your facial hair. You can even use it for competitions!
6. Mountaineer Brand Mustache Wax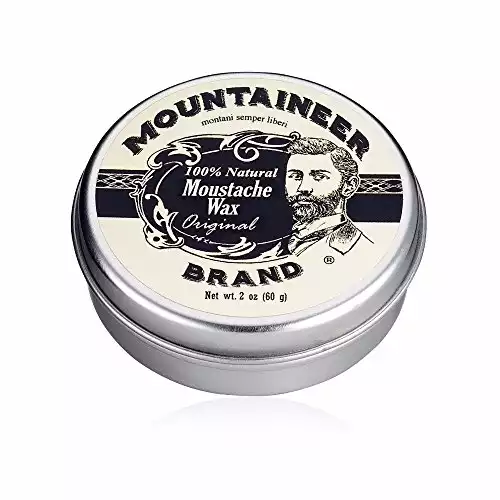 An excellent quality of mustache wax delivered in a slightly larger tin than most other brands offers, the Mountaineer brand mustache wax is great for sleek and smooth looking styles. This original wax comes with a fir needle scent that's leaves you smelling fresh all day, without causing too much of an odor. The neutral and transparent tint doesn't get in the way of your natural hair color either.
Hand-made in the USA, this marvelous wax is made with all-natural ingredients, including natural beeswax and absolutely no petroleum. You only need a small amount of this wax to get great results, thanks to its fantastic grip.
How to Use Your Beard and Mustache Wax
First time using mustache wax?
Don't worry; it's very simple.
Open the lid of your tin and run your fingernail over the top of the wax to pull up a small amount. You'll need to run the wax between your fingers until it's softened and pliable enough to brush through your facial hair.
Start by applying the wax to the center of your mustache and work out to the ends using a comb. If you have any issues, it may be because you're using too much wax. That's why it's so important to start with a small amount of wax – it's easier to add more than remove wax.
Remember that not all mustache waxes will be appropriate for use on your beard too. It's best to check with the packaging that you can use your wax on other facial hair before you start if you want to avoid any embarrassing mistakes. Once you've got the hang of applying your wax, you'll be able to start playing around with different styles and seeing which one you like the best.
To apply beard wax, remember that usually the substance will be a lot thinner, and act more like a conditioner than a gel or fixing substance. Start at the top of your beard and then run your hands down your cheeks to the lowest point of the hair.
Remember, robust mustaches and well-tamed beards can look great – but only if you know how to choose and use the right waxes. The products above, along with our quick and simple tips will help you to get your hair looking well-groomed and amazing in no time!