Latest posts by Will Ames
(see all)
Finding the best vintage mirror can really transform a room in your home with a classic feel.
Mirrors can be a very underappreciated accessory, and they not only help to bring extra light to a room, but they can make spaces appear bigger too.
With the right vintage mirror you can add an aged old and timeless design to your wall or cabinet. The vintage mirrors that we're going to show you have a range of different styles from brass oval, shield shaped gold right through to pearl and ceramic aesthetics.
There are a lot of vintage mirrors out there, so we've whittled it down to the top 8 that you can buy to create a more classical look to a room.
8 best vintage mirrors in 2020
1. Nerien Vintage Style Pearl Oval Mirror
Offering a real classical design, the Nerien Vintage Style Pearl Oval Mirror sits wonderfully on a cabinet or dressing table.
It certainly isn't the biggest that you'll find on the list but sometimes less is more and it works well to add a real vintage feel to any room. You can set this mirror in your bedroom or it can work brilliantly on top of a hallway cabinet,
Made from zinc, it won't fade over time so you'll be able to enjoy your vintage mirror for years without worrying that it'll lose its appearance. It comes with a black back pane so you can stand it up easily wherever you decide to put it and the decorative pearls and floral outline do wonders for reflecting light and helps to brighten up small spaces.
You have several different color options with this vintage mirror too. The pearl is clean looking and bright however if you want something a bit deeper than you'll find blue, wine red, green and even bronze options available.
Overall it is one of the best vintage mirrors you can get and what it lacks in size it more than makes up for in its classical look.
Learn more about the history of vintage mirrors and styles in this post.
2. Funerom Vintage Decorative Wall Mirror Gold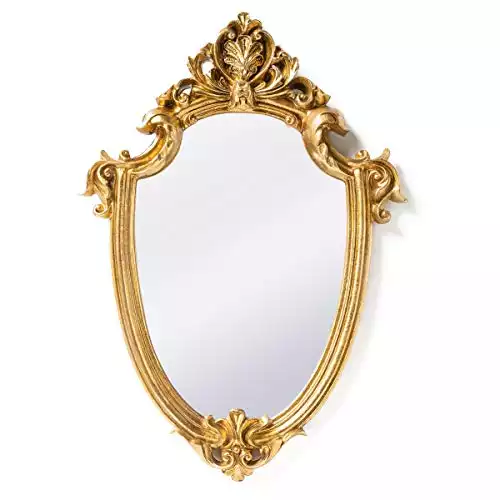 This is a slightly bigger mirror than our first pick and it is ideal for placing on a wall at home to create a vintage style.
The Funerom Vintage Decorative Wall Mirror has a shield shape which gives it a classical look. It isn't going to take up an entire wall in your room as it's around the size of an A4 page however you can add this to an already vintage styled wall to really add the finishing touches.
Its gold color is vibrant and it will be instantly recognizable when someone walks into the room. If you want to quickly check your appearance, put on some make up or just have it as a beautiful decorative feature, this is a great vintage mirror to purchase.
Combined with other home and garden vintage decorative and practical items, it will help to create the old-fashioned design you are seeking.
3. Linon Vintage Framed Wall Mirror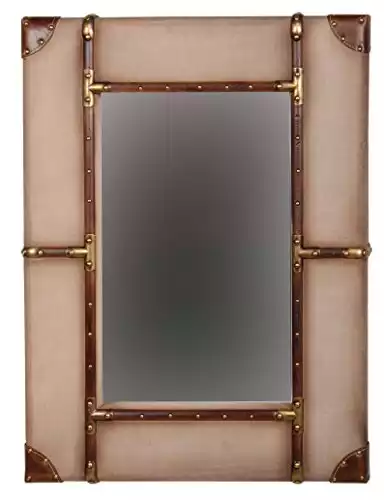 Moving away from our smaller vintage mirrors for a minute and this larger mirror is the perfect accompaniment to a vintage style home or classical looking room.
With an antiquated look, putting this Linon Vintage Framed Wall Mirror up at home will create a feature everyone will notice as soon as they walk in. Its rustic appearance and large size means you it is perfect for really any room in your home.
Not only will it help to create a vintage feel but it can make smaller rooms appear slightly bigger too by reflecting light and offering an interesting feature to the wall.
You can hang it either horizontally or vertically depending on your preference and even though it is quite heavy, putting it up correctly in a living room or hallway will add a ton of charm.
4. Stonebriar Decorative Antique Green Ceramic Wall Mirror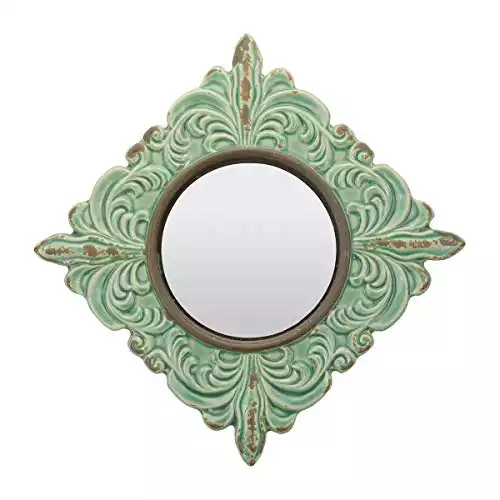 Going back to our smaller vintage mirrors, this offering isn't going to take up much space on your wall but if you combine it with a variety of other vintage accessories you can add something a little different to your room.
With a real antiquated green color scheme and ceramic construction, the Stonebriar decorative Antique Green Ceramic Wall Mirror is perfect for vintage inspired homes. It has a quirky combination of looking as though it has been there for a long time with its distressed look while still retaining the freshness of a new product.
This vintage mirror offers a Parisian feel which is one of the best styles to opt for when designing a vintage room so it will be right at home alongside your other accessories and decorations.
Finally, it is pretty lightweight even with its small size so hanging it up won't be an issue.
5. Creative Co-op Antique Inspired Hanging Oval Mirror with Pewter Frame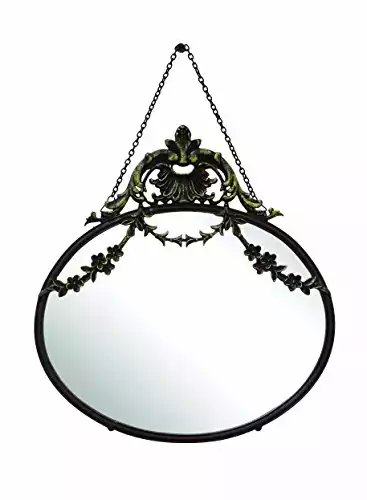 This vintage mirror is really the essence of what you need for an antiquated look to your home.
It's small size means it is perfect to hang on your wall and contribute to a classical style without overpowering the room and taking over a huge amount of space.
If you want a big centerpiece vintage mirror then look elsewhere (the Funerom large mirror which is second on our list would be more suitable) however if you want to add the finishing touch to a room, then it is perfect.
The Creative Co-op Antique Inspired Hanging Oval Mirror with Pewter Frame has distinct classic features that will complement a wide range of different vintage items.
Rustic, easy to hang and doesn't take up a lot of space – if you're in the market for a small vintage mirror then it is hard to go wrong with this.
6. Howard Elliott Edwin Hanging Rectangular Accent Wall Mirror, Rustic Antique Gold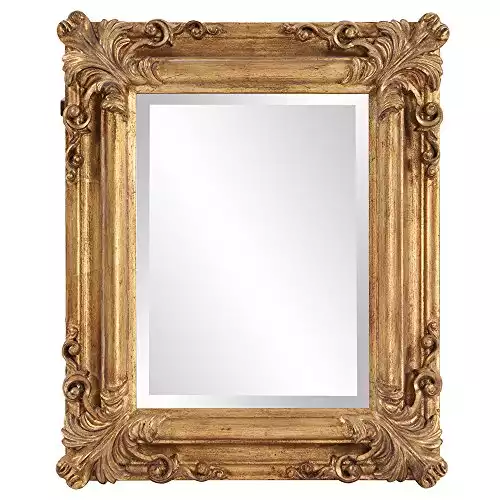 For those of you that want a large dose of elegance when it comes to a vintage mirror, this offering provides this and more.
Absolutely perfect for a rustic design, this antique design mirror ensures you'll have a stand out focal point for your room whether you choose to hang it in the hallway, living room or even a home office.
The Howard Elliott Edwin Hanging Rectangular Accent Wall Mirror isn't large enough to be a proper centrepiece in a room but it does act as a very noticeable feature.
For vintage inspired decor that is a little darker, this can brighten up a room simply by its presence so it is ideal for using with duller shades of vintage accessories and furniture. It also works well with brass accessories.
The mirror itself is very easy to hang and isn't as heavy as you might think either. You can also choose to have it horizontally or vertically depending on your preference.
7. Angel's Treasure Oval Wall Mounted Mirror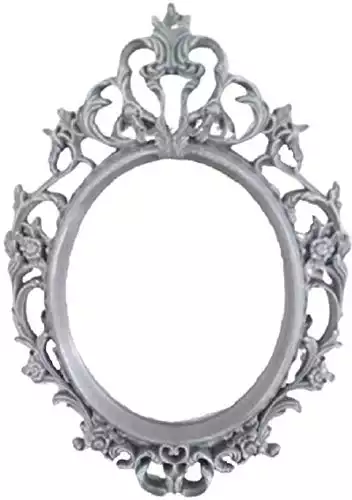 While this small vintage mirror might not brighten up a room with any dazzling colors, it offers an understated elegance that is ideal for providing a classical touch to any wall.
You can add this into a photo montage or just have it hanging beside other rustic looking accessories in your home. It's distressed gray color provides an aged old design and its lightweight construction means you'll have no problems hanging it up.
The mirror frame is actually made from plastic and while the Angel's Treasure Oval Wall Mounted Mirror isn't suited as a centerpiece or large decorative feature, it does do a fantastic job at offering a vintage style that can be combined with many other small decorations to complete your rustic and classical decor.
8. Stonebriar Decorative Round Burnt Umber Ceramic Wall Mirror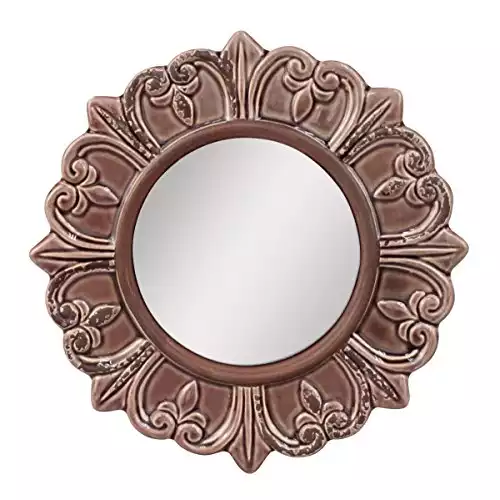 The last vintage mirror on our list is this beautiful Stonebriar Decorative Round Burnt Umber Ceramic Wall Mirror which has a really distinct color scheme.
The ceramic frame adds durability and its burnt tones mean that it'll be instantly recognizable in any room in the house whether you choose to hang it in the living room, hallway, bedroom or kitchen.
The design is inspired by Parisian decor so it has that hint of vintage style and it is very easy to install too.
With lovely aesthetics, a size that will slow in well with other decorative features and a reasonable price tag it is a fantastic vintage mirror to really give you home an antiquated feel.
Vintage Mirrors – Your Frequently Asked Questions
What is the best material for a vintage mirror?
There isn't really a 'best' material but some will be more durable than others. Ceramic, metal and wood are generally long-lasting and will withstand damage well. Even the plastic vintage mirrors will be durable but often don't have the same authentic feel.
Are these vintage mirrors easy to install?
Yes. They should be easy to put up if you follow the provided instructions. Some of these vintage mirrors will be heavier than others so you may need two people and always read the guidance as some can't be hung up with wire or rope.
Should I opt for a big vintage mirror or a small vintage mirror?
A big vintage mirror can offer a fantastic centerpiece to your room that will be instantly noticeable however you can also choose one of the smaller mirrors to add to a montage on the wall or to simply sit on a cabinet.
Both work well and you should decide how much space you have before you make a purchase.
How do I clean my vintage mirror?
Depending on the material used for the frame, you might need to use different methods to keep your mirror looking clean. For the glass, a combination of vinegar and water with a clean cloth will keep it shiny and sparkling.
Which is the Best Vintage Mirror to Buy?
All of the mirrors we have on this list will help to create a vintage style to your home and complement other classical decor you may have.
But we have to choose one.
If you want a slightly bigger vintage mirror that is going to bring a vibrant color to your wall and provide a real focal point to your room, then go for the Howard Elliott Edwin Hanging Rectangular Accent Wall Mirror, Rustic Antique Gold.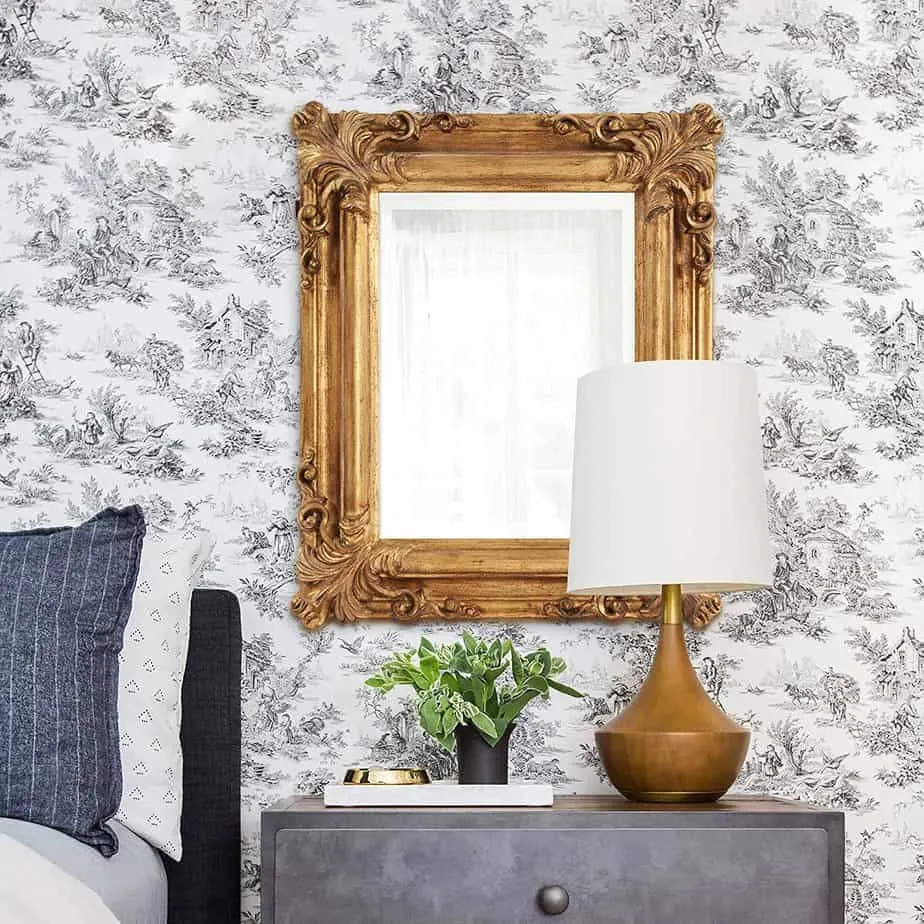 Not only is it a beautiful looking mirror that has an age-old charm but its antique design can really bring a room back centuries in its appearance. It's large enough to be noticeable on a feature wall but not too big that it overpowers the room completely. While it certainly isn't the cheapest vintage mirror on offer, the aesthetics and rustic design far outweigh the cost.
With this vintage mirror you'll get a fantastic addition to your home and it is not only durable but very easy to hang as well.
If this mirror is a bit too big for what you need, then you should opt for the Nerien Vintage Style Pearl Oval Mirror because this provides a much smaller piece of home decor that still brings in a classic look.
It can sit on a dressing table or even a cabinet in the hallway and bring a lot of elegance and sophistication to your home. There are also a wide variety of color options ranging from the clean looking pearl to bronze, wine red and even darker shades of blue and green.