Latest posts by Will Ames
(see all)
A smooth, clean shave requires more than a razor. For most men, a good shave boosts their appeal, confidence, and mindset. If you are one of them, there is no reason to feel bad for wanting to get the best quality shaving kit.
Vintage shaving kits are the new trend, and the best part is that besides shaving, the kit will even look great in your bathroom. That being said, selecting the right kit can be a little overwhelming, especially with so many options to choose from.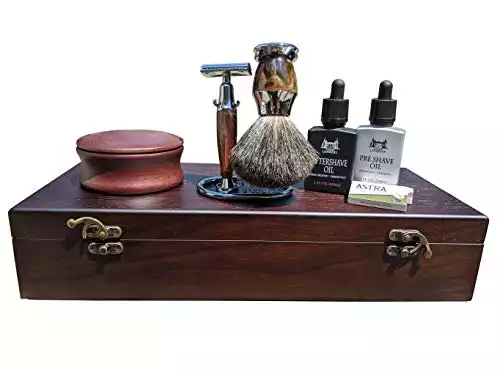 That's where we come in.
For today's guide, we've compiled and reviewed some of the best vintage shaving kits on the market that your money can buy this year.
Best Vintage Shaving Kits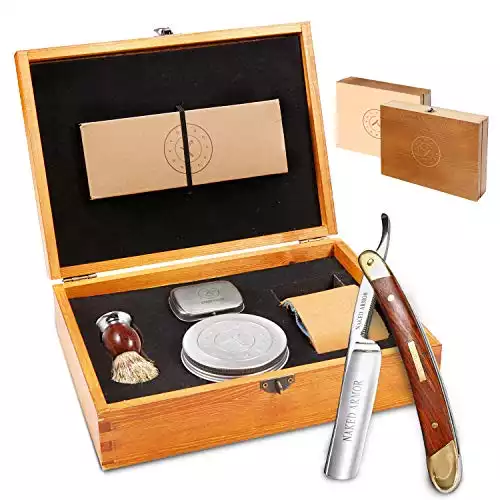 Amazing Straight Razor Kit | Amazon
Give the gift of looking good, feeling great, and being irresistibly handsome with this new straight edge razor. Naked Armor facial hair straight razor includes a leather travel case. Wood, leather, and steel come together in this beautiful samurai straight razor that will last for decades.
Buy at Amazon.com
We earn a commission if you make a purchase, at no additional cost to you.
12/05/2023 12:59 pm GMT
The Amazing Straight Razor Shaving Kit is what should come to your mind when you think of style and quality. Everything about the kit is old-fashioned but with a modern feel. The items come in a vintage case, which makes it ideal for traveling. It features a strop, Japanese stainless razor, badger shave brush, a tin of shaving soap, and sharpening cream.
This vintage shaving kit is everything you need to achieve that smooth, sexy face right in the comfort of your home. It comes with free videos and articles to guide you through the shaving process, so you have nothing to worry about even if you're a beginner.
It features a 15.7 blade to give you a blend of strength and precision as you maneuver around your beard or mustache. The straight razor is sturdy and durable, so you are assured of getting value for your money. The blade is wide, making it suitable for beginners and great for achieving your preferred angles.
If you are not into shaving, this shaving kit makes a good gift idea for your partner, dad, brother, or any other male figure in your life. It includes everything a man would need for easy grooming, and the fact that it comes with a wood box makes it even more presentable.
This old-fashioned shaving kit made it to our top choices because it gives a great, smooth shave; the price is reasonably fair and provides versatility based on the look you want to achieve.
Pros
It comes with an attractive vintage case
Features everything you need for a clean shave, including soap and brush
The kit is affordable
Suitable for beginners
Cons
The kit does not include a moisturizer
Gentleman Jon Deluxe Wet Shave Kit | Amazon
Toss the cheap cartridge razors & aerosol foams and upgrade to Gentleman Jon shaving products to see what it feels like to shave like a man.
Buy at Amazon.com
We earn a commission if you make a purchase, at no additional cost to you.
12/05/2023 01:26 pm GMT
This shaving kit brings you everything you need to start your shaving journey at home at an affordable price. If you have been contemplating upgrading your shave or thinking of a good gift idea for your loved one, this one will do. It is time to get rid of the cheap razors and aerosol foam for the classy yet high-quality Gentleman Jon Shaving products, which will leave your face looking smooth and well-groomed.
Every item in the kit has been well-curated and proven to meet the buyers' requirements. The shave products are also super durable to give you a long-time service. Inside the kit you will find a safety razor, which is made to give you strength, comfort and precision as you go by your shaving business. It is made of high-duty material for longevity. It also comes with a badger hair brush, made of 100% black badger to help you produce more foam using less soap for skin exfoliation.
You will fall in love with the leather dopp kit that allows you to carry all the items around as you travel. It is water-resistant, thus offering great protection to your shaving items. The Gentleman Jon Deluxe Wet Shaving kit comes with an alum block to manage irritation making it ideal for individuals with sensitive skin. The shaving soap and bowl come handy for lathering to give you a smooth shave.
Pros
The shaving kit comes with a protective leather dopp
It is ideal for travelling
The items are durable and do the job right
Suitable for individuals with sensitive skin
Cons
It may take you some time before getting used to the scuttle
Related: Have a look at some of our favorite vintage barber tools.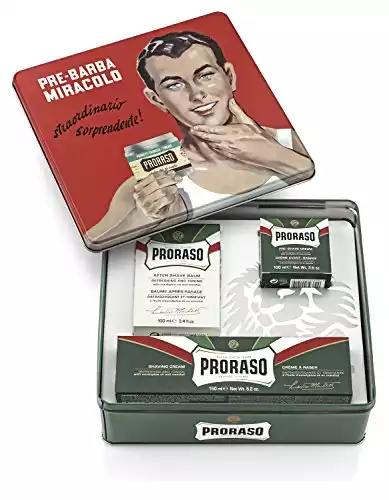 For a quality, smooth shave right at the comfort of your home, the Proraso Vintage Gino Tin Gift Set is precisely what you are looking for. This shaving set makes it to the top 3 of our selection mainly because it is affordable, stylish and gives users an unmatched experience.
It features a pre-shave cream, shaving cream and aftershave balm to give you a full experience. This means that with this kit, you have everything you need before, during and after getting that beard or haircut. The aftershave cut is meant to give you a soothing feel after shaving which is ideal if you have a sensitive skin. The pre-shave cream on the other hand prepares your skin for the shave while the shaving cream tones your skin and protects you from cuts.
All these products have been tested and are good for all skin types. The Proraso shaving kit leaves your skin smooth and rejuvenated without any irritations. The quality and durability of this product makes it a top selection in Italy and is slowly spreading to the rest of the world.
The storage box features a Proraso's advert from many decades ago which makes it look like you have had it for over 70 years. The shaving creams contain Eucalyptus oil for reducing inflammation and purifying your skin.
The only drawback however is that the kit does not include a shaving brush and safety razor.
Pros
The shaving kit features a special toning formula made of pre-shaving, shaving and after shaving cream
Ideal for individuals with sensitive skin
Good for managing skin inflammation
Cons
The kit does not include a safety razor and shaving brush
Related: How to find the best mustache wax for your vintage grooming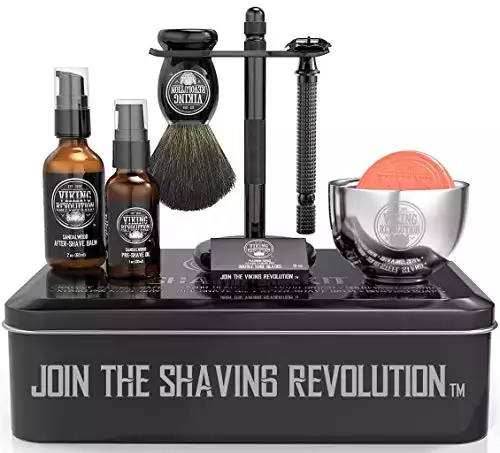 Luxury Safety Razor Shaving Kit | Amazon
Make any man extremely happy with Viking Revolution Safety Razor Shaving Kit. This luxury shaving kit for men is ideal as a gift for fathers, husbands, sons or any man for that matter.
Buy at Amazon.com
We earn a commission if you make a purchase, at no additional cost to you.
12/05/2023 05:31 am GMT
Besides the standard items included in a complete shaving kit, the Luxury Safety Razor Shaving kit includes a moisturizer and soothing creams. The shaving kit is meant for men with facial hair who love to keep themselves neat and contained. Nonetheless, it is also ideal for individuals who love their faces smooth and free from hair.
This shaving kit is also among the most affordable options on the market considering the number of items contained in the kit. It comes with a stand, safety razor, shaving soap, scuttle and replacement razors.
The pre-cream and aftershave balm are the main reasons why this kit made it to the top of our choices. The two are crucial for users with sensitive skin or looking for the smoothest shave possible. They are geared towards skin protection and ensure that the razor does its job. We also love the fact that it comes with full-sized products including replacement razors to ensure that the kit serves you for long, something that you may never find in most kits on the market.
The old-fashioned shaving kit from Viking Revolution has a touch of modern feel and will look great on your grooming area. It comes with a beautiful case for products' storage and easy portability when traveling.
The only drawback is that this kit's products are a bit strongly scented hence not suitable for individuals with high smell sensitivity.
Pros
Comes with skin moisturizing and rejuvenating products
Ideal for all skin types
The kit is geared towards men who love hairy faces and those that prefer smooth faces
Features replacement razors
Cons
The products are strongly scented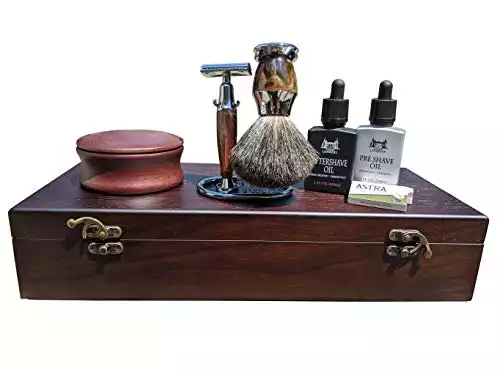 There is everything to admire about this old-fashioned shaving kit, from the vintage storage box to the quality of the products. The Maison Lambert Ultimate Shaving Kit set is handcrafted to match the French tradition and help users achieve a perfect shave with the double edge safety razor that comes with the kit.
It features a badger hair brush made from 100% pure black badger, organic pre-shave oil aftershave oil, shaving soap, and a sturdy shaving stand. Do not let the vintage look fool you. All the products contained in this shaving kit are made of luxurious, natural ingredients, including cocoa butter, argan oil, aloe Vera, and jojoba oil. The creams are free from parabens, toxins, dyes, and artificial fragrances and are ideal for individuals with sensitive skin.
While it is not the cheapest choice on the market, it makes a good option if you are looking for a luxurious, high-quality shaving kit with an old-times look. The vintage wooden case does not only come in handy for storage, but also, it makes packing easy when traveling. Also, the shiny wood will complement other items in your grooming area.
You can get this shaving kit to upgrade from your current one, as a decorative feature in your room, or to gift a loved one.
Pros
The shaving kit features a vintage storage box
Comes with all products needed a full shaving experience
The products are chemical and toxin-free
Cons
The shaving kit is a bit expensive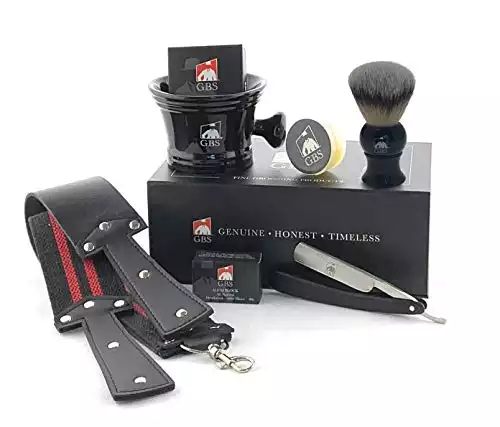 This straight razor shaving set is a great option for individuals who love straight razors but do not want to break the bank for it. It is super affordable, and the quality is not compromised. The razors are made from stainless steel for durability and easy maintenance. They are made to suit different hair thicknesses and types, and that's the main aspect we love about the kit.
Besides the razor, the kit comes with all supplies needed to achieve a sharp and clean shave. Although the hairbrush is not badger-made, the manufacturers have done a good job using synthetic fibers to offer a functional brush that will give you good lather and feel comfortable on your face. However, the synthetic fiber cannot match the badger's capacity to hold water.
The GBS 'Shave Ready' Wood Straight razor shaving kit comes with a traditionally-shaped scuttle that goes deeper than most selections on the market. This makes it suitable for individuals that prefer rich lather for easier shaving.
The kit includes an alum bar to show Vintage Shaving Kit Buyers Guide the skin from aftershave irritation, which works well for people with sensitive skin.
Pros
The shaving kit is super affordable
The razors are easy to use and maintain
It comes with an alum bar, shaving soap, and scuttle
Cons
Does not come with a storage or traveling case
Vintage Shaving Kit Buyers Guide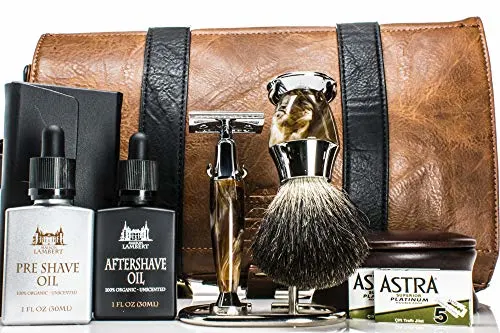 Just like when shopping for any other vintage grooming item, you must do in-depth background research to ensure that you get a quality vintage shaving kit to meet both your needs and budget. Some important aspects to take into consideration when shopping for a vintage shaving kit include:
The Price
Price plays a crucial role when shopping for any product, and this case is no exception. You need a shaving kit that you can comfortably afford without compromising on quality. The prices of the kits vary depending on the brand, and the products included. In our selection, the GBS 'Shave Ready' Wood Straight Razor is the best choice for anyone looking for an affordable old-fashioned shaving kit that will meet their needs.
Does it Come with Shaving Creams?
Shaving creams and moisturizers are essential for protecting your skin. You want to have a smooth shaving experience without scars and irritation. Therefore, it would help if you went through all the products contained in the kit to ensure that it has everything you need. This will save you from the hassle of shopping for those products separately. We love the Luxury Safety Razor Shaving Kit because it is an all-in-one kit with both the creams and moisturizer.
Type of Razor
The ideal type of razor depends on the look you are trying to achieve. There are straight and bent razors, both of which are geared towards different users. If you are after a smooth shave without leaving any hairs on your face, the straight razor will do. If you wish to leave your hair neat, the bent razor should be your go-to choice. You can go for a versatile choice like the Luxury Safety Razor Shaving Kit, which works for both.
Final Thoughts
Each of the above shaving kits come with some upsides and downsides. They all have their strengths and are highly rated, which put them in our top selection. It is up to you to assess your needs and budget before settling on one.
The Maison Lambert Ultimate Shaving Kit Set is the best option if you are looking for an all-in-one kit as it comes with everything needed when shaving. If you are after quality and affordability, you should try the GBS 'Shave Ready' Wood Straight Razor. For a vintage kit with modern touch, the Amazing Straight Razor Shaving Kit is your ideal choice.
Remember to keep in mind that one person's choice might not work well for you, and therefore, you should not rush to purchase a specific kit just because someone else vouches for it. It's a personal choice. That being said, we believe quality should always be one of your top priorities when shopping for a shaving kit.