Latest posts by Will Ames
(see all)
Even with the rise in new, modernized speakers, the old-time retro bluetooth speakers are still great head turners so to speak. From the warm sound to the unmatched wood fragrance, there is everything to love about vintage looking speakers.
Other than giving you fantastic bass and clarity, retro bluetooth speakers also make a perfect piece for decoration. Nonetheless, just like when shopping for a retro toaster or a retro coffee maker, selecting the right retro bluetooth speaker can be tricky, especially if you are a first-time buyer.
So in this guide, we've compiled a list of the best rated retro bluetooth speakers currently on the market, to hopefully guide you through your search in selecting the best one for your needs.
The Top 7 Best Retro Bluetooth Speakers in 2022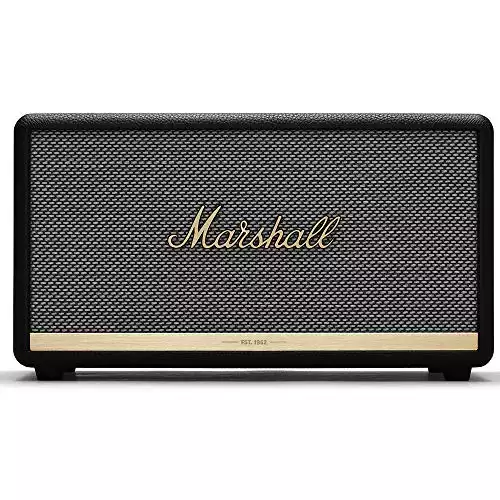 We mainly fell in love with this speaker's unmatched range of connections. It features a combination of aptX technology and Bluetooth 5.0 to maximize the connection range. It also comes with a powerful subwoofer with a tweeter set up to give you the best quality sound.
The turn knobs make the speaker easy to use by allowing you to adjust the volume levels to match your preference. If you are into neutral colors, you will love this off-white style speaker that makes it a great fit as a décor.
Its size is phenomenal, and this makes it ideal both for large and small rooms. When it comes to its functionality, you will love that it is built with advanced components and design to give you a balanced and highly clarified audio, even at the highest levels. It is characterized by two 15W Class Tweeters and a 50W Class D subwoofer to provide you with clean and precise sound at all levels.
One thing that makes the Marshall Stanmore 11 Wireless Bluetooth Speaker standout amid other options is that you can control the sound through its bass, treble, and overall volume using retro turn-knobs on top of the speakers.
Pros
Comes with retro turn-knobs for easy voice control
The speaker provides you with the cleanest and precise voice
It features a vintage color and design
The speaker has a wireless option
Cons
It's quite expensive
You may experience issues connecting the speaker with particular computers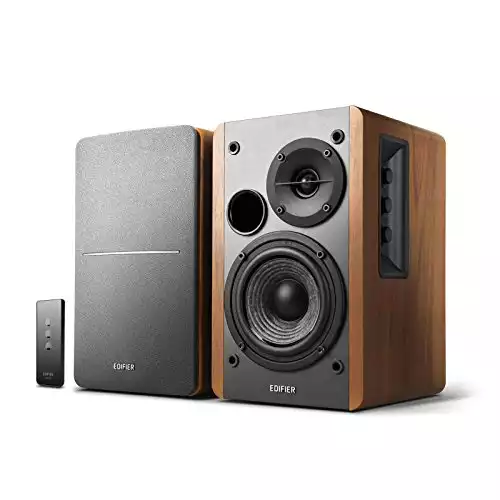 The Edifier R1280T Powered Bookshelf Speakers is characterized by wood veneers and high-quality warm sound which qualifies for the best retro Bluetooth speakers' list. The speakers come as a set with varying sizes. The speaker's price is also unbelievably affordable, considering the bang it brings on the table.
The speakers' architecture makes them excellent for showoff but if you wish, the size is just right to hide in a bookshelf especially if you are operating with limited space. The biggest speaker has covered in a speaker grille to give it a more vintage look and feel while the top sides feature a metallic coating to give the speakers a modern touch.
You will love the audio quality from these speakers. Even at neutral settings, the quality is incomparable giving you a refreshing music experience. The bass is carefully balanced. What's more, the speakers are characterized by a calculated bass boost so you can select your ideal level ranging from warm to dark.
The fact that the speakers come with a remote control leads to the top of our selection. Other than serving as a perfect complement to your home décor, the speakers' wooden finish with wood effect vinyl boosts their durability. Overall a fantastic retro looking bluetooth speaker.
Pros
Features a deep, balanced bass
It has a wooden finish for durability and to give the speakers an old-times look and feel
The speakers feature detachable cables
Remote control for easy usability
Cons
The speakers do not have a wireless option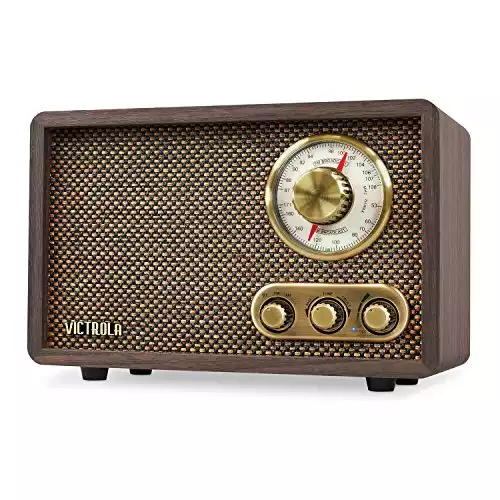 The first thing that caught our attention when we came across the Victrola Retro Wood Bluetooth Speaker is its affordability. It is hard to find a decent quality retro bluetooth speaker with amazing features like this at such a low cost. It is among the cheapest options, without compromising on quality.
It features both FM and AM radio so you can enjoy your favorite tunes regardless of your preference. Its vintage wooden appearance makes it a perfect décor idea, giving your room a timeless, retro look that many people yearn for. Even better, it features a wooden box that resembles the old time wooden radios. It has turn knobs for easy operation, giving it a vintage feel.
This Bluetooth speaker is relatively basic but for the cost, we can agree that Victrola tried hard to meet the needs of its audience: those working under budget constraints. You can easily stream music which meets the purpose of any speaker. If you are after bass and clarity, this speaker might not meet your needs.
The other drawback is that some users complained about its durability. It is said to pose issues after using it for extended periods of time. Overall, the quality and functionality are good for the speaker's price.
Pros
It is super affordable
It features a beautiful vintage design
Comes with knobs for ease to use
The quality is quite decent
Cons
The speaker is only suitable for consumers who are after basic features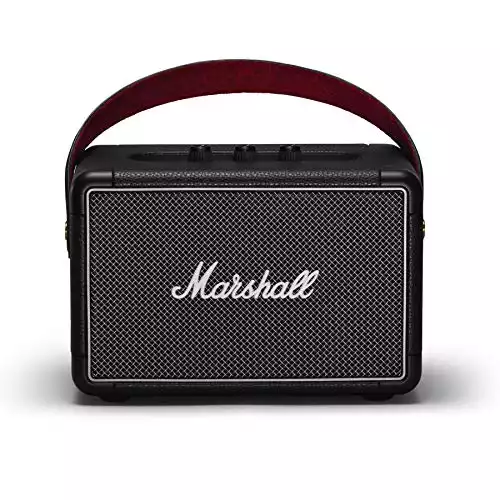 Marshall is one of the most trustworthy speaker brands, due to their ability to improve audio after years of research to attain perfection. That is precisely what you get from Marshall Kilburn II.
It is characterized by an exquisite design with a combination of modern and vintage touch. The speaker's aesthetic vintage design is so real that your visitors will likely believe it if you told them you had it since the 60s.
Its front side features a speaker grille with the Marshall logo. The rest of the body is made of leather, including a leather strap for portability.
One of its highlights is certainly its playtime. You can count on it for 20+ hours of continued play time before needing to charge.
The only downsides that we found are that it is more costly and not as powerful as other Marshall speakers.
Pros
It features an exquisite vintage design
Gives you up to 20+ hours of battery life
High-quality audio
Comes with a leather strap for portability
Cons
It is a bit expensive
It is not as powerful as other speakers from Marshall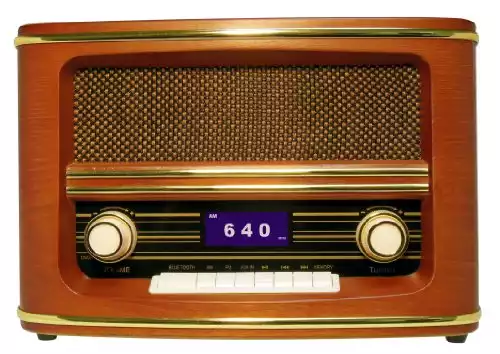 The style and design of this handmade speaker will catch your attention out of hundreds of speaker options, and you can trust that it will look great next to your vintage Gilbert clock. The speaker features a wooden cabinet to boost its vintage design and for durability. The box's edges have golden paneling ribbons to give the speaker a modern touch.
The Wolverine RSR100 Retro Table Top Bluetooth Speaker is quite affordable considering the sound quality you get from this investment. It is hard to find a low priced speaker that will meet all your needs, but the Wolverine will likely prove you wrong. Although the clarity is not all that great, you can easily adjust the volume levels to get a clean, precise sound, and you won't have to worry about experiencing distortion issues at high-volumes like you would with most other speakers on the market.
Pros
A beautiful retro design characterizes the speaker
It is Bluetooth enabled
Quite affordable
Cons
The sound clarity level is not the best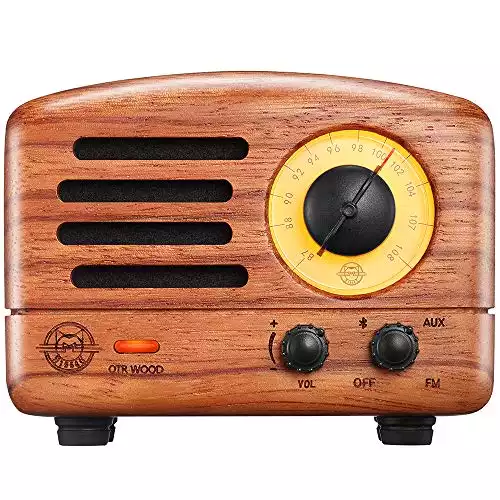 Muzen Audio Handcrafted Rosewood | Amazon
This retro radio bluetooth speaker has nature wooden surface, retro looking salute 1950s old fashion, with build in the modern technology speaker, enjoy relaxed time from MUZEN bluetooth speaker.
Buy at Amazon.com
We earn a commission if you make a purchase, at no additional cost to you.
09/26/2023 01:19 am GMT
While some individuals will argue that the Muzen Audio Handcrafted Rosewood speaker is quite costly, we believe it adds a tonne of value.
This speaker features a high-quality wooden body and is quite small in size, making it easier to carry around. It will also look great in any lounge, living room or office.
The sound quality you get from this speaker will also surprise you with a range of more than 70 decibels. With its small size and minimalist design, it only has a volume button for easy sound adjustments. The speaker's battery life is made to give you up to 8 hours of non-stop music experience.
The Muzen audio speaker's size and the fact that it is handcrafted using raw wood make it unique and an amazing birthday gift idea as well.
Pros
The speaker is handcrafted with high-quality wood
The sound quality is great
Features a relatively long battery life
Cons
Minimalist design with limited external features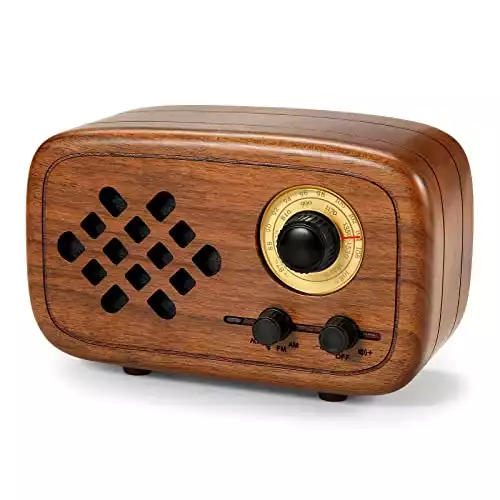 Rerii Retro Bluetooth Speaker, Handmade Walnut Wood Vintage | Amazon
The retro bluetooth speaker is beautifully finished and crafted by natural walnut wood. And it is handmade. It is warm colored and vintage appearance small radio, which matches seamlessly with the texture of your wood furniture around your house.
Buy at Amazon.com
We earn a commission if you make a purchase, at no additional cost to you.
09/26/2023 04:08 pm GMT
With less than a hundred bucks, you can acquire this beautifully crafted and finished retro Bluetooth speaker. It is handmade using natural walnut wood to give it a vintage appeal and warm color that seamlessly matches other retro items and wooden furniture like the Wooton desk in your room.
The sound quality from the Rerrii Retro Bluetooth Speaker is amazingly clear and precise. You will enjoy its high range frequency, allowing you to select your ideal bass levels. The volume range is also broad enough, so you can select your preference depending on whether you are at home or the office. Naturally it also features both AM and FM radio to match your needs.
This retro speaker is equipped with a Bluetooth system for fast pairing with smartphones, tablets, and other Bluetooth enabled devices. With its inbuilt rechargeable battery, this speaker's slogan is 'charge less and listen more.' You can use it for up to 15 hours non-stop for music and over a week for radio without recharging.
Pros
Equipped with a Bluetooth system
Features a unique design that matches with any furniture in the room
Long battery lifespan
Cons
The speaker can be confusing to use
Retro Bluetooth Speakers Buying Guide
A range of factors come into play when establishing the right retro Bluetooth speaker. You need a speaker that will meet your sound quality and clarity needs when ensuring that it fits your budget. The main aspects to consider during your shopping include;
Looks and Design
You are not going for just any Bluetooth speaker. You are after retro bluetooth speakers, which means that looks and design should be on top of your mind. You need a speaker that will give you an old time feel and look but with a modern touch. In our selection, we would recommend the Marshall Kilburn II. It features an exquisite vintage design with a sense of both class and style.
Value for Money
Retro Bluetooth speakers are quite costly, so looking for one that gives you value for money is key. You would not want to spend hundreds of dollars on a speaker that will perform poorly in terms of sound and durability. In this case, the Rerii Retro Bluetooth Speaker is a great choice considering its make and battery life.
Audio Quality
A Bluetooth speaker without solid audio quality beats the whole purpose of the speaker. You want to enjoy good music and be in a position to adjust it to your liking. This is unless you are only planning on getting the speaker and using it as décor.
Which is the Best Retro Bluetooth Speaker?
Each of the reviewed speakers above come with its pros and cons. The best option is, therefore, entirely based on your individual needs. What might look like a great choice to one consumer might not be a good option for you. It is recommendable that you take your time to review the pros and cons of each of the retro Bluetooth speakers before settling on one.
With that being said, if you are looking for a retro speaker with the longest battery life, the Rerii Retro Bluetooth speaker should be your go-to option. On the other hand, if you are mainly after clean and precise audio quality, the Marshall Stanmore II Wireless Bluetooth Speaker is what you are looking for and is our overall favorite retro bluetooth speaker.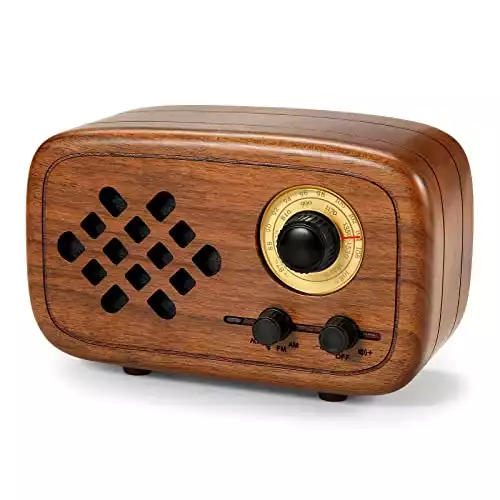 Rerii Retro Bluetooth Speaker, Handmade Walnut Wood Vintage | Amazon
The retro bluetooth speaker is beautifully finished and crafted by natural walnut wood. And it is handmade. It is warm colored and vintage appearance small radio, which matches seamlessly with the texture of your wood furniture around your house.
Buy at Amazon.com
We earn a commission if you make a purchase, at no additional cost to you.
09/26/2023 04:08 pm GMT