Latest posts by Will Ames
(see all)
The toaster oven was once a kitchen appliance common to every home. As time went on people began buying separate kitchen appliances for what the toaster oven can do.
But because of the nostalgia that these special ovens can bring and the multitude of features they have, why not bring it back or introduce a retro toaster oven to your home and spice up your kitchen décor?
While the toaster ovens we selected look retro, they have modern features making them stylish and of high quality.
Read on to see more about the 7 best retro toaster ovens for 2022.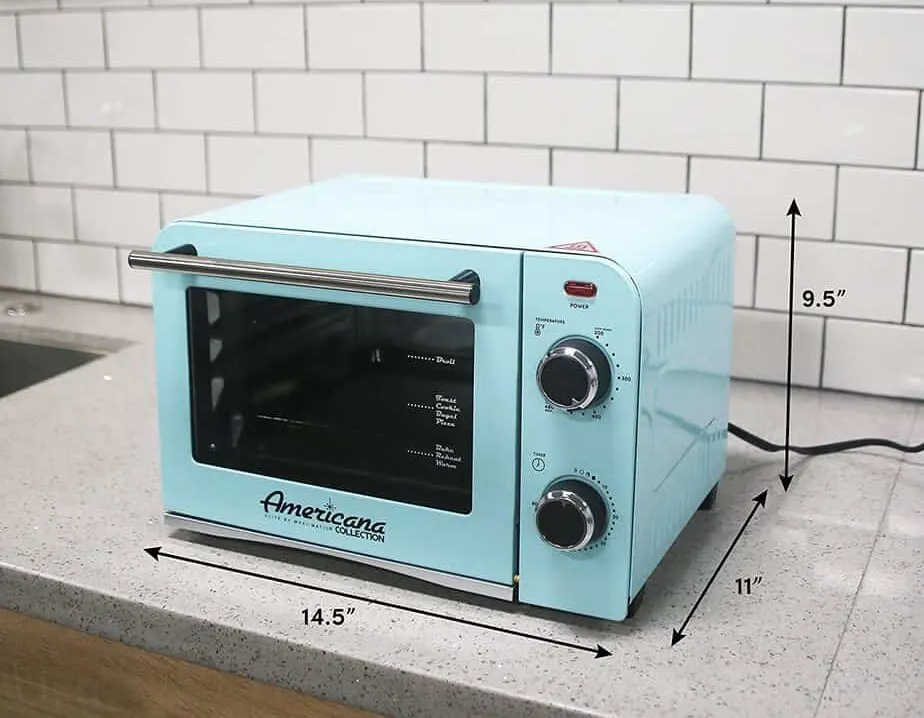 Top 7 Best Retro Toaster Ovens
1. Multi-Functioning Retro Convection Toaster Oven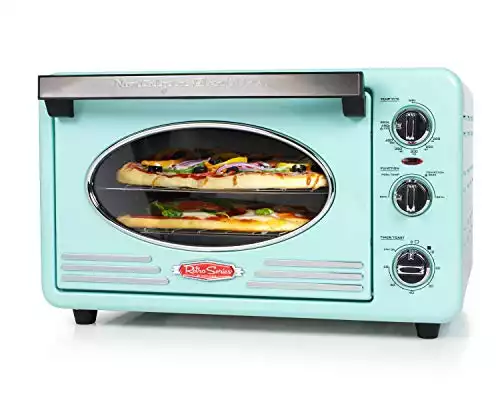 This large capactiy Retro Convection Toaster Oven is big enough to fit two twelve inch pizzas or 12 pieces of bread. It can also be used to cook cupcakes, biscuits, meats and other tasty meals and treats.
With four settings there are so many things you can cook with this super stylish retro toaster oven. You can choose between convection, bake, toast and broil. This oven has four different stages of heat: off, lower, upper and lower & upper. The adjustable temperature ranges between 200°F – 450°F.
There is a 1-hour timer but also a stay on option so you can cook longer than 1 hour. At the front of the toaster oven there is glass which can resist high temperatures which enables you to look inside the toaster oven to check on the food.
The baking pan, wire racks and crumb tray are removable, making cleanup an easy task.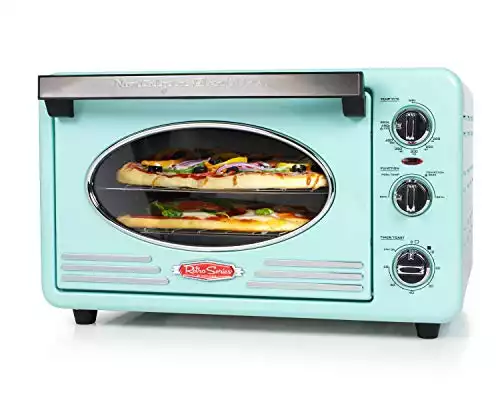 2. Brentwood Toaster Oven
This awesome red finish Brentwood toaster oven could be the perfect addition to your home. It is large enough to toast 4 pieces of bread but of course you can also make and cook a whole range of things inside the toaster oven.
With toast, broil and bake functions and a temperature that ranges between 50°F – 400°F this might be just what you are looking for.
You can choose between the low and high racks for cooking and baking and use the included wire rack and food pan to cook on. With auto shut off, stay on cooking functions and a built-in 15 minute timer you have total control.
The interior of the oven is covered in a zinc coating for maximum durability and to clean the inside you just need to tilt the oven back and allow the crumbs to fall out onto the crumb tray. It is ideal for when you have made crispy pizzas.
3. BALMUDA The Toaster | Steam Toaster Oven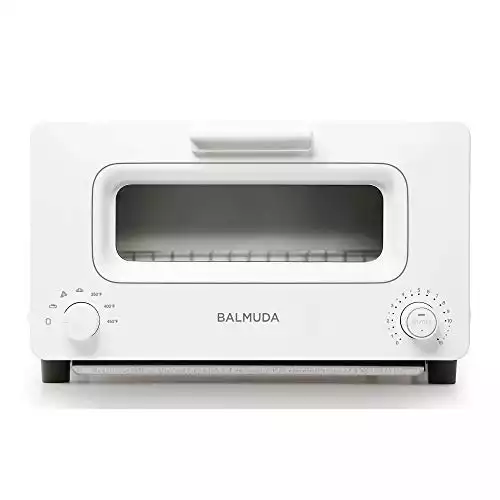 This retro style toaster oven has a totally unique way of working. As you might have guessed from the name, it uses steam technology.
By adding 5cc/5ml of water before baking or toasting bread this creates a small amount of steam. As water heats more rapidly than air a thin layer of steam forms which surrounds the bread and toasts the outside lightly leaving the inside soft and flavorful.
Balmuda boasts this toaster oven's four different bread settings and oven mode. It has a different setting for sandwich bread, pizza, artisan bread and pastries.
The oven mode has three different temperature settings. These temperatures are 350°F, 400°F and 450°F.
Included is the toaster oven, instruction manual, 5cc/5ml cup, toasting rack and baking tray. The toaster oven measures 14.10 x 12.60 x 8.20 inches, weighs 13.87 pounds and is available in white and black.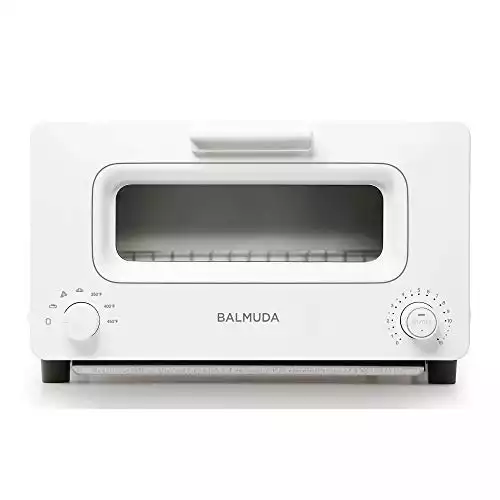 4. Luby Convection Bake Toaster Oven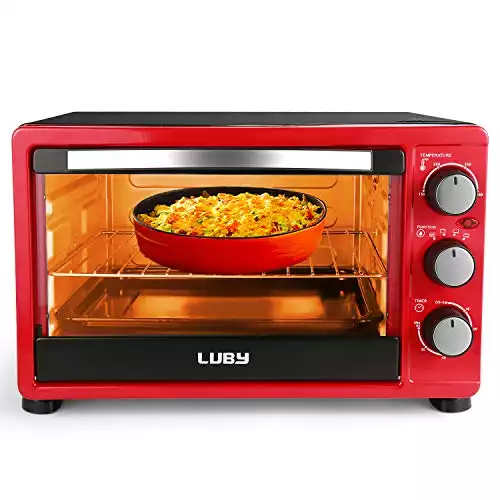 The Retro style Luby Convection Toaster Oven is a great modern take on the classic toaster oven. It uses convection heating. The convection heating technology circulates warm air around the smart oven which quickly and evenly bakes and cooks your food.
The inside of the toaster oven is large enough for 6 pieces of bread or a 10" pizza and can cook all sorts of meats and tasty meals. The large size makes it the perfect size for a home with more than two people and it will not take up too much space on your countertop.
It measures 17.91 x 11.02 x 11.22 inches and has a maximum temperature of 450°F.
This toaster oven comes with a durable baking tray, wire rack and removable crumb tray. The simple-to-use dial provides full adjustable toasting control over all cooking functions and adjustable temperature. There is also a 60-minute timer with an auto-off feature and a ready ringtone.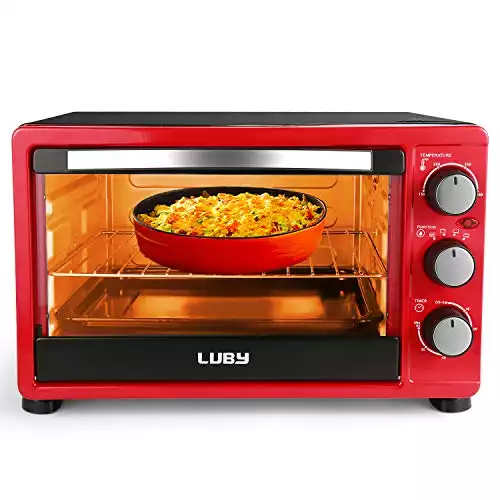 5. Dash Mini Toaster Oven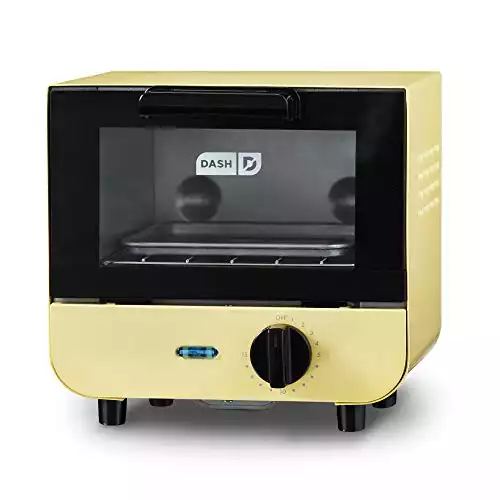 The Dash Mini Toaster Oven would be great for those of you who do not want a large toaster oven on the counter. This is an ideal size for someone who is living alone, an apartment or for a student to have in their dorm room. This toaster oven is very easy to use, you simply plug it in and set the temperature by turning the knob.
The Dash mini toaster oven has a safety feature where if the oven is getting very hot and there is a risk of it overheating it will automatically shut off.
This toaster oven is the perfect size if you wanted to take it camping or on a trip. It's great for bread and baking mini pizzas and other small items. It measures 9.4 x 9 x 8.8 inches and weighs just 6.19 pounds.
Dash offers with this toaster oven a 1-year manufacturer's guarantee. This 550 watt toaster oven includes an oven rack, baking tray, crumb tray and a recipe book. All of the non-electric parts are easily wiped clean meaning this little oven is super easy to clean.
6. Americana Elite 50's Retro Countertop Oven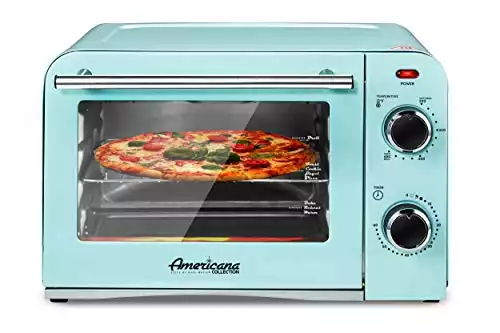 The Americana Elite 50's Retro Countertop Toaster Oven will be a great retro addition to your kitchen. It has a 6 slice capacity allowing you to cook bagels, a 9" pizza or grill an open sandwich.
This vintage toaster oven has a 60 minute timer making it perfect for toasting and warming up food for a quick snack or breakfast but it still has the capability of creating juicy roasts, great meals or baking something sweet. There are so many possibilities with this retro style toaster oven due to its modern day function and technology.
It's gorgeous mint blue color is sure to brighten up any kitchen. Measuring 18.11" x 13.78" x 7.68" and weighing 9.04 pounds this toaster oven could be a great addition to your home.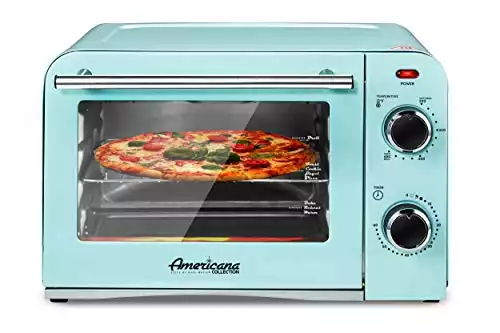 7. Nostalgia – Retro 3-in-1 Breakfast Station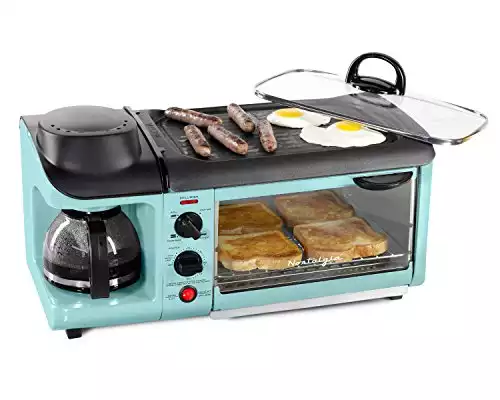 When making breakfast with this Retro 3-in-1 Breakfast Station you can forget the need to switch on the toaster, kettle, and grill. Here you have all three appliances in one to make for a simple and easy breakfast.
This is the perfect solution for people who do not want to have a whole load of appliances on their countertops and it is very versatile.
Inside the smart oven it is large enough to toast 4 pieces of bread or cook a 7" pizza and the tempered glass door is great for looking inside.
For coffee this kitchen appliance has a coffee maker that brews up to four cups of coffee in just a short few minutes in the included glass carafe. Also included for coffee making is a coffee scoop and a reusable filter.
The grill which comes with a glass lid to fit over top is large enough to cook food for multiple people. There you can cook bacon, eggs, sausages, pancakes and other breakfast foods.
On the control panel you can choose between your desired settings. It has a grill, toast/bake and warm/heat. The indicator light will let you know when the unit is on or off.
This unit is easy to clean and has a removable oven tray, wire wrack, crumb tray and nonstick griddle.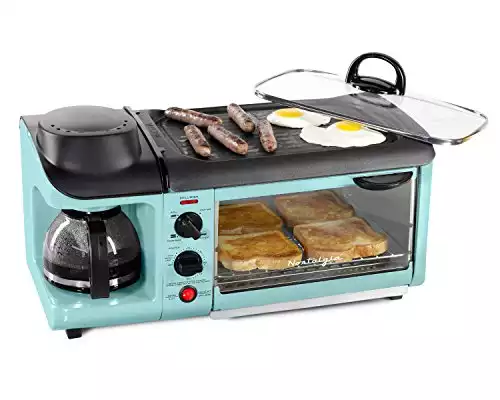 Retro Toaster Ovens – Frequently Asked Questions
Question: What are some tips for cooking with retro countertop oven?
Answer: When using tinfoil inside the toaster oven, it can be used to cover/wrap the food but should not be used on the crumb tray, it should not be near the heating element and should not be near the interior walls and door of the toaster oven.
Only oven safe cookware should be used inside the toaster oven. Reason being, oven safe cookware is specially designed with materials that can withstand the high temperatures of an oven.
It is not advised to cook or reheat food in; coffee cups, on plates, plastic containers or bowls.
Question: How can a retro toaster oven be cleaned?
Answer: To correctly clean your retro toaster oven, wipe it clean with a damp cloth. Never immerse your toaster oven in water and always ensure to dry it well after cleaning.
Question: Are cooking times any different on retro toaster ovens compared to regular ovens?
Answer: Cooking times vary on a number of different factors. Personal preference is a big factor but you must also remember that toaster ovens are much smaller than a regular oven.
Retro toaster ovens heat up quicker than regular ovens and the temperature is regulated better so for this reason the cooking time is generally shorter than a regular oven.
Question: Can you bake things in a retro toaster oven?
Answer: Yes, of course! All sorts of things can be cooked or baked in a toaster oven. Some of the most popular choices being; toast, bagels, cookies, cupcakes, chicken nuggets and pizza just to name a few.
Question: What is the best Retro Toaster Oven to buy?
Answer: Choosing which retro toaster oven to purchase can be a tough decision to make.
If you are looking for a very simplistic and small retro toaster oven then we recommend you choose the Dash Mini Toaster Oven.
It's compact design is suitable for every kitchen as it does not take up too much space so if you are living in a small home or apartment this will be a great addition. You can use it for many different things such as for making breakfast, cooking parts or all of your dinner meals and it can also be used for baking.
If you are looking for something slightly bigger the BALMUDA The Toaster | Steam Toaster Oven may be the right option for you.
As mentioned above this retro toaster oven has modern steam technology to keep your toast bread nice and moist on the inside but toasted on the outside. It will change how you cook!
The Americana Elite 50's Retro Countertop Toaster Oven is an even bigger size compared to the BALMUDA retro toaster oven. It is large enough to fit 6 pieces of toast bread or a 9" pizza. This vintage toaster oven's design will take you back in time to the 50's. The mint blue color is one that would work well in most if not all kitchens.
Should you be on the lookout for a retro toaster oven large enough to cook for a family then the Retro 3-in-1 Breakfast Station might be just what you have been looking for.
It is of course a toaster oven but also a coffee maker and it has a griddle on top. It is rather large compared to other retro toaster ovens on our list so it might be more suited to a larger kitchen.
If a 3-in-1 toaster oven is too much for you then this Retro Convection Baking Retro Toaster Oven might be a better choice. It is still large enough for a family as it has the capacity to fit 12 slices of bread or 2 x 12" pizzas but does not include a grill or coffee maker unfortunately.