Latest posts by Will Ames
(see all)
Have you ever put something in the oven and looked at your watch and before you know it 25 minutes has gone by?
Today we are going to show you the six best vintage kitchen timers that are aesthetically pleasing, super easy to use and most importantly help you keep track of time.
These vintage kitchen timers will work as an excellent added feature to your retro kitchen ensuring your delicious hard work comes out perfect each and every time.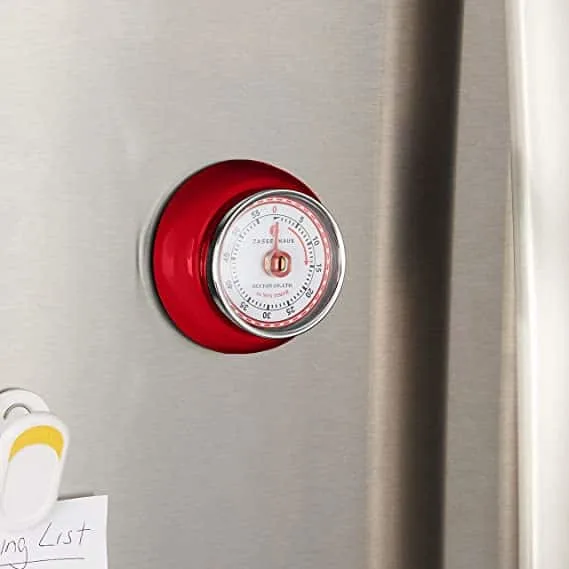 6 Best Vintage Kitchen Timers
1.Kikkerland Vintage Streamline Kitchen Timer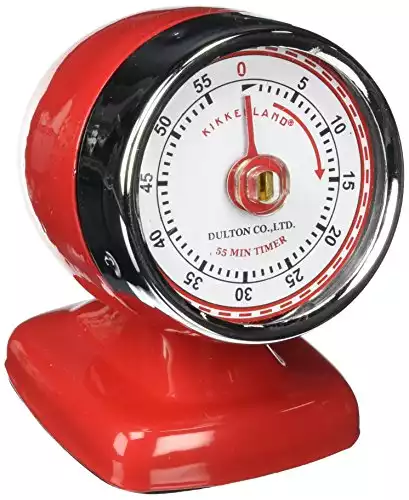 If you are looking to add a pop of color to your kitchen with a practical use and vintage look then the Kikkerland Vintage Kitchen Timer may be the right choice for you.
With its classic style and colors of red or blue to choose from, this 55-minute timer looks great on any counter top or stove and the ringer is reported to ring at the perfect volume to grab your attention when the time is up.
This fun retro design will tie together all of the other vintage aspects in your kitchen, or if this is your first vintage purchase it will certainly brighten up the room.
Made of durable steel and weighing just 6.4 ounces and measuring 2.25 x 3 x 3.25 inches, do not fear that it will clutter your countertop.
Something to note about this timer is that it is designed to stand on counter tops or stoves and can not be stuck to the fridge as it does not have a built-in magnet.
Related: If you would like to learn about the Top 5 Best Retro Fridges for your kitchen click here.
2. Bai 280.TU Retro Kitchen Timer Wall Clock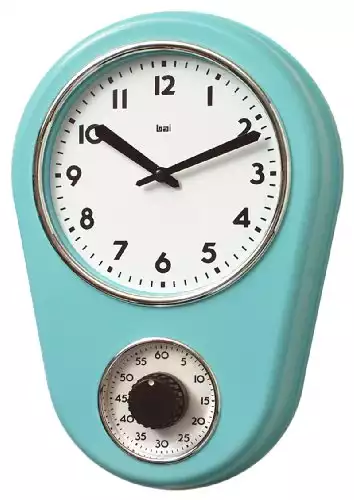 This vintage Retro Kitchen Timer and Wall Clock is a hybrid design of both a wall clock and kitchen timer. It is mounted to the wall by a hole in the back and is battery powered.
This wall clock and kitchen timer comes in an array of beautiful colors including turquoise, chartreuse, chrome silver, red and black that are sure to fit in with any kitchen color scheme.
The lens piece is a real glass convex cover and the body of the product is a good quality plastic that is not thin nor flimsy, adding weight to the product.
The ringer is loud and the sound of the clock hands are relatively quiet which may please those of you who dislike the "tiktok" sound when the room is silent.
Whether you are looking to purchase a vintage kitchen timer to tie in with the rest of your décor or for a pop of color this will not disappoint. The affordable price point is also eye catching!
Related: If you like this retro kitchen timer you may also be interested in our list of the Best Vintage Bread Boxes for Your Retro Kitchen.
3. Zassenhaus Magnetic Retro 60 Minute Kitchen Timer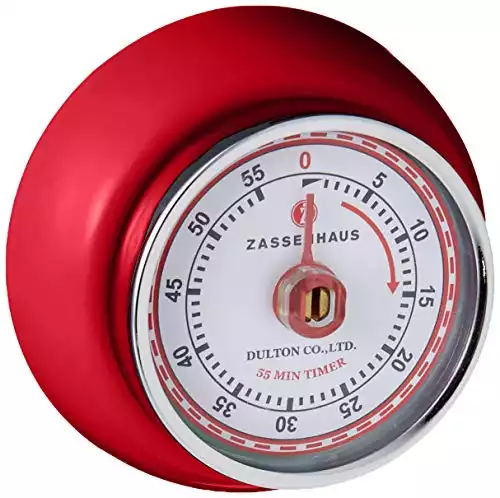 Zassenhaus are a German brand who are indeed most well known for their coffee grinders that they began manufacturing in the year 1867 but they have since also designed and developed beautiful kitchen timers one of which we are showing you here today in this third spot.
This stunning Zassenhaus Kitchen Timer is available in a range of various colors including red, light blue, mint green and royal blue.
The vintage kitchen timer is constructed with high-quality steel with a built-in magnet for you to stick it to the refrigerator or stove if possible.
With its easy-to-read numbers with individual minute markings and a dial which allows the time to be set up to 55 minutes, this 2.75″ diameter x 2″ high kitchen timer will be a great little practical feature in your kitchen space.
It does not require batteries and it's easy to use design allows for the time to be set quickly without any hassle.
Related: If you do not already own a retro radio why not check out our list of the 6 Best Retro Radios for Nostalgic Home Entertainment.
4. Lily's Home Retro Kitchen Wall Clock, with a Thermometer and 60-Minute Timer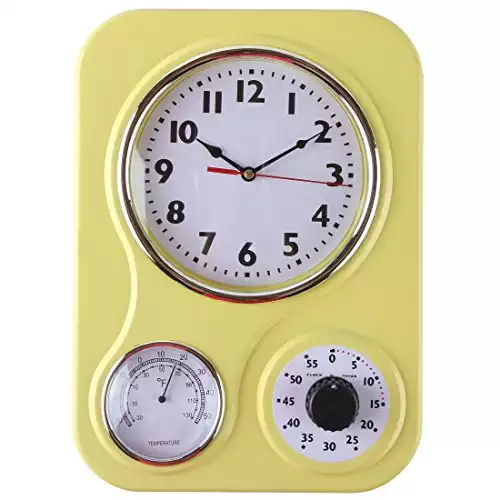 Similar to the second kitchen timer on our list, (the Bai Retro Kitchen Timer and Wall Clock), this awesome looking multi-function wall clock also includes a thermometer making it a 3 in 1.
This 3 in 1 Lily's Home piece has visibly bold black numbers, an easy to read clock, built in thermometer, and 60-minute timer which makes it the perfect multifunction vintage kitchen timer.
This wall mountable piece does not have any cables or wires as it is battery powered. Just one AA battery and one nail is all you need to set this up, and your kitchen will be transformed.
It is available in both yellow or turquoise.
5. Lux Classic Timer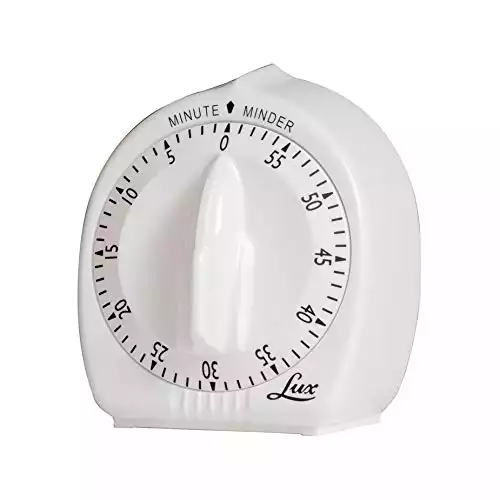 This simplistic and basic vintage kitchen timer may be the right choice for you if you are not looking for something that stands out and acts as a feature in your kitchen. This kitchen timer is quite discrete with its plain color and simple look.
Measuring 4.5 x 2.5 x 6.5 inches it is relatively small so it will not stick out on your counter top or stove but does just what it is supposed to.
The ringer is loud and rings for between 3 – 5 seconds ensuring you get to the stove on time.
This reliable little timer gets the job done. It is priced at a very affordable price point to suit all budgets.
6. Kitchen Timer, Kitchen Countdown Cooking Timer Reminder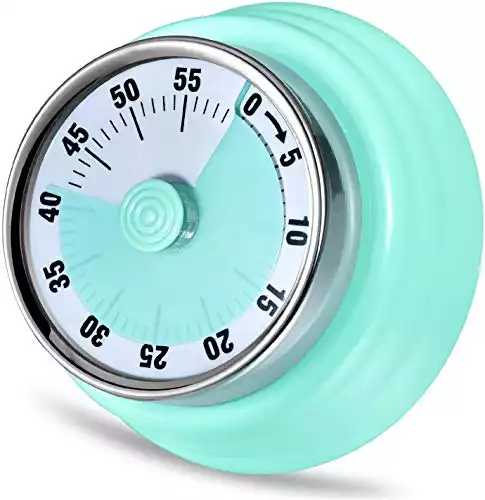 Unlike the previous kitchen timer on our list, this Vintage Kitchen Timer is a stand out piece. With its striking red color, it will truly bring a vintage vibe to any home.
This kitchen timer's mechanical design means it does not require any batteries, making it a little more environmentally friendly than other kitchen timers.
Its magnetic design similar to some of our other selections allows for it to be stuck to the refrigerator, microwave oven or stove.
This kitchen timer has a unique indicator design allowing for easy recognition of the amount of time remaining on the timer until it will ring.
This vintage kitchen timer would be excellently complemented alongside a vintage drinking glass.
The 72DB ringer is loud enough to be heard from most rooms but it is recommended by the product manufacturer that you keep it in the same room where you will be to ensure it is heard.
The design is constructed from corrosion resistance and oxidation resistant metal which as mentioned earlier has been colored a vibrant red.
Frequently Asked Questions About Vintage Kitchen Timers.
Question: How long does a Vintage Kitchen Timer sound for?
Answer: Vintage kitchen timers generally sound for between 5 – 10 seconds.
Question: What is the best material for the body of a vintage kitchen timer, plastic or metal?
Answer: It depends on personal preference as some people do enjoy the metal look more and metal does tend to withstand the test of time more so than plastic.
As all of the metal kitchen timers we listed here are non-corrosive, this may be a better option for the kitchen as it will probably get dirty often and is easy to clean.
Question: Which is the Best Vintage Kitchen Timer to Buy?
Answer: All six kitchen timers on the list will without a doubt enhance the vintage vibe in your kitchen..
If you are looking for a truly vintage style kitchen timer then I would suggest going for the Kikkerland Vintage Streamline Kitchen Timer. Its stunning design will add a retro feel to any kitchen space but the vibrant red color brings the vintage feel to a whole other level.
If just a simple kitchen timer is not enough for you then the Bai 280.TU Retro Kitchen Timer Wall Clock is the right choice. This is a great multifunction piece and it's retro "teardrop" shape will look so stylish on your wall.
Should you want an extra added function to your kitchen timer then why not choose the Lily's Home Retro Kitchen Wall Clock, with a Thermometer. The thermometer is an interesting feature which ranges from -30°F – 130°F and adds a great look to the piece.
Vintage kitchen timers are for the most part bright and stylish but if you are looking for something a little toned down then the Lux Classic Timer is the perfect kitchen timer for you. It has a vintage style, easy to read numbers and is in plain white color.