Latest posts by Will Ames
(see all)
Searchlights were first introduced to the world during the 1893 Chicago World's Fair. These devices were then used for important military, navigational, nautical and cinematic lighting needs throughout the 20th century.
Apart from their utility as spotlights and rescue aids, the vintage versions of these searchlights also make for great functional and decorative pieces in modern living spaces.
If you're looking for something that offers quality lighting with classic sophisticated looks, you're in luck. Today we are going to take you through 7 of the Best Vintage Searchlights for 2022.
Read on to see our top picks.
Top 7 Best Vintage Searchlights
1. Decoluce Vintage Wood Searchlight
This Decoluce Vintage Wood Searchlight's rustic aesthetic will bring an artistic feel to any home. It's mid-century look and old school Hollywood vibe will add class and an industrial ambiance wherever you plan to put it.
The piece features an adjustable tripod with a telescoping center post. The wood elements are 100% pine wood and the rest is metal.
Measuring 14.17 x 11.81 x 7.87 inches this vintage searchlight is best used as a desk or table top lamp, as it is not large enough to act as a floor lamp. The legs are adjustable as well as the direction of the light.
It requires an E27 socket bulb which is not included.
Something to note, reviews have reported that the light is not very bright, so if you are looking for a strong and bright light, maybe opt for a different searchlight on our list, or use a different bulb with this one.
2. Vintage Desktop Searchlight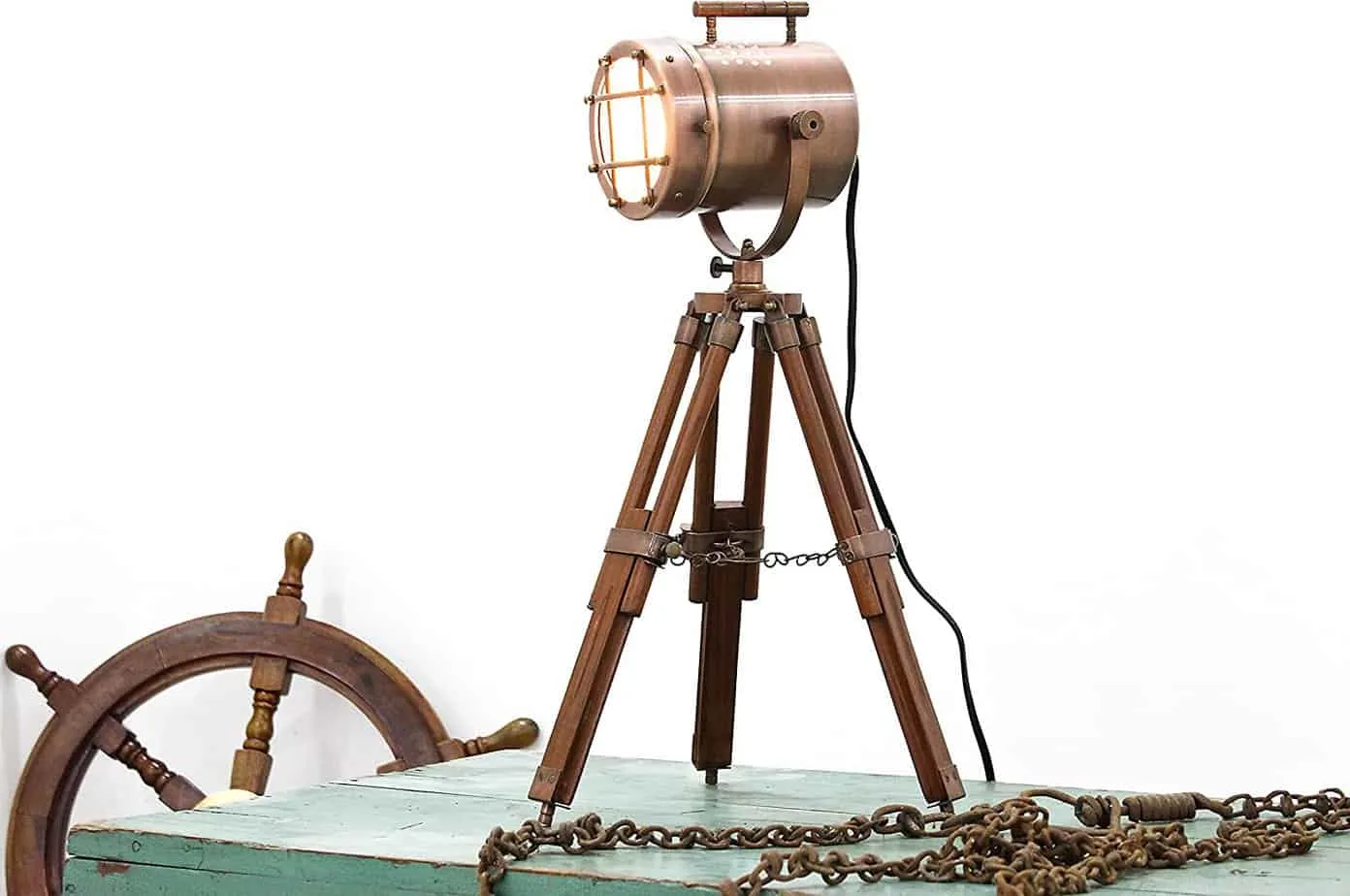 Another table-top sized vintage searchlight on our list is the Vintage Desktop searchlight.
This stunning copper finished lamp is clearly influenced by shiphead designs and has taken on a nautical vibe.
The light piece is fixed to an adjustable tripod which ranges in height from 18" – 26" tall.
This copper and metal piece measures 19.29 x 6.42 x 6.18 inches again requires an E27 bulb which is not included.
Having an antique searchlight like this in your home would be a great conversation starter. Customer reviews show it is worth the price, looks great and comes as described.
3. Vintage MariSmall Desk Lamp Maritime Antique Finish
If you are looking for a tabletop sized rendition of the original search light, the MariSmall Desk Lamp may be the right choice for you.
Manufactured by Thor Instruments, it is similar in look to the previous searchlight as it boasts a timeless nautical style, but has its own distinct differences.
This is a truly original piece, with a classic style and dark brown and golden vintage finish it will be a standout feature in your home.
This vintage searchlight measures 6″ X 4.5″, Height: 22″ with a ground diameter of 11″.
Like the other searchlights on our list this piece has an adjustable height and light fixture, weighs 3.3 pounds and requires an E27 bulb which is included.
4. Decoluce Vintage Tripod Floor Lamp
From the same manufacturers this Decoluce vintage searchlight is large enough to be used as a floor lamp.
It has a solid beachwood studio style tripod stand which adjusts in height and a cinema theater style lamp. Even though the lamp is a simple design it will bring a strong character to any room.
This lamp would work great in both a minimalistic style home and decorated home as its design is not overpowering in the room.
The natural colours and classy style will bring warmth and an industrial-chic vibe to the room. It measures 29.25 x 12.25 x 8.2 inches with adjustable tripod legs so the height can be changed.
Previous buyers have reported that it is easy to assemble and shines a warm light that is not too bright.
5. Nautical Brass Finish Searchlight
Next on the list is this Nautical Brass Finish Searchlight. It's unique design which resembles a Morse U.S Navy Diving Divers Helmet makes it truly different from the rest.
This nautical inspired light fixture weighs 17.46 pounds and is made from antique brass and wood.
The light can not be adjusted in whatever way you want but only up and down unlike the other vintage searchlights on our list.
This vintage searchlight is sure to bring a lot of character to your home.
6. 1950's Studio Style Vintage Design Floor Lamp
If you are looking for a fully chromatic piece this is your best option.
It is large enough to be used on the floor, measuring 10" (front) x 12" (depth) x 70" (height), and weighs just 13.1KG, with a maximum height of 68" or 1.73m.
Chrome was a very common finish during the 1950's and will bring a truly vintage aesthetic and vibe to your surroundings.
This lamp may be more suited towards those who do not want to have any wooden elements to the piece.
It has a sleek design which is influenced by the 1950's Hollywood studio style and would be a cool feature in any home.
The sturdy tripod stand like our other vintage searchlights allows for it to be very stable and is suitable even where there are pets and young children.
Please note that the lightbulb does not come included with this piece.
7. Chess Board Vintage Searchlight
If the simple and "classical" style vintage searchlight is not what you are looking for, then we have selected the coolest alternative piece just for you.
The light fixture on this totally unique vintage searchlight has been colored in a chess board pattern.
The black and silver chess blocks make this piece truly stand out.
The products manufacturers boast that superior quality raw material is used in the manufacturing process and the piece is checked throughout each stage.
The tripod is adjustable and is constructed with a dark wood and nickel hardware, which again sets it apart from the other picks on our list.
The measurements are the following; Head Size: 6″ X 8″ Height: 43″ Ground Diameter: 18″ inches. This is sure to be a feature piece in your home.
Related: A History of Streetlights: Out of the Darkness
Frequently Asked Questions – Antique Searchlights
Question: What kind of switch do vintage Searchlights have?
Answer: The majority of vintage searchlights (due to their design) have an on/off switch on the cord. This is not to say it is the same for all vintage searchlights, so do be sure to read the product descriptions carefully if this is important to you.
Question: Can Vintage Searchlights be dimmed?
Answer: Usually no, vintage searchlights can not be dimmed.
Question: What type of bulb do vintage Searchlights require?
Answer: Vintage Searchlights require an E27 bulb which is a screw type bulb and is generally 15 watts. Some vintage searchlights you find for sale do come with a bulb included and others do not so please ensure to check this before purchasing.
Question: Can the height of the tripod legs be adjusted on vintage Searchlights?
Answer: For the most part, vintage Searchlights have adjustable tripod legs. That may not be true for all vintage searchlights however, as they are all unique so be sure to check this when purchasing.
Question: What is the Best Vintage Searchlight to buy?
Answer: All 7 of the vintage Searchlights featured on our list will certainly bring character to any room.
If you are looking for a table top sized lamp with an industrial look but natural elements then I would suggest going for the Decoluce Vintage Wood Searchlight.
The black metal and dark wood mix make a beautiful combination and will add a masculine touch to your space.
If a table top sized searchlight is still what you are after but you do not want such a dark colour, then the Vintage Desktop Searchlight may be a better choice for you.
This beautiful antique copper finished piece incorporates wooden elements in the tripod legs but is not as dark as the previous piece on our list.
Should you be looking for a searchlight large enough to be used on the floor then the two choices are; Decoluce Vintage Tripod Floor Lamp and Nautical Brass Finish Searchlight.
The first is our theater inspired choice while the second is the nautical brass finish searchlight.
Both of these are quite different from one another as the first has a more industrial feel whereas the second may be more true to the original searchlights.
Are the plain colours not for you? Then the Chess Board Vintage Searchlight was selected with you in mind.
This piece is funky yet still classy and stylish. It's brilliant black and silver chess board pattern light fixture will add a great element to your home.