Latest posts by Will Ames
(see all)
There are a handful of items in the world that just exude vintage charm naturally. For instance, nothing says old-fashioned style like a pair of good shirt cuffs or a pin on your lapel. However, perhaps the most essential vintage item of all has to be the pocket watch.
Worn for centuries for both fashionable and practical purposes, the pocket watch remains a statement among the fashion community today.
So, what are some of the best vintage pocket watches available today? We've created a list of our favorites to help you make your choice. We also include an overview of the pocket watch throughout history, and some tips on selecting a true antique model for collectors.
Best Vintage Pocket Watches (7 Picks for Today)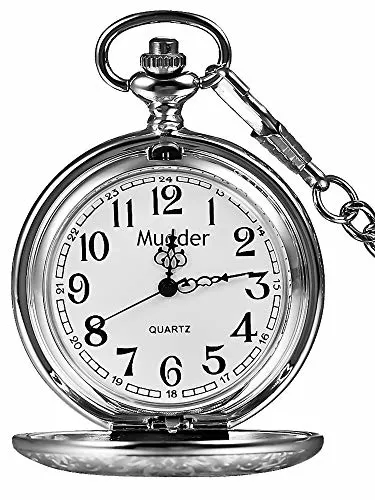 Simple, yet elegant, this is a great pocket watch for those who are ready to invest in something classic and stylish but don't want to spend a fortune just yet. Measuring around 4.6 centimeters in total, the watch will fit into most shirt and jacket pockets so that you can keep it close. What's more, Mudder appeals to a range of styles by offering the design in silver, gold and gunmetal variants.
Though it doesn't have a view into the inner mechanisms of the watch like you get with some more expensive models, this cheaper pocket watch is easier to protect, because the metal shell goes all the way around the glass clock. This means you don't have to panic every time someone bumps into you when you're out and about.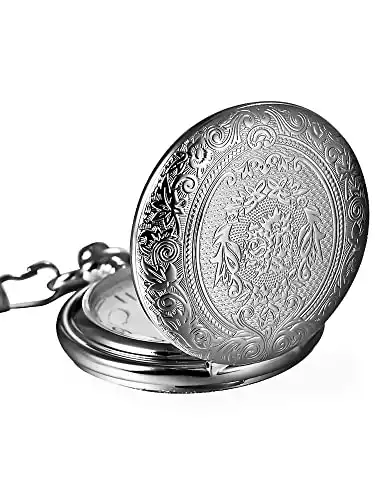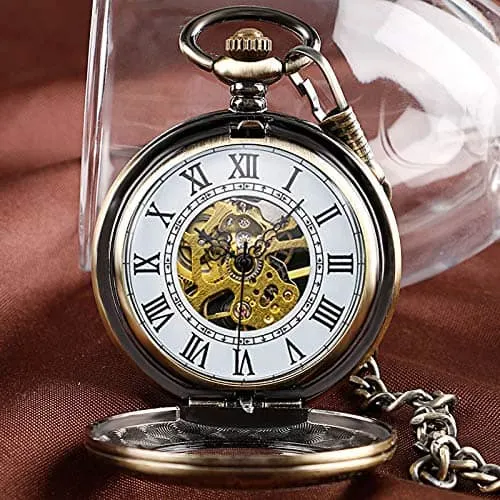 Taking a slightly different approach to pocket watch style now, this Udaney antique model comes with two opening hatches, so you can stand the clock up on your desk when you're working or put it on a table when you want to be able to see the time whenever you look up. Many classic pocket watches had this extra hinge correctly so people could use their pocket watch in multiple ways. You could even use it for timing in a game of chess.
This particular vintage watch is constructed with stainless steel, so you know that it will stand the test of time. Additionally, there's a beautiful gap in the middle of the clock face to show you the inner workings and gear mechanisms of the clock.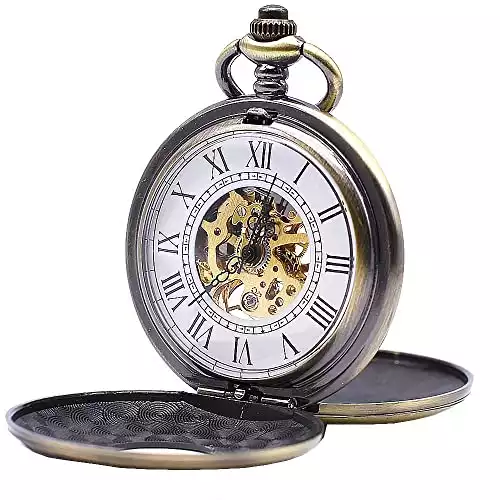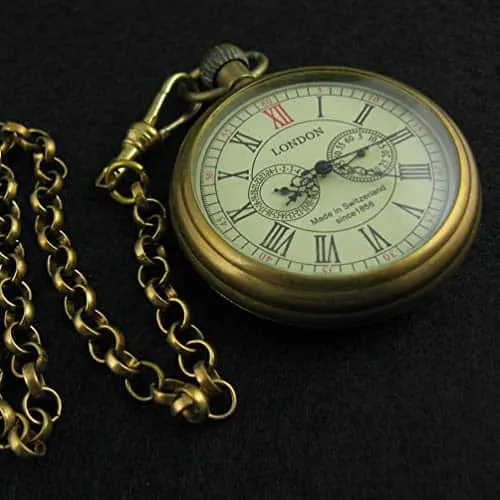 Designed to make the perfect gift for those with a passion for the finer things in life, this Vigoroso men's watch looks as though it comes straight from the records of history, with its soft copper coloring and its clear face with roman numerals in the place of numbers. Made with pure copper, there's an element of real authenticity about this pocket watch that's hard to find from other manufacturers – particularly if you're looking for a price tag of under $50.00
To give you a better presentation experience, Vigoroso includes a box for the watch, so that you can give it as a beautiful classical gift.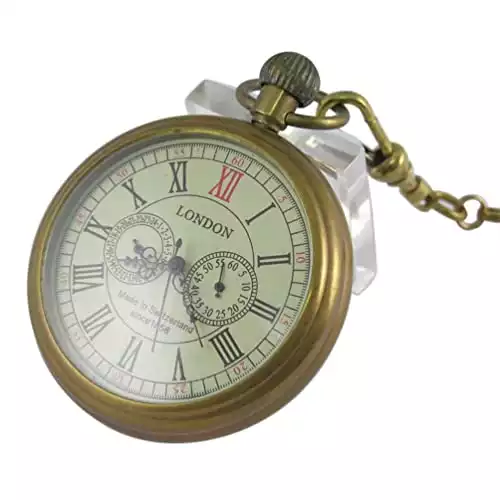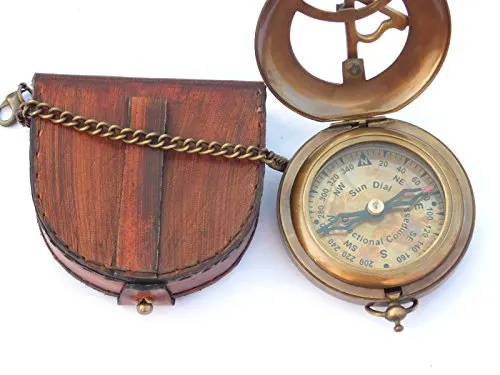 This particular pocket watch is likely to appeal to people with an outdoorsy personality and a sense of adventure. It combines the traditional charm of a pocket watch with a sundial compass, for two excellent products in one. What's more, the unique brass finish means that you still get that wonderful vintage vibe from the piece.
An ideal gift for anyone with a passion for maritime, nautical, or hiking trinkets, the NEOVIVID sundial watch also comes with a free brass keyring that you can use as a gift, and a steampunk leather chain to finish the effect.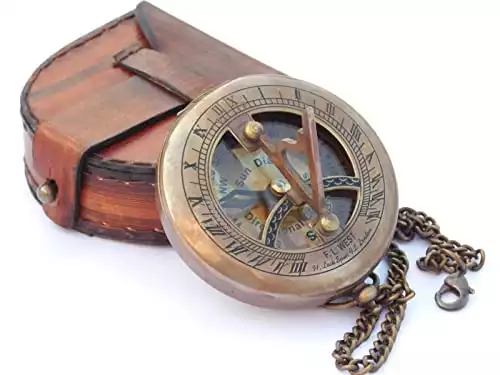 NEOVIVID Brass Sundial watch | Amazon
Collectibles Nautical 3" Push button sundial compass in antique finish with leather case. The chain shown with lock is also included.
Buy at Amazon.com
We earn a commission if you make a purchase, at no additional cost to you.
09/26/2023 06:18 am GMT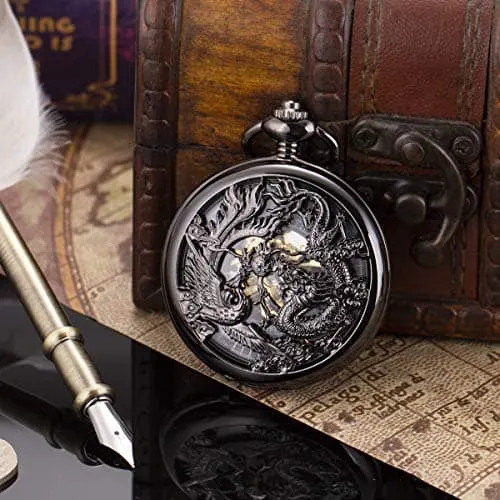 This vintage pocket watch takes a very unique twist on the traditional style of most of the clocks available from days gone by. Rather than using a globe print or a basic pattern on the shell of the clock, the manufacturer has included an incredible dragon and phoenix skeletal cut-out. The result of the impressive design as a compelling gothic aesthetic that's difficult to ignore.
When you open the watch, the beauty of the outside continues within, thanks to an open face that highlights the twirling golden gears beneath. Every element of this pocket watch seems to have been designed to stand out, from the golden hands to the shining roman numerals.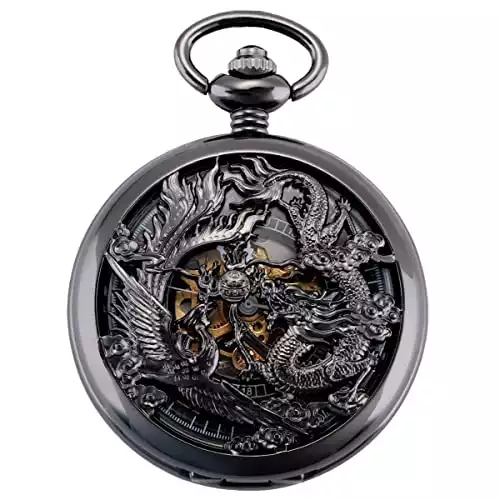 ManChDa Mens Antique Mechanical Pocket Watch | Amazon
Attractive vintage design with unique skeleton dial, Add undeniable style and class to your daily life and fashion, An "Eye-catcher" at the suit, vest, pants or dress for gentlemen or ladies!
Buy at Amazon.com
We earn a commission if you make a purchase, at no additional cost to you.
09/26/2023 05:41 pm GMT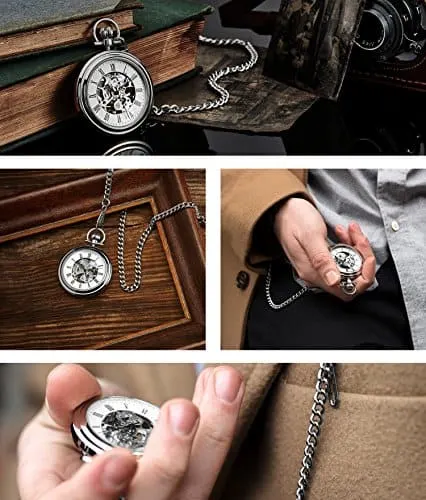 Probably one of the most beautiful vintage pocket watches that we've seen so far, this stunning pieces from Stuhrling Original is crafted from brass and stainless steel. The shiny steel finish gives the item a slightly more modern appearance than some of the other watches you'll see on this list. However, that doesn't necessarily detract from the clock's appeal. The mechanical watch comes with a chain and a belt clip so that you can use it in a multitude of different ways.
The best thing about this particular pocket watch is that it comes with an open clock face, where you can see all the inner cogs and machinery working behind the hands of your clock. There's some real artistry at work in this timepiece. Plus, there's a small hinge you can pop out to stand the watch up too.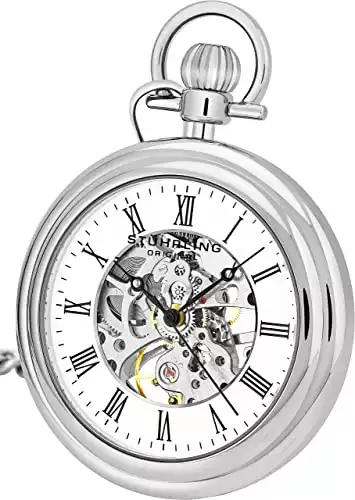 Stuhrling Men's Watch | Amazon
Stainless steel pocket watch featuring skeleton dual-sided dial, Roman numeral hour markers, and 12" link chain with belt clip.
Buy at Amazon.com
We earn a commission if you make a purchase, at no additional cost to you.
09/26/2023 04:29 pm GMT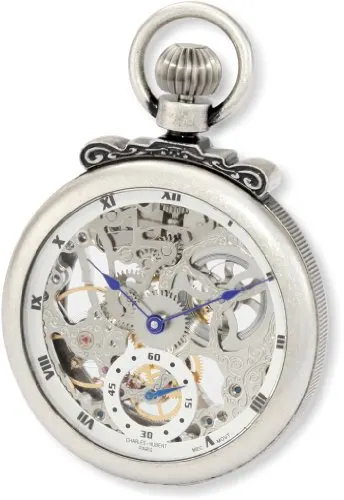 Designed for the most discerning of clock and pocket-watch collectors, this isn't a product for beginners in the vintage world. If you're looking for a genuinely stunning collectable, then this black and silver open-face mechanical watch from Charles-Hubert is a must-have. Brimming with Persian style, the entire watch shows off the gears and mechanisms within, so you can see the mechanical pieces working as the clock ticks away.
A watch like this one deserves to be shown off at only the fanciest and most sophisticated occasions, so you might not want to take it wherever you go. However, if you do decide to carry it around, we definitely recommend getting a robust chain to display it on.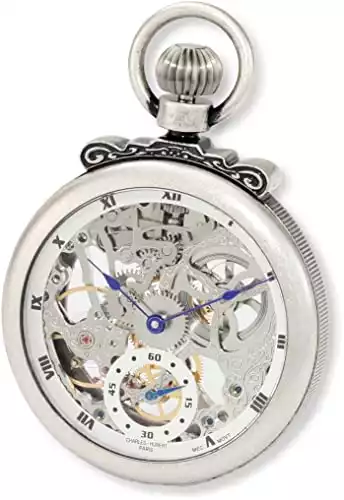 Charles-Hubert Classic Pocket Watch | Amazon
The silver tone Charles-Hubert 3869S is a pocket watch from the classic collection. The case has an antiqued finish with an open face. Inside is a 17-jewel (shock-protected) mechanical hand wind movement.
Buy at Amazon.com
We earn a commission if you make a purchase, at no additional cost to you.
09/26/2023 07:23 pm GMT
Learning more about Vintage Pocket Watches
The Origins of Timekeeping
The history of timekeeping is a fascinating look into the evolution of life and commerce.
It marks a change from life that was lived simply in tune with light and darkness, to life framed by defined schedules.
Way back in medieval times, the ringing of church bells marked the daily pace.
As we know, timekeeping was later revolutionized by clocks with mechanical movements of gears and levers. Most mechanisms relied on weights and counterbalances to move the gears.
Then spring-driven mechanisms "sprung up," first in Italy and Germany.
Throughout Europe, clock towers with or without mechanical chimes began to replace bell towers.
Clocks eventually made the move from church towers and public squares to homes, even though they were often important only to the wealthy and powerful.
Portable "Pocket Clocks"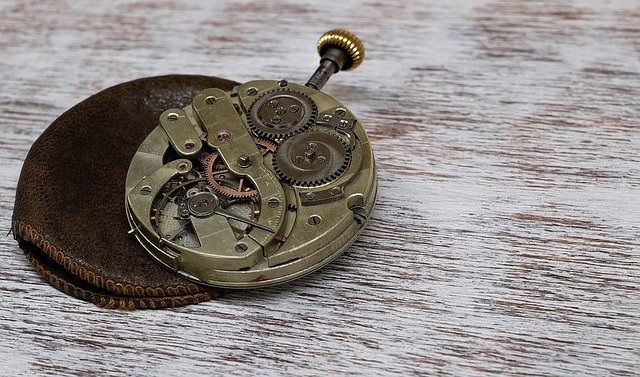 References to "pocket clocks"first appear in Italian writings from the late 1400s.
By 1524, German master locksmith Peter Henlein began manufacturing portable timekeepers.
Watches of the time had only an hour hand; those sporting a minute hand did not appear until the late 17th Century.
And early personal timekeepers were large, many of them designed to be attached to clothes or to hang from a chain around the neck.
The mechanism typically had a hinged brass cover that could be ornately decorated or designed with a pierced grill, allowing the user a view of the face without opening the cover.
Glass faces did not appear until around 1610.
Early timepieces were not terribly reliable, but by the 19th Century, when punctuality became a virtue, clocks and portable timekeepers could be kept accurate to within a minute or two each day.
The watchmaker's craft flourished.
The Modern Pocket Watch: Movement Types
Today, vintage pocket watches are prized by collectors for both their history and their beauty.
Pocket watches are characterized by the size of the movement, with standard sizes ranging from 21/0s (1/2 inch) to 16 or 18s, each about 1 1/2 inches in diameter.
The larger sizes are common for railroad watches.
Pocket watches are also defined by type of movement, and they include:
Key-wind, key-set movements are the earliest variety, and this movement which required a "watch-key" was used until late in the

19th

Century.
Stem-wind, stem-set: If you picture a pocket watch in your mind, particularly the large open-face variety, this is most likely the image you'll see. The stem appears like a "tree" extending from the case at the "12 o'clock" position. A variation, known as the Hunter watch, traditionally places the stem adjacent to the "3" on the watch's side.
Stem-wind, lever-set: After 1908, this movement became the standard for all U.S. and Canadian railroads, because the setting lever required action completely separate from winding and made accidental re-setting impossible.
Stem-wind, pin-set: A variation of the lever set, the pin was pulled out and then pushed in manually to reset the timepiece.
Jeweled movements became the norm for all quality watches, and there are several different types of jewels used for watches.
Most common are ruby and sapphire, although diamonds and garnets are also seen.
Because the jewels are tiny, even natural gems add no dollar value to a collectible watch, but today virtually all watch jewels are synthetic.
A 17-jewel watch places stones to insure accuracy at points where they serve to reduce friction on moving parts.
This is the "gold standard" for watch movements, although a 21-jewel movement adds some additional capstones as a kind of insurance.
Cases and Styles
Watch cases may be of a variety of metals, including steel, gunmetal, pewter, gold, gold-filled and platinum.
They may be simple or ornate, but should be strong enough to protect the clock works. Covers, which add an extra layer of protection, vary by era and may reflect the use and purpose of the watch.
Gift watches, for both men and women, might bear monograms on the cover; sometimes emblems and scenes were etched into the cases, and occasionally a pocket watch cover would be jeweled or boast a painted porcelain insert.
The simplest pocket watches were designed for utility rather than good looks, and had no covers so that the time was readily apparent.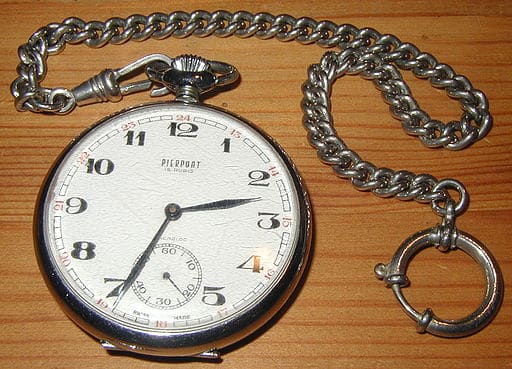 But these unadorned pocket watches can be among the most valuable.
Pocket watches were typically designed to be worn by men, and were carried in trouser or vest pockets, attached to a waistcoat by a decorative fob.
Delicate small watches, many times with etched cases, were worn by women on chains around their necks; sometimes they were attached to small pins.
For a time in the late 1800s and early 1900s, pocket watches were a traditional gift for high school graduates, and they became treasured pieces of decorative jewelry as well as reliable timekeepers.
The tradition of giving a "gold watch" for an employee's retirement actually was a time-honored tradition for many years in this country, and in other nations.
Big names in pocket watches include Waltham, Elgin, Hamilton, Hampden and Ball. And, today, both vintage and contemporary pocket watches are enjoying a kind of resurgence among trend-setters.
You can buy a brand new pocket watch from Hermes, Omega, Vacheron Constantin, and several other designers and watch manufacturers.
Budget-priced pocket watches like vintage Arnex models and reproductions from Asia are also widely available.
If you're interested in vintage watches, either to wear or for a collection, shop flea markets, online auctions, and reputable antique dealers, depending on your preferences and your budget.
Railroad Watches
From the mid-1800s to the mid-20th Century, railroads moved people and goods across vast territories in Europe, the United States and Canada.
Then, as now, time was money, and trains had to be kept on schedule. The railroads would not have been nearly as efficient without the venerable, large, open-face, reliable, portable timekeepers that came to be the symbol of railroad conductors and engineers worldwide.
Railroad watches are 16-18 in size, with no cover, large numbers and a classic face.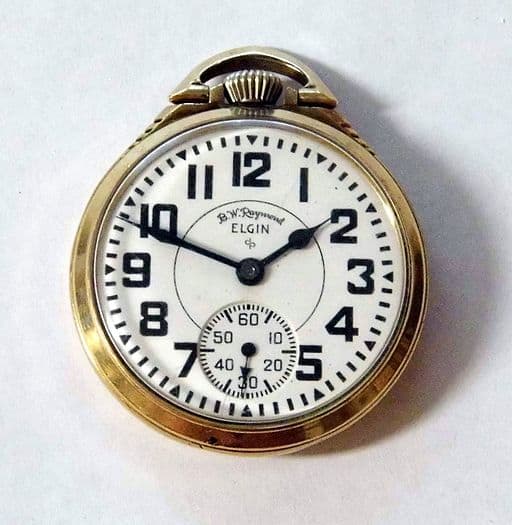 The case is usually unadorned, and often of simple steel, but from a well-known maker vintage railroad watches are highly collectible, sometimes valued at several thousand dollars.
If you're interested in learning more, there are a number of resources available, including the National Association of Clock & Watch Collectors, nawcc.org.