Latest posts by The Old Timey Team
(see all)
Collectible items are so varied that people often wonder what makes that particular vintage item so desirable?
Maybe it's the rarity, beauty, and unique features. And with an item like vintage Crosley radios, it helps to learn a bit about the manufacturer, the thing itself, and what makes these items so appealing to buyers today.
Are you ready to go on a course on all things Crosley? Me too!
Who was Powel Crosley?
Powel Crosley, was an industrialist, entrepreneur, and American Inventor that invented the first radio that was widely accessible to the average Joe. Before the first Crosley radio in the 1920s, radios were a luxury that many families could not afford or justify purchasing. How things have changed!
Powel Crosley built his first radio in 1920. The radio was an alternative to buying the expensive receiver for his son. After this, he continued to produce several models that were not only appealing,but inexpensive too.
By 1922, Crosley became wealthy, and can you guess what happened to his company? It became the world's largest radio manufacturer!
Vintage US Crosley Radio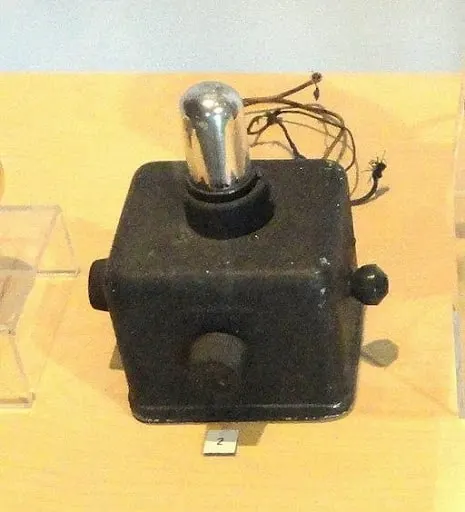 Let us take a closer look at where it all started:
In 1921, the Crosley Corporation was founded in Louisville, Kentucky, headed by Powel Crosley. The Crosley radio was one that all families could afford, and they were tube radios. The brand has since been rebranded and revamped. And they are still in production today. The current CEO is Bo LeMastus. The brand produces turntables and radios till this day, radios being the most popular item of course.
So, what makes the Crosley radio so popular? One might find that the original vintage Crosley radios are stylish, they are unique in overall shape and style, and they are just plain fun in terms of using them to decorate and add visual interest to your home.
There is a vast range of different shapes and sizes of these models, making them a fantastic retro radio for nearly any home or almost any design taste. So let us have a look at the different types and features of the Crosley Radios.
Types and Features of Crosley Radios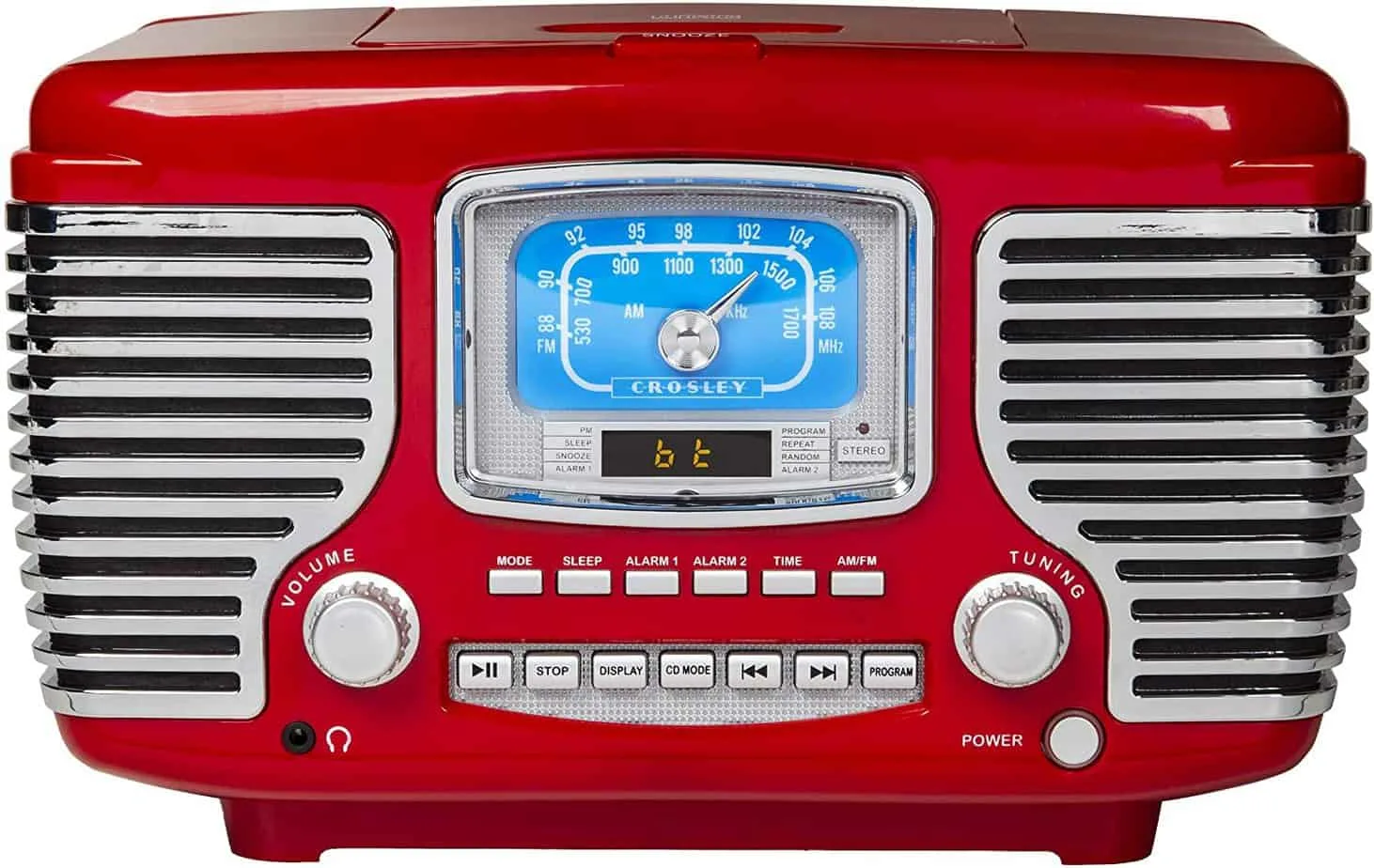 We have all seen those great tabletop jukeboxes that have that rounded appearance that makes us think of a shake shop or a 1960s diner. Let me create a scenario for you. It is the 1960's, you are in a diner, eating a burger and drinking your pink milkshake while listening to The Beatles song, "Here comes the sun," that is playing from the red tabletop jukebox. Now keep that scene in mind while we continue with this article.
The Crosley radio has that same design and overall look that we all associate with the 1960s. Crosley put a great deal of thought into the housing for his radios.
These cases are ornate, decorated, and incredibly stylish and would work for many different people and styles.
For the most part, these radios will have gorgeous and ornate exterior cases that make them valuable for homes and make them beautiful. Crosley radios came in various cases, most of them featuring wooden cases that had interesting shapes, designs, and overall elements that made them functional and still very fun to look at.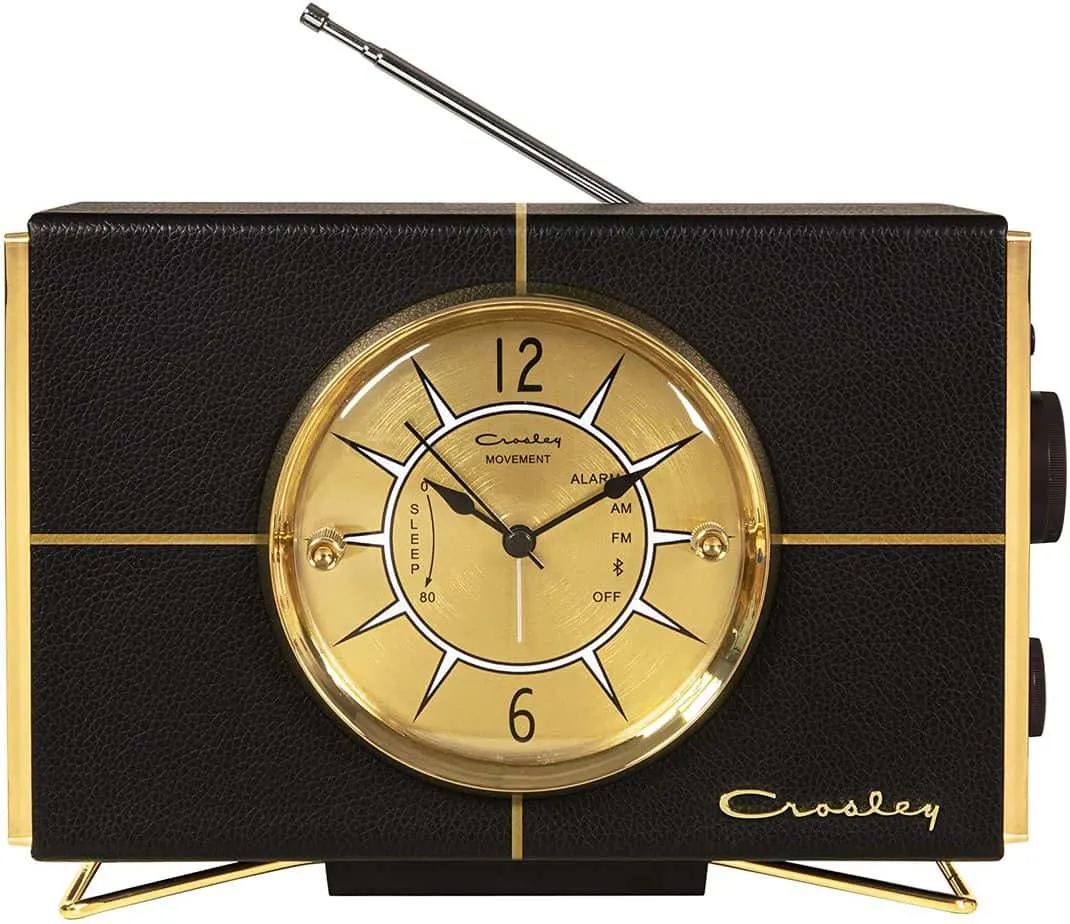 The most popular type of vintage Crosley radio is, of course, the tabletop model. These are interesting and compact and are great for collectors as they do not take up a ton of space overall. There are plenty of great designs for the vintage Crosley radios, and each is unique and stunning in its own right.
These gorgeous radios are great for tabletop décor. And they are great if you want to make sure that you are getting a magnificent radio that will also work. There are many great Crosley radios out there that have been refurbished and restored so that they are in working condition and are beautiful and functional.
Crosley Fiver Tabletop Radio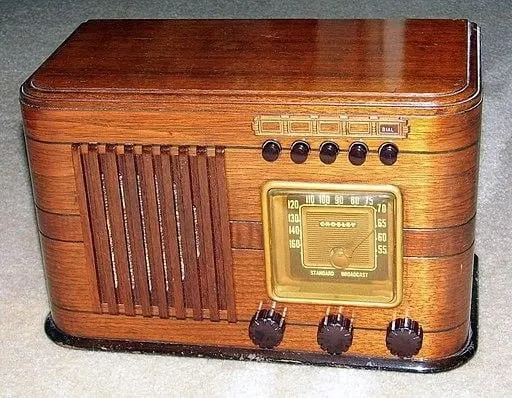 The Crosley Fiver is one of the most popular varieties of Crosley as this was the most accessible radio for families to get and for families to have in their homes. This mass-produced radio was more accessible for families that did not want to spend a small fortune on a huge radio that would take up a large amount of floor space.
If your family could afford to buy this radio in 1937, you weren't doing too bad. And let me tell you something if you have one till this day, that is well maintained and in an excellent working condition. You and your children and their children are not going to be doing bad either.
The Crosley 5M3 was also a fantastic design. This radio was also called the Tombstone, as it was an upright, rectangular radio, that did feature gorgeous stained glass window-like cutouts in the front.
Crosley Today
Crosley is one of those brands that has reinvented itself to keep up with the current market.
The company was bought out in the 1950s and was reimagined to meet the needs of the time.
Currently, the Crosley company still makes radios and turntables, and they work to create affordable and attractive options that will not only be beautiful but will be easy to use too.
Crosley has long been known for the quality, design, and overall durability of products. The vintage radios that are still on the market and that you can still get your hands on today may work and can often be repaired in a working condition.
Suppose you are thinking about getting a Crosley radio. In that case, you should undoubtedly take the time to consider a few different models and look around to find a reputable seller that will give you a great radio that will be beautiful and will provide you with plenty of entertainment and enjoyment.
There are also plenty of different sources where you can learn more about Crosley vintage radios. Corsley currently produces reproductions of older models as well as new models and even turntables.
If you want a vintage radio with a modern twist, I have some great alternative options for you.
Top Vintage Crosley Radios Recommendations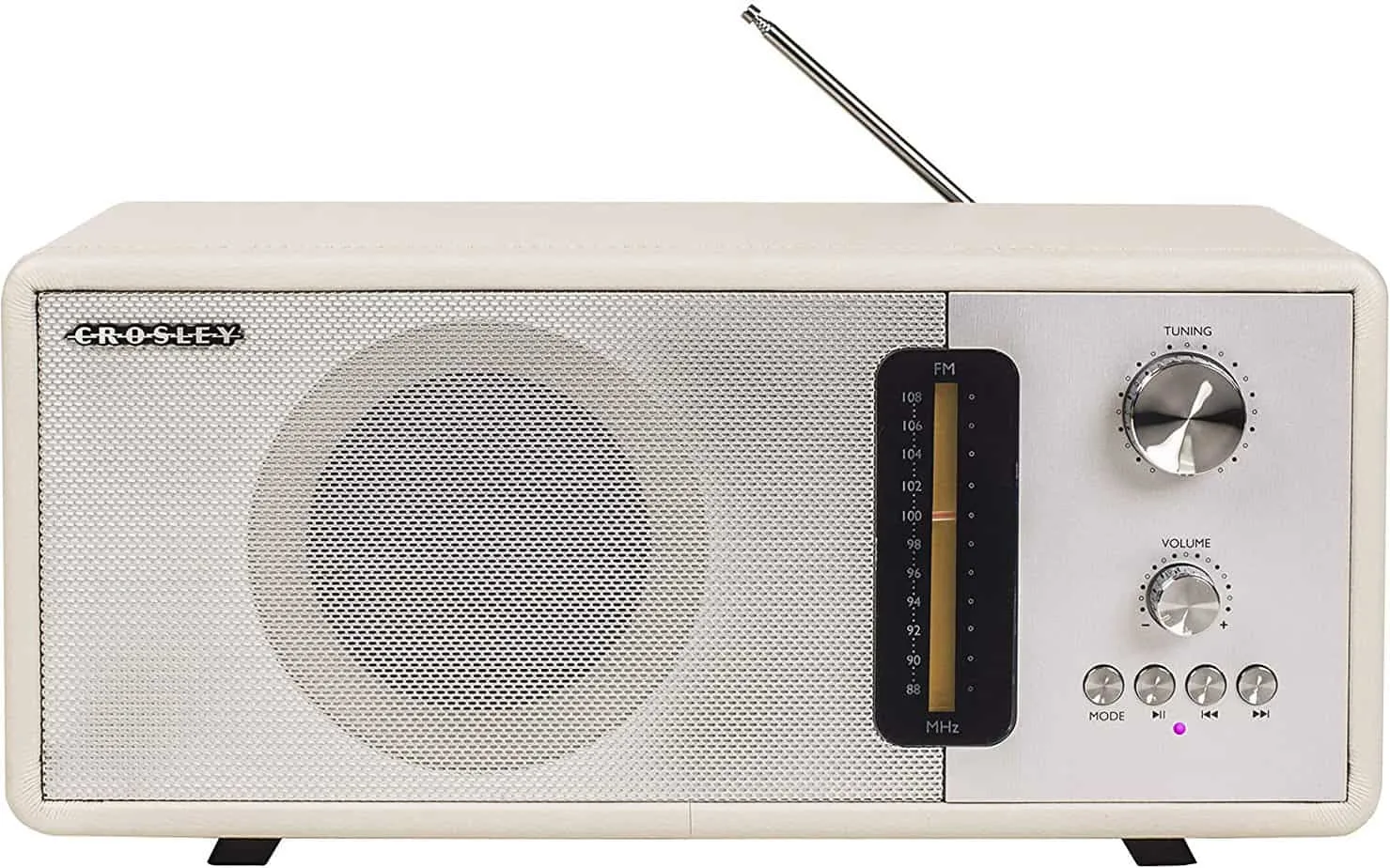 The radio is both an FM radio and has a Bluetooth receiver for your devices. When it comes to the radio's appearance, it has a simple white sandbox appearance with slanted feet. This adds to the aesthetic and makes it more convenient.
If this Crosley radio version is not your cup of tea, I have a few other options for you.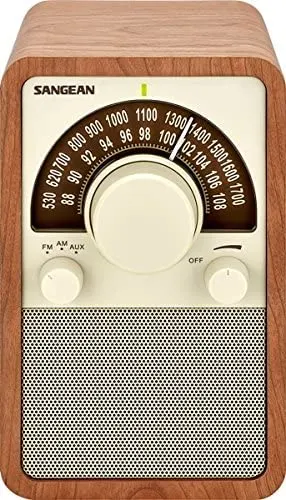 There is nothing more vintage than an electronic device that is in a wooden case. This radio comes in a medium-density fibreboard cabinet with a natural walnut veneer finish. Now you can have the best of both worlds. Listen to your current playlist while experiencing a touch of antique magic.
Next on the list, we have the: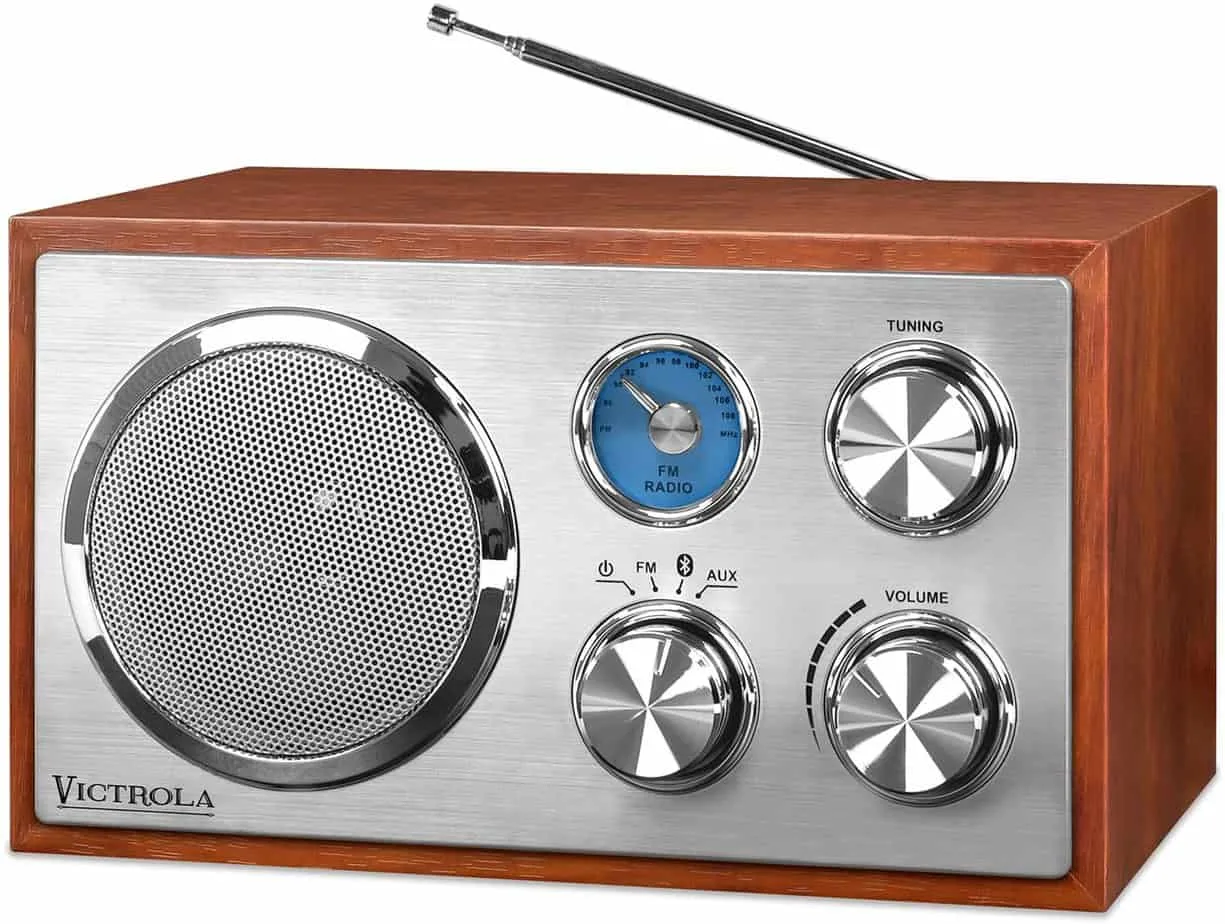 This Victrola Wooden Desktop is perfect for those who are looking for a handsome crafted radio. It has a case that has the following specifications 8.94 by 5.31 by the 6.34-inches.
The case is made up of mahogany to give it that smooth wooden finish. And to make it even more aesthetically pleasing, it has chrome dials and an aluminum face. Its tuning dial is fitted with a 3.5mm jack and a Bluetooth adapter.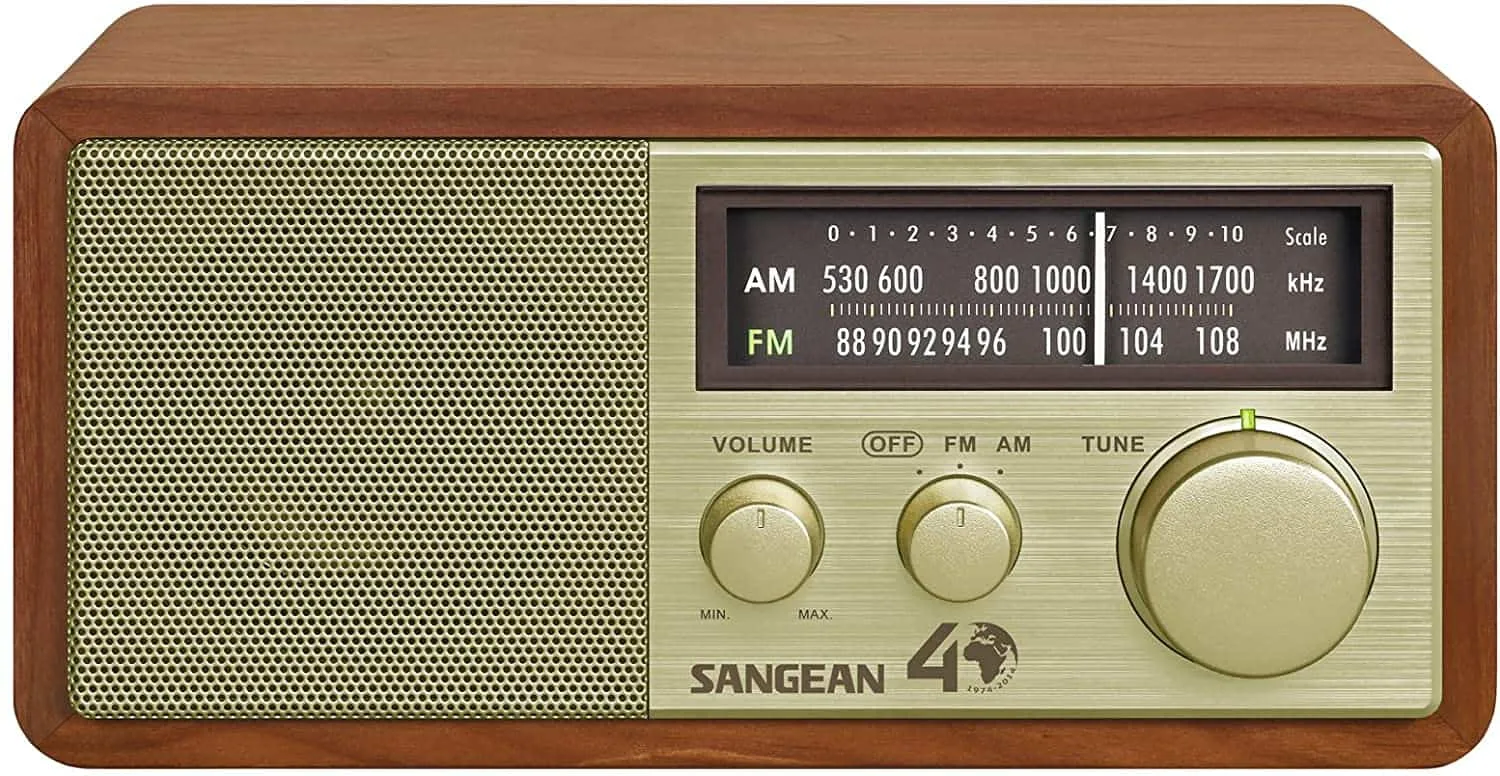 This Sangean tabletop radio is a limited edition and is the company's offering for its 40th Anniversary. It is in an MDF cabinet that has a beautiful walnut veneer finish. And with its golden face, it is sure to add some elegance and class to any room in your home.
And something that makes this radio even more appealing, is that you can connect it with other devices with its selection of inputs, REC out, headphone jack, and auxiliary jack.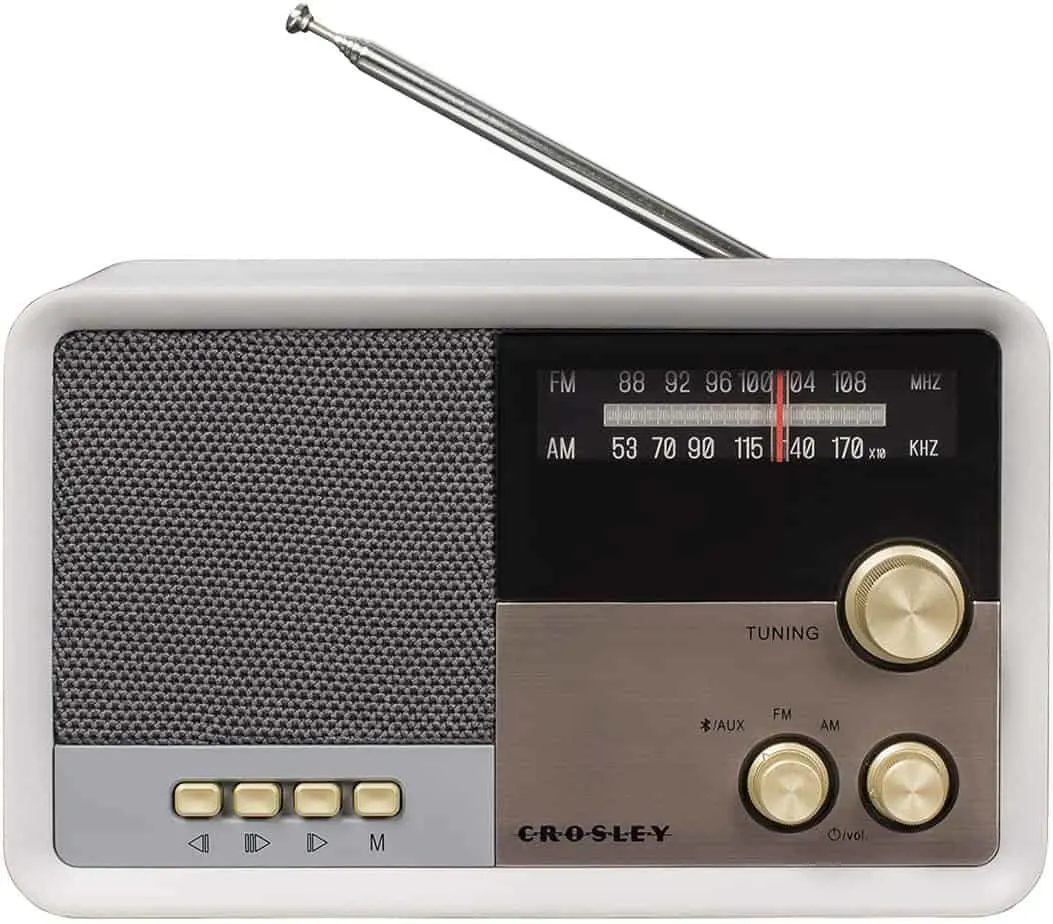 This tribute vintage radio comes in AM and FM. It also comes in 2 colors, a white-sand cabinet and charcoal. Its size makes it perfect to fit almost anywhere, and its beautiful vintage features are a bonus.
With this beautiful vintage radio, you can stream your music either by using an auxiliary jack or by using Bluetooth.
Congratulations, you have earned your Vintage Crosley expert badge! Now you can add a touch of magic to your home with these gorgeous antique radios.
Want to know how you can transform your home into an antique paradise?
Well, you already have the vintage Crosley radio; now, all you need to add is a Crosley Turntable.
And don't worry, I have compelled all its features down below for you to see why it is a MUST to get!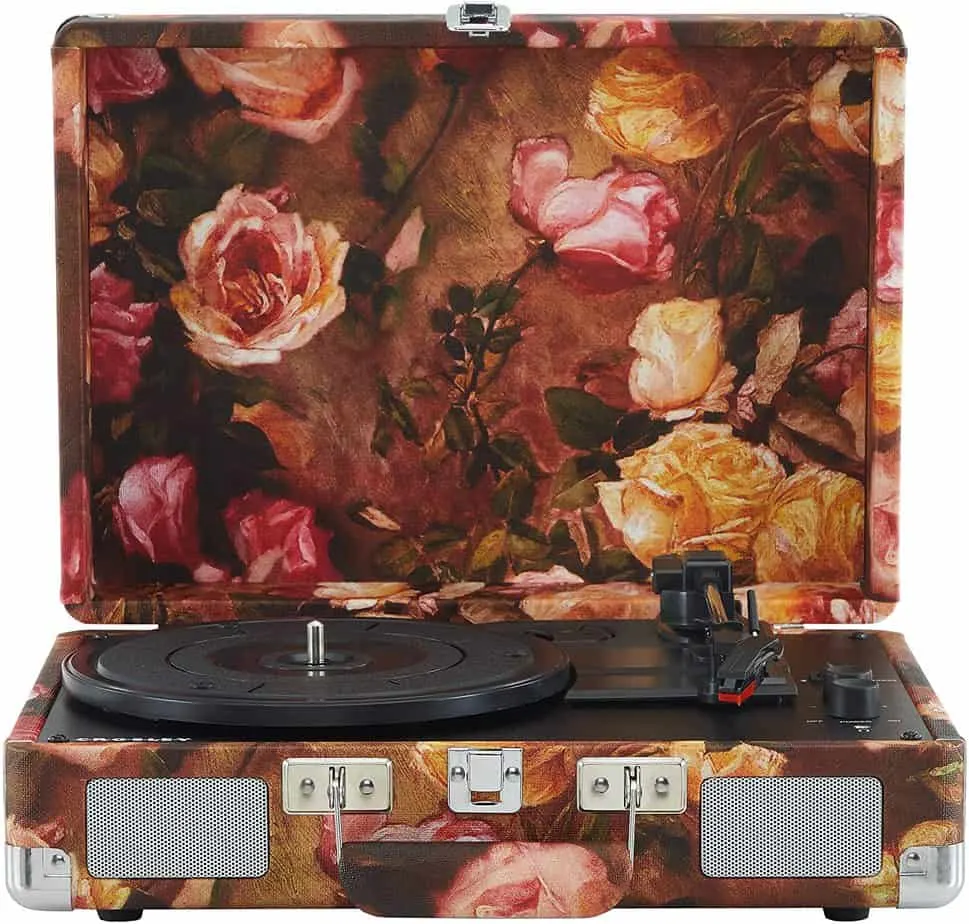 This gorgeous Crosley turntable has Bluetooth output functionality and comes in a lovely portable suitcase shell that is available in various colors. It also has three speeds and pitch control to satisfy your listening needs. Don't forget the Bluetooth receiver and built-in speakers that make it amazing to listen to on the go.
But what is a turntable without its Vinyl Records?
Just looks and no functionality!
So here is a list of my top favorite Vinyl records:
Can you think of anything else to complete your antique home look?
I can! A telephone!
Now you can make your home even more Vintagey (Is that even a word?) by adding an old telephone. I have listed my favorite down below.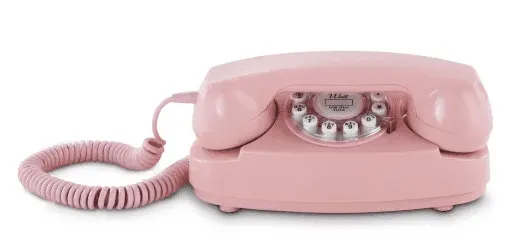 Adding a little pink to your vintage collection won't hurt anyone! It is giving me Barbie vibes. You don't want this telephone; you need it!
There you go! You now have a guide to vintage paradise!
FAQ's
Question: Where are Crosley radios made?
Answer: The Crosley radios are manufactured at a headquarters in Louisville, Kentucky.
Question: When did Crosley Radio come out?
Answer: The Crosley radio was introduced into the market in 1921.
Question: When did Powel Crosley Jr buy an automobile parts mail order business?
Answer: Powel Crosley Jr bought the automobile parts mail-order business in 1916, and over the next two years, Crosley sold more than one million dollars in parts. Amazing right?
Conclusion
Maybe we don't have a time machine to go back in time, but we have gorgeous antique radios that can do the same thing. With these beautiful antique radios, we can live in the past and future simultaneously. We can listen to our current playlists while having an antique wooden aesthetic.
If you are an antique radio lover, you can get your hands on the original Crosley radio by buying it from someone on eBay. It will either be in a perfect working condition or the opposite. Or, if you are looking for a Crosley Radio with a modern twist, there are a few options you can choose from. So what are you waiting for? Get yourself a Crosley Radio and let the games begin! Or should I rather say let the music begin?
Looking for more interesting readings? Check out: