Latest posts by The Old Timey Team
(see all)
Electric office fans have been around for more than 125 years. Their utility is undeniable and they have an interesting history.
Invented around the time when office work was becoming more and more industrialized, people found themselves in increasingly stuffy, hot office settings without much in the way of fresh air.
The stuffiness of offices was somewhat reminiscent of the poor circulation workers experienced in mines, where working conditions were far from optimal – to put it mildly.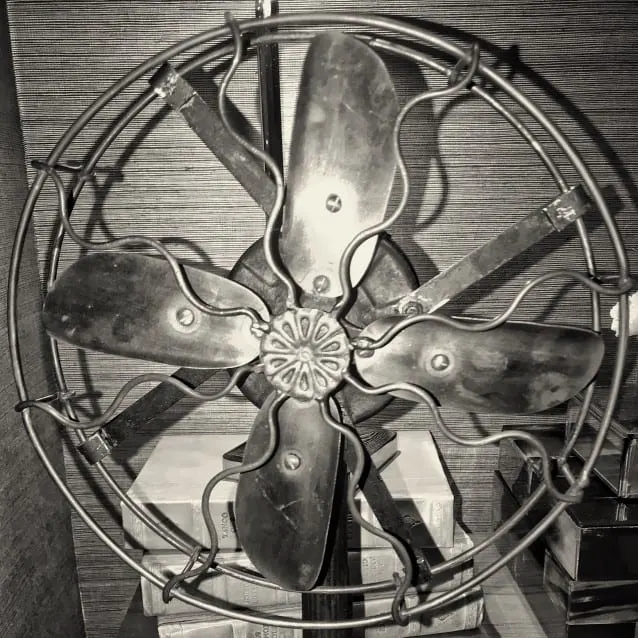 With the introduction of the electric fan at the end of the 1800s, workers were able to do their work in greater comfort. But not only that, they were able to enjoy the simple pleasure of an interesting and novel mechanical trinket.
Soon after their invention, more advanced electric fans started to come with an internal mechanism that allowed them to oscillate back and forth. Not only was this useful, but it had a strong aesthetic appeal similar to that of clockwork.
All of this history and lore is still wrapped up in the simple design elements of the vintage electric fan. With similar exterior contours to classic automobiles of the 1900s, antique and vintage style electric fans are a staple of science fiction Noir.
They exude hints of a world on the brink of a major technological shift, one that will change not only the lives of those who use them- but everyone.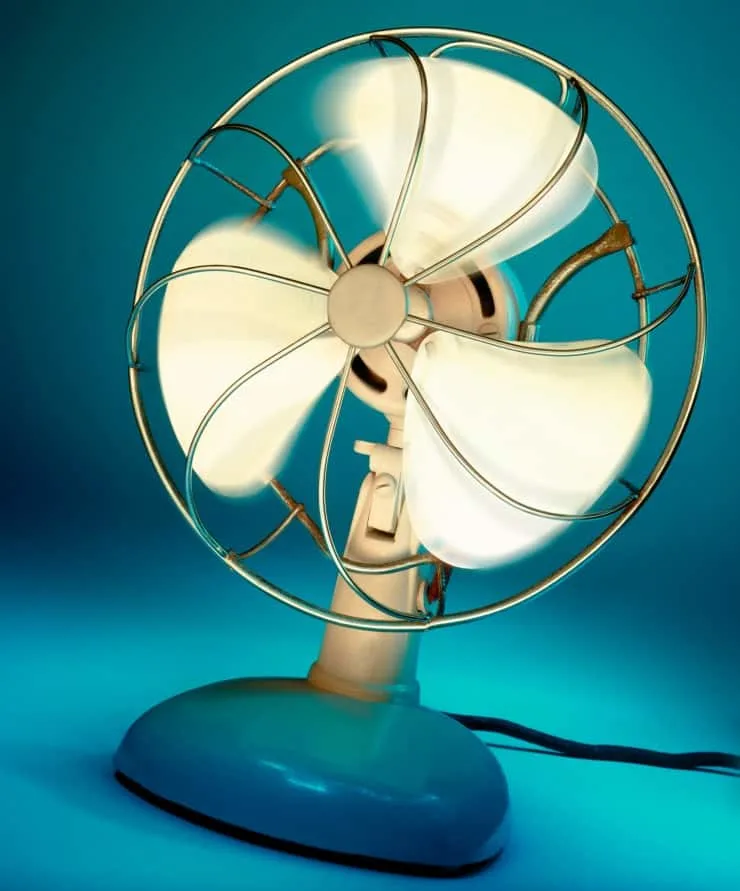 Today, the electric fan is generally considered inferior to an open window, and with good reason. But if opening a window isn't an option, you may still want a fan.
That being the case, many with at least a hint of knowledge of American industrial history have an innate understanding of the appeal of vintage office fans.
After all, why get a noisy, plastic monstrosity when you can have an elegant and historically relevant vintage office fan?
Everything You Didn't Know About Vintage Office Fans
In the 1880s, as access to electricity rapidly spread across America, the idea of air conditioning would have seemed absurd. The amount of electricity it would take to power a machine that could cool an entire house was not available to most homes or even most office buildings.
The electric fan became the solution du-jour. You may not have been able to cool an entire room, but you could cool the area right in front of you using an electric fan. A revolution, so to speak, was born.
A Brief History of the Electric Fan
In 1882, responding to an explosion in demand, the son of Dutch immigrants, Schuyler Skaats Wheeler designed the first electric fan. He attached a double-bladed propeller to an electric motor, and the first electric fan was born.
On the heft of his invention, he was invited to partner with the Curtis & Crocker Electric Motor Company to mass-produce his invention in a salable package.
The prototype was inelegant with its exposed blades, open-wire coils, and an old-fashioned Edison light bulb mounted eagerly on top.
It became known as the Crocker-Wheeler Electric Fan. They refined it into a silver and black design, with insulated coils, chromed touch-points, and a shiny cage for the blades.
It was expensive but good-looking, and it did a great job of cooling a single, stationary user.
It was embraced by office workers and quickly became known as the office fan- a common item to be found in bureaucratic organizations, press rooms, accountant's offices, and the like.
Today, the most popular vintage fans are antique or reproduction Emerson Fans with designs dating back to the 1930s. Fans made during this time were well-built, durable, and strong.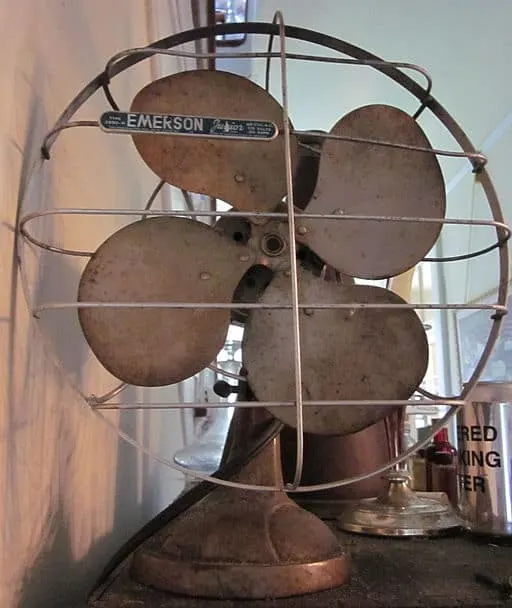 They were so strong, in fact, that the guard cage was a true safety necessity- not just something to protect pets and the fingers of small children.
Because it was used so widely in office settings it became loosely associated with bureaucratic power, intellectual work, and policymaking.
This is likely to be a large part of the appeal of these fans much like the green-tinted accounts visor, the typewriter, executive style office chairs, and the hanging overhead lamp. It oozes status, power, and the hint of cutting-edge technology in a world on the cusp of big changes.
By the 1950s, these items could be found in every home. Far from the exclusive property of office blocks and government agencies, every family could enjoy cool air produced by a stylish, painted, and powder-coated fan.
But all good things must end.
In the early 1950s, companies like DuPont started mass producing plastics. From that moment, it wouldn't be long before the heavy and stylish electric fan would be replaced with the ticking, plastic, and short-lived fans we reluctantly use today.
The Rise of "Vintage"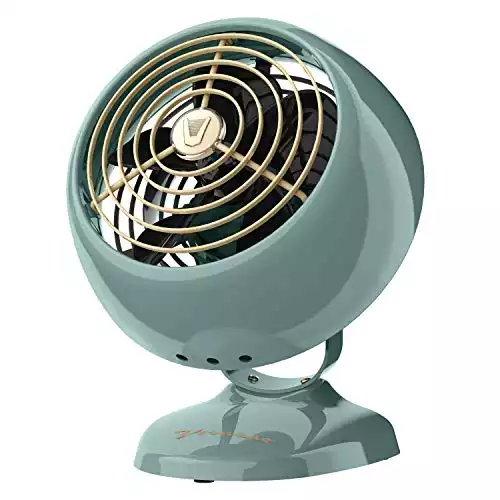 While the iconic post-industrial electric office fan can be found in old detective movies, and certain sci-fi classics, the full-cultural embrace of "vintage" style wouldn't set in until the early 2000s.
The 90s can be typified by its tendency for utilitarianism, minimalism, and brutalism. While these things are never going to go away, the trend left us with a bad taste in our mouths after the previous four decades, which were drenched in style.
The 50s were about power, money, family, and a late-industrial aesthetic. The 60s were similar, but with a naive futurism that brought us things like the Jetsons.
The seventies brought us muscle cars, classic rock, and powerful sound systems. The 80s seemed to take the best, and the worst, of all these periods, add lasers and turn the volume up to 11.
Then the provincialism of the 90s came along and hit us all like a wet slap. In the year 2000, the unsatisfying impact of Y2K seemed to remind us that things are alright after all.
After that, the retro craze kicked in with vintage clothing stores being formed out of second-hand fabric stockpiles and metric tons of glitter glue.
As people continued to deck out their office spaces and homes, the vintage electric fan quickly became an indispensable part of the vintage craze.
Today, 21 years later, we find that the "vintage craze," is no passing thing. Today, admiring the venerable fashions and forms of older things has become quite normal. That brings us to the current position occupied by our friend, the classic, post-industrial electric fan.
Revenge of the Vintage Electric Fan
The vintage aesthetic of these little desktop appliances tends to be focused on designs from the 50s, 60s, and 70s. In fact, most of the "vintage" models we see today are recreations of fan designs that came out of the 1960s.
We have many examples of 1960s designs since the technology went out of favor in the late 50s with the advent of air conditioning. Electric fans came back in the 60s out of a need for more economical cooling options.
Some of the most popular and valuable models available today are reproduction and refurbished Emerson fans. Made from durable, corrosion-resistant materials, these fans are relatively easy to clean up and get working again.
Usually, the original electric components must be replaced, but the classic exterior remains.
Many vintage-style fans are new with plastic blades and casing. These are usually cheap and will not last any longer than an ordinary apartment fan.
For the serious collector, Emerson antique fans are king. True antiques are not cheap, and for anyone who doubts their value- a few moments in their cone of moving air will be quickly converted.