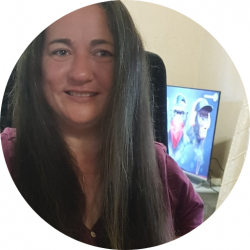 Latest posts by Caroline Lambert
(see all)
The best retro lunchbox ideas are about turning a mundane daily task into something worth talking about, and there's nothing wrong with collecting these beauties. It doesn't have to be a Beauty and the Beast lunchbox, but some retro options are lovely collector's pieces or conversation starters.
I've chosen the best retro lunchboxes based on nostalgia and artwork from far away in another galaxy to the refreshing pop of a coke bottle. Who can forget the cool kids at school? The ones who had the best lunches packed in awesome lunchboxes everyone wanted? That's the goal of my favorites.
I want to take you on a memorable journey with gorgeously designed lunchboxes, and nothing says you can't sit in your corner office with a view of the entire city while eating lunch from a Disney lunchbox. Who said cartoon characters are only for kids? Heck, splash ketchup all over your fancy white shirt if you want.
Okay, don't do that, but you get the point. Retro lunchboxes are a world of possibilities, whether you're a collector or just want to feel that nostalgia while spoiling your crisp white shirt. I'll admit my favorite is the Mickey and Minnie lunchbox, merely for its perfect captivation of all three reasons I choose my favorites.
Lunchboxes With a Story
Long before the era of fast food and cafes on every corner was a time when hard-working men carried lunchboxes to work. Wives packed the freshest peanut butter and jelly sandwiches, sometimes using freshly baked bread, and who can forget the warm soup in the thermos?
It was a simpler time, but lunchboxes were only manufactured from 1902. The popular caddy lunchbox was made of tin, and every working-class man carried one with pride. School children also wanted in on the fancy caddy boxes, and this is how the beautiful pictures of children on tin lunchboxes happened.
Some parents gave their children old tobacco or cookie tins as lunchboxes before the first official lunchbox design became popular. The first lunch boxes looked like metal picnic baskets, and the illustrations would take on the minds of the designers over the coming decades.
The main designs were first simple, including children playing, airplanes, checked patterns. In 1935, Mickey Mouse became the first popular character to grace the illustrations of lunchboxes, and they only became personalized statements from the 1950s.
Every popular character, singer, band, and product became a lunchbox idea. From Hopalong Cassidy to the Lone Ranger, lunchboxes were a fashion of their own. Many lunchboxes came with matching thermos. Soup could finally stay warm for work or school, and a new art form became pivotal.
Today, we have a massive range of lunchboxes available for every obsession with a character, brand, or period. Moreover, retro lunchboxes recreate the most popular antique, vintage, the 1970s and 1980s lunchtime memories. They're a collector's dream!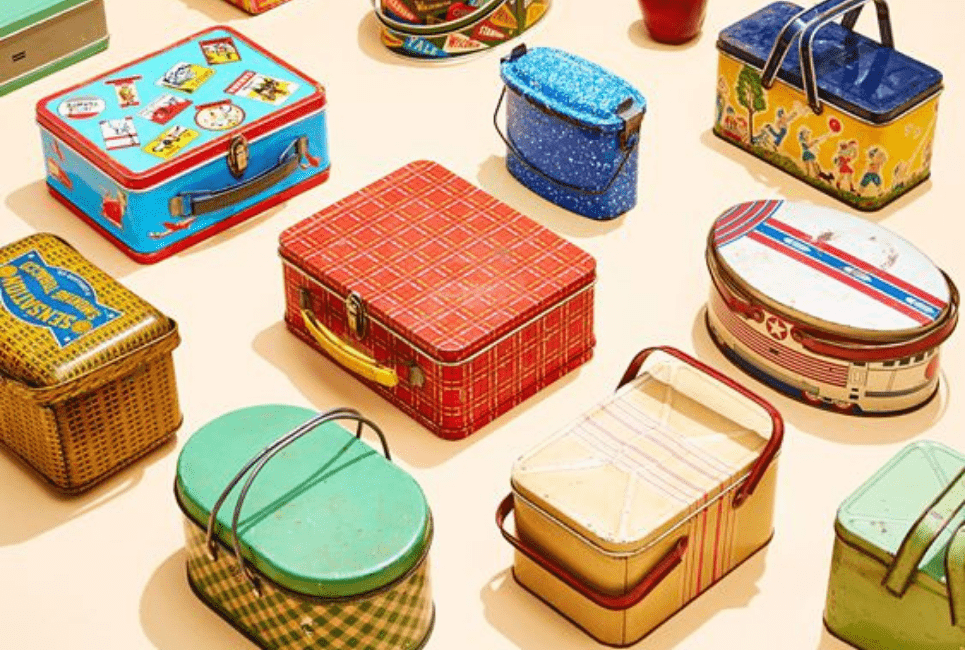 What Makes the Best Retro Lunchboxes?
Other than collecting lunchboxes for the characters' nostalgia, there are other factors to consider before choosing one. Three factors make an awesome retro lunchbox: artwork, depiction, and type.
Artwork
Artwork is what attracts most people to collecting memorabilia, especially with lunchboxes. Some collectors love brightly colored designs, while others love the typography, which is the variation of fonts used to match the depiction of characters or products. The Coca-Cola typography uses a specific range of fonts.
However, the Coca-Cola typography is licensed and protected, meaning you should look for licensed lunchboxes, even if they're retro reproductions. They use a Spencerian-style font, so you need to look for fine details where the logo looks the same. Some reproducers make small changes.
You'll notice whether lunchboxes are licensed or not, and that means they use the correct typography. These are the collectible tins you want, even though retro memorabilia has no value other than the nostalgic type. Choosing good artwork with bold colors also allows you to create a beautiful display.
Depiction
Retro lunchbox depictions refer to what or who is displayed on them. Again, this relates closely to the first factor because licensed lunchboxes will have better depictions due to being allowed to use the original scenes and characters. A Mickey Mouse lunchbox requires a license to be accurately portrayed.
Once you know your depictions are accurately displayed because the manufacturer obtained a license, you can focus on the depictions you love, depending on your childhood memories. The depictions could be:
Type
Retro lunchboxes either come with a thermos or without. It's a bonus to have one, but it's not a dealbreaker if you don't get a matching thermos. You also get three shapes: dome, square, or rectangular. They might look like the regular tin lunchboxes with latches you most commonly see, but they might be picnic-shaped.
You even get people selling the reproductions of the original tobacco can lunchbox. The shape is entirely your decision, but you might want to stick to similar shapes if you're collecting lunchboxes for a unique display. There are also two types of retro lunchboxes: tin and fabric.
Tin Lunchboxes
Pros
They come in all shapes and sizes
They have elaborate depictions and artwork
They're durable
They have latches
They're stackable
They're easy to arrange in a beautiful display
Cons
They aren't great as lunchboxes due to the lead in tin
They aren't thermal (unless you get a thermos with them)
Fabric Lunchboxes
Pros
They come in various shapes and sizes
They have elaborate depictions and artwork
They have thermal insulation to keep food warm
They're often BPA, lead, and phthalate-free
Cons
They're not so durable
You can't stack them
They're better to use as lunchboxes
My reason for the best retro lunchboxes is that I'm an avid collector. Therefore, I stick to tin lunchboxes, but you can purchase fabric lunchboxes if you intend to use them.
Best Retro Metal Lunchbox Ideas: My Top 10
As a collector, my top choices are certainly tin lunchboxes, but I also factor in nostalgia, artwork, and depiction. These are my top choices in descending order of favoritism without wasting more time, especially not enough to turn retro lunchboxes into antique collectibles.
1. Mickey and Minnie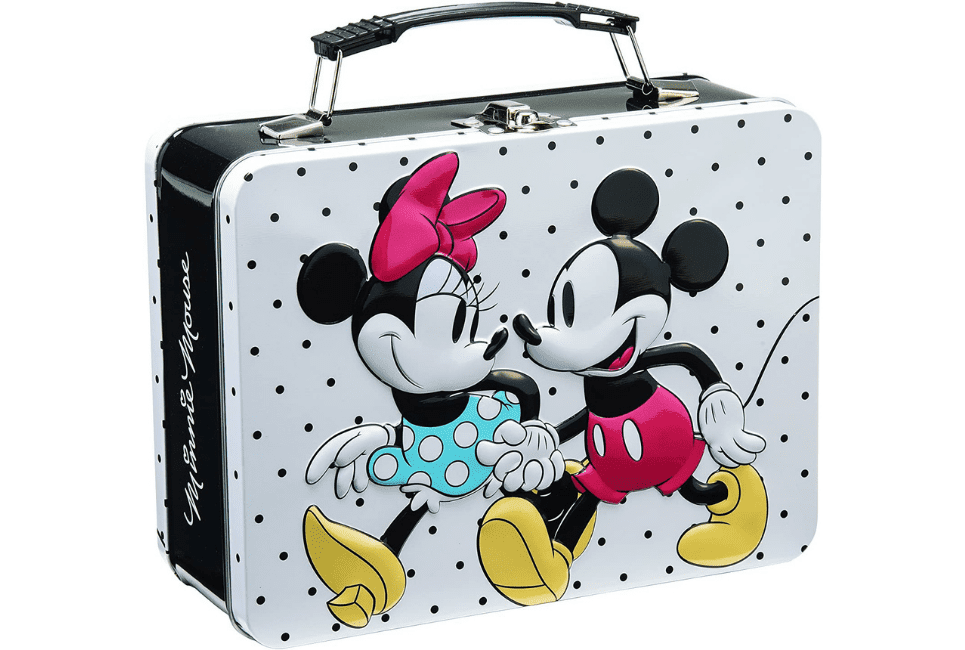 If there was ever a couple who taught us how to love and share, it was these two. The Mickey and Minnie lunchbox is a salute to characters most of us know. Mickey and Minnie first solidified their relationship in the 1930s, and the mice became household favorites from Disney.
It's a beautifully detailed lunchbox without adding unnecessary artwork. It showcases the famous couple walking hand-in-hand, and every detail is spot-on. The typography is also well-matched, and the lunchbox is a colorful addition to any collection.
Pros
It's bright, colorful, and accurately portrayed
It has two of the most famous Disney characters on it
You can see the nostalgic love between Mickey and Minnie
It suits a Disney collection
Metal latch closure
Collapsible handle
Cons
It seems like a feminine lunchbox
It has a plastic handle
2. Star Wars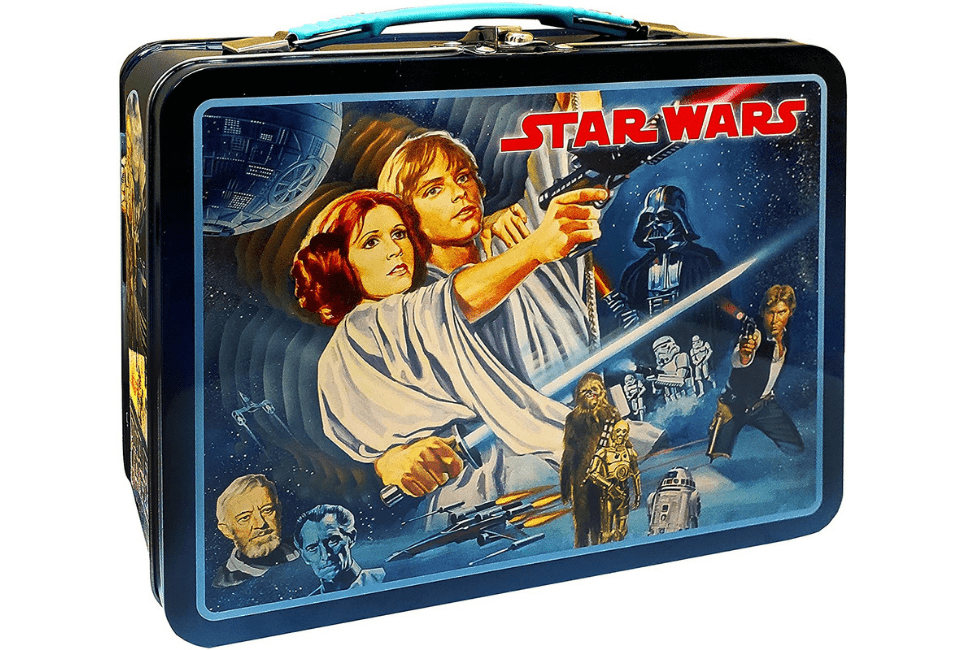 Who isn't a Star Wars fan? In the least, everyone knows the characters from the movies that started in the 1970s. This Star Wars tin lunchbox is an exceptional addition to any collection, especially if you love gathering movie lunchboxes. The Tin Box Company fully licenses it, so it's accurately depicted.
It has all the favorite characters on the front, including Princess Leia, Chewbacca, Luke Skywalker, Darth Vader, Han Solo, R2D2, and C3PO. It's a blast from the past. Although, Star Wars never seemed to lose its popularity. People still go gaga for the movies, and it will enhance any collection.
Pros
It's colorful and accurately portrayed
It has the most-loved characters from Star Wars (except for Yoda)
You can feel nostalgic with the stormtroopers and lightsabers highlighting the depictions
It suits most memorabilia collections
Fully licensed
Metal latch closure
Collapsible handle
Cons
The illustration is flat and printed
It has a plastic handle
3. Coca-Cola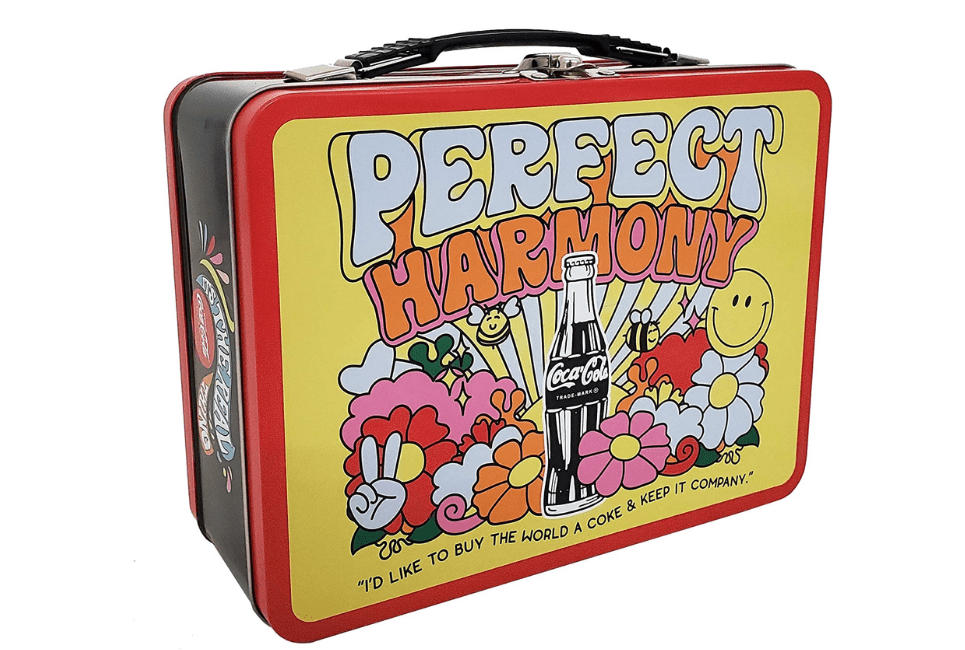 Everyone remembers the sounds of that popping refreshment on Coca-Cola ads, and it makes your mouth water when you think about it. This Coca-Cola lunchbox is a perfect retro option because it reproduced the vibes of the 1970s when everything was about perfect harmony, love, and peace.
Sharing was a big thing in the 1970s, and it happened to be part of Coca-Colas slogan, making the two a perfect match for memorabilia. Whatever you collect, Coca-Cola should be part of it. The depiction is spot-on when it comes to the era and the brand, and it's in-your-face but funky and enjoyable.
Pros
It's bright, colorful, and accurately portrayed
It has flowers, a peace sign, and varying typography to suit the era
You can marry the Coca-Cola and flower power concepts in your mind
It suits every collection
Fully licensed
Metal latch closure
Collapsible handle
Cons
It's a limited release
It has a plastic handle
4. Moon Landing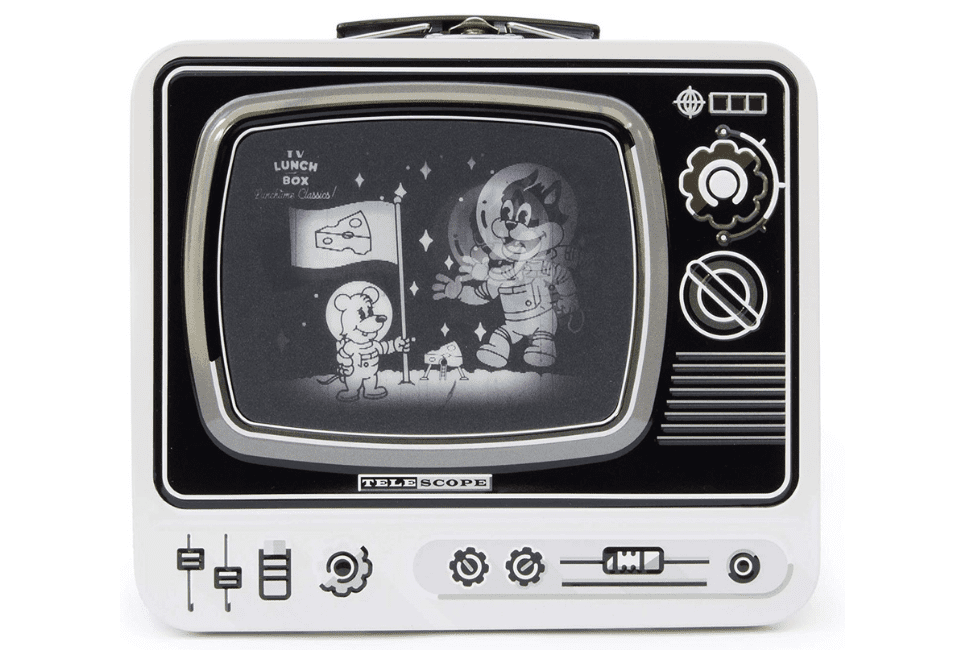 The Suck UK Moon Landing lunchbox makes me imagine countless Americans on the edge of their seats, waiting to watch Neil Armstrong step foot on the moon in 1969. Who can forget such a momentous achievement for our country? The lunchbox is a beautiful reminder of that day.
Turn dial TVs were real people, and that's how everyone watched this memorable moment across the country. This retro TV lunchbox is a gorgeously detailed collectible, even having details on the back. Fortunately, this one doesn't need to be licensed, but it had to pop into the fourth spot.
Pros
It looks like a TV from the front and back
You can't get more nostalgic than revisiting the moon landing
It suits vintage and entertainment collections
Metal latch closure
Collapsible handle
Cons
It doesn't have much color (the details make up for the lack of brightness)
It has a plastic handle
5. Yellow Submarine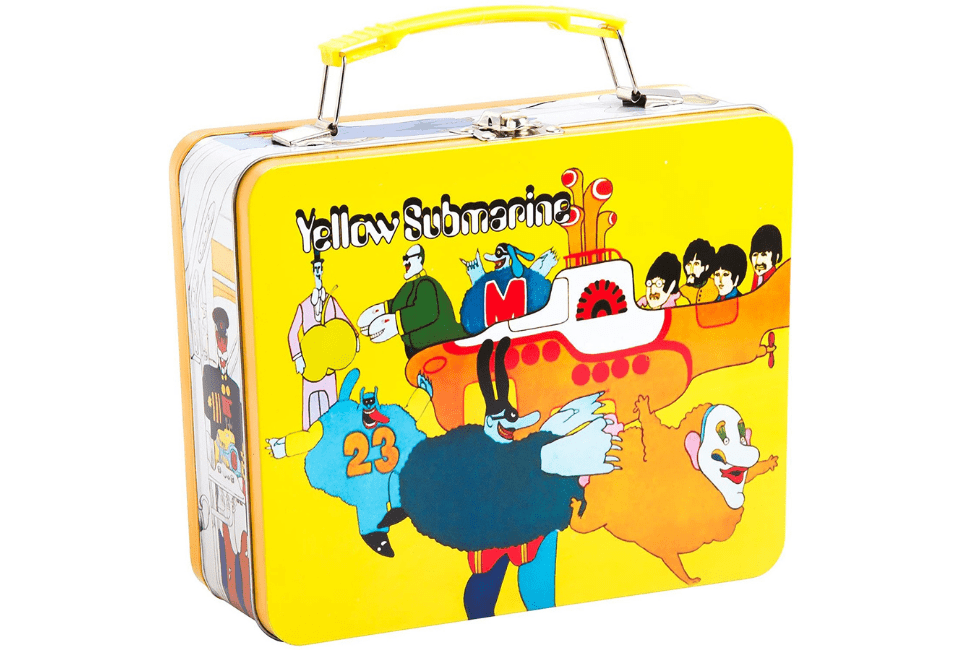 Damn, I started singing that as I typed it. The Beatles: Yellow Submarine lunchbox is a sure winner. The Beatles were a rage in the 1960s, and everyone knew the words to the song. The beauty of this lunchbox is that it doesn't need to be licensed because there's no typography.
The depiction is merely a representation of a favorite band and song. Even the background is yellow, and Paul McCartney, Ringo Starr, John Lennon, and George Harrison ride a yellow submarine in a cartoon-like fashion. The Beatles were partially the beginning of a new era, and the artwork shows just that.
Pros
It's bright and colorful
It has the crazy psychedelic vibes commonly associated with the rocking 1960s and 1970s
You can imagine the song playing in the background
It suits cartoon, musician, and pop culture collections
Metal latch closure
Collapsible handle
Cons
It's not accurately portrayed if that's what you want
It has a plastic handle
6. Fender Amp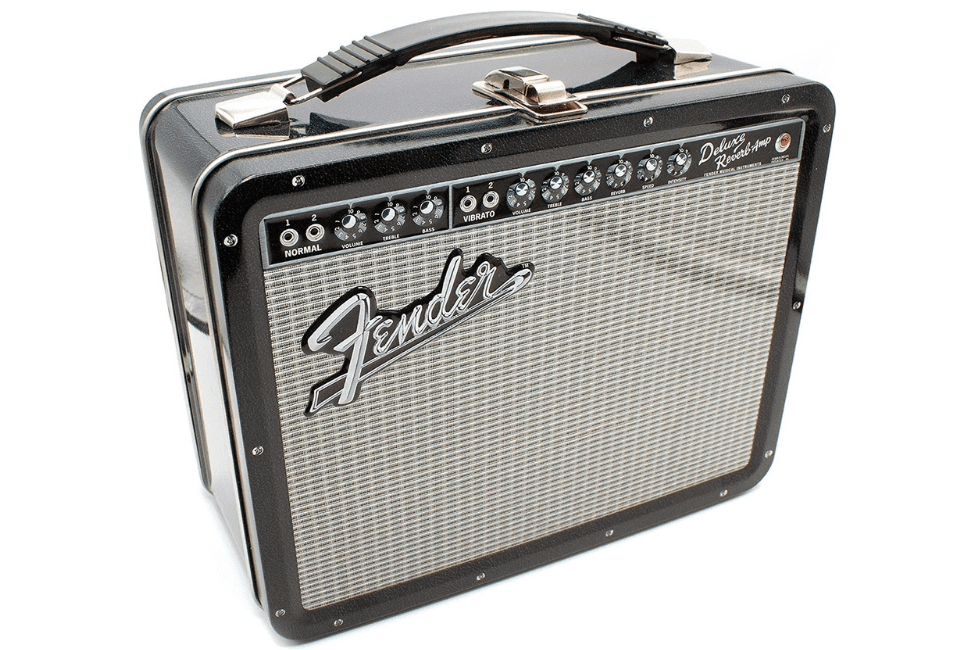 The 1960s also brought better ways for us to listen to music when we pumped The Beatles. The Fender Amp lunchbox is a reproduction of the 1965 Fender Deluxe Reverb amp that first introduced the silver face design. The lunchbox is gorgeously detailed with Fender's knobs and even has screws along the edges.
The embossed design is everything you can look for in a replica. The logo is accurate, and the backside of the lunchbox has the label famously seen on the original amplifier. It's what attention to detail looks like. It may not be colorful, but the details outshine the lack of color.
Pros
It's accurately portrayed
It's detailed enough to be mistaken for a small amplifier
You can feel the musical nostalgia of the era
It suits pop culture, band, product, or entertainment collections
Metal latch enclosure
Collapsible handle
Cons
It has no popping color
It has a plastic handle
7. The Brady Bunch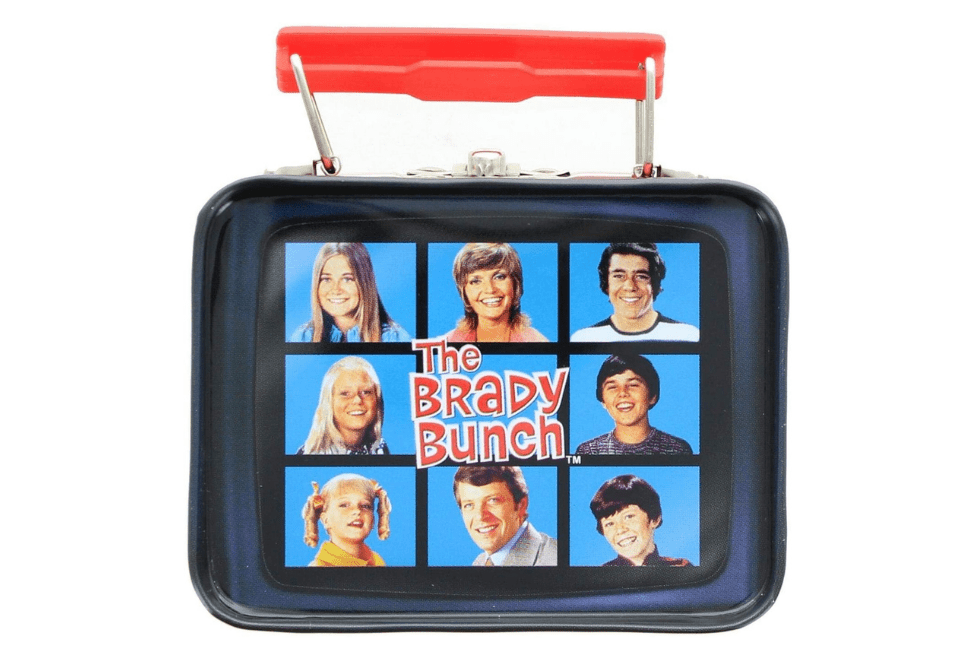 The Brady Bunch lunchbox is a perfect representation of a TV show that rocked the humor world from the 1960s to the 1970s. It's an iconic show, and the lunchbox has the entire goofy family on the front. Mike and Carol, having three sons and daughters respectively, showed just how hard marriage could be.
The kids don't get along, but the humor is as straightforward as it comes. Take it from me; having step-siblings is hard, leading to the disasters seen on the show. However, the lunchbox reminds you of a time when TV had funny shows.
Pros
It's bright, colorful, and accurately depicted
It has a sunken display to give homage to the old TV sets
You can feel the humorous nostalgia seeping through each character on the front
It suits pop culture, entertainment, and TV show collections
Metal latch enclosure
Round handle (somewhat collapsible)
Cons
It comes in various Brady Bunch collections (be careful to choose the right one)
The handle is bulky
8. E.T.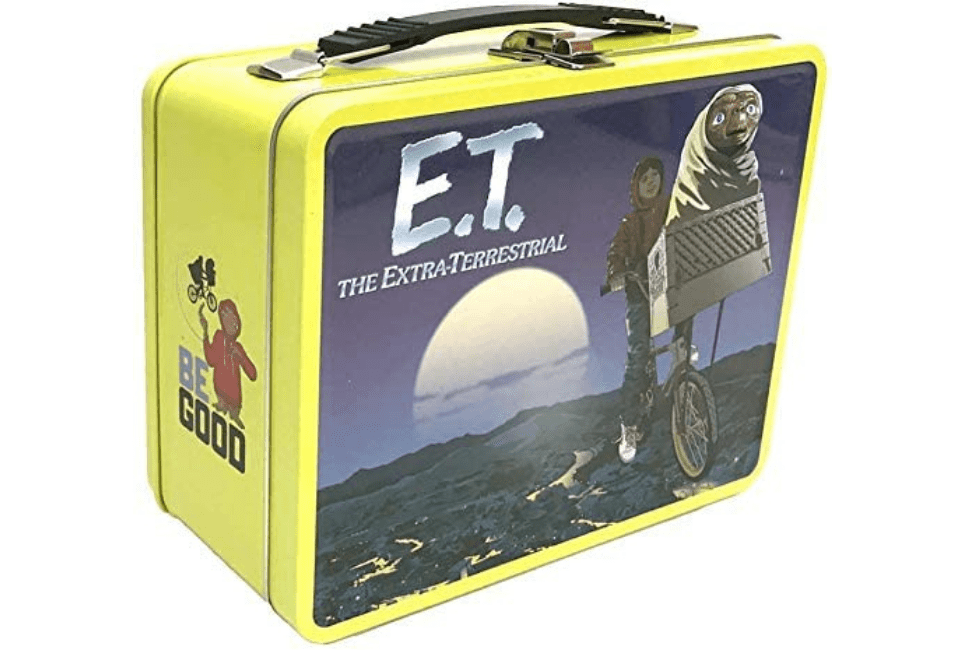 E.T. is the lovable alien that slid into our lives in 1982, and he earns a spot on my list. The E.T. retro lunchbox is a salute to a movie that had our eyes wet while our hearts melted. It was a case of boy meets alien, and everyone remembers the Stephen Spielberg classic that married day-to-day life with supernatural elements.
The young boy, Elliot, was determined to help his extraterrestrial friend return home without being captured by the government. The movie was massive, even airing as the final entry at the 1982 Cannes Festival. The lunchbox is gorgeously designed and has the extraterrestrial on both sides.
Pros
It costs $22.99
It's bright, colorful, and accurately depicted
It has a double-sided display with outstanding typography
You can feel the sadness of Elliot losing his friend from this lunchbox
It suits pop culture, cartoon, and movie collections
Metal latch enclosure
Collapsible handle
Cons
It's pricer than the others
It has a plastic handle
9. Star Trek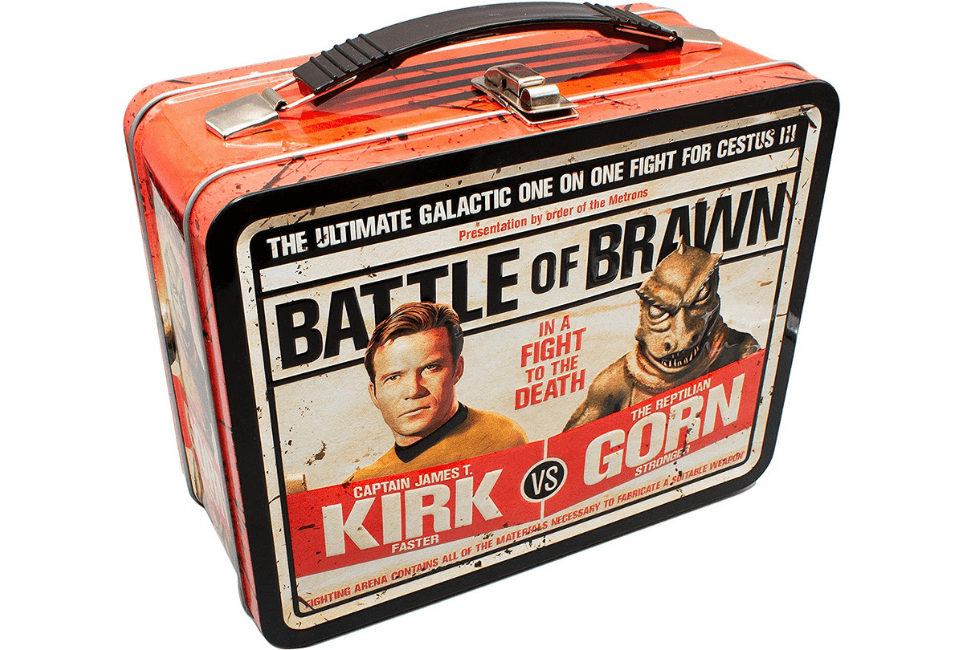 Olay, call me a geek for loving pop culture and anything with movies, cartoons, and old TV shows, but the Star Trek: Kirk vs. Gorn lunchbox is another winner. The depiction is impressive, and it shows a face-off between Captain Kirk of the Starship USS and the Reptilian Gorn on the Rocky Planet.
The raised and embossed artwork is phenomenal, and it has gorgeous typography, highly accurate to the episode called "Arena" from 1967. There's a lot of detail on the lunchbox, and it looks like it's worn to give it that vintage vibe. Both sides, front, and back have depictions from the same episode.
Pros
It costs $16.99
It's brightly colored and accurately portrayed
It has a highly accurate spread of typography on both sides
You can feel the raging battle from the 1967 episode
It suits pop culture, entertainment, and movie collections
Fully licensed
Metal latch closure
Collapsible handle
Cons
It may offend Star Wars fans (decide whether this is your problem or theirs)
It has a plastic handle
10. Elvis Presley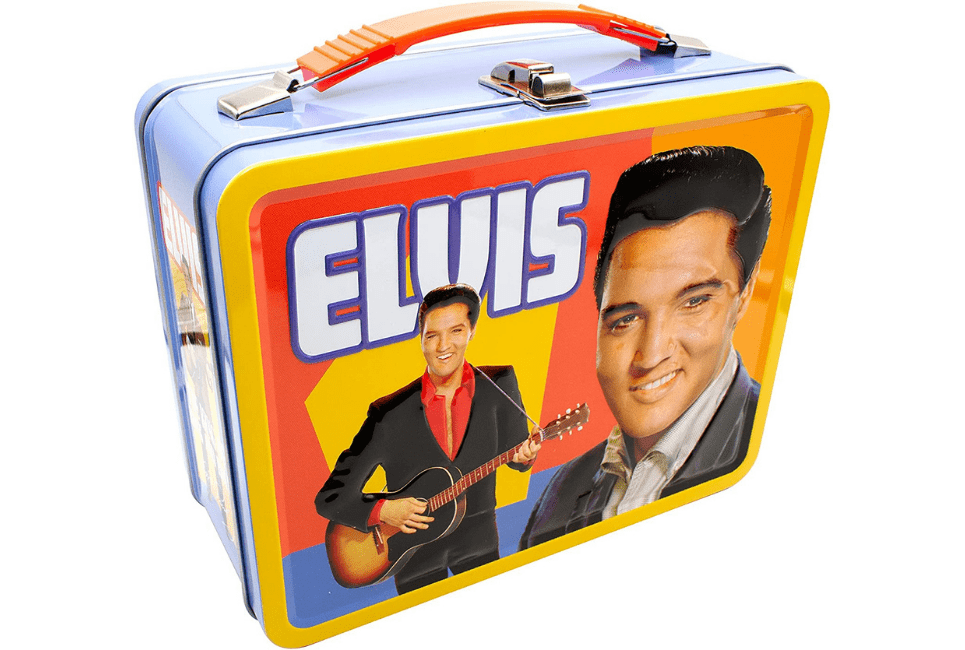 How can I not add the king of rock to my favorites? The Elvis Presley lunchbox is a salute to a man who became legendary in the music world. From his blue suede shoes to being all shook up, the legend has a place in nearly every woman's heart. He moved like an angel and sang like a demon.
The details on this lunchbox are insane. It nearly looks like you can touch Elvis himself, which would be great if you wanted to learn how to shake things up on the dancefloor. That hair! OMW! Okay, let me stop drooling now. This lunchbox is official Elvis merchandise with the correct licensing.
Pros
It's bright, colorful, handsome (oops), and accurately depicted
It has a raised and embossed display with popping colors
You want to shake your boots when you see it
It suits pop culture, entertainment, and band collections
Fully licensed
Metal latch enclosure
Collapsible handle
Cons
You might become obsessed with it
It has a plastic handle
Tips for Arranging Lunchbox Collections
If your collection grows to something like mine, you'll need some tips on arranging your lunchboxes for maximum effect in your collectible display. I use three different arrangements with my lunchboxes, and I change them up once in a while.
Option 1: Cascading
Cascading displays allow you to showcase the beauty of each lunchbox by using shelves to create the stepping effect. Arrange them by shape, size, or color on each rack, but allow their bold, colorful artwork to make a wonderful trip down memory lane.
Option 2: By Category
Maybe you collect pop culture lunchboxes, meaning you can still divide them into other categories, such as movies, TV shows, bands, and products. Place your centerpiece of each category on a pedestal before circling the others around it. You don't need all your collections in the same place.
Option 3: By Date
My favorite arrangement with anything nostalgic is to take a walk down memory lane literally. Give each lunchbox a date by Googling the period your artwork represents. You can also hang lunchboxes on the wall, so use this method to create the memory lane effect down a long passage.
Tips to Clean Tin Lunchboxes
The point of collecting retro lunchboxes is that they'll look new. Some might have the worn effect, but you'll want to keep your tin collection and bright colors popping in your arrangements. These tips help to keep tin clean and free from rust:
Soak a clean cloth in white vinegar and ring it out before wiping your collection. Doing this brightens the colors and keeps it safe from accumulated rust if you have any.
Gently rub the rust with the inside of a potato peel and a pinch of baking soda. Leave it for ten minutes, and then wipe it with the vinegar cloth again.
Never use steel wool on the tin with artwork, even the finest ones! Don't use metal cleaners or abrasives as they'll slowly wear down the colors. You don't want any damage to your paint.
Wipe away any residue or dirt with a plain damp cloth (no vinegar). Allow it to dry thoroughly.
You can then use White Diamond Metal Polish to coat your lunchboxes slightly, which acts as an antioxidant and sealant, protecting the tin from water, UV rays, and other harsh environmental factors.
Recommended Alternatives: Usable Lunchboxes
Sometimes, it's nice to have a lunchbox with a retro vibe and without the need to keep it shiny and stacked in your collectible display. Many people still take lunch to work, and not everyone has a Starbucks or Dunkin Donuts in their office lobby.
1. Scooby-Doo Thermal Lunchbox
Where are you? The Scooby-Doo: Mystery Machine lunchbox is everything we want to remember about cartoon characters from the 1970s. I once saw a meme about The Mystery Machine and Ghostbusters vans standing together outside someone's office. The meme said, "Something's about to go down."
Scooby-Doo is another cartoon character everyone knows and loves. The sloppy dog and his mystery team are always sniffing out trouble. This lunchbox is gorgeous because it doesn't only accurately portray the mystery van, but it's also BPA and PVC-free, making it a valuable addition to your usable collection.
2. Construction Worker Dome
The Construction Worker Dome is the perfect retro lunchbox with antique-style inspiration. You can imagine people like Rosie the Riveter heading off to work with a dome-shaped lunchbox in her hand. What makes this a perfectly usable option is that you can purchase a new one each time it gets worn.
It's a plain and spacious lunchbox made from tin; however, it's only the style that looks antique. There's no artwork in salute to your favorite band or childhood TV program. It still makes my list of alternatives for having that construction worker nostalgia of the early 1900s.
3. State Rodgers
The State Rodgers insulated lunchbox is a clever range of retro totes inspired by antique cars. Antique cars start at 45 years old, but we're talking about the vehicles you wound up in the front of the engine. Think about the cars you saw in the Peaky Blinders, a UK-based series that hit the top rankings on Netflix.
It's a great option if you want to feel like a don while flaunting a retro lunchbox. It's usable, BPA-free, and it keeps your lunch warm. This one doesn't have a particular antique car on the front, but the bold, round headlights against the flashy grid make you think you'll find the winder down below.
Alternative collectibles
Lunchboxes are fun to collect, but you can find as much joy in collecting retro and vintage:
Don't go and earn yourself a spot on Hoarders, but collecting retro, vintage, and antique items is a hobby you won't regret. Signs and lunchboxes can grow into unfathomable collections, so just be careful of turning your home into one of the oldest museums in America.
Frequently Asked Questions
Question: Are Retro Metal Lunchboxes Worth Money?
Answer: The term "retro" refers to a reproduction of an old idea, whether it's antique, prehistoric, or vintage. It can also refer to recreations of two to four decades earlier, which brings the nostalgic factor. However, retro lunchboxes aren't worth money because they're modern designs inspired by these eras.
Question: What Retro Metal Lunchbox is Currently Most Popular?
Answer: The best way to determine which retro metal lunchbox stands above the rest is to review the Amazon ratings. The frontrunner in 2021 is the Stanley Dome-Shaped lunchbox, which maintains 4.7 stars after more than 5,800 reviews. I never added it because it doesn't have the artwork and depiction I wanted.
Question: What Should I Avoid With Retro Metal Lunchbox Collections?
Answer: There's nothing worse than collecting retro reproductions and not knowing the secret of licensing and accurate depictions. My number one rule is never to collect retro lunchboxes with copyright infringement, leading to minor changes in the artwork. I want my typography and graphics to be as accurate as possible.
Best Retro Metal Lunchbox Ideas: Final Thoughts
Retro lunchboxes are a gateway to a unique form of art where you can reminisce as much as signs and posters. These are my top picks for 2021 and 2022, but the next five years will bring new designs and familiar memories to the front of these tin boxes, and that's what makes them so exciting to collect.
Whether you're setting up a lunchbox museum or you're looking for that memorable depiction to strike conversations at work, getting yourself a retro lunchbox is the only logical answer. And I don't care about your age; the Mickey and Minnie lunchbox is my favorite because it hits nostalgia, accuracy, and beautiful aesthetics.
For more retro reading: