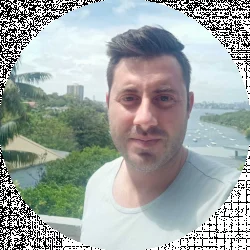 Latest posts by David Borgogni
(see all)
Furnishing a kitchen in the style of bygone eras has become fashionable as more and more companies manufacture vintage-looking fridges, stoves, and dishwashers. Besides these appliances, some of the best retro and vintage microwaves can help you recreate the look and feel of the 1960s or 1990s in your kitchen.
Their old-fashioned look reflects their capabilities since these appliances don't offer all the functionalities you can expect from contemporary microwaves. They mostly feature modes optimized for defrosting and heating different types of food, as well as safety features that prevent unsupervised use.
Despite their limited functionality, their style makes them a perfect detail that fits with a wide range of kitchen décor ideas. So, in this article, we're going to help you find a microwave model that will make your vintage kitchen project complete.
Our guide to the best vintage kitchen timers can help you discover more accessories that look like they belong to another era.
At a Glance – The 5 Best Retro and Vintage Microwaves
Selection criteria
The visual differences between microwaves that evoke the style of the 1960s and 1990s are considerable. That's why one of the first things we had to do while researching the microwaves we considered including in this article was to create a distinction between retro and vintage models.
Aside from their aesthetics, the practicality of these home appliances played a key role in our selection process. Here are some of the most important parameters we used to choose microwaves featured in this article.
Microwave type – Installing a built-in or over-the-range microwave requires time and effort. That's why our selection only includes countertop models that don't have any installation requirements.
Maximum capacity – Retro and vintage microwaves you'll find in this article fall into compact and mid-sized categories because their capacities don't exceed 1.1cu/ft. Nonetheless, finding space for any of these models shouldn't be difficult.
Adjustable power level – Having the ability to choose how much of the microwave's power output you want to use enables you to heat or prepare different types of dishes. That's why this feature was among the parameters we utilized to pinpoint some of the best models on the market.
Browse through our guide to the best vintage breadboxes that can be a great match for a retro-themed kitchen.
The Characteristics of Retro and Vintage Microwaves
Although the terms retro and vintage are often used interchangeably, they don't denote the same design style. The retro aesthetic refers to items produced several decades ago, usually for clothes, cars, or appliances that look like they're from the 1980s, 1990s, or early 2000s.
Retro microwaves have a more contemporary look than vintage models that evoke the style of the 1960s and 1970s. These appliances are equipped with basic features that allow you to switch between default settings, while models that utilize smart technologies are hard to find.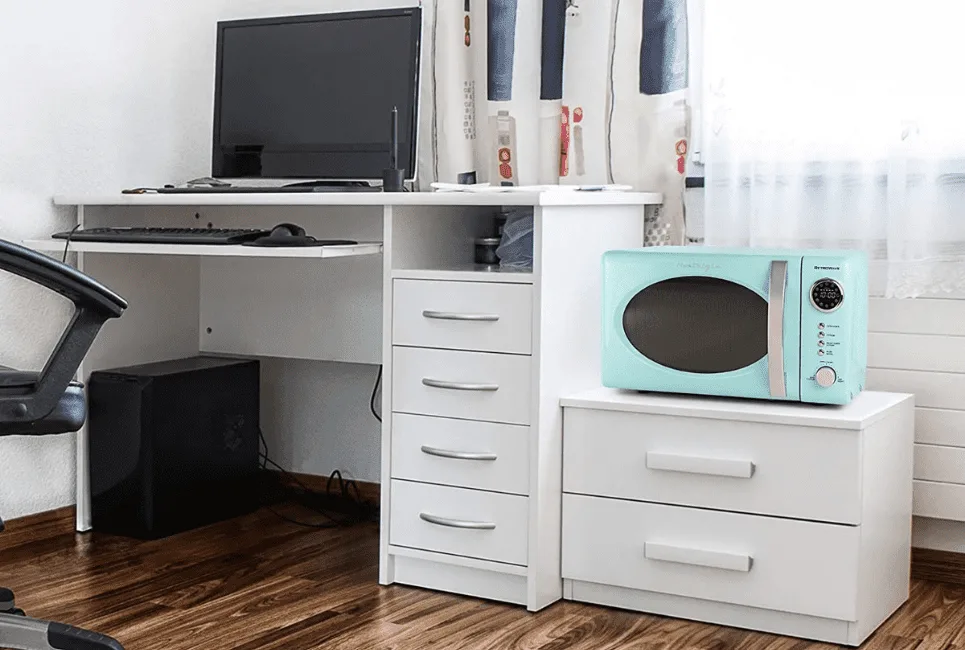 Retro models don't have advanced features such as sensor cooking or inverter technology as they prioritize style over functionality.
The number of available options varies from model to model, and you have to go through the specification list of a specific retro or vintage microwave to learn more about its performance.
Check out our guide to the best retro toaster ovens you can pair with retro and vintage microwaves.
Types of Retro and Vintage Microwaves
The characteristics of microwaves also depend on their type, as some retro models can have a ventilation system or an LED light that illuminates the cooktop. Let's take a look at some of the most common types of retro and vintage microwaves.
Countertop microwaves – The vast majority of retro and vintage microwaves fall into this category. As implied by their name, these appliances are placed on the countertop surface and plugged directly into a power outlet.
Over-the-range – A handful of retro models that evoke the style of the late 1990s and early 2000s can be installed over the range. They can save valuable space in a kitchen, and they're usually larger than countertop models.
Drawer or built-in microwaves are often stacked with advanced features, but their style doesn't fit into retro or vintage categories. Read our guide to the best retro coffee makers if you're still in the process of equipping your kitchen with retro and vintage appliances.
Retro and Vintage Microwave Size Options
The external dimensions and internal capacity of a microwave determine the amount of space a particular model occupies and the size of the dishes you can prepare. Retro and vintage models are usually smaller than standard contemporary microwaves.
Compact models -Their dimensions are approximately 10 x 20 x 14-inches, but the actual size depends on the model. Also, the internal capacity of these appliances is limited to 1 cubic foot, but the majority of compact models offer between 0.7 and 0.9cu/ft. Models that fall into the compact category are best suited for families of 3 or people who live alone.
Mid-sized – The internal storage capacity of mid-sized microwaves spans from 1 to 2cu/ft, but finding a retro or vintage model that offers more than 1.5cu/ft of storage space can be difficult. Opting for a microwave from this category will enable you to prepare meals for up to five people.
Check out our guide to the best retro radios you can add to your kitchen
Power Consumption of Retro and Vintage Microwaves
The wattage determines how quickly and evenly it can cook a meal, but it also affects how much power the appliance is going to consume. Unfortunately, retro and vintage models are not among the most powerful microwaves on the market, as their wattage spans from 700W to 1,000W.
Compact models usually have between 700W and 900W of cooking power, while mid-sized units are rated at 1,000W or above. Keep in mind that the model's wattage affects its price, and you should opt for a low wattage unit if you're looking for an affordable retro or vintage model.
It shouldn't take you more than a few minutes to boil a soup, prepare popcorn, or heat a meal, even if you opt for a 700W microwave. Read our article on Hosier cabinets to learn more about their stunning history and to find out how you can incorporate them into your vintage kitchen design.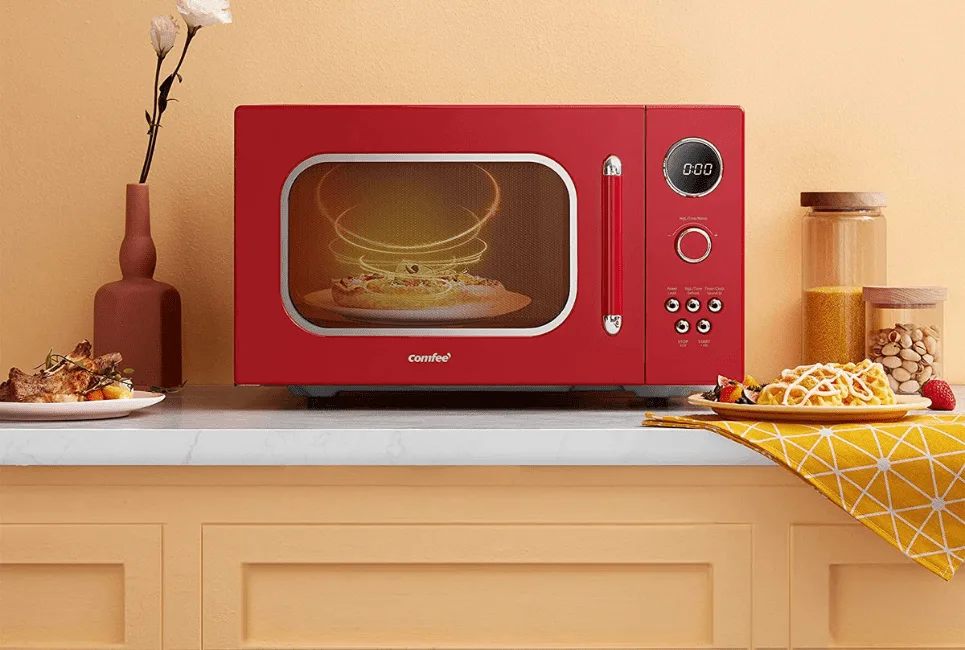 The Most Important Factors to Consider While Choosing a Retro or Vintage Microwave
Arguably, the best first step you can take in your search for a vintage or retro microwave is to estimate how often you're going to use the appliance. Doing so will help you find a perfect balance between functionality and the style your new microwave should offer.
You shouldn't expect too much from vintage microwaves in terms of their performance, as they usually come with a basic set of features. Let's go through some of the key factors that can prove to be useful during your search for retro or vintage microwaves.
Kitchen's Visual Style
Terms retro and vintage can refer to various looks that don't necessarily fit into all types of retro kitchen designs. Which model you're going to choose often comes down to context because the unit you select has to match the rest of the kitchen furniture.
Retro models generally fit better in spaces that build on the style of the 1980s and 1990s, while vintage microwaves match with classic 1950s and 1960s American kitchens.
Also, the retro and vintage microwave ovens are often placed on the countertop, and you won't have a lot of options at your disposal if you're looking for a drawer or over-the-range model.
Check the Model's Dimensions
Checking the microwave's length, width, and depth will help you figure out how much space it is going to occupy on your countertop. Most retro and vintage models are relatively small because their length rarely exceeds 20 inches.
You also need to make sure to leave enough space so that you can open the microwave's door and access its interior. The model's capacity is measured in liters or cubic feet, and it suggests how much room its interior can offer.
The maximum capacity of most retro and vintage microwaves and ovens varies between 0.7cu/ft and 1cu/ft.
Go Through the List of Features
Defrost and cook mode, power level knob, or the timer are some of the features all vintage and retro microwaves have. Also, all models feature a rotating glass turntable that allows you to safely place a dish, a bowl, or a pot inside a microwave.
The grill or broil options aren't standard, and they're usually included in mid-range or high-end models. You should also check the unit's wattage rating in order to know how much power it is going to consume while defrosting or cooking food.
Upkeep Requirements
Even though microwaves require frequent maintenance, keeping them clean doesn't take a lot of time. The most important thing is to remove spilled food quickly because it can attract some of the appliance's energy and create hot spots that damage the interior.
You should never place a metal container or plate in a microwave oven because you might damage the appliance permanently. Only use microwaveable plastic containers and lids because regular plastic can melt and ruin your food.
Warranty and Price
Most brands offer a 1-year warranty for their retro and vintage models, but their lifespans are usually much longer. With proper care, you can continue using the same microwave for more than seven years, while extensive use shortens the appliance's lifespan to four or five years.
Due to their compact size and relatively low power consumption, retro and vintage microwave ovens cost between $50 and $200. Countertop models are the most affordable, and you'll have to spend much more if you'd like to get a drawer or over-the-range microwave.
The Pros and Cons of Retro and Vintage Microwaves
Pros
Intuitive controls
Quick defrost and cook times
Elegant and compact design
Affordable price
Cons
Only equipped with basic features
Limited capacities
Top 5 Retro and Vintage Microwaves
Haden 75060 Heritage – The Best Retro Microwave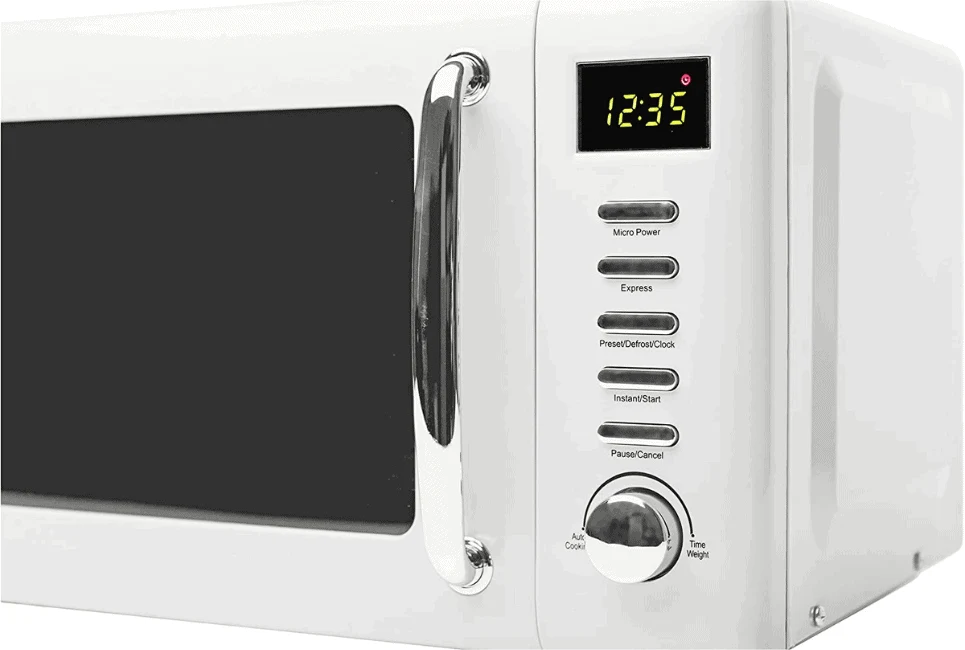 The sleek and minimal design of the Haden 75060 Heritage resembles the microwaves from the 1990s and early 2000s. This compact model is only 17 inches wide, and 12.5 inches deep, so finding space for it shouldn't be too difficult.
The mechanic temperature knob allows you to adjust the temperature to the type of food or beverage you want to cook or warm-up. This retro microwave also has MicroPower, Express, and Defrost modes, and you have to press the button to switch between them.
The Heritage's maximum internal storage capacity is limited to just 0.7cu/ft.
Pros
It matches a wide range of retro-themed kitchens
Compact dimensions
Easily accessible controls
1-year warranty
Cons
It doesn't have a see-through door glass
Only two color options are available
Galanz GLCMKA07BER-07 – The Best Budget Retro Microwave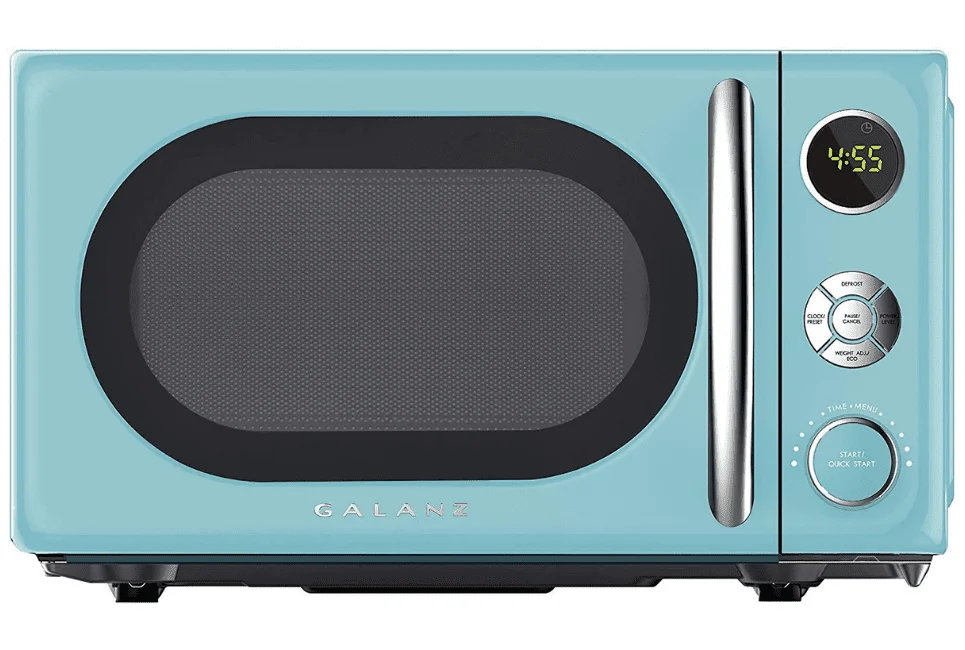 Despite having 700W ratting, the Galanz GLCMKA07BER-07 microwave oven still offers six power levels. It also allows you to choose if you want to defrost food by time or weight, while its Eco mode lets you lower its power consumption.
This microwave has an interior light and circular display that enable you to monitor the current status of your food. It also has a rotating glass turntable that ensures the food is heated from all sides and a child lock that prevents unsupervised use.
The space-saving design makes it a great fit for short and narrow countertops.
Pros
Multiple color options
9.6-inch glass turntable ensures that the food is cooked evenly
Great power-saving features
Excellent price
Cons
Not very durable
Long defrost times
Nostalgia RMO4AQ – The Best Vintage Microwave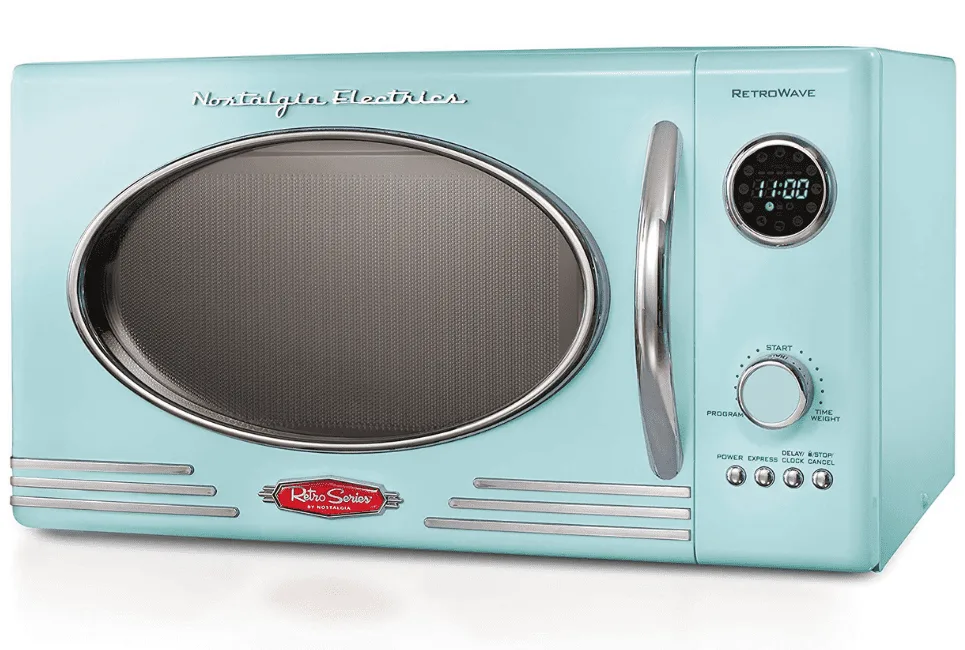 The Nostalgia RMO4AQ has 12 pre-programmed cooking options designed for specific types of food such as fish, beef, or rice.
It also offers five power levels, and its 0.9cu/ft storage capacity makes it spacious enough to accommodate most standard-size dishes. The Express mode lets you heat a cold meal quickly while hitting the Delay button enables you to choose when the microwave starts working.
This 800W microwave doesn't consume a lot of power, and it can heat or cook food quickly.
Pros
Resembles microwaves from the 1950s and 1960s visually
Stylish LED display
Offers 12 cooking presets
Durable
Cons
No child safety lock
Weighs 30lbs
Costway Retro Countertop Microwave – The Most Stylish Vintage Microwave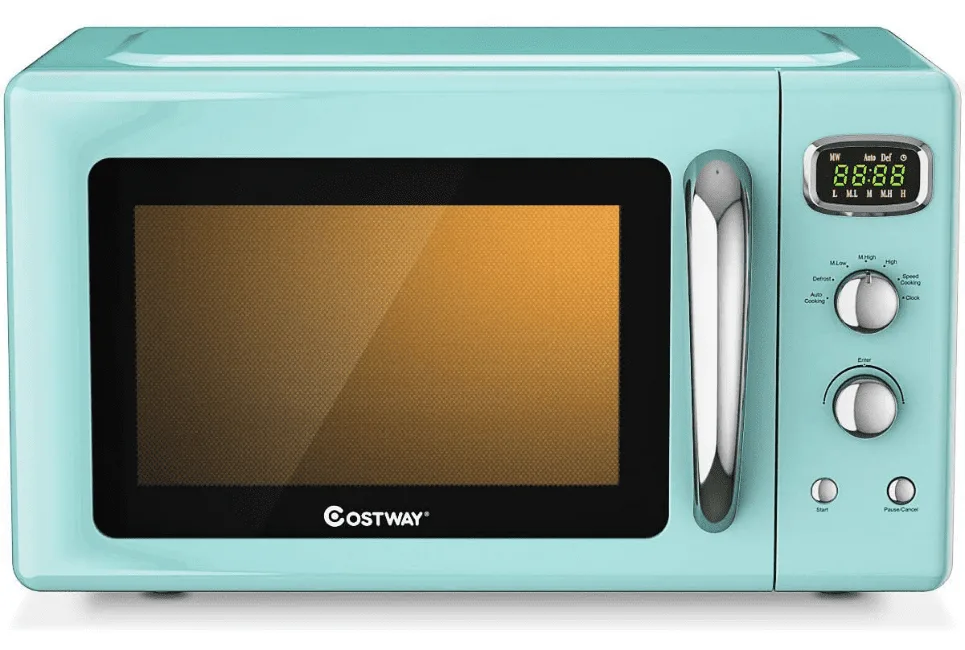 You just have to turn the knob to switch between the Auto Cooking, Defrost, or Clock modes. The Costway Retro Countertop Microwave has five power modes, and its maximum power output is capped at 900W.
The interior of this Costway's model has a capacity of 0.9cu/ft, which enables you to place relatively large containers on its rotating glass turntable. Its steel and glass construction makes it more durable than most vintage microwaves on the market.
The interior light enables you to keep an eye on your food, while the 3-beep signal notifies you when the food is done.
Pros
An elegant vintage microwave
All components are made of high-quality materials
Simple and quick installation
Excellent safety features
Cons
Short power cord
No grill function
Faberware Classic FMO11AHTBKN – The Most Powerful Retro Microwave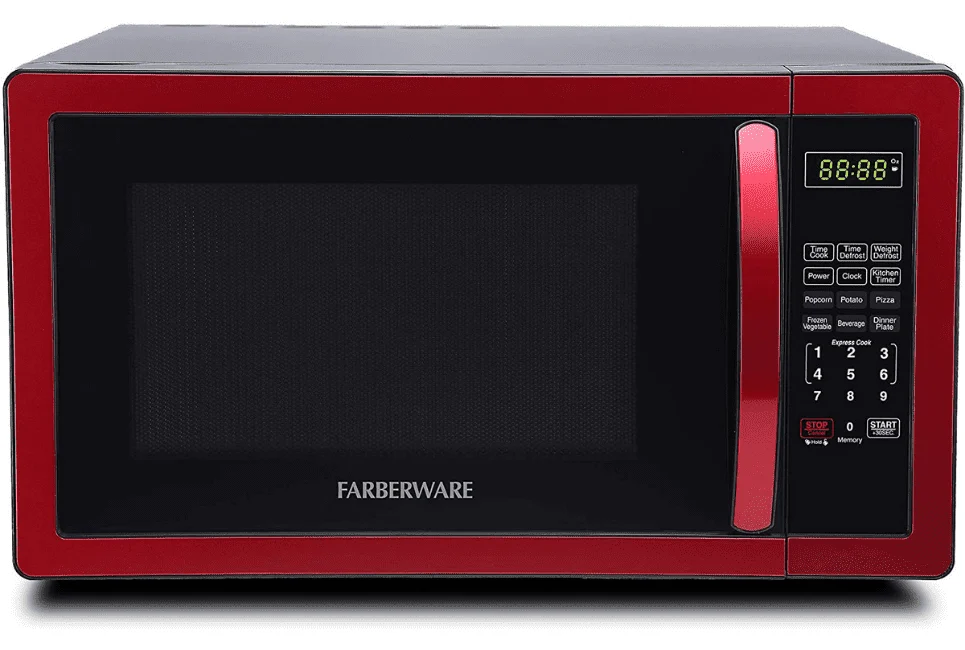 With a 1,000W power output, the Faberware Classic FMO11AHTBKN is one of the most powerful retro microwaves you can get. This model also offers 1.1cu/ft of storage capacity suggests that its interior is spacious enough to store mid-sized food containers.
You can adjust its power level in the range from 10% to 100% while accessing Time Cook, Weight Defrost, Popcorn, or Pizza modes requires you to just push a button. The microwave also has a memory function that remembers the selected cooking settings.
The unit comes with a removable turntable, which makes cleaning its interior easier.
Pros
High power output
Retro 90s design
Features 6 one-touch cooking options
Offers 10 power levels
Cons
It doesn't have a broiler feature
Limited 1-year warranty
Frequently asked questions about the vintage and retro microwaves
Question: Can I Plug in Vintage and Retro Microwaves in an Extension Cord?
Answer: Yes, you can, but some manufacturers advise against this because it might cause an accident.
Question: Is Food Prepared in a Microwave Healthy?
Answer: Yes, it is. In fact, cooking food in a microwave might be one of the best ways to retain its minerals and vitamins.
Question: Do Vintage and Retro Microwaves use Inverter Technology?
Answer: Currently, vintage and retro microwaves don't use this technology.
Question: Do Retro and Vintage Microwaves Have Ventilation Outlets?
Answer: Countertop models don't have ventilation outlets, but over-the-range microwaves need to be vented.
Our verdict: Which Retro and Vintage Microwave Option is the Best?
Putting style over functionality isn't necessarily a good choice, especially if it limits the appliance's scope of applications. For example, retro and vintage microwaves have limited storage capacities, and they come with a basic set of features.
Even so, most homeowners don't use microwaves often enough to benefit from the inverter technology or have any intention to grill food in a microwave. Hence, the lack of advanced features doesn't really affect the performance of vintage and retro microwaves.
We recommend the Nostalgia RMO4AQ because of its stunning vintage look and its features that allow you to heat, cook, or defrost food effortlessly. You should consider getting a model like the Faberware Classic FMO11AHTBKN if you need a larger and more powerful microwave.
Which retro and vintage microwave option are you going to choose? Let us know in the comments, or continue reading our guide to vintage drinking glasses you can use to complement your retro-styled kitchen.