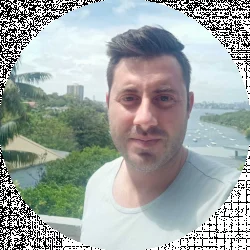 Latest posts by David Borgogni
(see all)
Large furniture pieces like vintage office chairs, floor lamps, or desks are the cornerstones of the vintage home decoration style, but the details make the style look realistic. That's why some of the best vintage dish racks can make your retro or vintage kitchen look more authentic.
Like all other kitchen appliances and accessories, dish racks have to be functional, as their primary purpose is to provide you with a space where you can store and dry dishes. Their design reflects the utilitarian purpose, as most vintage models have a characteristic minimalistic look.
So, in this article, we're going to take a look at some of the best vintage dish rack ideas that will declutter your kitchen and make it more stylish. Read our guide to the best retro fridges if you're still looking for appliances that match retro and vintage décor styles.
At a Glance – The 5 Best Vintage Dish Racks
Selection Criteria
The properties of dish racks haven't changed drastically over the years, which is why it is hard to talk about the retro style of these kitchen accessories.
Most dish racks from the second half of the XX century were made of wood or metal, and these materials remain the most distinctive feature of vintage dish racks. That's why materials were one of the key parameters we used to select the models we included in this article.
Let's take a look at more factors that helped us to choose the best vintage dish racks.
Dish rack type – Besides a traditional dish rack that consists of wireframe and a supporting platform that collects the water, you can opt for several other types of these accessories. Our selection includes all common types of dish racks so that you can opt for the model that best fits your needs.
Space-saving properties – Countertops don't always provide enough room for all the kitchen accessories you need. The dish racks we included in this article aren't bulky, but they still offer plenty of storage space.
Affordability – There are plenty of affordable vintage dish racks to choose from, so there's no need to spend a lot of money on these accessories. All options featured in this article are inexpensive or moderately priced, and they won't deplete your budget.
Browse through our guide to the best retro coffee makers to find a model that matches your countertop perfectly.
Types of Vintage Dish Rack
Although they all serve the same and a very simple purpose, the functionality of these accessories often depends on their type. Each of the vintage dish rack types has slightly different characteristics that affect how quickly the dishes can dry or how well you can organize them.
Here are some of the most common types of vintage dish racks:
Traditional dish racks – These models have a wireframe that usually contains separate storage space for dishes and cutlery. The supporting platform is located underneath the frame. The main purpose of the platform is to collect the water and allow it to drain into a sink or evaporate.
2-tier dish racks – Kitchens with limited countertop space can benefit from 2-tier dish racks. The only downside is that there is no platform between the tiers, so the dishes from the upper-tier drip on those located below them.
Collapsible dish racks – You can fold these dish racks whenever you're not using them or expand them quickly once your kitchen sink gets full.
Over-the-sink dish racks – This vintage dish rack type can usually have multiple tiers and storage compartments that occupy the area above the sink. Some models are designed to create a platform that is installed on the sink, but their storage capacities are limited.
Check out our guide to the best retro cotton candy machines to explore different options that could fit in your vintage-styled kitchen.
Vintage Dish Rack Materials
You won't have a bunch of options at your disposal in terms of vintage dish rack materials. These kitchen accessories are usually made of metal or wood, while plastic is more characteristic for dish racks with a more contemporary look.
Both of these materials can be damaged by frequent exposure to water. So, if you opt for a model that is made of metal, you should make sure that it is corrosion-resistant. Dish racks made of wood can soak water, which creates a fertile ground for mold growth.
Opting for a model made of teak or bamboo will ensure that your dish rack won't get damaged by wet dishes quickly. Cleaning the dish rack frequently is paramount for its durability, regardless of the material you choose.
Go through our guide to the best vintage kitchen timers to find more accessories you can add to your kitchen.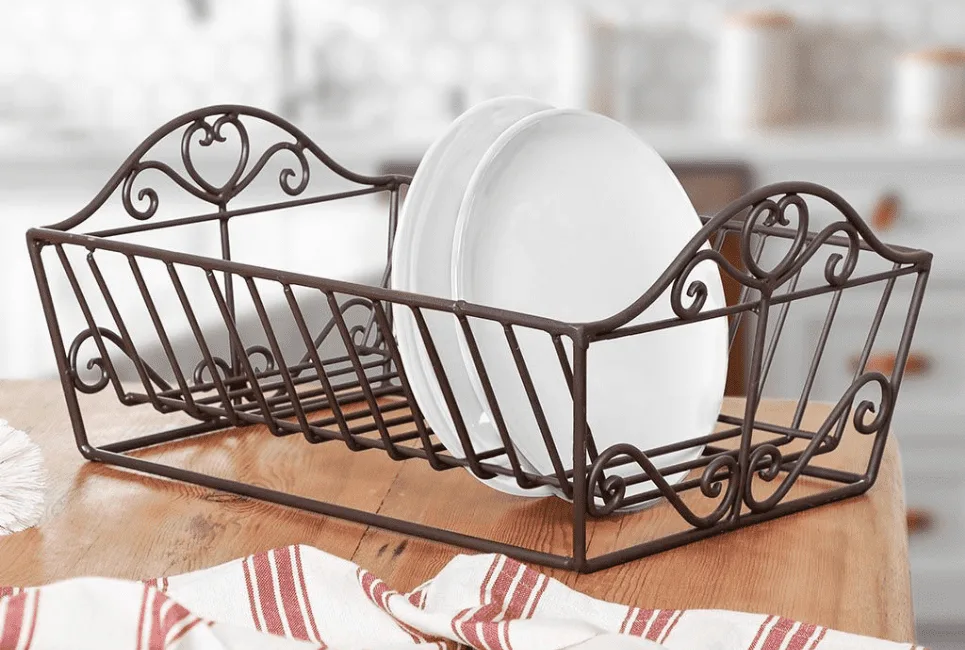 Sizes of Vintage Dish Racks
Dish racks don't have standard sizes, but most models are between 15 and 25 inches long. The number of available plate slots or the size of the cup storage space depends on the model's dimensions.
Optionally, you can get a dish rack that has a cutlery storage container if you don't want to keep freshly washed utensils in a separate drying rack.
The size of a dish rack should be proportionate to the size of the countertop and your daily dish usage since there's no need to get a bulky model that occupies a lot of space if you're only using a few dishes per day.
Some models offer enough storage space for up to ten dishes, and they're large enough to meet the needs of people who live alone. Read our guide to the best vintage bread boxes if you're looking for a way to keep your bread fresh.
Construction Quality
Pilling up plates, glasses, cups, and cutlery on a dish rack will put a lot of weight on it, so the model you choose needs to have a durable construction that can withstand a high amount of pressure.
This is particularly important for 2-tier, collapsible, and over-the-sink models as they rely on their construction to carry the weight. The construction quality isn't as important if you're considering a traditional dish rack because they don't have a multi-layered construction.
Besides the weight management, the quality of the rack's construction affects its durability and stability. Browse through our guide to the best retro radios to discover a model that will fit your kitchen.
The Most Important Factors to Consider While Choosing a Vintage Dish Rack
Browsing through hundreds of vintage dish racks is a tiring process that can take hours, if not days of your time. The best way to avoid looking at countless models is to have a clear picture of how your new dish rack should look and how big or small it should be.
The aesthetics and size are only a few among numerous factors that can help you cut down your options to a handful of models that fit your needs. We've shortlisted some of the key aspects you should pay attention to while searching for a vintage dish rack so let's take a closer look at them.
The Style of Your Kitchen
Seemingly unimportant details like a dish rack can be vital to achieving stylistic unity in your kitchen or any other part of your home. So, before you decide if you're going to opt for a traditional or a 2-tier dish rack, you should first think about how it will fit the style of your kitchen.
A traditional wireframe model can be a great choice if you're trying to recreate the look and feel of kitchens from the 1950s, while a collapsible wooden model might fit better 1980s retro-styled kitchens.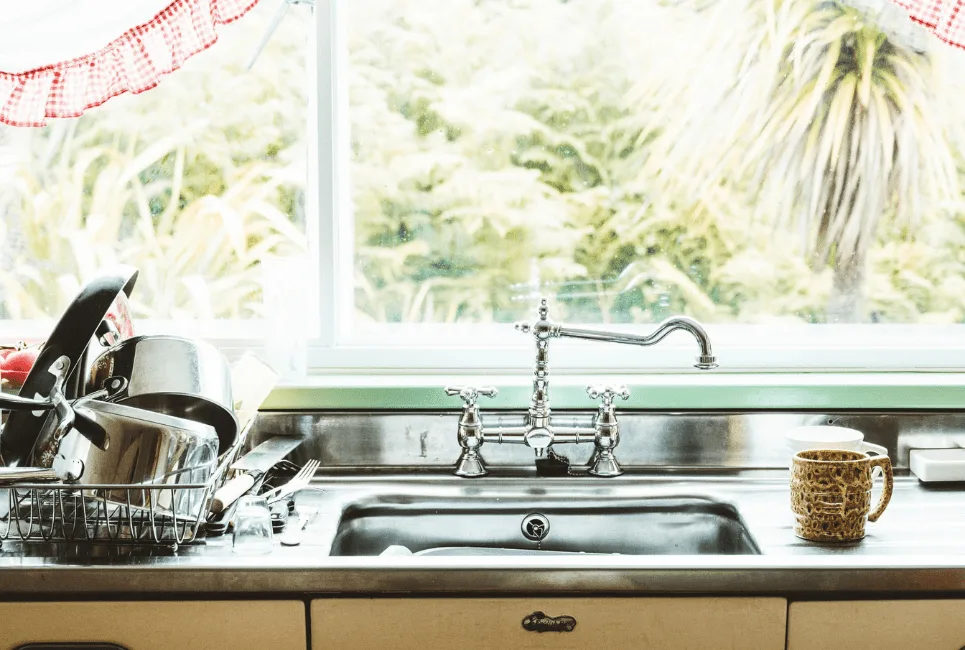 Available Countertop Space
A dish rack should be located next to the sink to allow you to store wet dishes quickly. That's why you need to measure the space you have at your disposal in order to know if the dish rack you'd like to get can fit there.
A traditional dish rack needs at least 17 to 25 inches of free space on a countertop, while other bulkier dish rack types may occupy more space.
Materials and Durability
The constant exposure to water eventually wears out all dish racks, but opting for a model made of stainless steel or naturally water-resistant wood will ensure that you don't have to replace your vintage dish rack every year.
Collecting the water with a dry towel and cleaning the dish rack frequently can extend its lifespan. However, these kitchen accessories can last for years even with minimal upkeep if they're made of corrosion and water-resistant materials.
Organization and Water Management
The model you choose should offer plenty of storage space for plates, cups, glasses, pans, or pots while allowing for enough separation between them to ensure that they can dry quickly.
Some racks also have utensils compartments that can save countertop space by allowing you to use the same accessory to store clean dishes and cutlery. Water accumulation can damage a dish rack, so the option you select should be able to drain water quickly.
Traditional dish racks can have an even plastic platform that allows water to evaporate quickly or a sloped platform that drains the water back into the sink.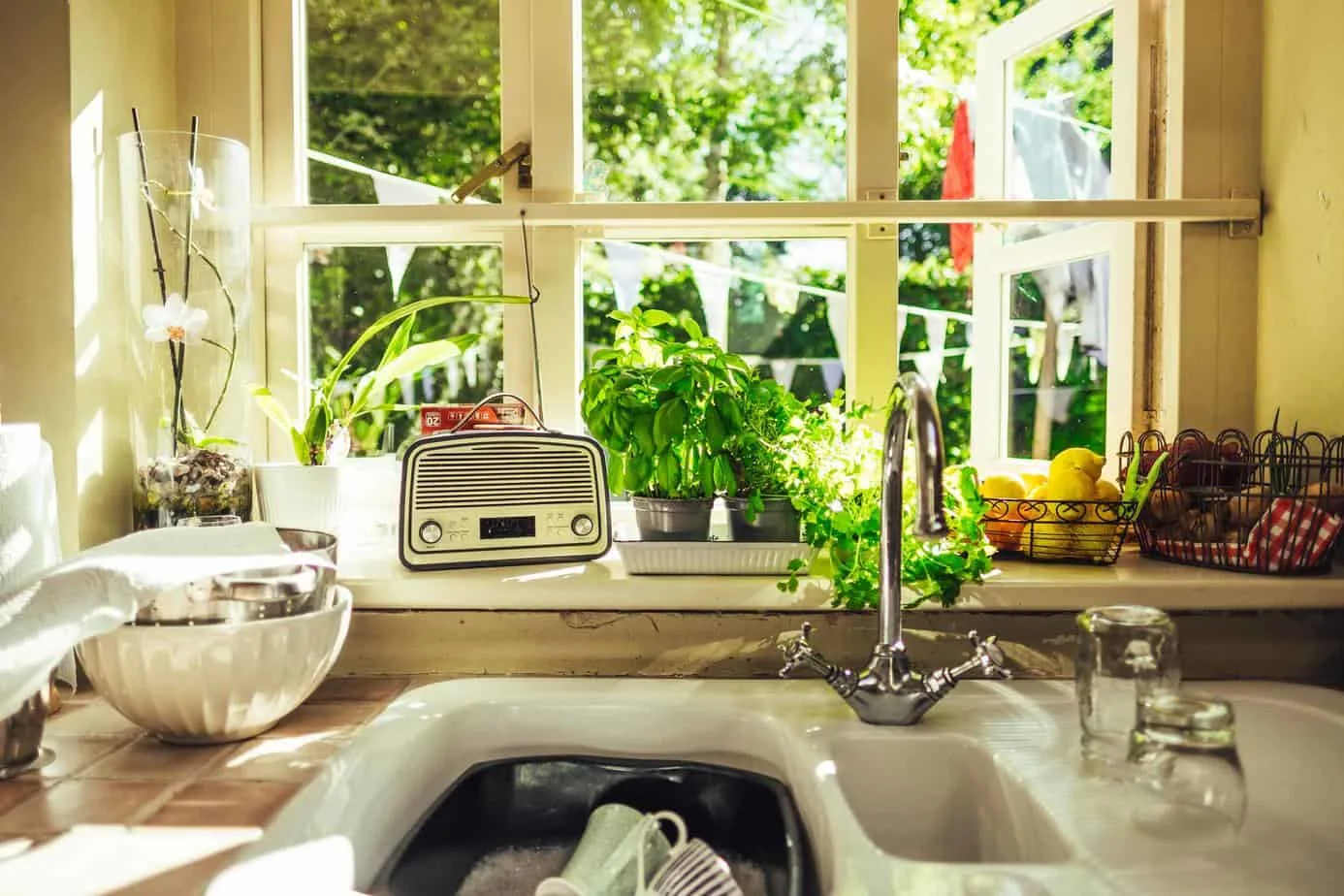 Price Considerations
We all have a tendency to overspend on kitchen appliances, but there's no need to spend a hundred dollars or more on a vintage dish rack since you can get a stylish, functional, and durable model for less than $50.
The price of a vintage dish rack also depends on its type, so you should expect to spend more for an over-the-sink model than you'd have to spend on a traditional dish rack.
Pros and Cons of Vintage Dish Racks
Pros
Lightweight and easily portable
Suitable for a wide range of kitchen designs
Multiple storage options
Affordable price
Cons
Frequent water exposure damages the rack's components
Some models occupy a lot of countertop space
Top 5 vintage Dish Racks
Creative Co-Op DA8086 – The Best 2-tier Vintage Dish Rack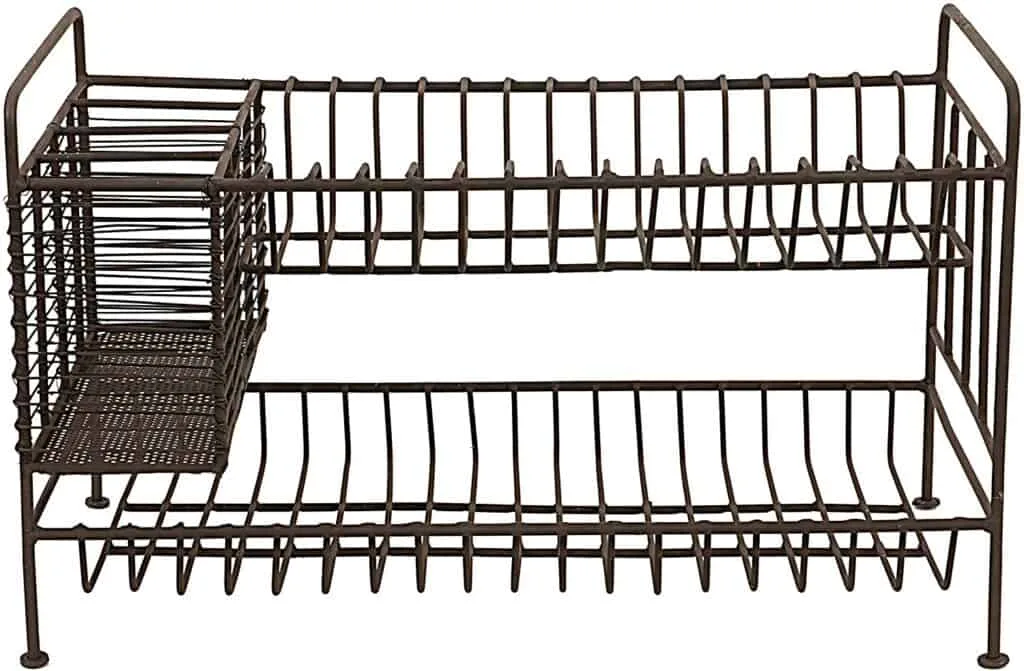 The Creative Co-Op DA8086 can be the right solution for you if you don't have a lot of space in your kitchen. This 2-tier dish rack has an all-metal construction, and each tier offers plenty of storage room for plates, glasses, or pots.
This model has an easily accessible utensil holder you can use to store silverware you just washed. The dish rack has to be placed on a waterproof surface because it doesn't have a platform that collects and drains water.
Placing the DA8086 on an uneven surface will affect its stability, so you need to make sure that the surface next to your sink is perfectly flat.
Pros
Simple vintage design
Features a utensil holder
Low upkeep requirements
Compact dimensions
Cons
No water collection container
Might be prone to corrosion
HB Dish Rack – The Best Collapsible Vintage Dish Rack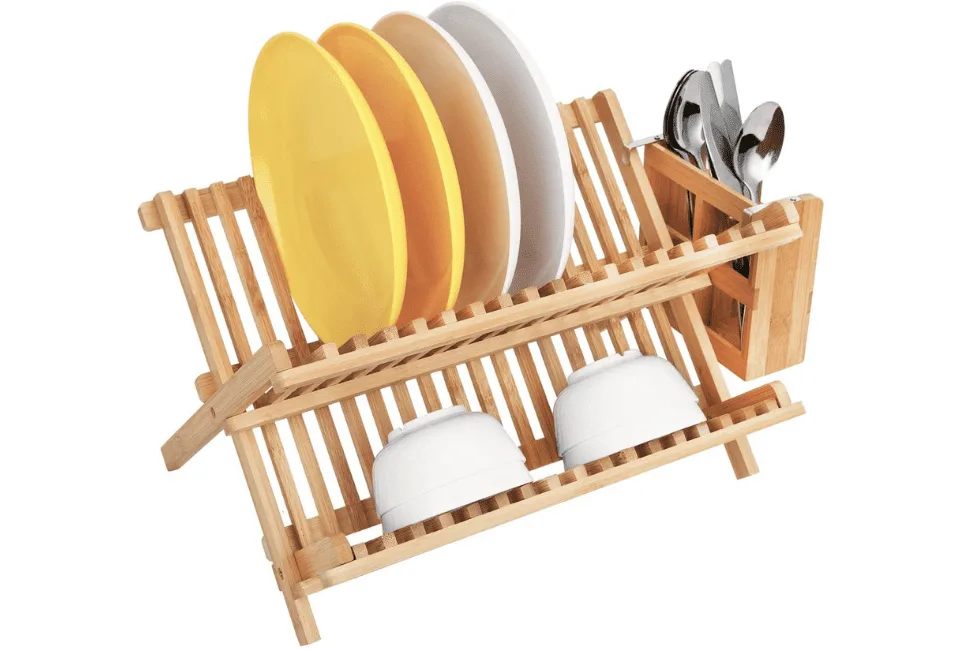 Matching the HB Dish Rack with the rest of your kitchen furniture shouldn't be difficult. The rack is made of sturdy bamboo wood that gives it a natural and timeless look. This HB's model is 16-inches long and 9 inches wide which makes it perfect for small kitchens.
Besides providing storage space for 14 plates, this rack has a second tier that is designed for glasses, cups, and bowls. In addition, the HB Dish Rack comes with a detachable utensil holder that is held in place by two metal screws.
Folding the dish rack is easy, and you can move it out of sight whenever you don't want to use it.
Pros
The rack weighs just 2.48lbs
It doesn't occupy a lot of space
Detachable utensil compartment
Inexpensive
Cons
Bamboo wood absorbs water
Limited storage capacity
Bryan & Dany Dish Rack – The Best Traditional Vintage Dish Rack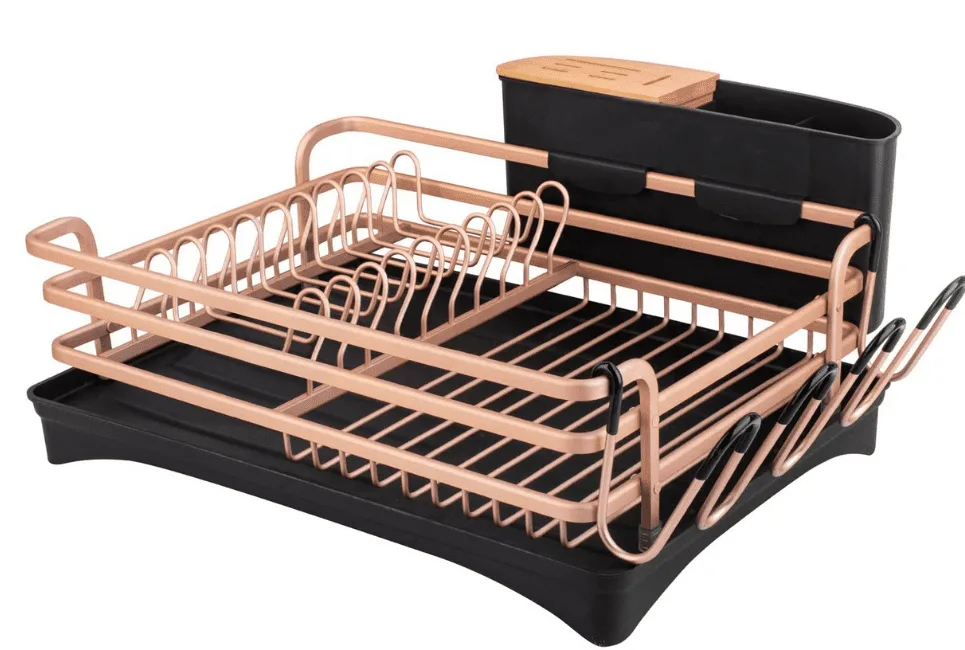 You can choose between gold, black, and silver versions of the Bryan and Dany Dish Rack. Each option is made of aluminum and corrosion-resistant, so you don't have to worry about replacing this dish rack often.
Its frame can store ten plates and eight bowls, while its detachable cup holder offers space for four cups or glasses. This dish rack also has a 10.6-inch cutlery container equipped with a bamboo cover that can store multiple knives.
The supporting platform features an adjustable waterspout that allows you to direct the water directly into the sink.
Pros
Rust and scratch-resistant
Can store up to 30 forks and knives
Efficient water disposal system
Excellent return policy
Cons
Not suitable for large families
The cup holder isn't very durable
Merrybox Dish Rack – The Best Over-the-sink Vintage Dish Rack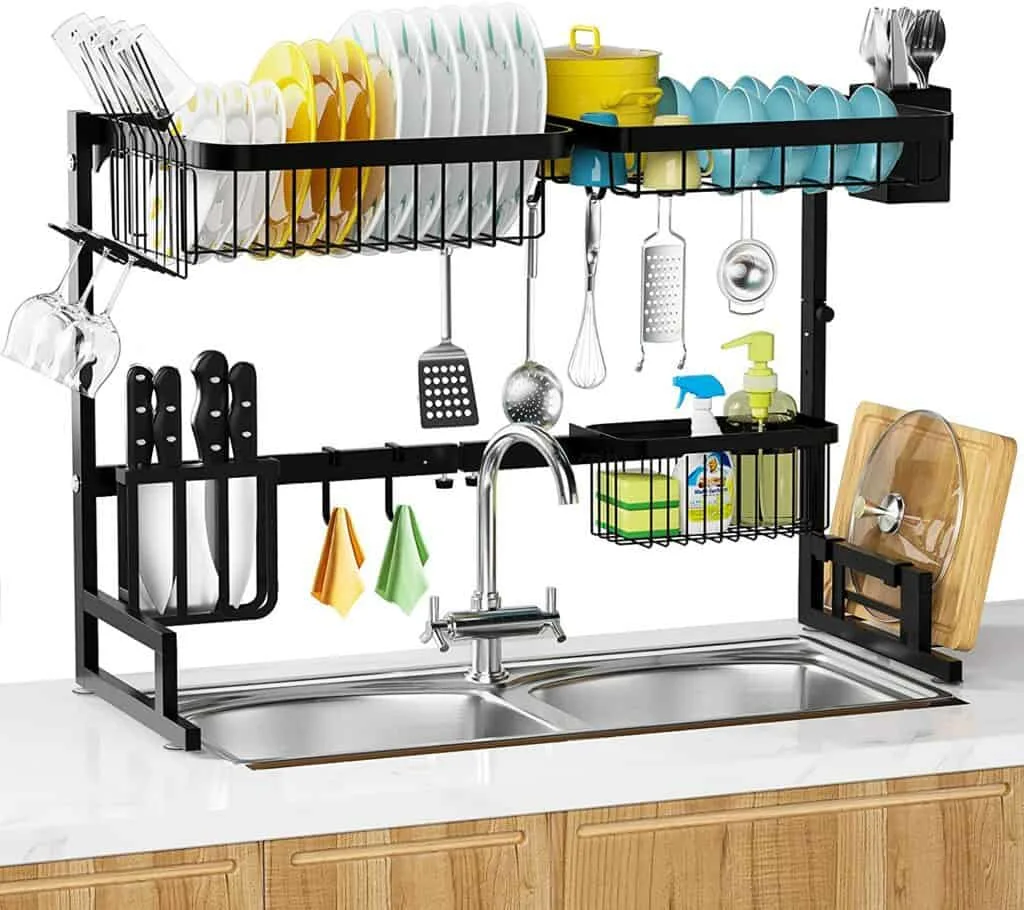 The huge amount of storage space the Merrybox dish rack offers makes it an ideal choice for busy kitchens. This model can be installed over the sink or next to it, depending on how much space you have at your disposal.
It features separate dish, glass, and bowl compartments, as well as a dedicated space where you can keep dishwashing liquid and sponges. Its construction is expandable, and the rack can be between 25 and 33 inches long, while its height is fixed at 20 inches.
The Merrybox's model is made of stainless steel, and it isn't prone to corrosion or physical damage.
Pros
Sturdy construction
Offers lots of storage space
Low maintenance
Can handle up to 80lbs of weight
Cons
Wet dishes drip directly onto the surface below them
It might be too large for some kitchens
iDesign Forma Lupe – The most Stylish Vintage Dish Rack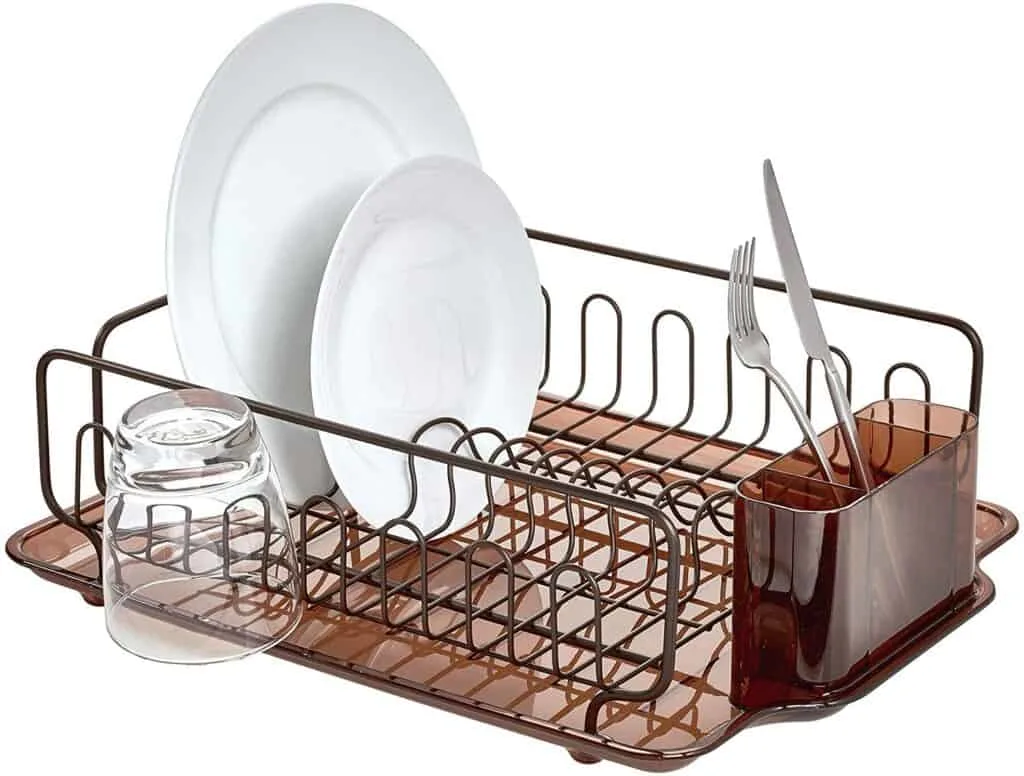 Despite its compact size, the iDesign Forma Lupe is still one of the most stylish vintage dish racks you can get. This model is 17.5-inches long, and it can only hold a handful of plates, cups, and glasses.
Its amber plastic utensil holder is attached to the water tray, and it doesn't have a separate compartment for knives. The tray doesn't have a water disposal system, but it's completely waterproof, so you don't have to worry about water leakage.
This traditional dish rack weighs just 1lbs, and you won't have any problems moving it around your kitchen.
Pros
Beautiful design
The frame is made of stainless steel
Quick access to dishes and cutlery
Available in several colors
Cons
The cutlery holder doesn't drain
A bit overpriced
Frequently Asked Questions About Vintage Dish Racks
Question: How Much Weight Can Vintage Dish Racks Carry?
Answer: The weight limit depends on the model, as some dish racks can handle more than 40lbs of weight while others collapse under 20lbs of weight.
Question: Do all Vintage Dish Racks Have Cup Holders?
Answer: Cup holders are not a standard feature on vintage dish racks, and you need to check if the model you're interested in has this feature.
Question: How to Remove a Water Spot From a Vintage Dish Rack?
Answer: The easiest way to remove a water spot from a dish rack is to pour water mixed with vinegar over it and scrub the affected area.
Question: Do I Have to Replace a Rusty Vintage Dish Rack?
Answer: Not necessarily, especially if you spotted rust early, but sometimes it is easier to get another dish rack than to remove the rust.
Our Verdict: How to Choose the Right Vintage Dish Rack for your Kitchen?
You shouldn't get carried away by the visual side of vintage dish racks because they're merely an accessory that can help you achieve a certain home décor style.
The aesthetic properties of a vintage dish rack can be misleading, and you might easily end up with a beautiful and dysfunctional model if you rely on them to be your primary search criteria.
The storage options they offer, the water disposal system, and other features of these kitchen accessories should be the parameters you're using to find the right model.
We recommend the Merrybox dish rack because it offers a way to declutter your kitchen quickly, but also because of its minimalistic design. You should consider getting a model like the Bryan and Dany Dish Rack if you're searching for a traditional dish rack.
We hope that this article helped you find a vintage dish rack that fits all your needs. Let us know in the comments, or continue reading our guide to the best vintage mirrors to find out how you can use them to make your home more stylish.